Do you love fried food? If you do, then you're not alone. 
In fact, many people enjoy deep-fried foods and their crispy texture. However, if you're looking to cut down on calories or just want to try something different for a change, air fryers might be the perfect alternative to deep frying. 
In this article, we've tested air fryers vs deep fryers to find out which one is better, healthier, and delivers on its promises.
Our findings show that air fryers and deep fryers are both great options for cooking. Air fryers are a newer invention, while deep fryers have been around for decades and are a go-to choice for many people. 
This article will help you decide which cooking appliance is better and healthier for you, so let's see our findings.
Air Fryer Vs Deep Fryer – Usage & Differences
Air-fried foods can be crispy on the outside but still tender inside which makes them perfect alternatives to deep-fried french fries!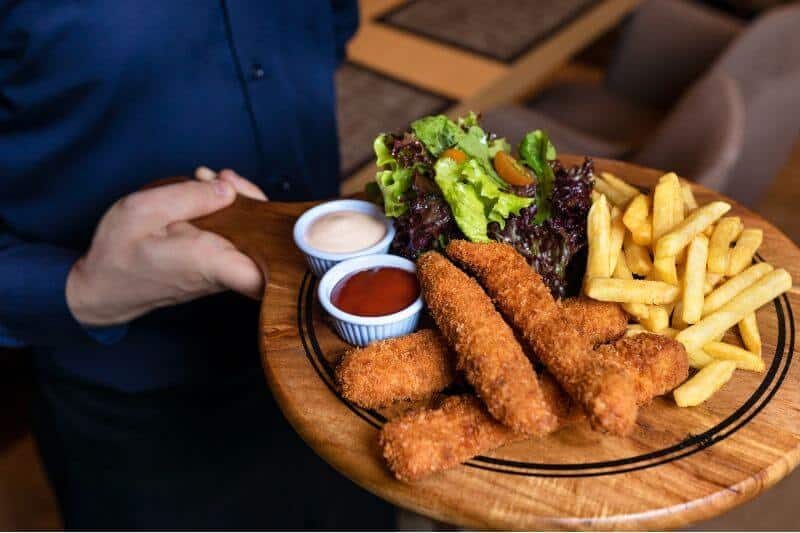 But if you're looking for something that needs more space, such as chicken nuggets with a traditional "restaurant" taste, then using a deep fryer would work best.
So, if you wondered what their differences are, when to use an air fryer and when a deep fryer, then you are in the right place.
When To Use An Air Fryer?
Overall, air frying is a great way to cook crispy and crunchy foods without adding any oil. It's also more energy-efficient and can make your life easier in the kitchen. Air frying is also a greener choice because it doesn't use any grease or fat, so there are fewer opportunities for food to absorb the fat. 
Air fryers are compact but powerful appliances that can be used at any time of the day when you crave fried snacks such as french fries, onion rings, or pizza rolls but without adding any greasy oil.
In case you are looking to buy a new air frying machine, we also made a comprehensive guide on the best air fryers on the market. Don't forget to check it out.
When To Use A Deep Fryer?
Deep frying is considered a great cooking method that can be used when preparing a larger quantity of foods like chicken nuggets or tempura because they need much more space in order to be cooked properly.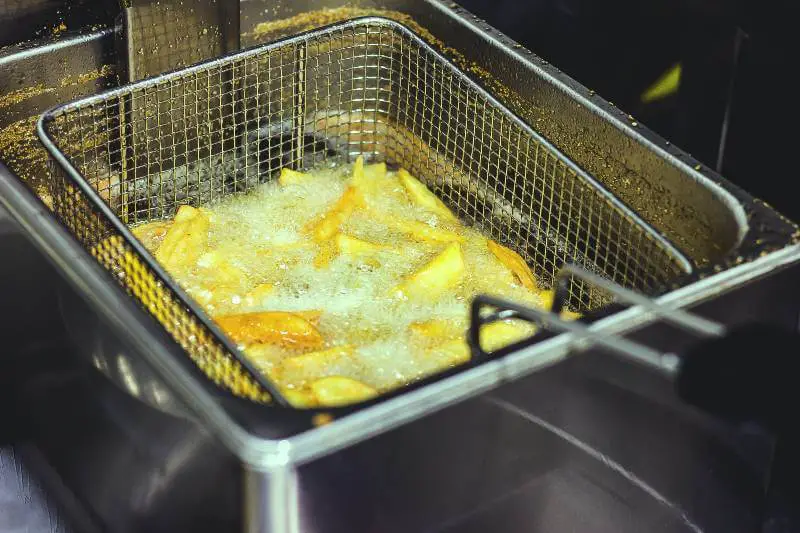 Deep-fried foods get nice crispiness from being submerged into boiling oil, and in their case, it's important that air doesn't touch them while cooking. 
However, the downside of using a deep fryer is how messy it can become with all those dishes you'll have afterward! Since everything has been immersed in hot oil, there will be plenty of grease leftover, which means washing up time after your deep-fried meal.
Now let's see how each of them works.
How Do Air Fryers Work?
If you wondered how do air fryers work, we've dedicated a whole article on the technology behind air frying, but here's the short version…
The air fryer works by cooking the food using circulating hot air to process fried, grilled, or roasted foods, without the need of pouring oil. The heat is generated by a powerful fan inside the appliance that circulates hot air made by a heating element below the fan.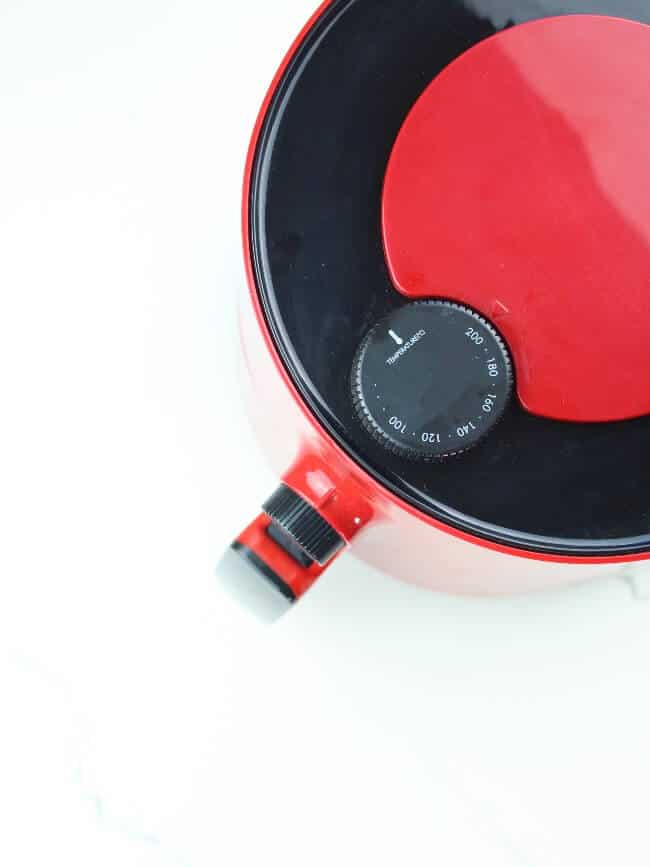 How Do Deep Fryers Work?
They are much larger than air fryers and typically use a lot more oil. A deep fryer works by heating the cooking oil up to 350°F, which is hot enough to cook anything quickly! 
Deep-fried food is typically placed in a basket and then submerged into hot oil, which is usually located in a large container.
Here you need to be careful when using the deep fryer because the food can overcook easily due to too high heat levels.
Air Fryer Vs Deep Fryer – Health Test
There are many health concerns when it comes to deep-frying and air frying, and many people ask themselves which is healthier.
When you deep fry, the problem is that the hot oil may spatter and get on your body, not to mention the mess that will leave it in the kitchen. On top of that, deep-fried foods absorb a lot of oil from the deep fryer, contributing to higher calories intake. So if we compare the air fryer vs deep fryer calories, the deep fryer loses this battle.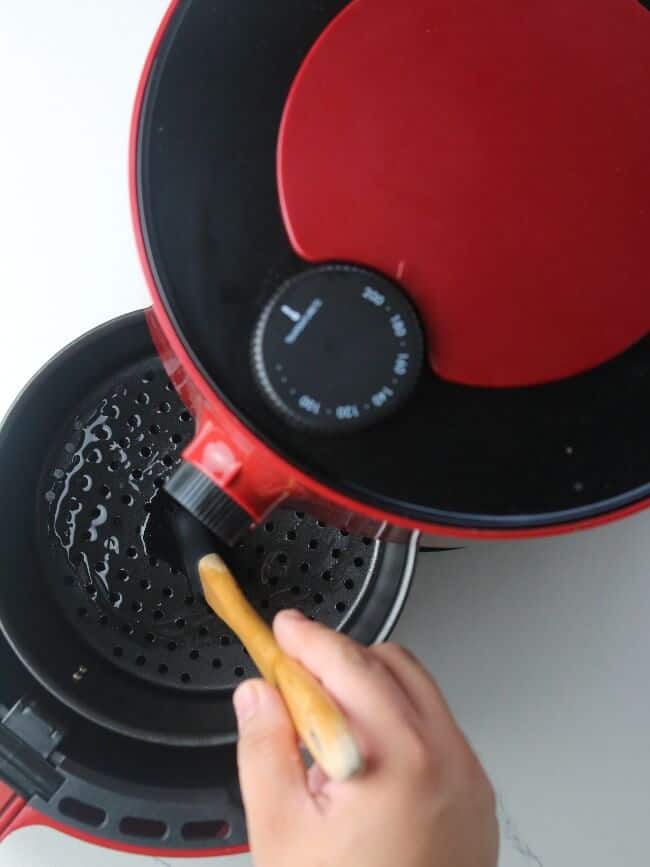 On the other hand, air-frying uses less oil, which can be healthier for you than deep-frying because there will be less fat present in your meal. The oil used in an air fryer can be up to 80% less or not needed at all, so you will enjoy your favorite fried foods with a piece of mind (and reduced risks of high cholesterol and heart disease.
So you probably guessed by now…
The winner in the category of health is definitely the air fryer.
Air Fryer Vs Deep Fryer – Taste Test
The deep fryer is known to generate a more distinctive and pronounced flavor. The food cooked in a deep fryer absorbs a substantial amount of oil which can result in a good crispy exterior.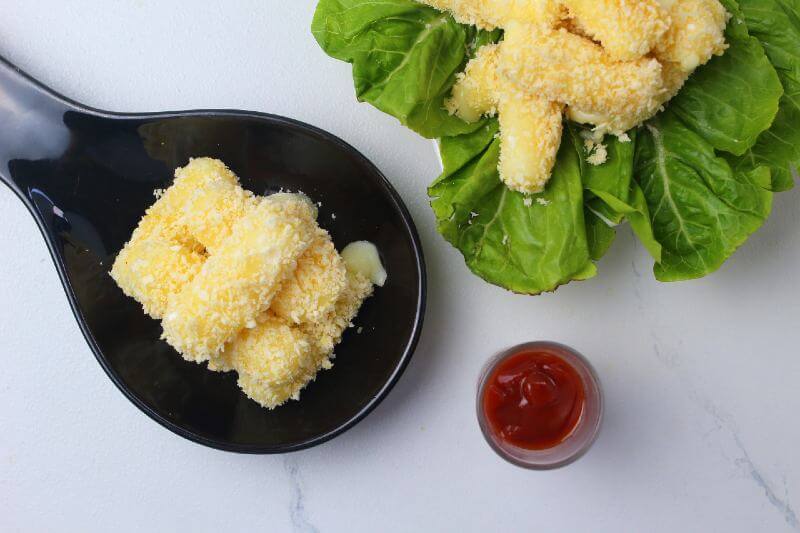 The air fryer sometimes can make the food taste slightly dry. It doesn't have an oil-based outer layer that tastes rich and fatty as deep-fried foods do. However, you can always use one or two more spoons of oil to achieve just as good results as the deep fryer.
Does Air Frying Taste As Good As Deep Frying?
Although there can be noticed a small difference in flavor, throughout our testing, we've noted that both deep-fried and air-fried dishes tasted very good. Even though the air frying tasted just as good, truth to be told, the deep-fried foods were more palatable.
Do Air-Fried French Fries Taste As Good As Deep-Fried?
The taste for french fries can be subjective, but we can agree that deep fryers produce fries with slightly better crisp texture or golden color. 
Even though air-fried french fries may taste a little different from deep-fried ones (due to the lower fat content), your family probably won't even notice the difference 🙂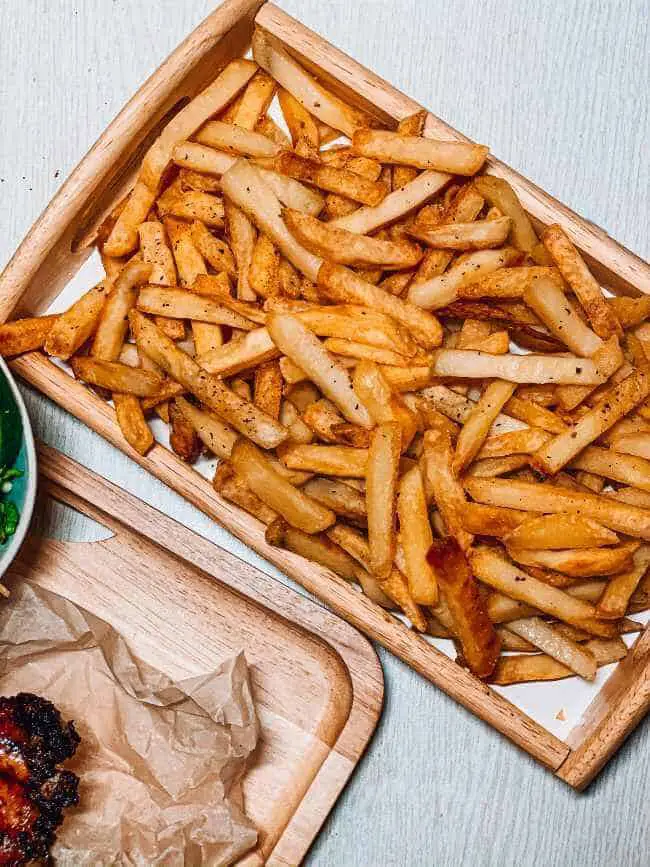 So the winner in the category of taste is the deep-fryer (with a tiny advantage).
Air Fryer Vs Deep Fryer – Cooking Time Test
One significant difference between deep fryers and air fryers is the time it takes for them to cook. 
Deep fryers can only take a few minutes, whereas air fryers can take a little longer. The deep-fried food versus 10-20 minutes in an air fryer (with preheating included). Takes 3-5 minutes to cook in the deep fryer (once the oil is prepared).
However, if you consider the time needed to warm up the oil in the deep fryer (10-20 minutes) versus the entire air frying cooking time, you will notice that it would be pretty much the same.
One significant difference here is that the modern air fryers heat up fast and are quickly ready for use. Also, unlike deep fryers, air fryers are more convenient because you won't waste time continually checking if there is enough oil in the food container.
So there is no winner in the category of cooking time because it's a tie (more or less).
Air Fryer Vs Deep Fryer – Cleaning & Maintenance Test
Cleaning an air fryer is easy because the cooking oil is automatically drained out and removed before washing. Because of its non-stick food basket, you can easily clean it with a damp cloth or paper towel. Most of the air fryers are also dishwasher safe, which makes your cleaning job much easier.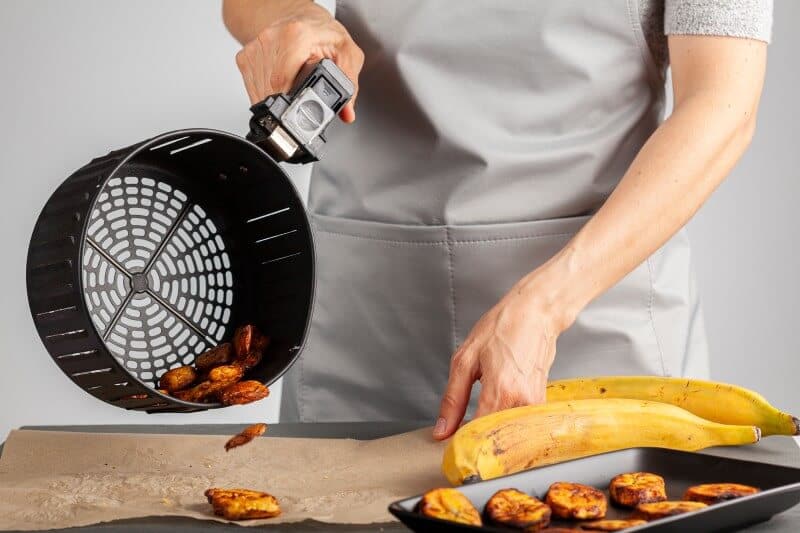 Deep fryers require more effort when cleaning them since there is always some remaining cooking oil inside that must be removed before washing. Depending on how often you make deep-fried dishes, it can get tiring always to ensure the residual oil is not hardened onto the interior surfaces after cooling down.
So the winner in the category of cleaning & maintenance is definitely the air fryer.
Air Fryer Vs Deep Fryer – Price Test
While each type of fryer has its pros and cons, both deep fryers and air fryers are worth the money. 
The difference is that you may pay more upfront for the air fryer, but you will save later because of its low operating costs.
You can pay less for the deep fryer upfront, but there are higher operating costs associated with it afterward. 
The average price of the best deep fryers can range from $50 to $100.
For today's tests, we've used the Elite Gourmet Deep Fryer, a compact and well-rounded appliance that comes with two smaller frying baskets and one large frying basket. 
Sale
Last update on 2023-05-27 / Affiliate links / Images from Amazon Product Advertising API
It's built with stainless steel, and it includes adjustable temperature settings, as well as a timer knob. So it's an excellent value for money.
The best air fryers, on the contrary, can be a little more expensive costing from $100 to $200.
Their higher purchase cost can be associated with their innovative Rapid Air Technology, as well as their numerous functions for frying, baking, and grilling.
For the purpose of this article, we've tried the Instant Vortex Air Fryer, which comes with six different functions for air frying, broiling, roasting, dehydrating, baking, and reheating.
Instant Vortex Plus 10-Quart Air Fryer, From the Makers of Instant Pot, 7-in-10 Functions, with EvenCrisp Technology, App with over 100 Recipes, Stainless Steel
7-IN-1 FUNCTIONALITY: Air fry, broil, bake, roast, dehydrate, reheat, and rotisserie.
EvenCrisp TECHNOLOGY: Advanced technology that drives air flow top down for a perfect golden finish and crispy, tender...
ROTISSERIE FEATURE: Perfect for self-basting and tumble-frying. Top heating element with fan ensures optimal cooking and...
Last update on 2023-05-26 / Affiliate links / Images from Amazon Product Advertising API
Its compact design allows fast preheating and easy-to-use operation for every family member who wants to enjoy healthy air-fried food.
And its non-stick air fry basket makes the cleaning a breeze.
Which Is Better: Deep Fryer Or Air Fryer? Announcing The Winner!
The answer can depend on what's your taste, what you're cooking, and how much space you need! 
If you want something crispier with a traditional "restaurant" taste (without health considerations), then a deep fryer would be the way to go. 
But if you are looking for a greener way of cooking that's more versatile and protects your health, then an air fryer can be your best choice.
And because the air fryer outweighs the deep fryer with its advantages, our final verdict is: the ma!
So go ahead, try our winning Instant Vortex Air Fryer, and let us know your impressions below in the comments.
Try Our Easy-To-Follow Recipes and Cooking Guides: