There is nothing more satisfying than the smell of freshly fried food. But how do you make it without all the mess and oil? The answer is by using an air fryer!

But how to use an air fryer?

Today we'll take you through everything you need to know about how to use an air fryer for the first time, where we will elaborate on the first five basic air fryer instructions:
Take the air fryer out of the box.
Read the instruction manual.
Wash your air fryer
Protect your countertop
Take the air fryer for a test run.
Also, we will cover some of the best air frying practices, how to use an air fryer for fries, how to preheat your air fryer, and even how to clean your air fryer correctly. Basically, everything you need to know in order to become an air fryer cooking ninja at the end of the article.

So fasten your seatbelts, it's going to be a long ride 🙂
How To Use An Air Fryer For The First Time? 
Air Fryers are the new kitchen gadget that everyone is talking about. But how do you use an air fryer? And what should you expect when using your air fryer for the first time?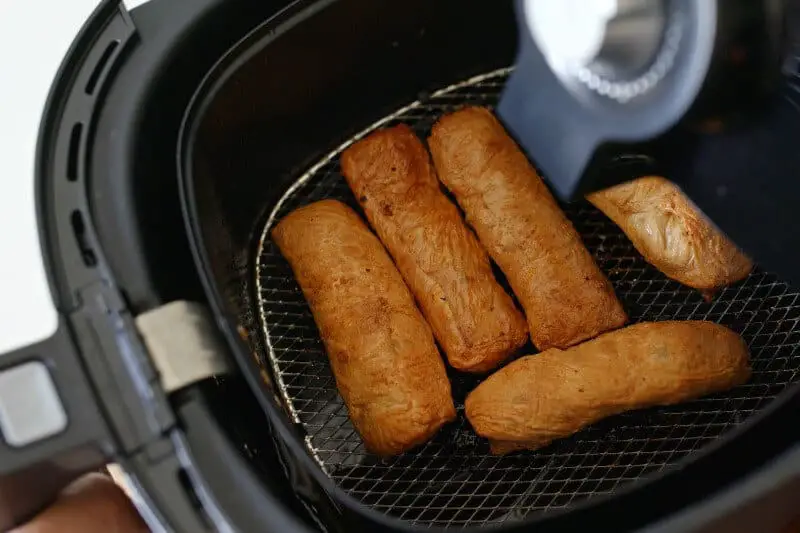 For many people, the idea of an air fryer is a new concept.
Yes, air fryers are a great way to cook food without using any oil, but they can be intimidating if you've never used one before.
This guide will walk you through everything you need to know on how to use your new air fryer, making it so easy for you to get started cooking delicious meals right away!
Without further ado, let's take a look at the basic air fryer instructions for setting up your air fryer for the first time:
1. Start by taking the most obvious step: take the air fryer out of the box.
Unboxing your air fryer will allow you to ensure that nothing was damaged during shipping, and you will determine if there are any additional pieces that were missed from the order. 
Additionally, it's a good idea to unpack your new air frying machine as soon as possible, so you become familiar with how everything works.
Make sure to remove all the packaging here, including the labels and tags, because you don't want to set something on fire later accidentally.
2. Now the boring part: read the instruction manual.
Not all air fryers are built the same. Some of them come with different features than others.
We know that this is not something that people prefer to do, but like with any other kitchen appliance, you should take your time to familiarize yourself with the air fryer by checking the instruction manual.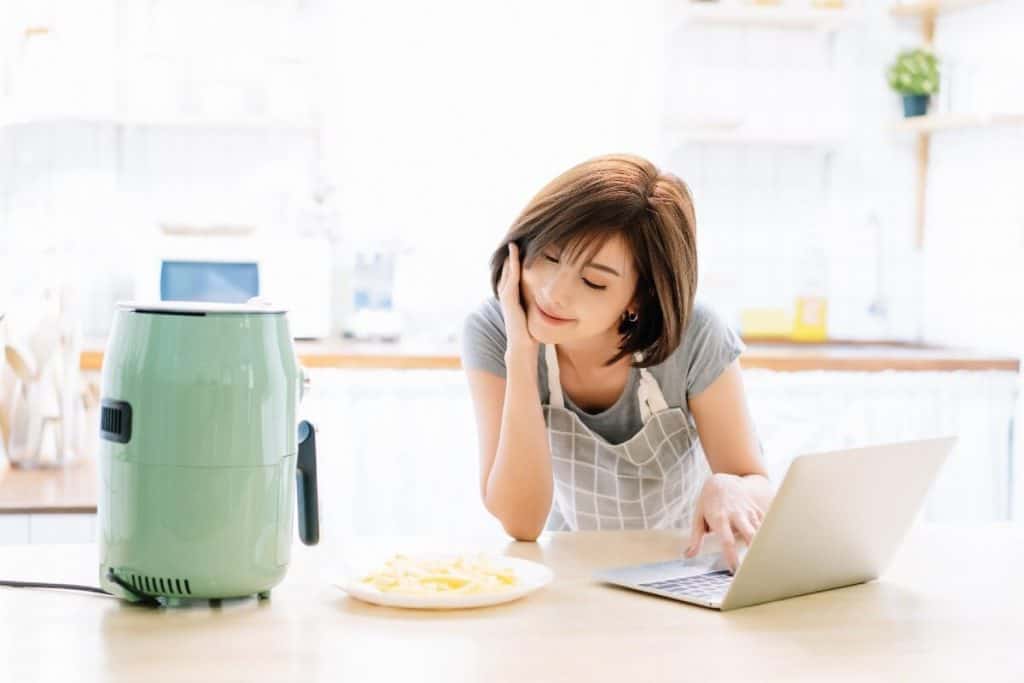 By taking a few minutes to get to know how your air fryer works, you probably won't ruin it even before cooking your first meal 🙂
3. Wash your air fryer
Since you removed all the packaging in the first step, now it's time to wash your air fryer with hot soapy water and a sponge. 
On the way from the factory to your home, probably many people have touched your air fryer, so it's a good idea to wash the food container first and have a clean start with it.
After you are done washing, just wipe the container with a dry cloth and let it air dry a bit, before your first test run.  
4. Protect your countertop
Since air fryers run very hot, always make sure that your air fryer is placed on a heat-resistant surface. 
If your air dryer model doesn't come with tiny legs that lift it up a little, ensure that you have something below to protect your countertop (for example, a wood board).
Also, another important step here is to ensure your air fryer is placed at least eight inches away from the wall. This is because the air fryers usually have a vent on the backside where very hot air blows out of it.
5. Finally, take it for a test run.
To get rid of the "new appliance smell" some manufacturers recommend an empty test run of 5-10 minutes at 400 degrees before starting to cook with your air fryer (please refer to your manual for the specifics here). 
The next steps are pretty straightforward:
Press the power button.
Set the temperature and the minutes by pressing the arrows.
Press play.
Now you are done with the initial air fryer set up and you are ready to start cooking!
But wait, how can you cook with an air fryer? That's a good question.
How Do You Cook With An Air Fryer?
It might be a little overwhelming at first for those of you who are new to air frying. But don't worry! There are lots of easy air fryer recipes that can give you some ideas for how to start cooking with your air fryer.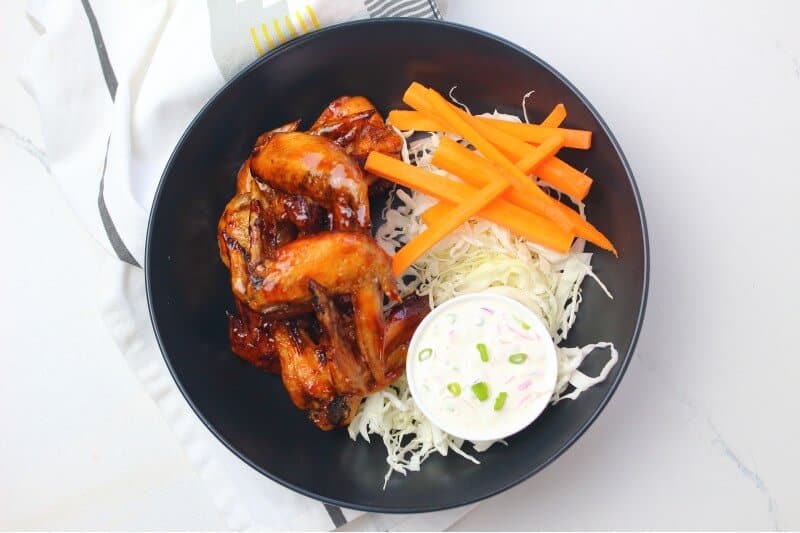 You will discover how easy it is to cook French fries, how to bake cookies, or how to make crispy air fryer frozen chicken tenders… without needing any extra knowledge about air frying.
Whatever you can bake, grill, and fry… you can probably cook it up in your air fryer! The possibilities are endless.
How To Use An Air Fryer For Fries?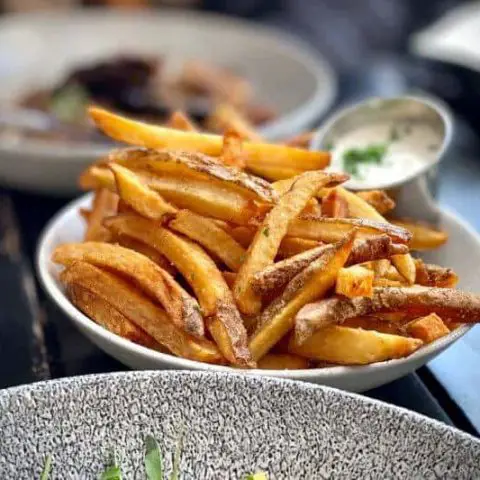 Air Fryer Fries
There are many ways to prepare French fries in an air fryer. Here's our favorite procedure for cooking it.
Ingredients
One bag of frozen fries of your choice
salt (optional)
sauce for dipping (optional)
Instructions
Preheat your air fryer for 3-5 minutes at 350 degrees (more on preheating later).

Put a small batch of fries in the food container (it can be half of the basket, just don't overfill it).

You can spray it a little with an oil sprayer (preferably by using avocado oil)

Set the temperature usually 10-25 degrees lower than the instructions call for.

Set the timer at half of what it's needed (for example, set it to 10 minutes if instructions say 20 minutes).

Once the time is up, take out the container and shake the fries.

You can spray them once again a little if you want.

Now put it back in, and set the timer for the second half (the next 10 minutes).

Enjoy your crispy French fries.
Nutrition Information:
Yield:

2
Serving Size:

1
Amount Per Serving:
Calories:

216
Total Fat:

10g
Saturated Fat:

2g
Trans Fat:

0g
Unsaturated Fat:

7g
Cholesterol:

1mg
Sodium:

702mg
Carbohydrates:

29g
Fiber:

3g
Sugar:

3g
Protein:

3g
Our preferred choice for making these crispy French fries is the Ninja AF101 Air Fryer.
This air fryer is a modern kitchen appliance that quickly cooks and crisps foods with convection heat. 
It comes with a 4-quart nonstick basket that allows you to make up to 2 pounds of French fries in one run.
Sale
Last update on 2023-05-28 / Affiliate links / Images from Amazon Product Advertising API
People Also Ask
When you use an air fryer for your cooking needs, you may ask yourself some common questions that we would gladly want to answer here…
Can I Open My Air Fryer While Cooking?
Yes, it's safe to open the basket on your air fryer while cooking. That's what we did in the previous section when we took the fries out for shaking.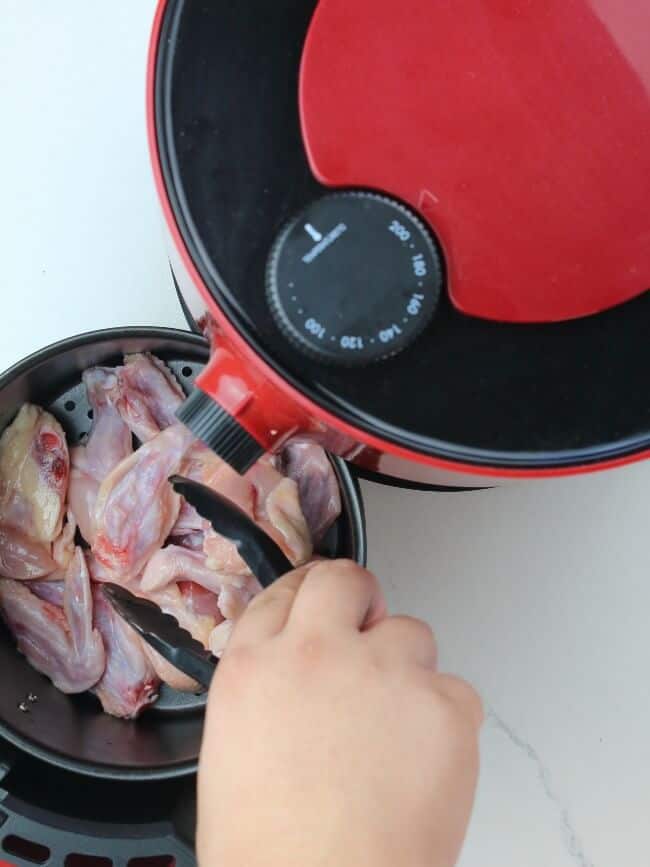 The lid that typically opens from the side or front has a latch that is purposely meant for opening it periodically while cooking.
Can You Put Aluminum Foil In An Air Fryer?
Yes, it's safe to put aluminum foil in an air fryer – but it depends on the type of food! 
The power of the aluminum foil sling can be used for foods such as fish or cookies, where you can place it at the bottom of the basket and create little foil handles on the sides (for lifting the food effortlessly).
When using aluminum foil in an air fryer make sure not to cover the overall bottom of the food container, since the hot air needs to circulate from the bottom holes.
Also, avoid using aluminum foil for foods such as tomatoes, fruits or peppers, since the aluminum can react negatively with acidic foods.
Where Should I Place My Air Fryer?
Your air fryer should be positioned at a heat-resistant surface, with an 8 inches distance from the wall (since it blows out very hot air).
Should I Run My Air Fryer Before First Use?
Yes, this is how you get rid of the new appliance smell. Many manufacturers recommend making an empty test run before starting to use your air fryer. It can be from 5-10 minutes at 350-400 degrees Fahrenheit. Please check the manual for specific instructions for the first run. 
How To Preheat An Air Fryer?
Most air fryers have a preheat option. When using the preheat, it can heat up to 400 degrees in around 5 minutes.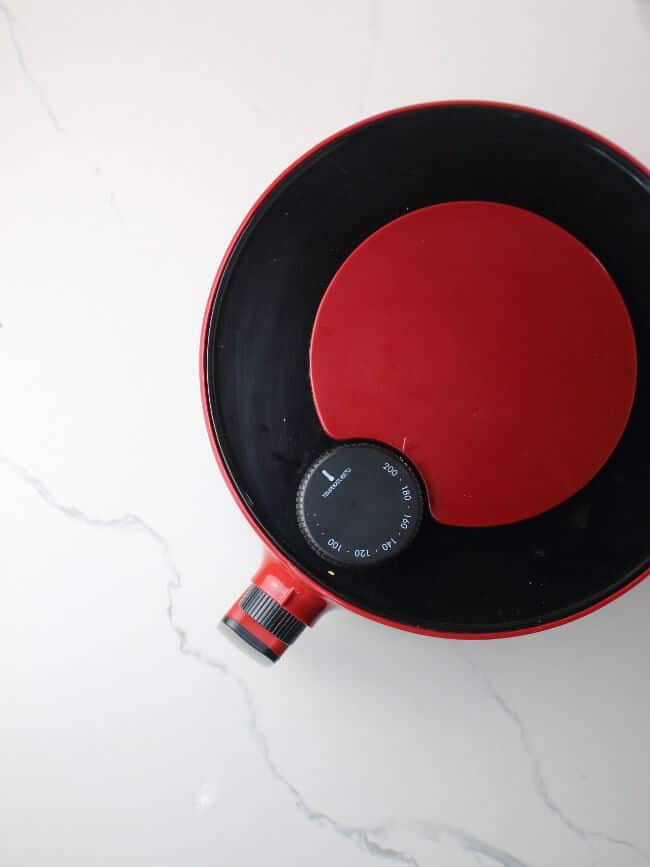 The best about air fryers is that they don't require 30 minutes to achieve the required temperature as the average oven does.
You can even skip the preheating if you want, or add another three to four minutes to the timer. You can try it both ways and see what works best for you. This may also depend on the recipe, so use your best judgment.
5 Tips & Best Practices For Using Your Air Fryer
Always ensure that your food drawer is pushed all the way in, otherwise, it won't turn on. 
Ensure that the metal container with holes is always placed inside the basket, if you don't want your food to "swim" in the excess oil that can build up during cooking. This metal grate also allows hot air to circulate properly around the food.
Adjust the temperature accordingly. Sometimes you may need to lower the temperature when trying new recipes. Remember, you can always pull the basket out for a peek and make new adjustments.
Don't be afraid to shake the food once in a while (especially when making fries). Just remove the basket, shuffle the food and put it back in. By doing this, you will avoid overcooking your food.
Make sure foods are dry before placing them into the oven, as this will prevent unpleasant odors from being released while frying.
How To Clean Your Air Fryer – 4 Easy Steps
In order to avoid build-up of oil, it's important to clean your air fryer after every use, and here's how to do so in 4 steps:
The first step is to unplug the power cord from its outlet. 
Next, remove any food from the drawer by using a paper towel! 
If stubborn bits of food are stuck on the inside surfaces, try scrubbing them off with a wet sponge and soapy water.
Don't forget to wipe down all surfaces including the control panel before turning it back on for another round of frying!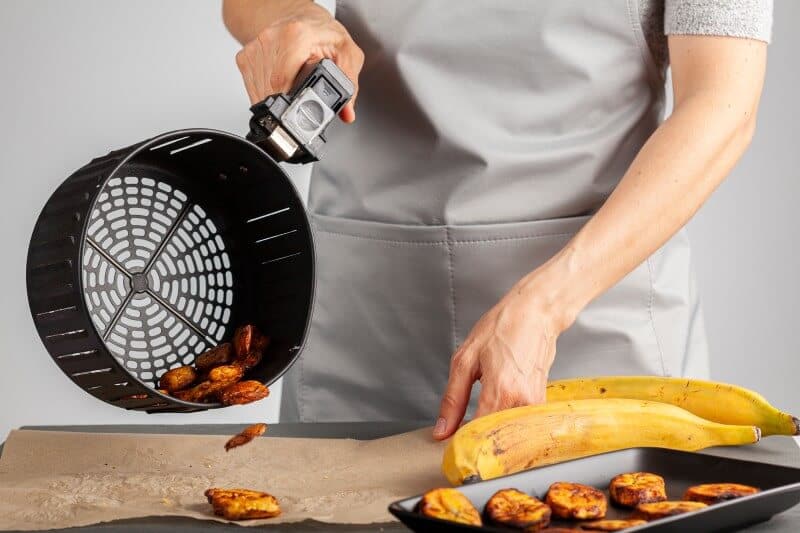 Closing Thoughts
If you've just purchased an air fryer and wondered how to use it properly, we hope that we've provided some useful tips for you today.
In this article, we've talked about everything you need to know about how to use an air fryer for the first time. We covered the best practices, most common questions and even how to clean your air fryer correctly. Basically everything you need to know in order to become an air fryer cooking ninja (preferably with the Ninja AF101 Air Fryer)!
Now, would you please share with us in the comments below your favorite tips on using your air fryer? We would be glad to hear from you!
Also for more information on any of these points or anything else related to this topic, please don't hesitate to reach out!
Related Readings: Get to know our ratings for air fryers in our review and buyer's guide on the latest and the best ones that can match your cooking needs.