I am always looking forward to our family gathering as my mom would always cook my favorite steak, medium-rare steak. She cooks steak via Reverse Sear or Sear in the Rear method that yields succulent, juicy, and flavorful steaks.
Reverse Searing is extracting remarkable flavor and texture of the meat. It involves the process of Maillard reaction wherein the amino acids rearrange, giving the meat an exquisite brown color on the surface, caramelizing the sugar, and exuding its tangy, desirable flavor.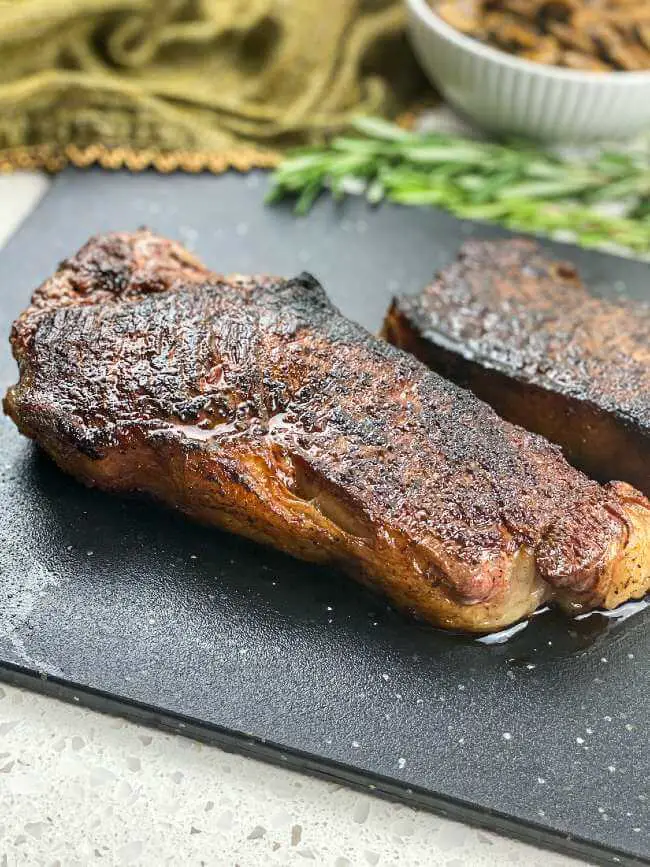 The key is to cook the meat nice, slow, and at low temperatures to spread heat evenly. That' is the secret to achieve the crispiest, plumpest and juiciest steak. Reverse Sear's glory started from a German chemist and food scientist around 1850.
As the only daughter, I inherited my mom's penchant for cooking, and so, the story lives on. Now, it's my turn to share with you our family recipe.
My Tips For Making The Ultimate Steak:
Best for 2″ – 3" thick steak-like American wagyu New York strip steak, well-marbled, prime strip, rib-eye cuts, or Tomahawk steak.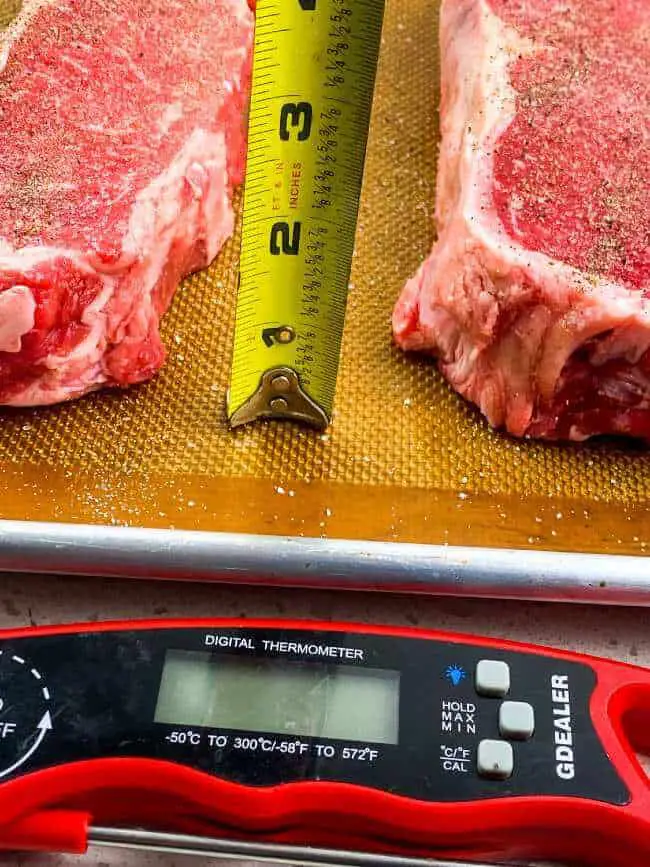 My own way of removing moisture in steak is the combination of using these two ingredients: two tablespoon corn starch, two tablespoons of Kosher salt, combine in a bowl. Let the steak sit for an hour, dry on the surface, these will remove moisture in the steak. Cover the steaks with the corn starch mixture.
Put in the freezer for 30 minutes in the wire rack set over a rimmed baking sheet tray. Doing these will not leave the steak to sit on its juice while in the freezer. Cover in foil and let it rest for 10 mins before placing it inside the oven.
Start with preheating the oven to 250°F and set to slow-cook with a low temp for 45 minutes. We need meat, probe, or digital thermometer, insert inside the center of the steak. Set the Thermapen at 130 degrees and constantly check the temperature.
When you Reverse Sear, there's a slow and even heat distribution in the meat, which will prevent over-cooking. The nice pink color of the steak will happen internally and with less to no cooked gray edges.
You can even enhance and create your own recipe and spark up your innate creativity.
Enjoy the oozing tenderness of your steak, paired with your favorite glass of wine.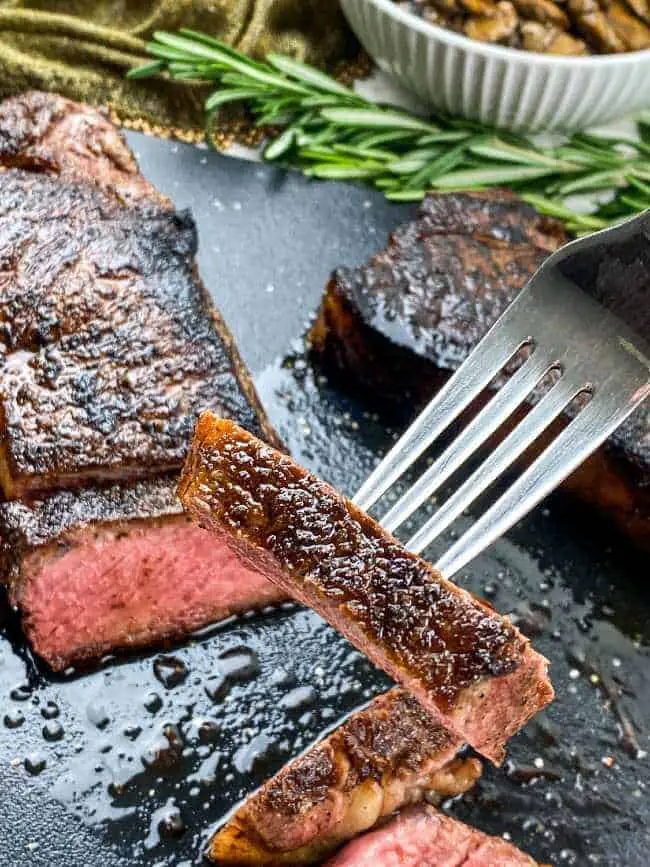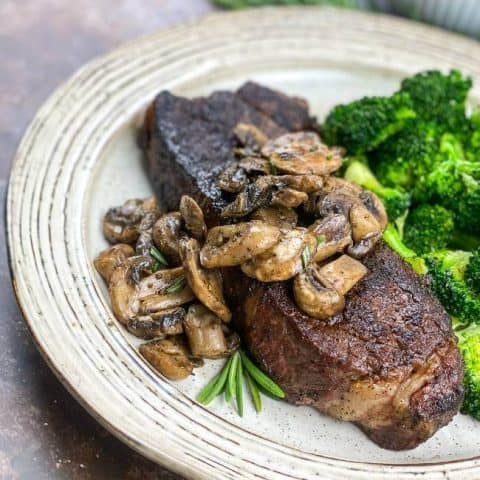 How To Reverse Sear A Steak
Total Time:
1 hour
20 minutes
There is nothing you will not love about the appetizing and palatable steak prepared via this easy to follow reverse sear method
Ingredients
2 1½" - 2" thick strip steaks (approximately 1¾ - 2 lbs.)
Kosher salt, black pepper to taste
Corn starch mixture
2 T. high-smoke point cooking oil, such as canola, olive, or grapeseed
Garnishing like baby potatoes, baby cherries, asparagus, and tomatoes.
Instructions
Put in the oven set at 250°F oven for 45 minutes.



Use a probe or meat thermometer to check the steak's temperature which should be at 130-degree. Let steak rest for 10 minutes before proceeding to the next step.



Place a skillet or hot-pan and Lightly coat skillet with canola, olive, grapeseed oil, or butter. Sear for 60 to 90 secs on both sides until crisp and golden brown.



You can add potatoes, baby cherries, and spices for garnishing. Sear and wait for the meat to caramelize and golden brown. Then wait for 2 minutes Serve fresh, hot, tender, and delectable steak your family loves.


Nutrition Information:
Yield:

4
Serving Size:

1
Amount Per Serving:
Calories:

365
Total Fat:

20g
Saturated Fat:

5g
Trans Fat:

0g
Unsaturated Fat:

14g
Cholesterol:

34mg
Sodium:

187mg
Carbohydrates:

33g
Fiber:

1g
Sugar:

1g
Protein:

12g
FAQ's
Can You Reverse Sear Steak?
Definitely! It's one of the best ways to cook a steak, a must-try recipe.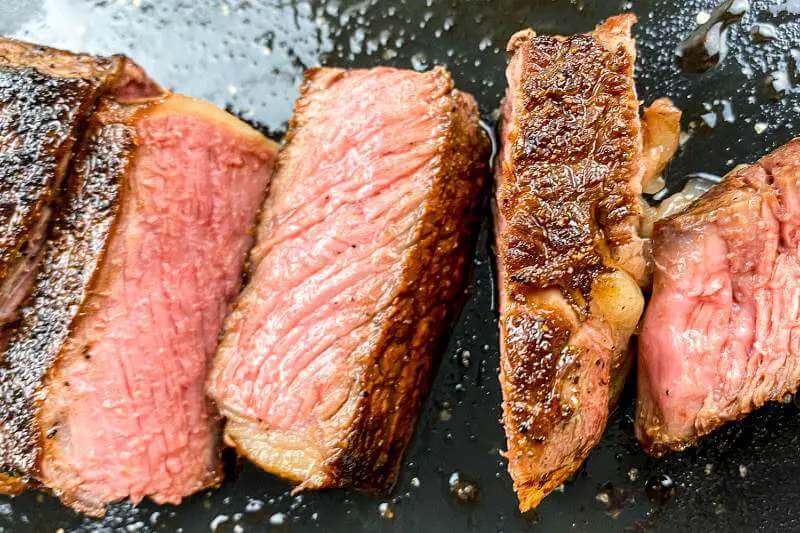 Well, aside from the traditional way of cooking a steak, doing the Reverse Sear method will change the way you look at cooking your steak. So, by all means, do it, and thank me later. Be creative with your garnishing and spices for an ultimate burst of flavor.
Can You Reverse Rear A One-inch Steak?
By all means, yes! You need to adjust the temperature and cooking time for a one-inch thick.
For example, to achieve a medium-rare steak, the internal temperature should be 140 degrees, 10 minutes of cooking. Let the steak rest for another 10 minutes before serving. For the meatiest experience, you can also use a 2″-3″ steak cut.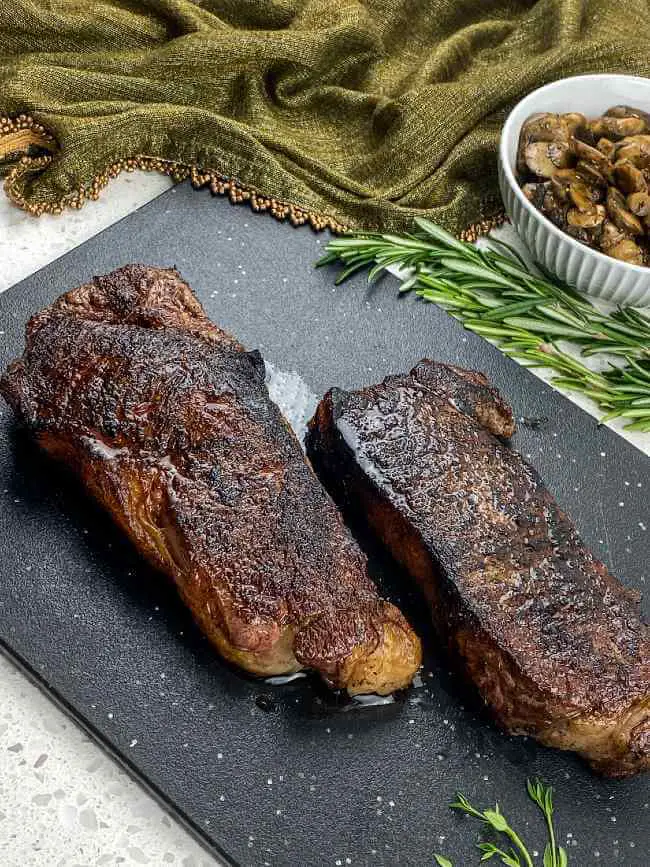 What Temperature Do You Pull A Steak To Reverse Sear?
You choose how you want your meat's doneness. Want a rare steak? The internal temperature should be 130 degrees for a 2" steak. The lean cuts are best for a rare steak.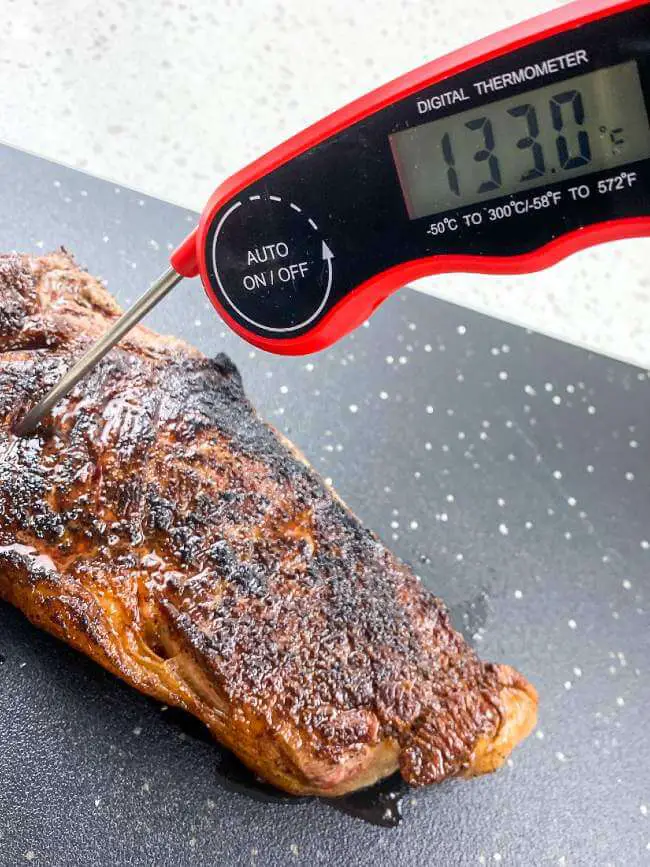 Now, a medium-rare will need the internal temperature at 140 degrees for 10 minutes. Rib-eye steaks for medium doneness, the heat will bring out more flavor from the fat content.
The internal temperature for a medium-well steak should be around 150 degrees for 10 minutes, bone-in strip and Wagyu cuts are the best options. For a well-done steak, the core heat at 160 degrees, cook for 10 minutes.
How Do You Reverse Sear A Steak Without A Thermometer?
A surefire way of checking your meat temperature without piercing the inside of the steak. With the use of the fleshy part of your palm, just below the thumb. You can tell the differences when you switch thumb with each of your fingers, starting with your pointer finger.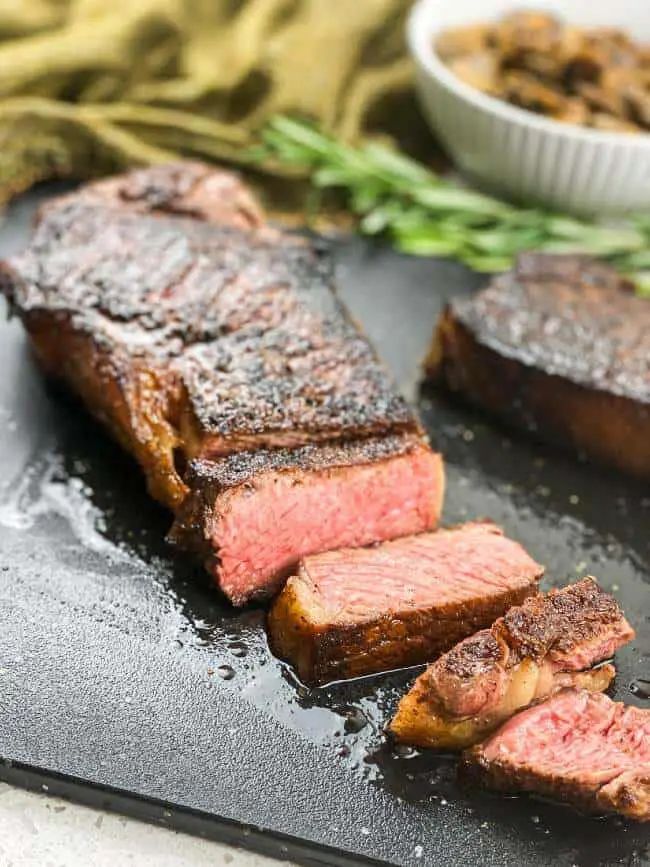 Touch that fleshy part of your palm again, and you will achieve rare doneness.
Your thumb to your middle finger, feel that tense in that part of your palm, sign that your steak is a medium-rare.
Thumb to your ring finger, the palm will feel slightly bent, which means you achieve medium doneness.
Lastly, the well-done steak will feel like your thumb and pinky connected, see how firm that fleshy part of your palm, you'll know your steak is well-done.
I know you do not want burnt meat, so doing this will give you meat cooked evenly from edge to edge. Reverse Sear the steak for a nice speck of the caramelized and crumbly brown surface that looks like gems of crystallized sugar.
So for lunch or dinner, treat yourself to that enjoyable and delectable strip of medium-rare steak, and not wait for your next family get-together. Do the Reverse Searing method, and I guarantee you that there's no need to dine at upscale Steak Houses. Let us know your experience if new to this method, would also love to hear your suggestions if already a pro!