Before I start, let me just say, looks can be deceiving. This Savory Puff Pastry Bites with Caramelized Onions and Mushrooms may look simple, but they are seriously addicting! Whenever I make this, I have to repeatedly remind myself that's it's for the guests. And that they are supposed to be just appetizers, you know like to wake up your taste buds, not snacks! 
Whenever I go out to restock my pantry, I always make sure to have a few boxes of puff pastry in my cart. It is extremely versatile and convenient so it's important to always have it in stock. You can use it anywhere from desserts, main courses, and appetizers. Before I learned this recipe I would use puff pastry for making chicken pot pies and fruit tarts.
Tips To Make Savory Puff Pastry Bites Even Better:
Do not forget to thaw the puff pastry overnight before making this recipe. Simply move it from the freezer to the lower rack of the refrigerator and it will be ready the next day.
For easier grating, freeze the applewood smoked cheddar for at least 10 minutes.
Do not slice the onions too thinly or it might cause them to burn during the caramelization process.
You can make the caramelized onions in advance to save time when making this appetizer. Cook it a day or two ahead and simply store it in a container that is airtight.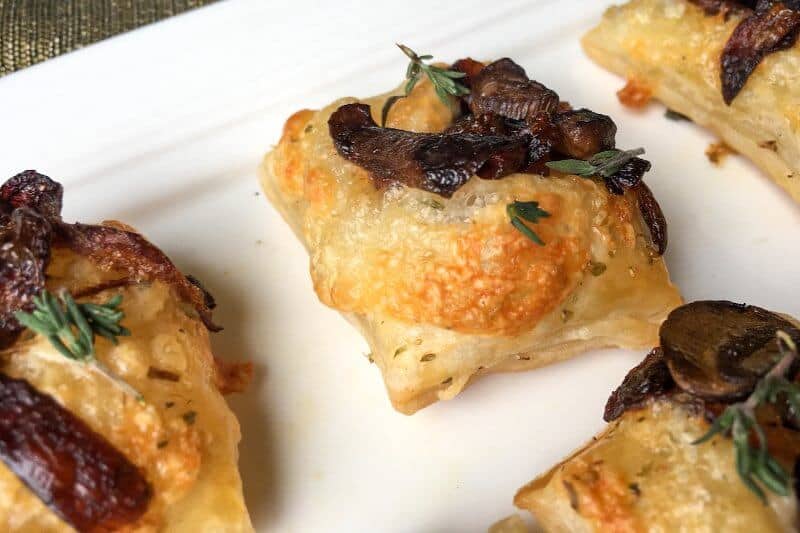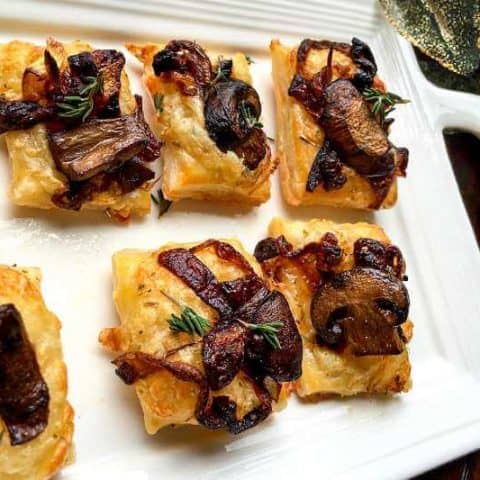 Savory Puff Pastry Bites
Cook Time:
1 hour
30 minutes
Entertain a big holiday party with these Savory Puff Pastry Bites. Made with buttery, flaky puff pastry bites topped with savory caramelized onions and mushrooms.
Ingredients
For the Marinated Mushrooms:
1 cup baby portobello mushrooms, cleaned and sliced
¼ cup Marsala wine
½ teaspoon of sea salt
½ teaspoon black pepper
2 tablespoons extra virgin olive oil
For the Caramelized Onions:
4 yellow onions, large
¼ cup of unsalted butter softened
3 tablespoons of white wine
½ teaspoon of sea salt
½ teaspoon black pepper
Remaining Ingredients:
1 package frozen puff pastry
2 eggs
all-purpose flour, for rolling
1 cup of smoked applewood cheddar
3 tablespoons of thyme leaves
Instructions
In a non-reactive bowl, marinate the mushrooms in Marsala wine. Leave the bowl at room temperature to marinate for about 20 minutes. Drain any remaining liquid prior to cooking the mushrooms.
While waiting for the mushrooms to finish marinating, chop the top and bottom part of the onion and peel the thin external layer off. Slice it in half from top to bottom then slice into about 1/8" thick strips.
Place a large cast-iron pan or a large saucepan on medium heat and toss in the butter. Once the butter melts, add the onions and continue stirring until they are coated with melted butter.
Leave it to caramelize for about 45 to 50 minutes. Stir frequently to make sure that they are cooking evenly and to keep them from sticking on the pan. *Cooking time may vary.
While caramelizing the onions, place a separate large pan over medium-high heat. Pour 2 tablespoons of extra virgin olive oil and sauté the marinated mushrooms. Stir occasionally for about 7 minutes or until they become tender and have slightly browned edges. Once done, transfer the mushrooms to a medium bowl.
Line two large cookie sheets with silicone baking mats or parchment paper then preheat your oven to 375°F. 
When the onions have caramelized, deglaze the pan with the white wine. Add more if needed and use a spatula to scrape off the pan to get all the savory brown bits. Season the onions with pepper and salt then take the pan off the heat.
Cut the puff pastry in half then roll one half of it on a floured work surface. Use a pizza cutter (or a knife if without a pizza cutter) to divide the sheet of puff pastry into 32 equal-sized rectangles. Carefully place the cut puff pastry on your lined baking sheet then freeze for at least 10 minutes.



Do the same steps on the remaining thawed puff pastry.
Take the puff pastry pieces out of the freezer and rest for about 5 minutes. Each piece of the puff pastry should be brushed  with the egg wash. Evenly distribute the caramelized onions, mushrooms, and grated cheese between the puff pastry rectangles. Garnish each piece with thyme leaves.
Transfer the assembled puff pastry bites into the preheated oven. Leave to bake for 10 to 15 minutes then rotate the baking sheet to make sure the pieces are cooking evenly.

Cook for another 8 to 10 minutes until the pastry pieces achieve a golden-brown color. Take them out of the oven and rest for about 3 to 5 minutes before serving. Bon appetit!


Nutrition Information:
Yield:

64
Serving Size:

1
Amount Per Serving:
Calories:

35
Total Fat:

2g
Saturated Fat:

1g
Trans Fat:

0g
Unsaturated Fat:

1g
Cholesterol:

10mg
Sodium:

55mg
Carbohydrates:

3g
Fiber:

0g
Sugar:

0g
Protein:

1g
Entertain your guest while munching on these Savory Puff Pastry Bites! They are perfect for any occasion and can be served with pretty much anything. Try it out and let me know in the comments how you liked these mouthwatering bites! ♥