**Disclosure: We recommend the best products we think would help our audience and all opinions expressed here are our own. This post contains affiliate links that at no additional cost to you, and we may earn a small commission. Read our
full privacy policy
here.
If you're in the hunt for the best pasta pot to be your new best friend in the kitchen, you've come to the right page.
Something happened last time I cooked pasta and it was the final straw for me to buy a dedicated pasta pot the very next day.
After careful consideration, All-Clad Stainless Steel Tri-Ply Bonded Pasta Pentola with Strainer Insert is the best pasta pot in my opinion.
Last update on 2021-01-16 / Affiliate links / Images from Amazon Product Advertising API
The Best Pasta Pots: My Top 3 Winners
Now onto my story. I was in the mood for some homemade pasta, so I pulled out my cooking gear and got to work. I decided to go with one of my favorite one-pot pasta recipes.
Since I had become relatively used to the recipe, I became too confident that nothing could go wrong. However, life has other plans, and I got distracted by something else I had going on at the moment.
I turned away from the pot for just a minute to go and take some muffins out of the oven. When I turned back around, my pasta had gotten stuck to the bottom of the pot. I was only able to save a little less than half of it, and I had to soak the pot overnight. Uggh.
Now you know the inspiration for this buying guide, let's see the pots that I included in my list.
Best Pasta Pots: Our Complete List
All-Clad Stainless Steel Tri-Ply Bonded – Pasta Pentola With Strainer Insert
I am one who All-Clad had converted to trust in its products when it comes to quality and durability. What is not to love with this set, it is versatile. Not only good for making pasta it also is good for blanching and steaming veggies; its perforated insert works magic as it literally drains the food right into the pot.
Last update on 2021-01-16 / Affiliate links / Images from Amazon Product Advertising API
A definite time and space saver as this pot can handle any and multiple cooking needs and therefore your stove may be exclusively dedicated for another specialty you are working to prepare. Perfect for any busy day in your kitchen and no fuss even if done in big batches.
Pros:
Induction compatible and oven safe
Includes an easy to lift pasta streamer insert
Stick resistance and easy maintenance with its its' starburst finish.
Cons:
The lid is not see-through. However, with its ergonomically designed stay-cool handles, lifting the lid is extremely easy.
The pot is bulky due to its large capacity. It's a good thing that with All-Clad, you can easily nest the accessories inside the pot so they do not take up additional storage space.
Expensive, but the cooking experience would be worthwhile.
Bialetti Oval 5 Quart – Best Pasta Pot With Strainer Lid
Another well thought of an innovative piece of cookware from Bialetti the oval design makes sure noodles would not break while cooking. True to its ease of use concept, the twist and lock lid and strainer lid design was made for easy draining. If you are one who enjoys colors, indeed this is the piece for you as they come in "seven" shades. So how is that for options?
Last update on 2021-01-16 / Affiliate links / Images from Amazon Product Advertising API
Pros:
Comes in heat resistant handles and is lightweight for easy draining.
Non-stick interiors.
Cons:
Limited capacity when cooking for occasions, ideal for daily kitchen hustle.
Gotham Steel Multipurpose, With Strainer Lid – Best Inexpensive Pot
It is budget-friendly and has all the features you need to make your favorite pasta. An inexpensive solution to the poor pasta souls that accidentally slipped out of the pot while being drained. With its perforated tempered glass lid and built-in pouring spout, draining pasta has never been easier.
Sale
Last update on 2021-01-16 / Affiliate links / Images from Amazon Product Advertising API
The pot's stay cool handles also have one more amazing feature: it locks the lid in place! It has a "twist to lock" mechanism that keeps the lid from sliding off while pouring the water out. This versatile pot's interior is coated in a combination of titanium and ceramic which makes it effectively nonstick.
Pros:
Great pasta pot that's budget-friendly
Oven and dishwasher safe
Has a titanium-ceramic interior coating
Comes with a perforated lid for easier draining
Cons:
The lid handle and pot handle may heat up. It's best to use safety potholders to avoid minor burns.
Interior can get scratched when metal utensils are used. Stick with using silicone or wooden cooking utensils to keep the interior scratch-free.
Cuisinart Contour – Best Stainless-Steel Pasta Pot
The Cuisinart Contour Pasta Pot is exactly what you would expect from a reliable household name like Cuisinart. I have always been a huge fan of the brand and every Cuisinart cookware that I have has been well worth the price tag that comes with them.
Last update on 2021-01-16 / Affiliate links / Images from Amazon Product Advertising API
It is made of food-grade, 18/10 stainless steel that is durable and nonreactive. The base of the pot is made with impact-bonded aluminum, this guarantees quick and even heating all throughout the cooking process.
Pros:
The large 12-quart capacity allows you to make family-sized dishes in no time
Made with high-grade stainless steel
Comes with pasta strainer insert for easy draining
Induction friendly and dishwasher safe
Cons:
Quite expensive for a pasta pot. The hefty price tag is matched by Cuisinart's guaranteed durability and high-quality construction.
Some reviews complain about black discoloration after several uses.
Viking 3-Ply Stainless Steel – Best Non-stick Pasta Pot
Another durable and efficient Pasta Pot on our list is the Viking 3-Ply Stainless Steel Pasta Pot. If you're sick and tired of pasta sticking to the sides and bottom of your pot, this is exactly the pasta pot that you want in your kitchen. This workhorse is constructed with 2 layers of commercial-grade stainless steel sandwiching an aluminum core. This goes from the sides to the bottom of the pan, making it effectively nonstick.
Sale
Last update on 2021-01-16 / Affiliate links / Images from Amazon Product Advertising API
The pasta strainer and steamer basket that conveniently comes with the pot are also made from 18/8 stainless steel. That means you other than the pasta you can also use it for steaming veggies, making stock, chili, and a lot more. It also has internal markings in both metric and US measurements for added convenience.
Pros:
3-Ply Stainless Steel construction
Comes with internal measurements markings
Built-in heat-resistant handles for convenience
It is dishwasher safe
Cons:
The product is made in China. Despite several doubts because of this concern, the Viking Pasta Pot has proven that it has a commercial-grade quality and is highly durable.
The interior is not entirely scratch proof. It is recommended to use only silicone and/or wooden cooking utensils to keep the interior as good as new.
Winware 20 Qt Aluminum Cooker – Best Large Pasta Pot
Do you have a big family? Or maybe you enjoy hosting dinner parties and family gatherings? This 20 Qt is for sure your perfect companion when feeding a crowd, up to your cooking game with its commercial-grade quality. Speaking of multi-tasking, it has four stainless steel inserts that will allow you to cook variants of pasta and veggies all the same time. Each insert has a hanging clip for no worry draining, such a breeze when you see it in action.
Sale
Last update on 2021-01-16 / Affiliate links / Images from Amazon Product Advertising API
Pros:
Made from heavy-duty stainless steel
Very spacious with its 20 QT capacity
Cons:
Heavy, however, this pot may not require maneuvering when already on the stove, and in terms of cleaning it is dishwasher safe.
Rachael Ray Nonstick – Best For Pasta Sauce
Coming from the famous celebrity chef Rachael Ray's line of kitchenware is this 8-quart Nonstick Pasta Pot. The first thing you'll notice is that it is oval in shape, allowing it to accommodate different pasta types. This means you can cook pasta like spaghetti, tagliatelle, and linguine without breaking them in half. It's unusual shape also frees up space in the stove, allowing you to use the other burners without overcrowding.
Sale
Rachael Ray Brights Hard Anodized Nonstick Pasta Pot / Stockpot / Stock Pot - 8 Quart, Gray
DURABLE ALUMINUM PASTA POT: Nonstick stockpot is crafted with durable hard anodized aluminum for long-lasting, even-heating...
ENHANCED NONSTICK: Pasta pot features high-quality PFOA-free nonstick for effortless food release and easy cleanup
VERSATILE COOKWARE: Oven safe to 350 degrees F, the high performance stockpot with lid is suitable for all stovetops, except...
Last update on 2021-01-15 / Affiliate links / Images from Amazon Product Advertising API
This pot is also great for cooking your favorite pasta sauces. It has a nonstick interior that's PFOA free which makes sautéing and simmering sauces more convenient. Its hard-anodized aluminum construction makes it extremely durable and oven safe too. This lets you simmer your sauce and finish the pasta in the oven like when making lasagna or baked mac.
Pros:
Durable hard-anodized aluminum construction
High-quality nonstick interior
Built-in pouring spout makes it easier to drain noodles
Oven and dishwasher safe
Cons:
The Interior is not scratch proof. To keep its nonstick interior, use cooking utensils like wood or rubber.
The unusual shape can cause issues in storage. However, the stout body is easier to stack with other cookware or inside kitchen cabinets.
What Do You Need to Consider When Getting a Pasta Pot?
Price
One of the most important factors when getting new kitchenware is the budget. Although it is commonly recommended to go with the latest product from a high-end brand, sometimes our pockets do not agree. It's important to remember that inexpensive products don't always mean poor quality.
I allocate the budget for something depending on how much I need it. Therefore, if you frequently make pasta dishes, it would be okay to splurge a little as long as your budget allows you to. It most likely comes with the durability you need for making pasta 2 or 3 times a week.
Material
Different construction comes with their own set of pros and cons. For example, stainless steel is durable and lightweight, however, it may take time for you to boil the pasta water. On one hand, materials like titanium or aluminum are amazing heat conductors that allow for a more even and faster cooking. But unsurprisingly, they often come with a hefty price tag.
Capacity
Before getting a pasta pot, analyze your needs. How many people are you cooking for most of the time? If it's just you, or a small family, anywhere from 4 to 8 quarts should be big enough to feed the family. However, if you're frequently hosting parties and gatherings or simply have a bigger family, then you might want to invest in a 12-quart pasta pot.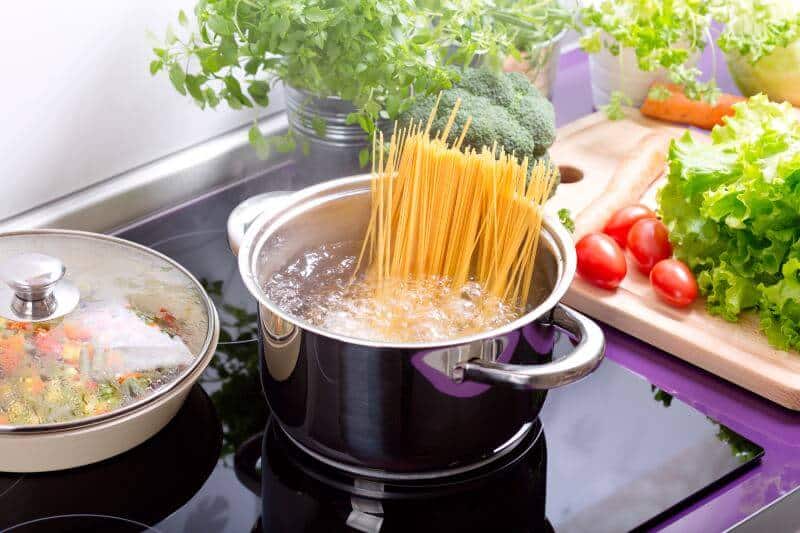 This allows you to make one big batch of pasta in one cooking rather than multiple small batches. This will save you time, effort, and resources in the long run. The downside is a bigger capacity means it takes longer to boil the water since you're working with a higher volume.
Storage Space
If you have limited storage in the kitchen, you have to consider if you have enough space to store the pasta pot when not it's in use. A bigger pot is bulkier and will require more storage space than a regular-sized pot. Extra accessories that come with the pasta pot also adds to the space that it consumes in the kitchen cabinet.
Extra Features
Pasta pots often come with different accessories and features. Do you need one with a strainer lid or one with a pasta strainer insert? Some also come with a veggie steamer. If you have an induction stove, you also want to confirm that the pot is induction compatible. An oven-safe pasta pot is also a nice feature to have for those pasta dishes that require to be finished in the oven.
Ease Of Cleaning
When making a delicious pasta dish, the last thing you want to worry about is cleaning the pots and pans afterward. It's best to have a pasta pot that is dishwasher safe, therefore you only have to rinse it and place it in the dishwasher after use. A nonstick pasta pot also factors in this as you will not have to soak it overnight to get rid of burnt residues.
What Kind Of Pot Do You Use For Pasta?
The best pot to use is a pot with a pasta strainer insert. Unlike regular stockpots, they come with a pasta strainer insert that makes cooking and preparing pasta more convenient. This prevents several issues like minor burn accidents from lifting and tilting a heavy pot of pasta for several minutes while pouring it over a colander.
It can also keep the pasta from getting soggy while it's soaked in boiling water waiting to be drained. Pasta pots are also frequently designed to be nonstick, so you don't have to worry about the pasta sticking and burning to the sides and bottom of the pot.
What Type Of Pot Is Best For Boiling Water?
The best type of pot to use for boiling water is either a stockpot or an electric kettle. A stockpot like T-Fal Total Nonstick Stockpot is made from heavy-duty aluminum that makes boiling water quickly and will not cause any chemical leaks or discoloration.
If you're boiling water for tea or coffee, you can also go with an electric kettle like this COSORI Electric Kettle. It is made from durable premium quality borosilicate glass. It also has a light indicator that tells you when your water is boiling and an auto-shutoff feature when it's done.
Can You Cook Pasta In A Stockpot?
The simple answer is yes, you can. However, stockpots do not come with built-in draining features or accessories. This makes draining pasta more challenging than it would be on a dedicated pasta pot. For example, you will need to lift and tilt a potentially heavy pot full of water and cooked pasta to pour it over a colander. This may then cause you to let go of the pot and accidentally pour the piping hot water and pasta on yourself.
Meanwhile, Pasta Pots usually have 2 layers – the main pot and the colander that goes inside it. All you have to do is fill up the main pot with the required water. Once it boils you place the colander and the pasta in. After the required cooking time, you can easily lift the colander and drain your pasta. No heavy lifting needed.
TKD Verdict
Now for our winner. I think All-Clad Stainless Steel Tri-Ply Bonded Pasta Pentola with Strainer Insert is the best pot on my list. I enjoy hosting family dinners and the included steamer is a great addition when I'm making steamed veggies for my other dishes, which is perfect for a multi-tasker like me.
It's definitely a great investment for its price! I've had mine for over a year and I use it at least 5 to 7 times a month, sometimes more. I'm confident that it will be as good as new in the coming years. Also, in case I encounter any issues with it, I know All-Clad has my back with its limited lifetime warranty.
Are you ready to pick your new pasta pot? Let me know in the comments below which one you picked to be your new pasta-making best friend and what's the first pasta dish you made in it! Just trust me, it's definitely worth investing in. 😉