This one-pan chicken rice in peach sauce is an instant hit in our home! How often can you find a dish that's healthy, tasty, easy to make, and doesn't give you a ton of pots and pans to wash after? Best believe it automatically went up the list of my "Lazy Mom Meals". 😉
I recently made several bottles of peach compote and I can't decide what else to do with it. So, I experimented and put it on chicken rice, and it tasted amazing! The savory, tangy flavor of the peach compote complimented the subtle flavor of the pan-fried chicken. The rice just perfectly brings them all together.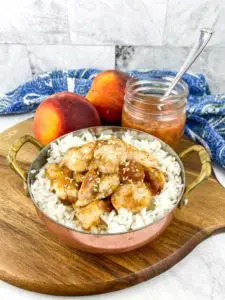 What makes it more perfect is that you can make this into a completely keto-friendly dish. Simply replace the white rice with steamed broccoli rice or fried cauliflower rice. The dish will still be as filling and will make it even healthier than it already is. I personally prefer putting it over cauliflower rice when I don't feel like eating rice.
I prefer to use boneless chicken breast for lower calories and more protein. You can also substitute it with chicken thigh fillet if you prefer dark meat. Chicken thighs have higher fat content and are therefore juicier than chicken breasts. The downside is that it also makes it higher in cholesterol than the chicken breast.
Tip: Want to try more of our chicken recipes? We've got you covered. Our easy frozen chicken tenders in air fryer is a sure win snack. Check it out!
What to serve with One Pan Chicken Rice in Peach Sauce
I love to serve one-pan chicken rice in peach sauce with veggies sautéed broccolini or buttered green beans. They add not just a pop of color, but the veggies make it a greatly balanced meal too. They're also just as easy to make as the rest of the dish.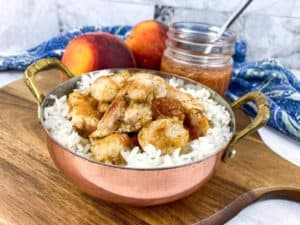 Basic Broccolini – I make this by blanching the broccolini in boiling water for 1 to 2 minutes until they turn bright green. Then I sauté it in garlic and olive oil, add salt and pepper to taste. Drizzle with lemon juice and red pepper flakes. And it's done! 
Glazed Baby Carrots – This side dish I start by boiling baby carrots until they're tender, about 5 to 8 minutes. Then I drain it and sauté in brown sugar, lemon juice, and butter for 3 minutes while continuously stirring. Sprinkle with salt and pepper to taste. Then I top it with flat parsley.
Garlic and Butter Green Beans – This is another one of my favorites and a go-to side dish of mine. Simply boil destringed green beans for approximately 5 minutes or just until it starts to soften. Then I drain it and sauté in butter with a few cloves of browned minced garlic. Quick and easy. 😉
As for the toppings, my first choice is always sesame seeds, but you can replace it with toasted walnuts or spring onions too!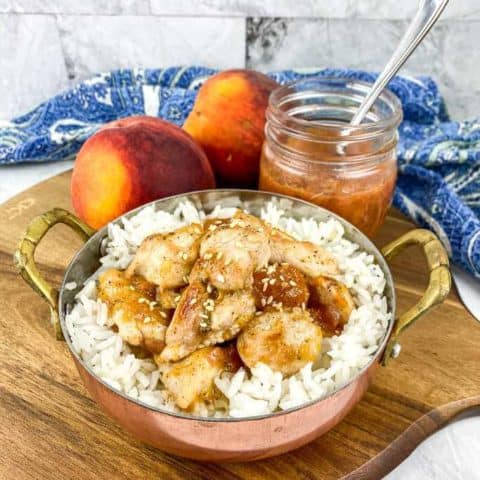 One Pan Chicken Rice in Peach Sauce
This tender chicken bites tossed in a savory peach sauce is best served over steaming rice. It's super simple yet it's filling and so full of flavor.
Ingredients
2 tablespoons of extra virgin olive oil
1-pound chicken fillet, cut into cubes
1 teaspoon garlic powder
Sea salt and black pepper
1¼ cup of peach compote
Serving suggestion:
3 cups of cooked rice (any option as preferred)
2 teaspoons white sesame seeds (optional)
Instructions
In a large nonstick saucepan, pour 2 tablespoons of extra virgin olive oil in medium heat.



Once the oil is heated, add the chicken cubes.



Add the salt, pepper, and garlic powder to taste. Amount as preferred.



Stir thoroughly to combine the ingredients.



When the chicken is golden brown all over continue cooking for 4 to 5 minutes. Stir occasionally to make sure the chicken cooks evenly.



Pour the peach compote to the saucepan and stir well to combine with the golden browned chicken.



Let it simmer for approximately 8 to 10 minutes until the chicken has cooked all the way through.



Remove the pan from heat.



Scoop your preferred rice into a bowl and top with the chicken in peach sauce. Sprinkle with sesame seeds and serve immediately. Enjoy!


Nutrition Information:
Yield:

4
Serving Size:

1
Amount Per Serving:
Calories:

458
Total Fat:

16g
Saturated Fat:

3g
Trans Fat:

0g
Unsaturated Fat:

11g
Cholesterol:

101mg
Sodium:

173mg
Carbohydrates:

39g
Fiber:

1g
Sugar:

4g
Protein:

37g
There is definitely no one way to serve this One Pan Chicken Rice in Peach Sauce dish. It's versatility at it's finest! That's one of the things I love about it and I hope your family enjoys it as much as mine did. Fee free to share with me how you personalized this recipe in the comments below. Much love, ciao! ♥