Over the years, london broil has become the favorite budget-friendly go-to steak to cook. So today I'm sharing one of my family's favorite Top Round London Broil Recipe. It's easy to make and easy on the pockets too!
Contrary to popular opinion, you don't have to be a fancy Michelin-star restaurant chef to make an amazing london broil from home.
I know, they can be a little tricky at first. Overcook it and you can knock a loose tooth out in a bite. They can also be gamey and have a weird texture.
These are all nothing that a bit of practice and research can't fix! There are multiple ways to make one. You can cook london broil in the oven, on the grill or even with a cast-iron skillet.
There are also multiple varieties of rubs and marinades to use. Ready? Let's start with the basics:
What Is Top Round London Broil?
A top round london broil is a lean subprimal cut of beef. They are also called inside round as they are cut from the inside leg of the cow. These parts are less expensive because they have very low-fat content and thus tend to be tough when not cooked properly.
But once you get the perfect marinade, and you cook it low and slow – you'll be surprised at how juicy and flavorful they can be!
How To Best Cook Top Round London Broil?
It's worth noting that london broil does not refer to the cut of the beef but rather the process of preparing it. The process involves marinating the meat, searing or broiling it, and the most important part – cutting it across the grain. This results in flavorful and juicy cuts of beef.
There are various ways to cook a top round london broil. You can roast it in the oven, grill it, or pan fry it in a cast-iron skillet. All that matters is that you cook it low and slow.
This means cooking it in low heat for a long period. This ensures that they stay juicy and tender. Since there's not much fat in this cut, cooking it over high heat will lead to a rubbery steak.
On to the Juicy part, sharing with you a simple yet very delicate and sophisticated to the palate Herbed Butter London Broil. A family favorite and I hope this recipe becomes a constant attendee for your home celebrations too!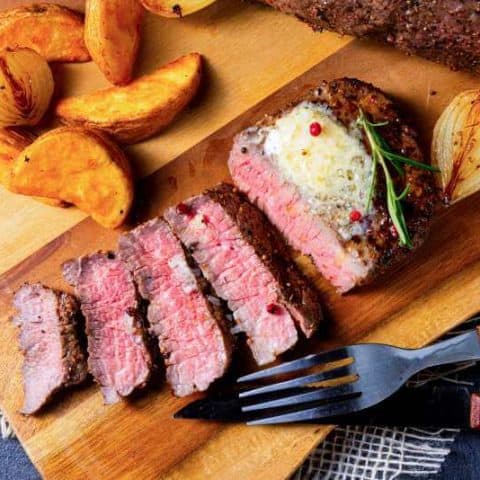 Herbed Butter London Broil
Prep Time:
4 hours
20 minutes
Additional Time:
15 minutes
Total Time:
4 hours
50 minutes
Top Round London Broil complemented by butter that's filled with fresh herbs for that fresh, juicy flavor!
Ingredients
For the london broil:
4 pounds Top Round steak
2 tablespoons lemon juice
1 tablespoon soy sauce
1 tablespoon Worcestershire sauce
3 tablespoon olive oil
½ teaspoon kosher salt
½ teaspoon black pepper, crushed
For the Herb Butter:
4 tablespoons softened unsalted butter
1 tablespoon fresh lemon juice
1 tablespoon fresh parsley, chopped
1 ½ tablespoon fresh chives, chopped
1 tablespoon fresh rosemary, chopped
1/8 teaspoon kosher salt
½ teaspoon ground black pepper
Instructions
In a small mixing bowl, combine lemon juice, soy sauce, Worcestershire sauce, olive oil, and salt and pepper. 
Score the top round steak on both sides for the marinate to help it absorb the marinade. Transfer it to a resealable freezer bag and pour the prepared marinade. Make sure the meat is completely covered in the marinade.
Take as much of the air out as you can to seal it then place it in the fridge for at least 4 hours.
Take the marinated meat out of the fridge 30 minutes before cooking. While resting the meat, make the herbed butter sauce.
Get a small bowl and combine butter, lemon juice, parsley, chives, rosemary and salt, and pepper. 
Heat up 1 tablespoon of olive oil in a large cast-iron skillet over high heat. Place the marinated steak in it and reduce to medium heat.
Place a cast-iron grill press or a heavy pan on top to weigh it down. Sear on both sides for 7 minutes. 
Rest for about 10 to 15 minutes and brush with herbed butter before serving.
Nutrition Information:
Yield:

6
Serving Size:

1
Amount Per Serving:
Calories:

751
Total Fat:

42g
Saturated Fat:

16g
Trans Fat:

0g
Unsaturated Fat:

21g
Cholesterol:

293mg
Sodium:

519mg
Carbohydrates:

2g
Fiber:

0g
Sugar:

0g
Protein:

93g
Are you ready to make your own top round london broil? Let me know how it went in the comments below. I'm excited for you to try out this amazing recipe!
If you loved this recipe and we made you want to cook for more, we got you covered. Want to know what to serve with london broil? Much love, ciao! ♥