When you think of fish fillet, it's always trout, salmon, or red snapper that comes to mind. This Grouper Fillet with Lemon-Thyme Sauce and Fresh Arugula Salad will give you a different view when it comes to fish fillets. I know it sounds fancy and complicated but in reality, you can whip up this whole dish in only 15 minutes.
This dish is perfect for those weeknights when you want to have a good meal without spending hours in the kitchen after a long day at work. It takes 5 minutes to prepare, which is ideal if you've already been up all day doing chores or walking around at work. The actual cooking takes 10 minutes or less, but the final result looks like you spent hours making it.
What Fish Should I Use?
The best fish to use for any fish fillet are those that have a firm texture and large flakes. Once cooked, they are moist, flavorful, and doesn't fall apart while cooking. Grouper fish is a good example of this, they are easy to find and is healthy too. They are known to be protein-rich while being low in fat. They also have a significant amount of calcium and iron.
As much as possible, it's best to get fresh fish fillet. It's easy to spot a fresh fish fillet in the market, they are firm and have a translucent color with no bruises. They also have a very mild fishy odor. You can also make your own fish fillet if you have freshly caught fish. All you need is an electric or regular fillet knife.
What To Serve With Grouper Fillet With Lemon-Thyme Sauce?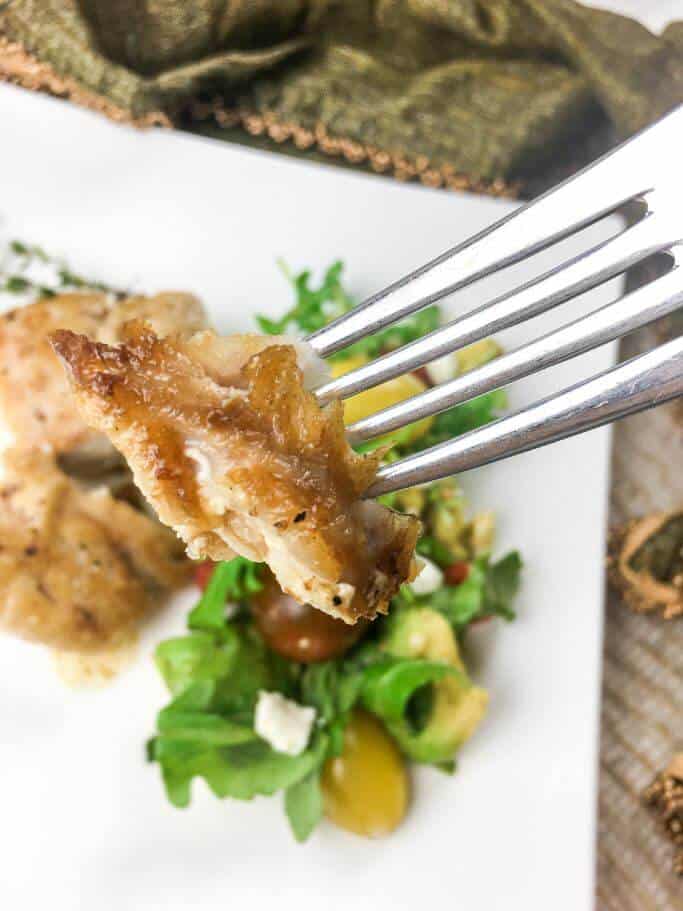 By default, I serve it with Fresh Arugula Salad. It just makes it perfect and makes it even more refreshing. Remember, the theme is to keep it light and easy. But when I'm feeling a little extra I like to mix it up too. Here are other easy side dishes I pair with this fantastic meal:
Easy Greek Pasta Salad – This pasta salad is light and colorful much like this fish fillet meal. It's just as easy to make and extremely delightful too. 
Spicy Mango Salsa – If you're not a fan of arugula, you can serve the fish fillet with spicy mango salsa instead. It completes that refreshing vibe with a little kick of spiciness.
Garden Taco Wraps – This makes a completely wholesome pairing with the fish fillet. I like to cut up the fillets and make fish tacos with it.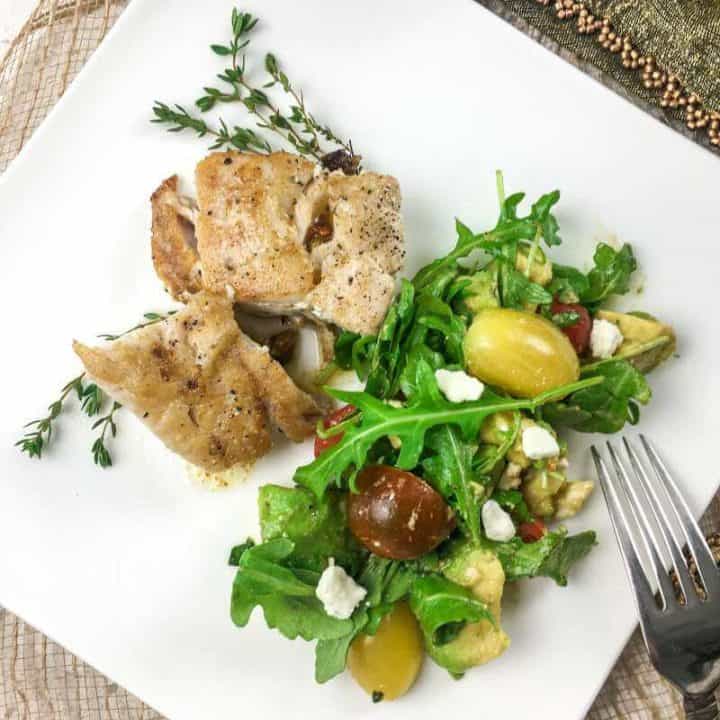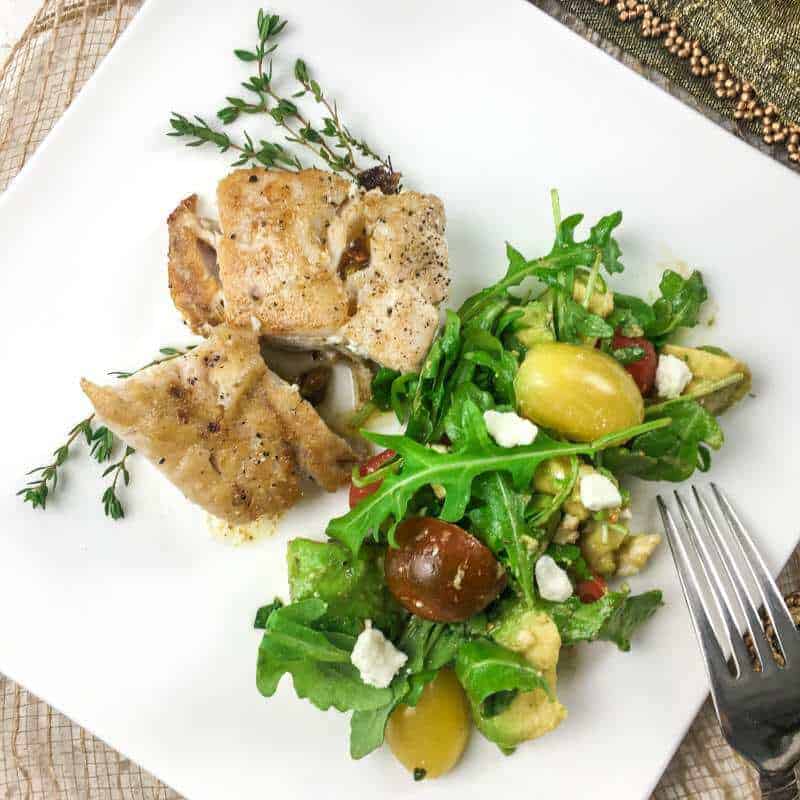 Grouper Fillet with Lemon-Thyme Sauce and Arugula Salad
Mildly sweet, firm, and moist Grouper fillet drizzled with a tangy lemon-thyme sauce and served with fresh arugula salad.
Ingredients
For the Arugula Salad:
4 cups baby arugula
2 cups cherry tomatoes, halved
1 avocado, cored and diced
2-3 tablespoons balsamic vinegar
1/8 teaspoon sea salt
1/8 teaspoon ground black pepper
For the Lemon-Thyme Sauce
¼ cup dry white wine
3 tablespoons unsalted butter, softened
1 teaspoon lemon zest
2 tablespoons fresh lemon juice
4 fresh thyme sprigs
For the Fish Fillet:
2 tablespoons extra virgin olive oil
4 pieces grouper fish fillets
Serving Suggestion:
½ c. Feta cheese, crumbled
Instructions
Make the salad. In a large salad bowl, mix the arugula, tomatoes, avocados, and balsamic vinegar. Sprinkle a dash of salt and pepper. Toss until well combined and set aside.
Prep the fish. Heat up olive oil in a cast-iron pan on medium-high heat. Swirl it around until it covers the bottom of the pan. Carefully place the fish in the heated pan. Let it sear for approximately 5 minutes. Or until you can easily lift it up from the skillet.



Reduce the heat to medium. Then flip the fillets to cook the other side until they're done. To check if they're cooked through, get a fork and see if they now flake easily. Once done, transfer them to a plate and set aside.
Make the lemon-thyme sauce. Pour the white wine into the same skillet where you cooked the fish. Try to get as much of the fond at the bottom of the pan by scraping it with a spatula. Then add the softened butter, lemon zest, lemon juice, and thyme. Stir until they're fully incorporated and add the salt and pepper, to taste. Let it simmer for about 2 minutes or until slightly reduced. Discard the thyme stems and take the sauce off the heat.
Assemble the dish. Put the cooked fish fillets back into the pan to incorporate it with the butter sauce. Transfer to serving plates and drizzle with the lemon-thyme sauce. Serve with the fresh arugula salad on the side and top with crumbled feta cheese. Bon Appetit!


Nutrition Information:
Yield:

4
Serving Size:

1
Amount Per Serving:
Calories:

361
Total Fat:

24g
Saturated Fat:

8g
Trans Fat:

0g
Unsaturated Fat:

15g
Cholesterol:

63mg
Sodium:

126mg
Carbohydrates:

11g
Fiber:

5g
Sugar:

5g
Protein:

24g
This colorful dish is not just visually pleasing but is also a treat to the taste buds. It's great for warm weeknights or a lighthearted lunch with the whole family. Let me know what you think about it in the comments below. Much love, ciao! ♥