There are no words that can explain how excited I am to share this with you. My lovely divas, I present to you: my Homemade Spicy Mango Salsa. It is a match made in heaven with my Vegan Black Bean and Guacamole Garden Taco Wraps recipe and you should definitely try them together!
This Spicy Mango Salsa is up there on my list of favorite condiments together with guacamole and peach compote. It goes with pretty much anything, from veggie wraps, grilled salmon, or simply served with tortilla chips on the side. I love how its vibrant color makes everything more appetizing, and all the refreshing flavors combined with it.
Why Should I Make This Homemade Spicy Mango Salsa?
Mango
The major ingredient of this recipe, mangoes, packs a lot of essential vitamins and nutrients with it. It contains various antioxidants that aid in reducing the risk of heart disease, leukemia, and different types of cancer. 
It's also one of the fruits that have a low glycemic index, which means it will not make your blood sugar rise. Not to mention it is rich with vitamin C and pectin fiber that is beneficial to keeping a stable cholesterol level and weight loss.
Jalapeño
One of the things that makes this salsa super tasty, is the superfood – jalapeño. It has high levels of vitamins A, B, C, and K. It also contains potassium, capsaicin, and other antioxidants.  All these contribute to its ability to help with satiating your hunger, encouraging fat burn while also boosting your metabolism. 
Bell Pepper
The bell pepper does more than add color to this dish, it also makes it even more nutritious. Other than having low calories, it contains high levels of Vitamins A, B6, and C, potassium, iron, and fiber. As well as traces of Vitamin E and A.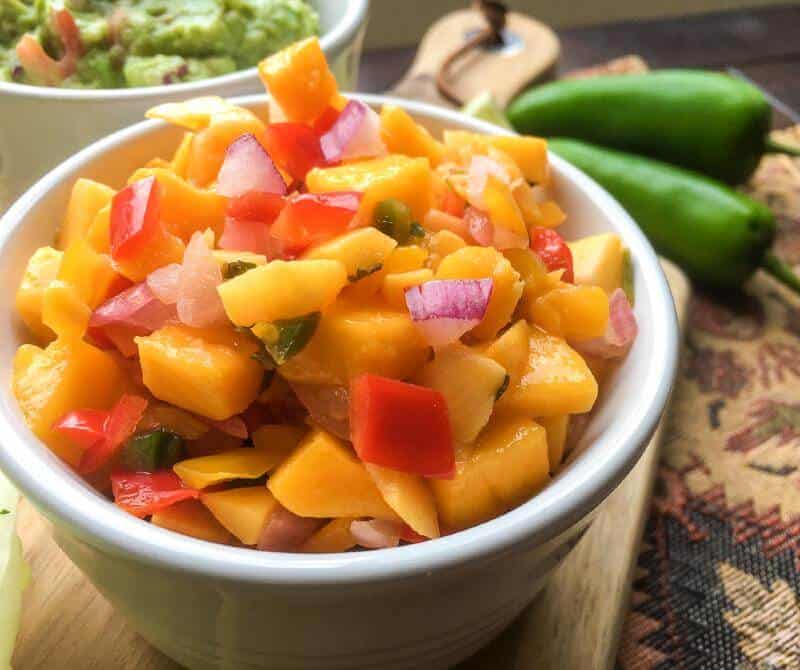 These vitamins and minerals do wonders for the body. Anywhere from improving bone health, encouraging healthy blood circulation, to boosting your immunity to various diseases.
Onions
Onions are another one of those foods that are low in calories but is packed with various nutrients. It has only 44 calories, but it is rich in Vitamin C and B as well as several antioxidants. Onions are excellent in boosting immunity and encouraging collagen production. They also reduce the risk of diabetes, cardiovascular diseases, and some types of cancer.
Cilantro
This staple Mexican herb is not just great for cooking, it's also popular in alternative medicine for its many health benefits. It works overtime to lessen the risk of obesity, cardiovascular diseases, and diabetes. It also contains natural anti-depressant, anti-inflammatory, and anticonvulsant properties. It also has a significant number of antioxidants that help in reducing cell damage caused by free radicals. 
Lime Juice
Last but not least, lime juice! The ingredient that adds a refreshing zest to this mango salsa. On top of that, it also adds a good amount of vitamins A to D, magnesium, calcium, and potassium. They all work together to help you maintain your weight, aids with digestion, and reduce the risk of diabetes and heart disease.
How Do You Prepare Mangoes For Salsa?
Place the mango with the stem up on a cutting board. This will help you locate the seed.
A mango's seed is thin, flat and goes all the way from the stem to the bottom of the fruit. So, what you want to do is cut around it and follow the shape of the seed.
Once you take the halves out, slice the flesh horizontally and vertically so you end up with tiny mango cubes. Then use a spoon to separate them from the skin.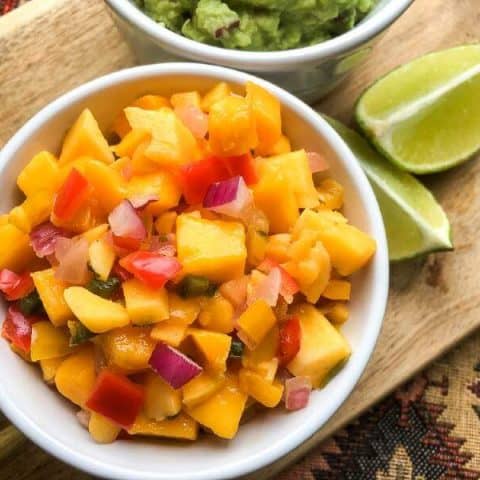 Homemade Spicy Mango Salsa
This Spicy Mango Salsa has the spiciness of the jalapeños and the sweetness of the ripe mangoes. Mixed with the tropical flavors of cilantro, lime, bell pepper, and onions.
Ingredients
2 ripe mangoes, cubed
½ medium jalapeño, finely minced
½ red onion, finely diced
1 red bell pepper, diced
2 tablespoon fresh lime juice
3 tablespoon fresh cilantro, finely chopped
1/8 teaspoon sea salt
1/8 teaspoon black pepper
Instructions
Get a medium non-reactive bowl (glass, stainless steel, or ceramic). Put together the mango cubes, jalapeño, onion, bell pepper, lime juice, and cilantro. Sprinkle with salt and pepper, as needed. Stir well to marry the ingredients.

Serve immediately with your favorite chips or tacos!
Nutrition Information:
Yield:

6
Serving Size:

1
Amount Per Serving:
Calories:

78
Total Fat:

0g
Saturated Fat:

0g
Trans Fat:

0g
Unsaturated Fat:

0g
Cholesterol:

0mg
Sodium:

44mg
Carbohydrates:

19g
Fiber:

2g
Sugar:

17g
Protein:

1g
This Spicy Mango Salsa is healthy and refreshing, it goes well with different dishes or as a dip. Give it a try and add your own twist to it. Let me know in the comments what you think about this recipe. Much love, ciao! ♥