Public Service Announcement: Take photos for your Instagram before tasting these Keto Pumpkin Cookies with Cream Cheese and Pecan Frosting or there will be none left before you remember to capture pictures for your #igfeedgoals 
Just do it. Trust me. 
I was on my third cookie before I remembered to take some shots for the 'gram. What you're seeing here is the second batch I made just to have a good "fresh from the oven" flat lay shot. 
I know, it's extra. But it's worth it. Because less than 5 minutes after this picture was taken all that's left are the parchment paper and the cookie tray. 
It's hard not to indulge myself in its creamy, nutty, pumpkin-y goodness. And besides, there's no reason to, because it's low carb! There's no need to wait for the fall season to have an excuse to eat pumpkin cookies. These pumpkin cookies are keto-friendly, which means you can have it as often as you can all year round, without all the guilt.
So, let's start whisking and baking! 😉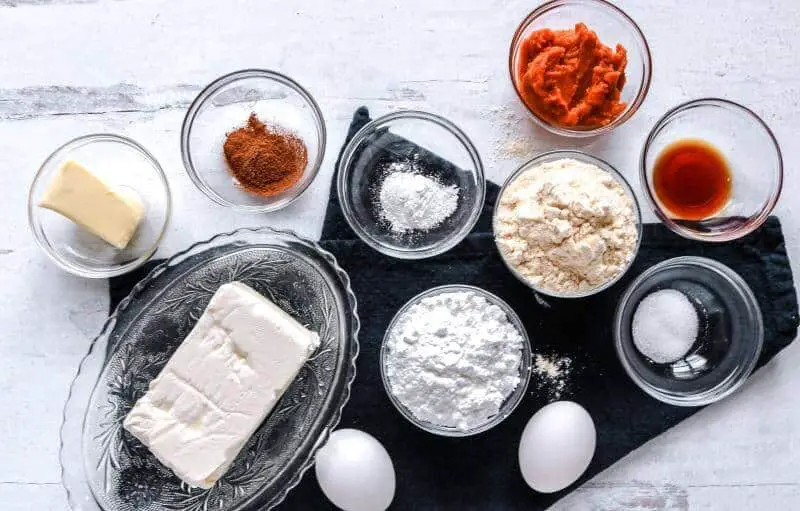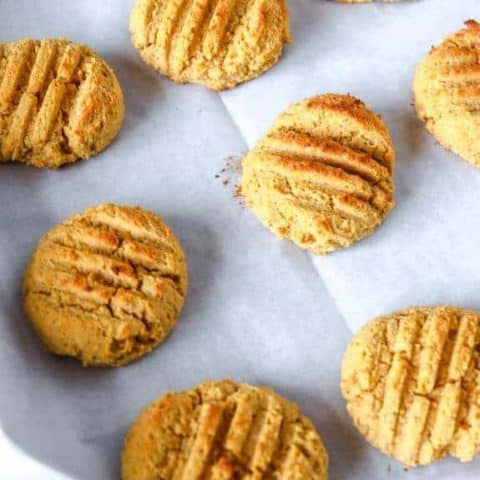 Keto Pumpkin Cookies with Cream Cheese and Pecan Frosting
Yield:
24-30 cookies (depending on size)
A cookie that is keto-friendly, luxuriously soft, flavorsome, and chewy goodness. All in one bite!
Ingredients
For the cookie:
½ cup butter softened
8 ounces cream cheese softened
1 tablespoon of vanilla
½ cup Swerve Confectionary Sugar
2 eggs
2/3 cup almond flour
½ cup pumpkin puree
½ teaspoon salt
1 tablespoon pumpkin pie spice
2 teaspoons baking powder
For the frosting:
4 ounces cream cheese softened
4 tablespoons butter softened
½ cup Swerve confectionary sugar
2 tablespoons crushed pecans
Instructions
For the cookie
Preheat your oven to 180° C or 350° F.
Line your baking sheets with parchment paper. 
Get a large mixing bowl. Then mix the butter, cream cheese, pumpkin, vanilla, and powdered sugar until they're completely incorporated.



Add in the eggs and whisk for another 1-2 minutes until your mixture is smooth. 



Gradually add in the remaining dry ingredients with wet mixture. Then whisk until fully combined. 



Use a small cookie or ice cream scoop to transfer the dough onto the parchment-lined baking sheets. 
Optional step: Use the back of a fork and press down on the dough to make them flat. 



Put the tray in the oven and let it bake for 13 to 18 minutes. You can start doing the frosting while waiting for the cookies to be done baking.
Start to keep an eye on it at 13 minutes as you just want the tops to lightly brown, not burn.
Transfer to a cooling tray and let it sit to cool before frosting them or else the frosting will melt. 


For the cookie frosting
Combine cream cheese, softened butter, sugar, and crushed pecans in a bowl. Whisk them until they're light and fluffy. 



Now spread the frosting evenly on top of the cooled cookies and enjoy!

Nutrition Information:
Yield:

24
Serving Size:

1
Amount Per Serving:
Calories:

165
Total Fat:

13g
Saturated Fat:

7g
Trans Fat:

0g
Unsaturated Fat:

5g
Cholesterol:

45mg
Sodium:

181mg
Carbohydrates:

11g
Fiber:

1g
Sugar:

9g
Protein:

2g
And there you have your Keto Pumpkin Cookies with Cream Cheese and Pecan Frosting! The road to losing weight and being healthy can be fun and rewarding, just like these cookies. So, go and give it a try. Don't forget to leave us a comment below and tell us how it turned out! Much love, ciao! ♥