'Tis the season to take out the fancy plates and your yet to be discovered cooking skills! These Whipped Goat Cheese-Filled Prosciutto Baskets are the ULTIMATE appetizers that you need this holiday season. These exquisite baskets of deliciousness may look like they came from some fancy cooking show, but no. You can actually make them in only 30 minutes!

If you're looking for an appetizer that takes minimal effort but looks and tastes like you spent hours in the kitchen making it, the search is over. This is it. Nothing beats this recipe. You make the Prosciutto baskets, which is super simple by the way, bake it and fill the crispy baskets with goat cheese. Top it with some ground pistachios for a bit of crunch, and you're done. Yes, just like that.

I know, they look way more complicated than that. But in reality, it's super easy, you just need a reliable muffin pan! With this recipe, you can impress even the most critical of guests. I first made this when the hubby's manager and colleagues came over for the game day. He was nervous as he recently got promoted at the time, and of course, wanted to impress his new team. What better way to do it than with football and good food, right?
Of course, #Superwife to the rescue. I may know next to nothing about football, but I sure know my way around the kitchen. I quickly whipped up this impressively elegant appetizer for them to snack on while I was working on making my family's signature London Broil. I'm glad I made two batches because the first tray of Goat Cheese-Filled Prosciutto Baskets I served them was finished in a quick minute!
Needless to say, it's been one of the most requested dishes whenever they have a potluck at work or if they are coming over for another game day. This is highly favorable to me, it's super easy and you can conveniently make multiple batches in one go. Not to mention that it's economical too as it only has like 5 ingredients. I would say, it's a win-win for all of us. 😉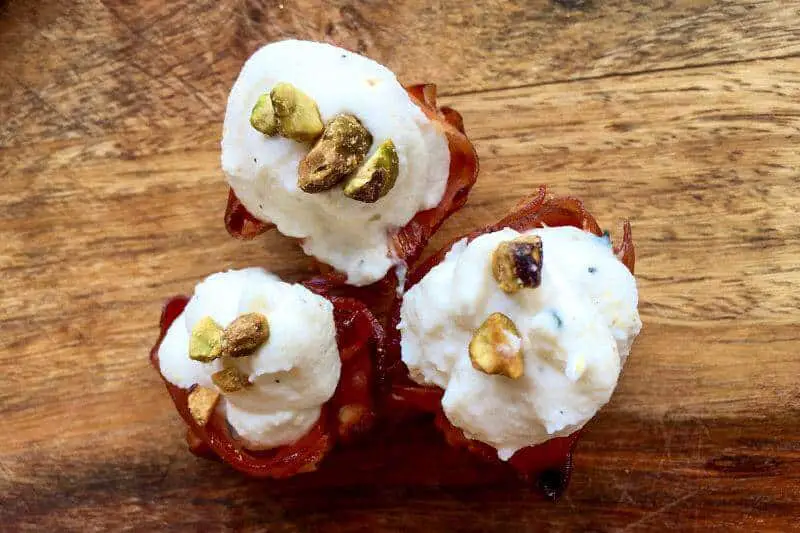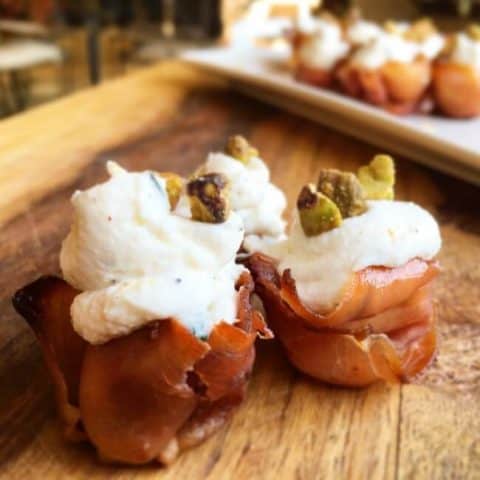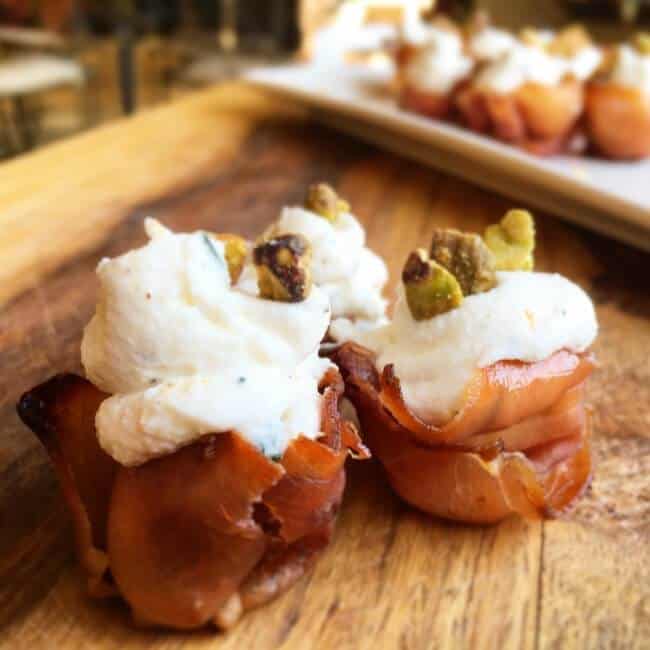 Whipped Goat Cheese-Filled Prosciutto Baskets
Delightful baskets made with crispy, perfectly baked prosciutto, filled with thick and creamy whipped goat cheese. Top the baskets with crunchy roughly chopped pistachios for another layer of texture and flavor!
Ingredients
12 thinly sliced prosciutto slices
4 oz. ricotta cheese
4 oz. softened goat cheese
2 tablespoons fresh thyme leaves
3 tablespoons heavy cream
½ teaspoon of sea salt
½ teaspoon black pepper
1/3 cup pistachios, roughly chopped
Instructions
Place the top oven rack to the center position and preheat your oven to 375° F. Grease the mini-muffin pan by lightly spraying it with non-stick cooking spray. 
Slice the prosciutto vertically in half, creating 24 identically long, thinly sliced strips. 
Now we'll start creating the prosciutto baskets by taking a strip and laying it across one of the cups. Arrange it so that the center of the strip is aligned to the center of the cup. Place your finger down the middle of the strip and take one end of the prosciutto to wrap it around the inside of the cup. Do the same on the other end of the strip to cover the insides of the muffin cup and create a "basket".
Do the same step for the remaining empty muffin cups.
Pop the prosciutto baskets into the preheated oven and leave to bake for about 10 minutes. Once the edges of the baskets start browning, you can take them out.
While waiting for the baskets to finish baking, make the whipped goat cheese filling. Get a medium-sized mixing bowl, combine ricotta cheese, goat cheese, thyme leaves, and heavy cream. Add a dash of salt and pepper, as needed. Stir well until the mixture is fully incorporated.
Take the baked prosciutto baskets and let them rest for about 5 to 10 minutes. Transfer the baskets into a paper towel-lined plate to get rid of excess fat from the prosciutto. Once all the baskets have been rid of unwanted grease, arrange them into your preferred serving plate.
When the baskets have cooled down, pour the goat cheese filling into a piping bag. Fill each basket with whipped goat cheese.



Sprinkle goat cheese-piped basket of prosciutto with the roughly chopped pistachios. Serve while still fresh. Bon appetit!


Nutrition Information:
Yield:

24
Serving Size:

1
Amount Per Serving:
Calories:

63
Total Fat:

4g
Saturated Fat:

2g
Trans Fat:

0g
Unsaturated Fat:

2g
Cholesterol:

16mg
Sodium:

460mg
Carbohydrates:

1g
Fiber:

0g
Sugar:

0g
Protein:

6g
The Whipped Goat Cheese-Filled Prosciutto Baskets is the perfect appetizer for you if you're hosting a big party. You can make one huge batch for everyone to have a bite and more! The best part is it won't even take you a whole hour to make them. So, are you ready to make these fancy, flavorful baskets for your next holiday dinner? 😉