Doesn't zucchini remind you of your childhood summertime? My mom's favorite summer side dish – steamed zucchini, is the inspiration behind this air fryer stuffed zucchini recipe that is vegan and keto-friendly. It is wholesome, hearty, and extremely healthy. I upgraded it to be more kid-friendly too (aka I added cheese. lol), so now we enjoy it any time of the year! 
Can You Cook Zucchini In An Air Fryer?
I recently purchased an air fryer so I've been experimenting with a lot of recipes that I can make with it. Then I noticed the abundance of my ripening zucchinis in the garden and thought about what else I can do with them. I have been using them in my green juice and detox smoothies or sauté them in butter. So, I figured I want to find a way and take advantage of them both.
No products found.
And thus, the birth of my Air Fryer Veggie Stuffed Zucchini. The ingredients are basic pantry staples like tomatoes and bell peppers. You might even already have them in your garden. They are so good, and the kids love the boat shape and all the cheese!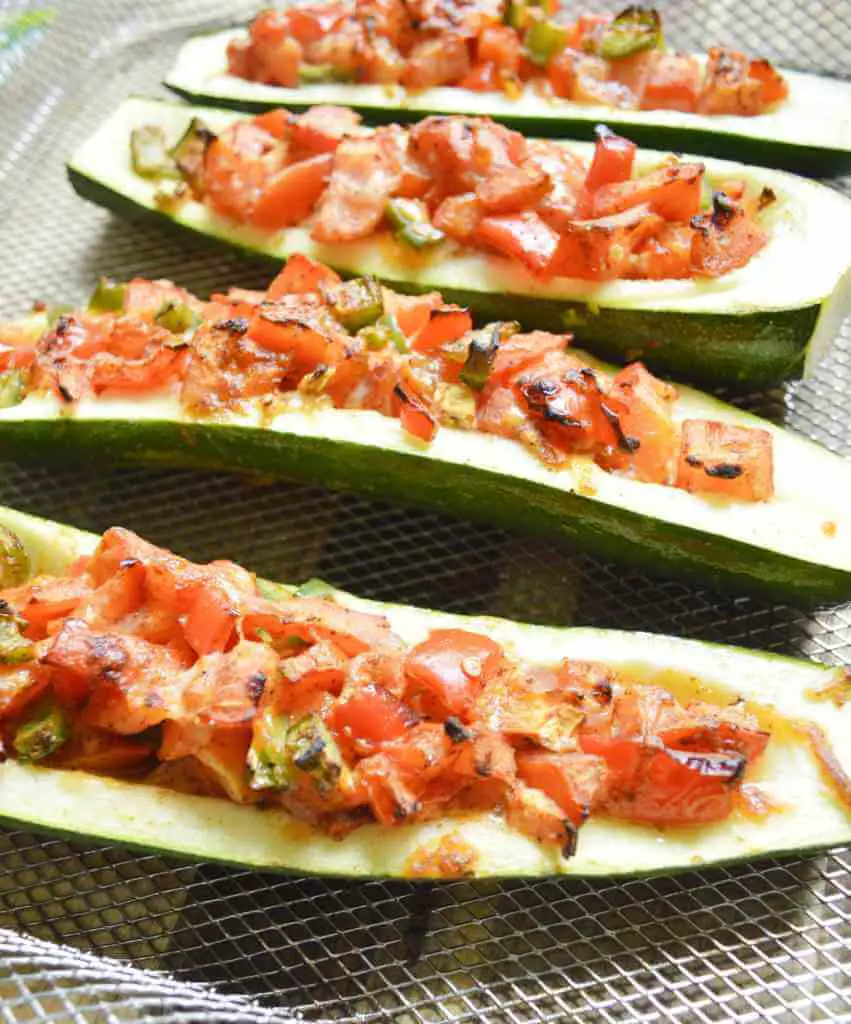 How Long To Cook Zucchini In Air Fryer?
Can you believe I was able to make this delectable, cheesy side-dish in less than 30 minutes? I picked out fresh zucchinis, tomatoes, and bell peppers from my garden. Then I rinsed them and hollowed out the zucchini. I made the filling with the cheese and veggies then stuffed it in the zucchini boats. Tossed it in the air fryer and voila!
You can amp it up by adding your favorite toppings. You can also use vegan or dairy-free cheese instead of Mexican cheese if you want to make it even healthier. Or make homemade salsa, sour cream or guac. There are so many ways you can make this recipe your own. It will be fun to change the stuffing or experiment with different toppings as you go.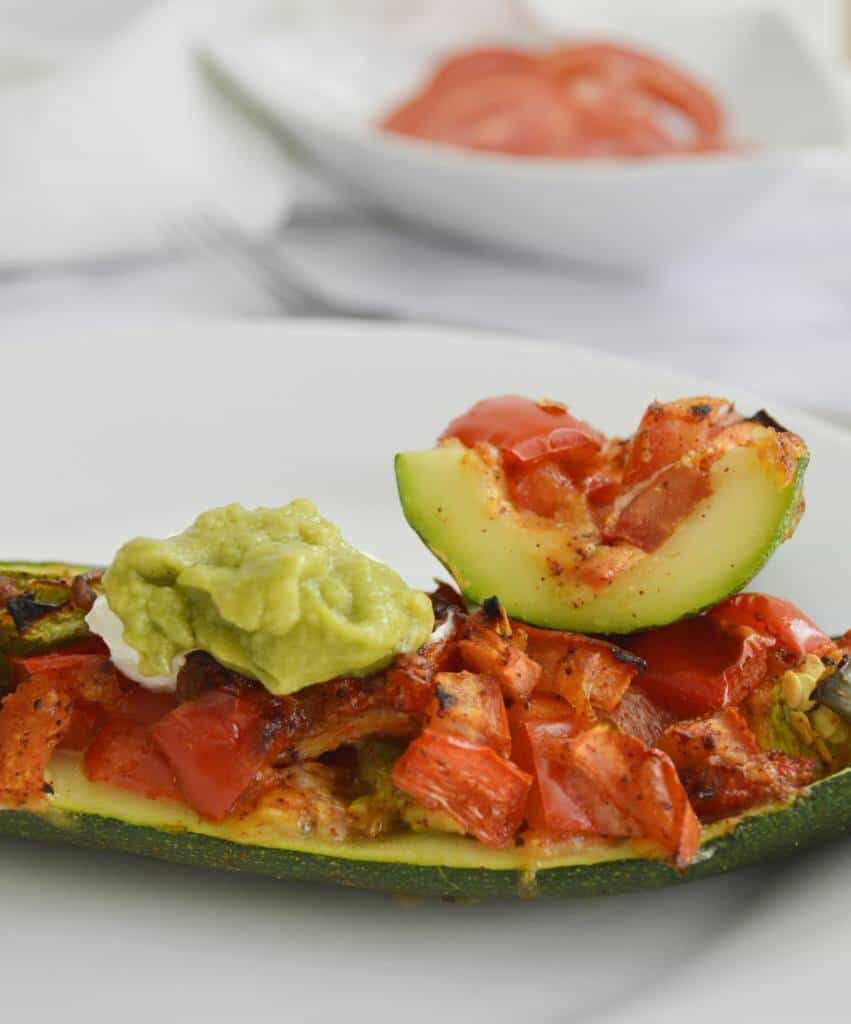 Why Is Zucchini Good For You?
It is also worth mentioning that zucchini is one of the healthiest veggies that you can include on your diet. It gives you an instant nutrient boost as it is packed with various vitamins and minerals. Including potassium, calcium, and iron. It also has Vitamin A and Vitamin C plus it is rich in antioxidants.
Zucchini is the perfect vegan staple because it is immensely versatile. You can toss it in a salad, make it into a soup, you can steam, sauté or grill it and zucchini will still be just as healthy. It's also cholesterol-free, fat-free, gluten-free, and is low in sodium and calories.
How To Cook Zucchini In An Air Fryer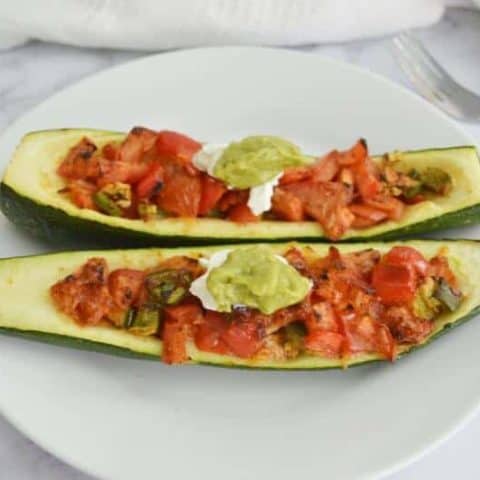 Easy Air Fryer Veggie Stuffed Zucchini
A recipe that will bring take you right back to childhood but with a cheesy upgrade! Crunchy and juicy zucchini boat topped with fresh veggies and gooey cheese, air fried to perfection.
Ingredients
2 medium zucchinis
1 Roma tomato, chopped
1 jalapeno, diced
1 red bell pepper, diced
1/2 teaspoon garlic powder
1/2 teaspoon chili powder
salt & pepper to taste
1/2 cup shredded Mexican style cheese
olive oil
Instructions
Prep the ingredients.
Thoroughly rinse your fresh produce and pat with a paper towel or clean dishcloth to dry. Cut the zucchini lengthwise down the center. Use a spoon and hollow out the center of the zucchini by removing all the seeds. Leave at least ¼ inch borders around the skin to hold the filling in.


Make the filling.
Get a medium bowl and combine the diced tomatoes, red pepper, jalapeno, seasonings, and cheese. Add salt and pepper to taste. Stir it well until they are evenly combined. 



Scoop the mixture you made and divide it to fill the two zucchini boats. Spray or brush the boats with olive oil to give it a vibrant glow.


Cook the Zucchini Boats.
Transfer the stuffed zucchinis to your Air Fryer basket. Turn the air fryer up to 390° F and leave to cook for about 12 minutes. 
Best served while still hot. 😉


Notes
Cooking times may vary depending on the size of zucchini
Add an extra punch to it with your topping of choice, can be salsa, sour cream, guacamole, etc.
Nutrition Information:
Yield:

4
Serving Size:

1
Amount Per Serving:
Calories:

184
Total Fat:

14g
Saturated Fat:

6g
Trans Fat:

0g
Unsaturated Fat:

6g
Cholesterol:

30mg
Sodium:

289mg
Carbohydrates:

7g
Fiber:

2g
Sugar:

4g
Protein:

9g
So, are you ready to make your new favorite side-dish? Should you try and recreate this recipe or make your own Air Fryer Veggie Stuffed Zucchini, please let us know how it went by leaving us a comment below! We'd love to hear about your own tiny kitchen stories. 
Until the next recipe – much love, ciao! ♥
Related Readings: If you are going to purchase a new air fryer, then don't forget to check out our best air fryer review for the list of the top ones available in the market.