Who doesn't love messy and delicious Sloppy Joe's?! I created these Air Fryer Sloppy Joe Hand Pies to be just as tasty, but they won't leave your hands looking like a small child put them through a wood chipper. Easy and delicious, these air fryer sloppy Joe hand pies are perfect for feeding a crowd or meal prepping the week.
When it comes to the ultimate comfort food, I like to go big or go home. A sloppy joe is a simple, tasty meal, but when you stuff it inside a flaky pie crust, you've got yourself a sandwich that doubles as a handheld dessert.
These Sloppy Joe Hand Pies are easy to make, and they're perfect for kids and adults alike. You can make them ahead of time and store them in the fridge or freezer until ready to eat. Simply pop them into the air fryer for a quick meal any day of the week!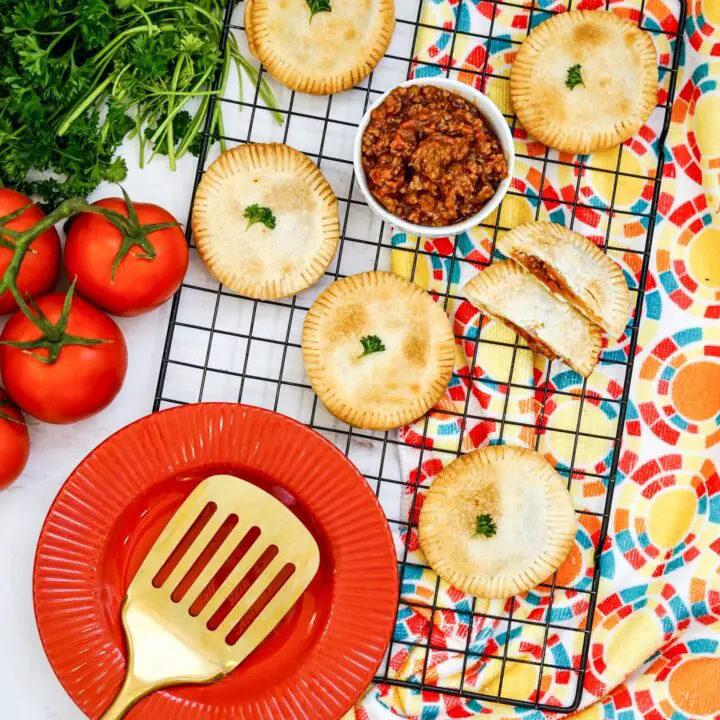 Air Fryer Sloppy Joe Hand Pies
Ingredients
Pie Crusts That Have Already Been Pre-Made
Ground beef that has been browned (1 lb)
Sloppy Joe Sauce in a Can (15 oz.)
Cheddar Cheese, Shredded, 4 oz
Salt (1 teaspoon)
Pepper (1 teaspoon)
Cooking Spray
Cookie Cutter, round
Instructions
1. Preheat the air fryer to 350 degrees Fahrenheit.
2. Roll out the pie crust and cut out pie circles with a round cookie cutter.


3. Toss the browned ground beef with the sloppy Joe sauce, salt, and pepper.


4. Half of your circles should have a spoonful of sloppy Joe meat in the middle.


5. Add a smidgeon of cheddar cheese to the mix.
6. Use a fork to fix the remaining circles together on top of the sloppy Joe topped circles.


7. Using cooking spray, lightly coat the pan.
8. Cook in the air fryer at 350°F for 6-8 minutes.


9. Transfer to a cooling rack after removing from the air fryer.
10. Serve and take pleasure in it.

With only a handful of steps, this recipe is easy to follow and will leave you with delectable results. Enjoy!
The cute and portable nature of these sloppy joes makes them the ideal travel food. Paired with the convenience of making everything in the air fryer, they're a great way to introduce your kids to comfort foods while sticking with healthy, nutritious ingredients. We suggest using ground turkey if you prefer a leaner protein and be sure to adjust the cooking time if you're using frozen meat. This is one recipe that has no reason to ever be boring again!
Properly air frying a meal can be tricky, especially if you just jump into it without knowing what you're doing. By properly training yourself and fully reading and understanding the manual for your air fryer, you can easily take the guesswork out of using an air fryer and quickly become a master of this skill.
We have told you how to use an air fryer, but now is the time to put it into practice and truly learn to master using an air fryer. Check out more of our recipes for easy-to-cook air fryer meals!