With air fryers becoming more and more popular, it is no surprise that air fryer ribs have become a favorite meal for a lot of families. Air frying your ribs is not only faster than conventional oven roasting, but it also gives them that crispy outer texture that everyone loves so much. 
With the air fryer's ability to cook at high temperatures with little oil, you can get some of the juiciest healthy air-fried ribs ever! 
The only downside? You have to wait for 25 minutes before you can eat them. That might sound like an eternity when hungry mouths are waiting, but trust me, these ribs will be worth every second.
So if you love air-fried ribs, then this recipe is for you. I will show you how to cook healthy air fryer ribs that will be a hit with the whole family on your next barbecue day!
How To Cook Ribs In An Air Fryer?
One of the air fryer's features is that it cooks with little oil, which means air-fried ribs are perfect for anyone on a diet or watching their weight. 
However, it may seem challenging to cook air-fried ribs, especially if you have never done it before. But don't worry because this easy-to-follow recipe is beginner-friendly, and you just need baby back ribs, your favorite BBQ sauce, and an air fryer.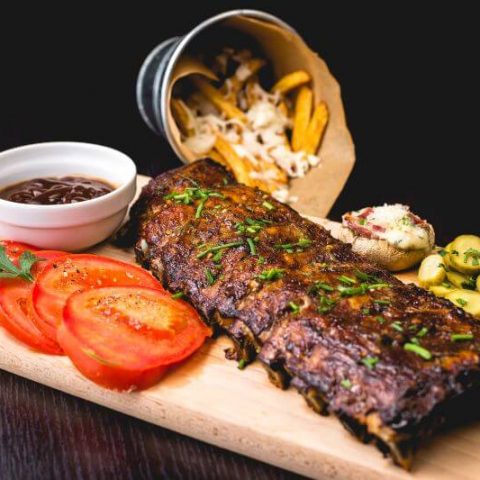 BBQ Ribs In An Air Fryer
This easy-to-follow recipe is beginner-friendly, and you just need baby back ribs, your favorite BBQ sauce, and an air fryer.
Ingredients
2 lb rack of baby back pork ribs
2 teaspoons sea salt
2 teaspoons black pepper
3 teaspoons bbq spice rub (only if you don't use salt and pepper)
1/2 cup barbeque sauce
Instructions
Preheat your air fryer for about 5 minutes at 380 degrees Fahrenheit before you begin cooking the ribs so that the food will cook quickly and evenly.
While the air fryer is preheating, remove the membrane from the back of the ribs. I found that by doing so, you will make more tender ribs.
The next step is to cut your ribs into 3-4 sections to fit into your air fryer basket.
Now, in a small mixing bowl, season both sides of your ribs with a little sea salt and pepper (or another spice rub you prefer).
Put the ribs in your air fryer but arrange them properly and make sure they are not overlapping.
Set the timer on your air fryer for 20 minutes and a temperature of 380 degrees Fahrenheit.
After 10 minutes, detach the cooking basket and flip the ribs by using kitchen tongs.
When the time is up, get your favorite barbeque sauce and cover your rubs.
Put them back into the air fryer for another 5 minutes at a temperature of 400 degrees Fahrenheit.
When the time is up, take out your air fryer ribs with kitchen tongs and let them rest for a couple of minutes.
Nutrition Information:
Yield:

4
Serving Size:

1
Amount Per Serving:
Calories:

889
Total Fat:

70g
Saturated Fat:

21g
Trans Fat:

1g
Unsaturated Fat:

31g
Cholesterol:

240mg
Sodium:

1653mg
Carbohydrates:

16g
Fiber:

1g
Sugar:

12g
Protein:

48g
Voila! You've just prepared perfectly tender and healthy baby back pork ribs, so go ahead, enjoy them with your family!
Recommended Tools For Preparing Pork Ribs In An Air Fryer
Large capacity air fryer (preferably of 5.3 – 5.8 quarts). Our recommendation is the COSORI Smart WiFi Air Fryer. It's an award-winning air fryer that comes with a WiFI monitoring feature, so you can monitor your air fryer ribs when relaxing in your living room. We have also made a separate post on the top 10 air fryers, including this product on the list, so be sure to check it out.
No products found.
Kitchen Cooking Tongs with ergonomic grip. These stainless steel tongs come with a non-slip surface design that offers you the best control when flipping and taking out your air fryer ribs.
Sale
Last update on 2023-05-27 / Affiliate links / Images from Amazon Product Advertising API
People Also Ask:
What Temperature Do You Cook Ribs At?
I usually air fry ribs at 380°F for 20 minutes. After 20 minutes, you can add your bbq sauce to the ribs and increase the temperature to 400°F for another 5 minutes. 
I found that increasing the temperature to 400°F is responsible for the crispy texture on the exterior of the ribs while making the bbq sauce sticky.
Note: You can also try cooking them at 350°F, but it will take a little longer.
What Can I Serve With Air Fryer Ribs?
You can serve air fryer ribs with some of our best air fryer recipes: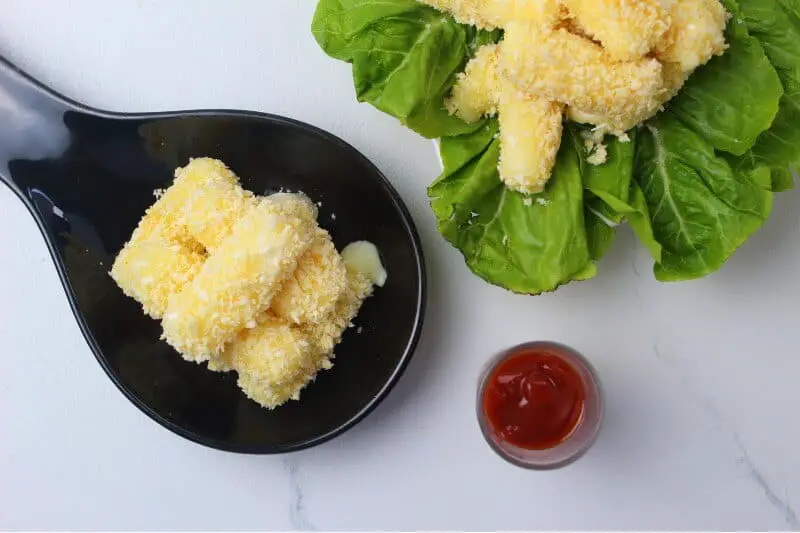 How To Reheat Ribs In An Air Fryer?
Reheating your air fry leftover ribs is easy, and it works just like preheating them in a toaster oven. However, when preheating your air fry leftovers in an air fryer, I recommended cooking them with a dry rub instead of bbq sauce. This will provide a nice flavor crust on the exterior.
How Long Do Ribs Take To Cook In An Air Fryer At 350°F?
It can take up to 30 minutes to cook your air fryer ribs at 350°F., and you will need to flip them over at 15 minutes. When the total time is up, you can brush them with your favorite barbeque sauce and air fry for additional 5 minutes at 350°F. So a total of 35 minutes.
How To Cook Boneless Ribs In An Air Fryer?
You can cook boneless ribs in an air fryer in the same way by following our recipe in this article. Just make sure they are cut evenly and placed in the air fryer without overlapping.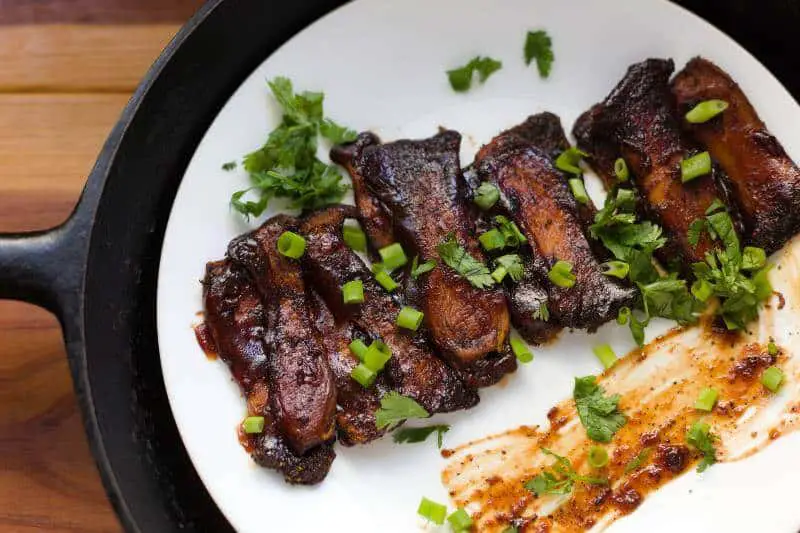 Also, I found that you can get better results for your boneless ribs if you spray some olive oil (on both sides) before seasoning them at the beginning.
Conclusion
Cooking an air fryer ribs is easy, and it requires no more than 30 minutes tops. So you don't have to wait for a long time to prepare delicious and healthier air fryer ribs for your family! 
They are perfect for weeknight meals because you will get to prepare them in the comfort of your home. So you will avoid wasting money on visiting your BBQ spot every time someone is hankering for ribs.
I hope you enjoyed this air fryer ribs recipe. So try it the next time you want to prepare ribs in an air fryer, and let us know about your cooking style when preparing the ribs.