Do you want to eat healthier but don't know where to start? Our Vitamix recipes can help! 
If you are reading this article, then you probably already know what Vitamix is.
But in case you don't, here is our short definition…
The Vitamix is a powerful and versatile kitchen appliance that can do just about anything. From soups to dips and smoothies to desserts, the Vitamix blender can help you adopt a healthier routine.
This blog post will walk you through everything this powerful machine has to offer. You will also find our ultimate list of healthy recipes perfect for your Vitamix blender.
Our list of the best Vitamix recipes includes different types of dishes, so there is something for everyone!
But before getting right into the recipes, let's see first what is Vitamix (the longer definition).
What Is Vitamix?
The Vitamix is an all-inclusive kitchen appliance designed to make cooking easier by quickly blending foods into liquid form without losing nutrients.
This blending machine comes with multiple blades so you can mix ingredients together perfectly every time while retaining natural flavors intact throughout the process until your preferred texture has been achieved.
Why Vitamix is so popular?
Many people love Vitamix because it's easy to use and highly versatile. So you can use it for so many more recipes than just smoothies and soups.
The Vitamix blender has revolutionized the way we mix and blend all kinds of foods to make delicious, healthy meals and juices for everyone to enjoy!
Probably that's why it has become a popular kitchen appliance in many homes.
Getting To Know Vitamix – Beginner's Friendly Guide
You can use the Vitamix blender in various ways depending on your personal preferences. You can use it for blending, pureeing, or making soup at home without having to spend money on restaurant meals.
Here's a simple guide on how to properly use your Vitamix blender:
Remove the lid plug. Notice that the plug itself has measuring units (up to 1 ounce) for precisely preparing cocktails or smoothies.
Fill the container. Make sure to fill up to ⅔ of your container, especially when using the tamper. Also, we recommend always putting the liquids first (water, milk, juice). Next are leafy greens, then fruits and vegetables, and lastly come ice and frozen ingredients. 
Start on low, but quickly dial up the power on high. By blending on high power, you will avoid overheating because this way the motor received extra cooling from the fan.
Take the end result and clean your blender. The Vitamix cleaning can be done by filling it with warm water and a drop of dish soap. Run it for 30 seconds and wash the container with water. 
You are done!
Working with your Vitamix blender is super easy, but It's worth mentioning that Vitamix blenders are often pricey. However, they come with excellent warranties and high-quality construction, so they last long term in your kitchen.
Now it's time for our best Vitamix recipes…
TOP 35 Vitamix Recipes (Editor's Pick)
We have categorized our favorite 35 Vitamix recipes into six categories:
Vitamix soup recipes
Vitamix smoothie recipes
Vitamix milk recipes
Vitamix hummus and dips recipes
Vitamix sauces, marinades, and butters recipes
Vitamix desserts
Vitamix Soup Recipes
With the following Vitamix soup recipes, you will turn your favorite vegetables into the creamiest, flavorful soups!
Here are some ideas for preparing delicious soups with Vitamix.
This soup can be prepared with sweet potatoes, carrots, and fresh ginger. It's a thick yet creamy soup with a spicy kick from the freshly grated ginger root!
This delicious acorn squash soup couldn't be easier to make, and that's why it's one of our favorite Vitamix recipes.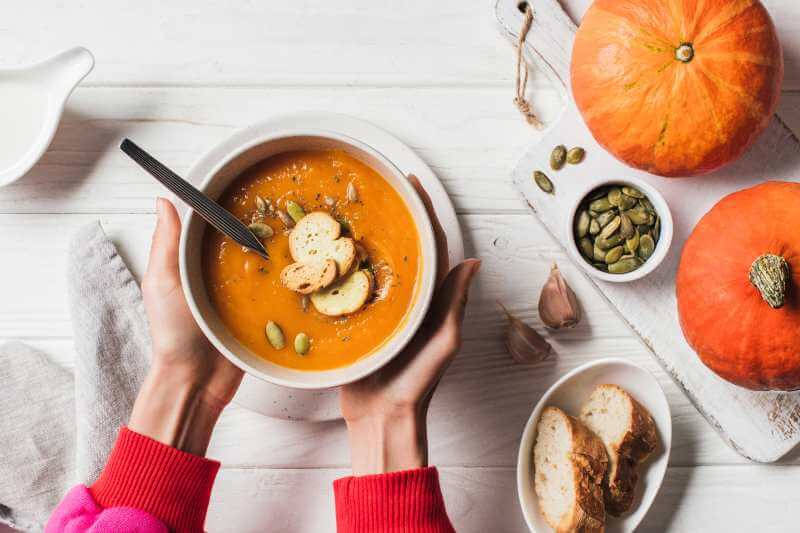 You just need to cook whole acorn squash in a slow cooker until it gets soft and tender. Then scoop out the seeds from inside of the cooked vegetable and blend together with dates, rosemary, almond milk before serving topped with pecans! You can also serve it with a salad.
This soup is a healthy, low-calorie soup that requires only vegan ingredients when preparing. These vegetables perfectly blend together into a creamy soup that will make your kitchen smell fantastic.
If you want to make a healthy and light dinner, cauliflower cream soup can be your best choice. The Vitamix blender can help you to easily prepare this dairy-free soup from cauliflower and cooked onions.
This beet soup is not only beautiful with its vibrant red color, but it's packed full of nutrients and antioxidants. It's a deliciously hearty soup that can brighten your mood.
In the fall, nothing beats a bowl of roasted butternut squash soup. It's not only delicious and healthy but also easy to make!
This healthy and savory broccoli cheddar soup is packed with carrots, broccoli, garlic, and cheese. It's a velvety meal that makes for the perfect fall or winter dinner!
This vegetarian soup comes with carrots, tomatoes, and avocados that are puréed into an ideal warm soup with your Vitamix blender. It goes well with your baked tortilla chips and your favorite taco fixings.
Vitamix Smoothie Recipes
The following Vitamix smoothie recipes are perfect in terms of consistency and deliciousness. 
What's even better, these are also Vitamix smoothie recipes for weight loss, so they are excellent junk food replacements that can help you lose weight.
So try them out if you want the best-of-the-best when it comes to smashing ingredients together for your next delicious, drinkable creation! 
We will start with our #1 Vitamix recipe for smoothies. This beginner's green smoothie is loaded with healthy fruits and veggies, such as spinach, bananas, dates as well as peanut butter and almond milk that results in the creamiest base you will ever taste.
Strawberry banana smoothie
This strawberry banana smoothie is a classic. It's tough to beat this delicious combo that has been popular for so long!
A blueberry smoothie is a good-for-you treat that will keep you full all morning. This creamy berry drink is delicious and contains many nutrients, including high amounts of vitamin C for your immune system and vitamin K1 that helps maintain strong bones and prevent blood clotting.
The mango smoothie is a luscious beverage prepared in the Vitamix blender that can act as a perfect thirst quencher on hot summer days! It has many health benefits, especially for lowering high cholesterol levels and cleansing your skin. 
This red beet smoothie is the perfect way to start your day. With beets, apple and kale, it's both healthy and delicious! This vibrant drink can taste just like a cocktail and can boost your mood with just a few sips.
How about some apple pie in a glass? This raw smoothie recipe has all the flavors of fall. It's packed with healthy ingredients like oats, cinnamon, apples, and maple syrup! You will need dairy to prepare it, but you can swap out the whole milk with almond or soy milk to make it dairy-free.
Peanut butter banana smoothie
Vitamix blender also allows you to enjoy a healthy peanut butter banana smoothie with oats, bananas, protein powder, and all-natural nut butter. This is the perfect breakfast in a glass or post-workout drink because it will reenergize you instantly!
Pineapple turmeric smoothie
This pineapple smoothie is a delicious tropical drink that provides detoxifying benefits and extra immune-boost by adding a turmeric root in the blend. 
Vitamix Milks Recipes
You can make delicious and healthy homemade milks with your Vitamix blender. The best part is, they will cost you much less than the commercial ones from the store. Here are some ideas:
Making homemade almond milk with the Vitamix blender is easier than you think. It's cheaper than the store-bought product, and all you need to do is to blend your almonds with some water. 
Oat milk is the new craze in every supermarket, but it can be pricey. So by using the Vitamix blender, you can make your own oat milk at home for a lesser price without compromising on quality or taste!
This healthy banana milk recipe is a great and light way to provide your kids something sweet without them feeling too guilty. It also contains calcium, protein, and vitamin D, so it's a super healthy addition to a balanced diet.
Cashew milk is another easy-to-make recipe with Vitamix. This milk can boost your immune system because it's loaded with healthy fats, protein, and a variety of vitamins. 
Hemp milk is nutritious, tasty milk prepared from hemp seeds very easily with your Vitamix blender. This milk can be perfect for you because it contains omega-3 and omega-6 fatty acids that can boost your brain health.
Vitamix Hummus & Dips Recipes
Hummus is high in healthy nutrients, such as fiber and protein, and so many people enjoy making hummus or dip recipes with their Vitamix.
The high-powered Vitamix blender allows you to make super-smooth hummus (even without removing the skins from the chickpeas). All you need for preparing this smooth purée is chickpeas, garlic, salt, and olive oil.
You can prepare healthy green hummus with fresh leafy greens and herbs in just a minute in your Vitamix blender. It's creamy, flavorful, and can be served as an appetizer or spread onto a wrap for your next meal!
Low-carb cauliflower hummus
If you're not a fan of chickpeas, the alternative is the roasted cauliflower version which is just as delicious and healthy. This creamy hummus is low-carb and savory dip loaded with vegetables. Also, it's keto and paleo-friendly.
Roasted red pepper hummus
The Vitamix blender allows you to prepare the most vibrant and smoky drip from the roasted red peppers. It's packed with vitamins and minerals that help inflammation and digestion. 
Yes, you can even prepare chocolate hummus in the Vitamix blender that comes with nutritional benefits (thanks to the chickpeas).
Sauces, Marinades, and Butters
You can use your Vitamix blender to make a delicious and healthy sun-dried tomato dipping sauce in no time for your chicken fingers or French fries.
Nothing beats the well-known marinara sauce that's mainly used for pizza or spaghetti. It's easy and fast to make in your blender, and it adds an extra delicious flavor to your food.
If you love peanut butter as much as we do, then this will be your favorite recipe to make in your Vitamix blender. Since this is homemade nut butter, it will be free from unhealthy oils, calories, and preservatives usually found in store brands.
Vitamix Dessert Recipes
After your dinner, you can just turn on your Vitamix blender and whip up some delicious cheesecakes or fruity yogurts! Unleash your inner chef with some of these deliciously sweet Vitamix recipes.
Vegan raspberry cheesecake
You can make raw vegan raspberry cheesecakes in your Vitamix blender with ease. This sweet, creamy, and smooth dessert is high in proteins, which makes it a perfect way to end your special meal.
This homemade vegan caramel cheesecake is a delicious, irresistible treat. With its creamy cashew filling and rich, silky caramel sauce, this dessert will have everyone asking for more!
All you need to make this refreshing strawberry-flavored yogurt is a Vitamix blender, some strawberries, and maple syrup. This frozen yogurt offers many health benefits and contains fewer calories than ice cream. 
September is pumpkin chia pudding month! But this simple-to-make and creamy treat can be enjoyed any time of the year, not just this Fall. The chia seeds have a nutritional power that promotes heart and joint health, so you can satisfy your sugar cravings without eating unhealthy desserts.
Chocolate chip cookie dough
We like this Vitamix recipe because it's a low-carb dessert with high fiber. Its cookie dough-like taste makes it extremely hard for anyone in the house not to sneak a bite. This delicious recipe is just what you need to satisfy your sweet tooth with less guilt. 
Toasted coconut fudge is square of buttery, melt-in-your-mouth bliss. Creating this delicious treat has never been easier, thanks to the power of your Vitamix blender! Just throw everything in one container and blend them together until you end up with tastebud tantalizing delight.
Common Questions About Vitamix
What Can You Not Put In A Vitamix?
You can put many things in a Vitamix like fruits, vegetables, and ice. However, you should not add anything with hard starch because it will clog the blades which may damage your blender permanently. 
Also, you can't put vegetables for slicing in Vitamix. If you want your vegetables to be sliced, use a food processor.
Are Vitamix Blenders Worth The Money?
It depends on what you're looking for in a blender. If you don't mind spending extra money and want something that lasts, then Vitamix is probably worth the price tag. It's highly durable and will continue to work properly long term with minimal maintenance required.
What Makes Vitamix So Special?
The Vitamix is a high-powered and versatile blender that can be used to create smoothies, soups, dips, desserts, and so much more. It comes with an easy pour spout, making it easier for the user to store or serve their food. The blades are created from stainless steel, so they stay sharp longer than other blenders on the market today.
How Do You Lose Weight With A Vitamix?
There are several different ways that you can use your Vitamix blender to lose weight. As long as you're eating well and exercising, there is no way that using this product will lead to gaining weight or getting fat! 
The first step to losing weight with a Vitamix is making sure you're getting enough vitamins and minerals. These can be found in fruits, vegetables, grains, seeds – pretty much any food that comes from the ground or grows on trees!
Does Vitamix Liquify Vegetables?
A Vitamix is a powerful blender that can do many things. One of its main features is the ability to create smoothies from whole fruits, veggies, meat, or dairy products with no chunks in sight! 
In addition to making delicious drinks, it also has very tough blades that allow you to blend ingredients without having pieces left over after processing your food product into liquid form. So yes, Vitamix can fully liquify vegetables.
Final Words
We hope you've found this list of Vitamix recipes helpful in getting started with your new blender. 
Whether you want to whip up a healthy smoothie or make some delicious soups, the Vitamix has got you covered!
And if you haven't still ordered the Vitamix blender, then this can be your moment to make the right decision. With so many versatile functions, and 7- year full warranty, you really can't go wrong!
Last update on 2023-05-26 / Affiliate links / Images from Amazon Product Advertising API
Lastly, try some of these Vitamix recipes mentioned in this article, and let us know in the comments below. We would love to hear from our readers on how they use their machine in creative ways.