There's something about air fryer pizza that just feels like cheating. You don't have to worry about over or under-cooking your pizza, and you can customize it to your own taste. Plus, who doesn't love a quick and easy pizza night? These hand pies are the perfect way to enjoy a crispy and cheesy air fryer pizza without all the fuss.
Looking for an easy and delicious pizza hand pie recipe? Look no further! These air fryer pizza hand pies are perfect for a quick and easy meal. Plus, they're kid-friendly and perfect for game day snacks!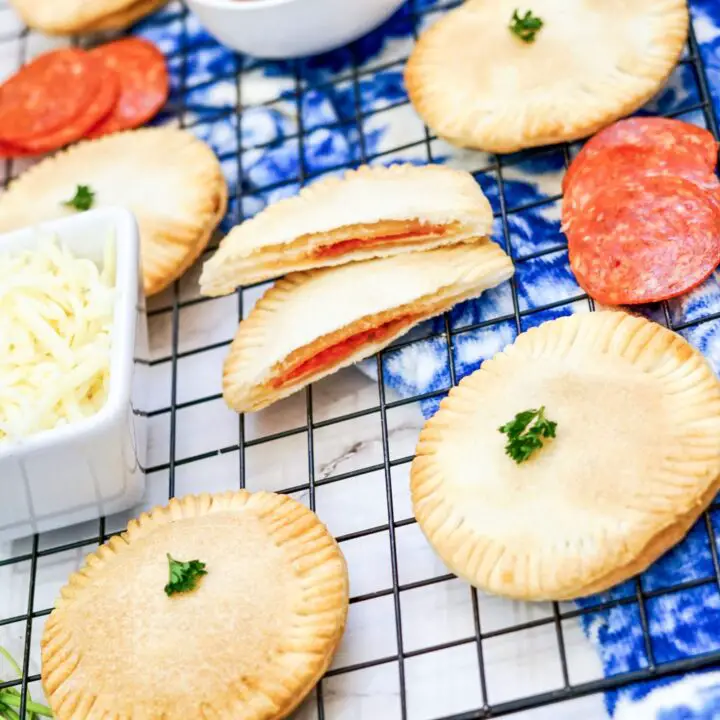 Air Fryer Hand Pizza Pies
Ingredients
Pie Crusts That Have Already Been Prepared
Pepperoni
Pizza Sauce
Mozzarella Cheese, Shredded (4 oz.)
Cookie Cutter, Round
Instructions
1. Preheat the air fryer to 350 degrees Fahrenheit.


2. Roll out the pie dough and cut out pie circles with a round cookie cutter.


3. Half of your circles should have a spoonful of pizza sauce in the center.


4. Add a pinch of mozzarella cheese to the mix.


5. Top with a pepperoni slice.


6. Use a fork to fix the remaining circles together on top of the pizza-topped circles.


7. Using cooking spray, lightly coat the pan.


8. Place in the air fryer and cook for 6-8 minutes.


9. Transfer to a cooling rack after removing from the air fryer.


10. Serve and take pleasure in it.
If you are looking for a fun and unique treat to make for game day, I suggest trying air fryer pizza hand pies. They are relatively simple to make and are guaranteed to be a hit with friends, family, and fans.
Air fryer pizza hand pies are a delicious and easy way to enjoy pizza. They are perfect for a quick and easy snack or meal. Plus, they are a great way to use up leftover pizza toppings. So, next time you have some leftover pizza ingredients, give these hand pies a try!
Want more air fryer recipes? Give our sloppy joe hand pies and foldover pizza quesadilla a try!