A traditional, classic mango margarita recipe that will quickly become your new favorite! This sweet and tangy cocktail is the perfect balance of fruity and tart with a kick.
There's no need to go out on the town to find a delicious cocktail – your own kitchen can provide everything you need. If you're in the mood for something fruity and refreshing, try a mango margarita. It's easy to make and doesn't require any obscure ingredients.
Mango margaritas are the perfect drink for a summer party. They're sweet, refreshing, and delicious. This easy recipe requires just a few simple ingredients and can be made in just minutes. So don't wait any longer, make a batch of these delicious drinks and enjoy!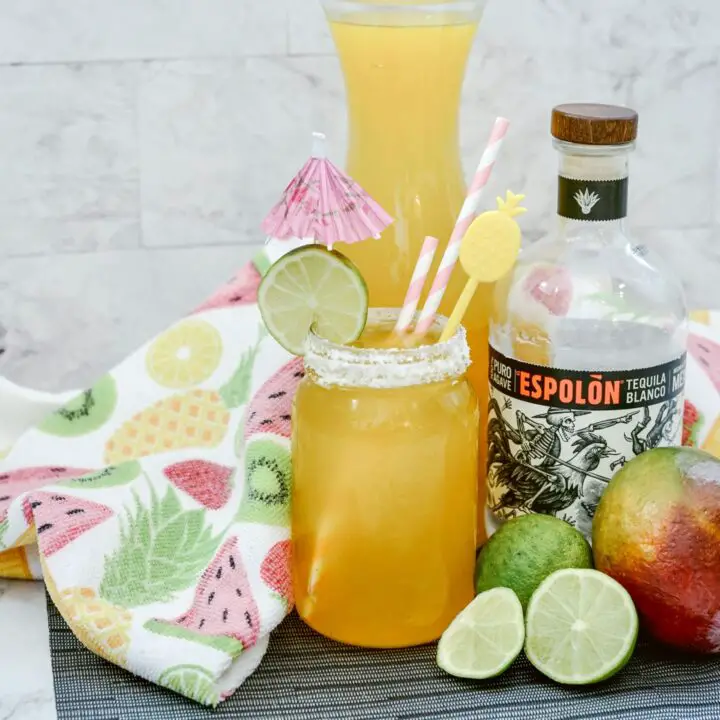 Mango Margarita
Ingredients
Mango Juice (3 oz.)
Tequila (2 oz.)
Triple Sec (1 oz.)
Lime juice, freshly squeezed (1 oz.) 
Lime Slices
Simple syrup (1/2 oz.)
Ice cubes
Margarita Salt
Instructions
1. Add ice cubes to a cocktail shaker.


2. Combine the tequila, simple syrup, and triple sec in the cocktail shaker.


3. Lime juice should be squeezed in. 


4. Add mango juice to finish.


5. Mix thoroughly.


6. Add lime juice to the rim of a glass and roll it with margarita salt.


7. Serve in a glass with lime slices on top.


8. Cheers.
If you love a good mango margarita, and you can keep the tequila under control, try this recipe the next time you're looking for a refreshing drink. As all good bartenders know, a large part of the cocktail's charm lies in the garnishes, and what could be better than a big wedge of juicy fruit? Mango is a perfect choice here: its sweet flavor blends seamlessly with tequila and lime juice for a delicious result.
The combination of sweet mango and tart lime makes for a refreshing and delicious cocktail that's perfect for summer gatherings or relaxing at home after a long day. It is easy to make and can be enjoyed by people of all ages. I highly recommend giving this drink a try!
Want more margarita recipes? Try our Italian Margarita and enjoy!