Do you love pizza but hate the mess it creates? If so, then this Foldover Pizza Quesadilla is for you! This easy recipe requires just a few simple ingredients and can be made in minutes using your air fryer. Once assembled, simply fold over the dough like a quesadilla and cook until golden brown. Serve with your favorite toppings and enjoy!
This Air Fryer Foldover Pizza Quesadilla will be sure to excite your taste buds! The thin crust pizza folded over is delicious and so crispy. This smells fantastic as it cooks.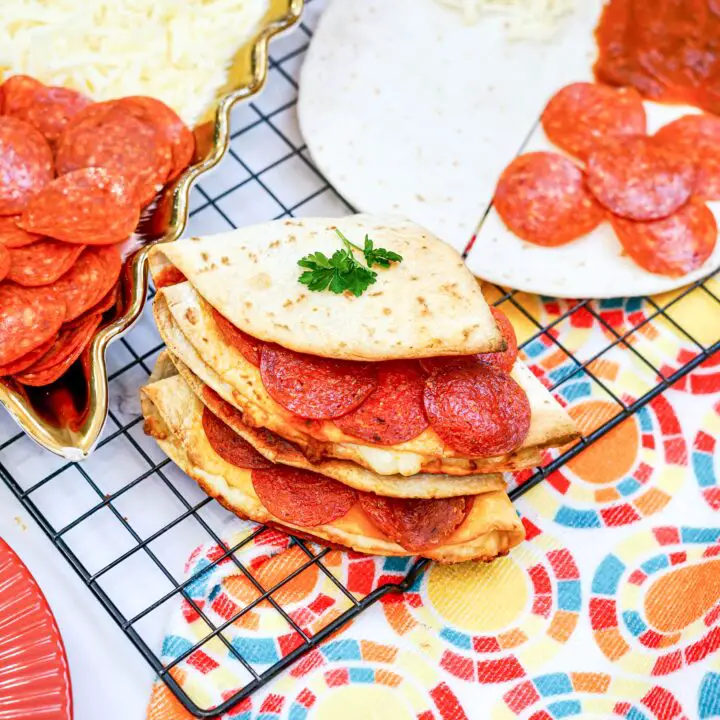 Air Fryer Foldover Pizza Quesadilla
Ingredients
Mozzarella Cheese 
Burrito Sized Tortillas
Pepperoni
Pizza Sauce
Cooking Spray
Instructions
1. Preheat the air fryer to 350 degrees Fahrenheit.


2. Make a cut from the outer edge to the center of a tortilla after laying it flat.


3. On the tortilla, divide the sauce, cheese, and pepperoni into quarter parts.


4. Fold the quarters in half and then in half again.


5. Using cooking spray, lightly coat the pan.


6. Place in the air fryer basket and cook for 5 minutes.


7. Serve and enjoy your foldover quesadilla.
Despite its odd name, the air fryer is a popular and useful kitchen appliance that can help you prepare a variety of delicious meals. And if you're including it in your arsenal of tools, why not get creative with your use of it? This recipe for foldover quesadillas puts the machine to work making a tasty snack that fits into any healthy diet.
This air fryer foldover pizza quesadilla is a delicious and easy-to-make meal that the whole family will love. It's perfect for a quick weeknight dinner or for when you're craving something cheesy and tasty. So, what are you waiting for? Give this recipe a try!
Want more air fryer recipes? Click here!