Does your family often complain about your smoothies, soups, or puddings being chunky and coarse? Don't dwell on it, you're not a bad cook! It's just that your blender can't keep up with you.
That's right, the blender that's sitting in your kitchen probably isn't up to the task. Those cheap, off-the-shelf blenders tend to frustrate people often. And what's even worse, such a blender can prevent you from unfolding your true cooking skills.
But have you heard about the Vitamix 750 Professional blender? 
Recently I got the chance to try it out, and I can assure you that this blender is more than ideal for making all sorts of meals and drinks, like a true professional cook. 
Today I will share with you everything there is to know about Vitamix Professional Series 750. So please read on if you want to know why this product is worth every penny and why it can change your lifestyle.
Vitamix 750 Professional Blender At A Glance
Last update on 2023-02-23 / Affiliate links / Images from Amazon Product Advertising API
What To Consider Before Buying A (Vitamix) Blender?
There's a lot of great blenders out there. So, how do you find that one blender which will become the star of your kitchen? 
Here are a couple of factors you need to consider before buying any kind of blender (not just Vitamix)…
Motor Performance
The motor is the core of every blender regardless of its design and size. To assess a blender's motor performance, you have to check if it quickly heats up, makes the blender vibrate a lot, gets stuck easily, and consumes a lot of power but doesn't blend well.
Most Best Buy Vitamix blenders come with high-performance motors of either 2 or 2.2 peak horsepower, which is equivalent to 1,400 watts. 
Main Base Design
The main base is what affects the overall look of the blender, and it's what people often stare at when they come to your kitchen.
You should opt-in with a blender that comes with a main base that looks and feels solid, big yet not bulky, and doesn't take a lot of space n your countertop. 
Also, it's a bonus if the main base features user-friendly controls and pre-programmed presets (like in the Vitamix 750 blender) for creating the heartiest Vitamix recipes.
➡ Read More: Cooking with Vitamix? Check out our list of 35 healthy Vitamix recipes you can try at home.
Rotating Blades
Take a look at the rotating blade when buying a blender. You'll find many blender in the market that come with flimsy ones prone to rusting.
A flimsy rotating blade easily gets dull or bent. Also, you will want to avoid a rotating blade that rusts since it can contaminate your food.
Before getting your blender, you can also check if the rotating blade is at least 1 or 1.5 inches thick and chromium-covered or made out of stainless steel material.
All Vitamix blades are resistant to dulling or rusting, and they are made of hardened stainless steel material.
Presets
Are you a busy person that wants to enjoy the "walk away" convenience when using a blender? If so, then you should consider a blender with handy pre-programmed blending functions.
These presets can allow you to prepare smoothies, soups, purees, or deserts with just one selection. Just select your desired preset, and you are free to perform your other daily chores. 
The blenders with built-in presets may cost more, but they can save you more time. 
On the other hand, if you don't want an expensive blender with fancy presets, you can still prepare your recipes just as good with the variable speed controls.
Blender Jar
The blender jar or container is where you put food in. The container is either made out of plastic or glass. 
A plastic blender jar must be made out of HDPE or high-density polypropylene since it doesn't intoxicate food with harmful chemicals. The jar of all Vitamix blenders is made of BPA-free plastic.
On the other hand, a glass blender jar is good if it's made out of non-porous glass. This is advantageous for maintenance since it can be easier to clean without holding stains. However, glass jar blenders can be too heavy and may cost a lot more.
Warranty
Having a longer warranty that comes with your blender will bring peace of mind for you since you know you are covered if something wrong happens with your blender. However, not every blender comes with a long warranty, or with a warranty that covers everything.
Most of the blenders on the market offer a 1 to 5-year warranty that may cover just the parts (and not the labor).

However, all Vitamix blenders come with a full manufacturer warranty of 5 to 10 years.
Everything You Need To Know About Vitamix 750 Blender – Features & Benefits
The Vitamix 750 blender is the latest of the blenders in Vitamix's Professional Series. It solves the issues that Vitamix Professional 200 and Vitamix Professional 500 had regarding ease of use, durability, and performance.
Last update on 2023-02-23 / Affiliate links / Images from Amazon Product Advertising API
Each unit of this product comes with a cookbook, a tamper, and a 64-ounce blender. And the options for food preparation with this blender are numerous. You can use the Vitamix Professional 750 blender to create soups, smoothies, frozen desserts, purees, and many more recipes.
Let's see some of the main features.
Main Base Design And Performance
Vitamix Professional 750 comes with a rather sturdy base. Therefore, stability isn't a question anymore. You can set this blender to the max setting without worrying about uncomfortable vibrations.
Another thing that I love about the base is its color. The matte black outlook is just great for me. You might think that Vitamix 750 will do better with a glossy base. However, for me, a non-glossy coating is much better since it more resilient against stains and scratches.
In terms of performance, this blender comes with a powerful 2.2 HP motor conveniently located in the main base, which is responsible for handling even the toughest ingredients.
Rotating Blade
When blending, you can trust this blender won't leave any ugly tidbits unattended. This is because it has a rotating blade with four protrusions that create a powerful vortex for blending almost everything.
Furthermore, the blade's construction is brilliant. It's made out of stainless steel and is thicker than the usual rotating blades of other blenders. Plus, it's resistant to dulling or rusting.
With this laser-cut blade at the bottom of your container, I can say that you won't be having any trouble blending seeds, nuts, or any kind of thick ingredients.
Container Size
Vitamix Professional Series 750 Blender comes with a low-profile 64-oz container made of BPA-free plastic. It's perfect for large family meals and for entertaining guests. 
What I liked the most about this container is that it perfectly fits in my cabinet spaces, making it the most convenient of all my kitchen appliances!
Self Cleaning Function
You don't have to do a lot of maintenance since this blender comes with a self-cleaning function (or a preset). With this function, Vitamix 750 can clean its blender jar and rotating blade to avoid the formation of rust and stains.
Nonetheless, this doesn't mean that the container can clean itself completely. You still need to rinse it with clean water.
Pre-Programed Presets
Vitamix Professional Series 750 Blender is a sleek, high-performance appliance with four preprogrammed settings for making smoothies, soups, purees, and frozen desserts.
As I mentioned in the previous point, the blender also has a fifth preset for automatic cleaning that allows you to stop worrying about the mess!
These pre-programmed settings allow you to blend drinks with consistency for the most popular recipes in one simple step with "walk away" convenience!
When comparing Vitamix 750 vs 7500 (its cheaper sibling), the presets are the only thing that separates them from each other.
But in addition to the presets, you also have 10-variable speed control and Pulse function that allows you to fine-tune the mixture and prepare your recipes with higher precision.
Blender Warranty
Vitamix company stands behind the quality of its products, and this blender is not an exception.
Vitamix 750 Professional blenders come with an amazing 7-year long Vitamix warranty that covers:
Normal wear and tear
Replacing or repairing its parts
Shipping costs (for the two ways)
How Do Other Users Rate Vitamix Professional Blender 750?
Users, who directly purchased from the Vitamix website, gave Vitamix 750 an average rating of 5 stars. The majority of the reviews praised this product's ease of use, durability, functionality, and blend quality.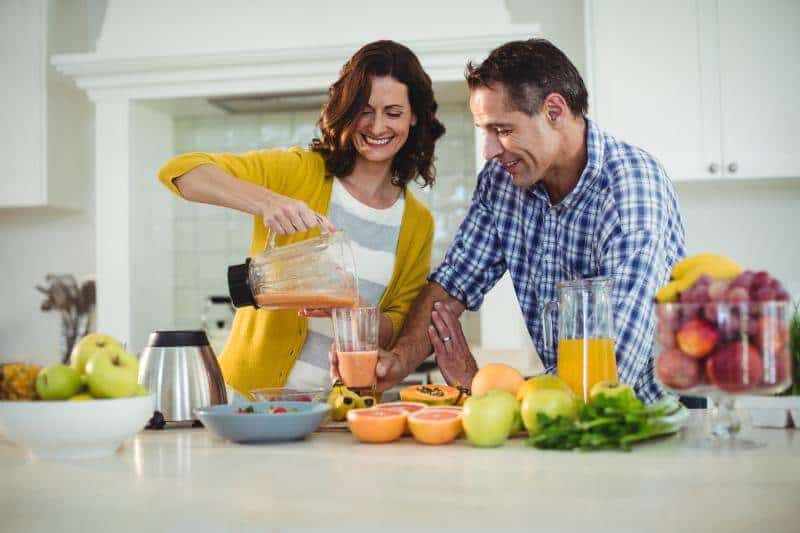 Those who bought from Amazon also gave this product favorable reviews. Reviews were either 4 stars or 5 stars. According to users, this product does it all and is highly versatile for numerous blending purposes.
Here are some of the comments about this blender…
I like this story where one lady was afraid to tell her husband about her expensive purchase. So she decided to make him a smoothie first.
"My husband immediately fell in love with the blender. He wasn't a bit livid because the blender is well worth the investment." 
Another satisfied customer was saying how the Vitamix 750 blender blew him away with its power.
"The blender has so much power for grinding ice cubes into smooth slush without any problems. It's totally worth the high price."
People are also using this blender in their weight loss journey.
"This Vitamix 750 model is so efficient, amazing, quick, and easy to use. I'm having 2-3 Vitamix smoothies per day, and I already start losing weight." 
One mom stated: "My kids love the healthy smoothies I am preparing for them every day. The consistency is perfect because there are no tiny chunks of foods in the smoothies."
The list with positive reviews goes on and on…
But we can all agree that people are having the best blends of their life with this blender.
What Are The Alternatives To Vitamix 750?
Do you want to know other great options? If so, you should check these out.
As the best alternative to the Vitamix 750, most people choose the newer model from the Ascent Series – Vitamix A2500 blender. This high-end blender comes with a sleek design and 3 presets for making hot soups, smoothies, and frozen desserts.
Last update on 2023-02-24 / Affiliate links / Images from Amazon Product Advertising API
The most prominent feature of the Vitamix A2500 Ascent series blender is its wireless connectivity. This feature allows the motor base to automatically recognize the size of the jar and set the blending time accordingly.
This blender also features a digital timer for precise blending without guesswork. This is very useful if your kitchen's lighting profile is dark or if you're having trouble using an analog timer.
NutriBullet blender has a very minimalistic profile and is a great addition to your countertop. 
Last update on 2023-02-23 / Affiliate links / Images from Amazon Product Advertising API
This blender comes with a similar large container of 64 ounces and two complementary smaller cups of 24-oz and 35-oz.
Furthermore, it's equipped with simple button controls (3 speeds, pulse, and extract feature) which are great if you don't like to use switches or knobs to operate a blender.
However, the NutriBullet blender is backed up only with a short 1-year limited warranty.
I recently discovered this relatively young but promising blender which seems like a suitable alternative to Vitamix 750. 
Last update on 2023-02-19 / Affiliate links / Images from Amazon Product Advertising API
It comes with a larger 68-oz container made of Tritan BPA-free material. The stainless steel blade inside the container has a unique design of 6 tips that allow efficient blending.
The control panel of the OMMO blender features nifty 8 presets, a variable speed dial, and a digital timer.
Unfortunately, this budget-friendly blender is backed up only with a short 360-days warranty.
Summary
The Vitamix 750 Pro blender can be an excellent fit for you because it's a blender that merges functionality, design, and performance. You can prepare a ton of delicious Vitamix recipes for your family and unfold your true cooking skills once again.
The ultimate reason why you may need this product is its five pre-programmed presets that will ensure consistent results and save you time (especially when multitasking).
Furthermore, we saw how there is strong social proof for this blender. Many people have tried this product and can attest that it works great without any issues.
You can also check the other alternative blenders if you want. Each of these blenders comes with its own pros and cons, and it's up to you to decide which suits you the most.
So let us know about your option about the Vitamix 750 blender or any of these alternatives.