Today I'm sharing my favorite marinade for London broil that would please even the London Broil gods if they exist. What is London broil if you might ask? It is a method of cooking where you marinade an inexpensive cut of beef like top round then cook it until it's perfectly tender. If you are still looking for new ways on how to cook London broil in the oven then we have the answer ready for you. 
Now, whenever you look up London Broil (which is probably why you stumbled across this article in the first place) it will all boil down to making the perfect marinade. It's true, that's the key to making a delectable London broil since it will be the resting place of the beef for at least 6 hours. We just got you started if indeed you want to have the perfect london and still in search of what is the best way to cook London broil then this is a bonus for you. 😉
You can either grill it, bake it, or broil it. Whichever you choose, just make sure you don't skip marinating the meat. Otherwise, you'll have your whole family chewing for hours. Might knock off some loose tooth here and there too. These budget-friendly cuts are lean and muscular so they can be tough when not handled well. 
This is where marinating can save you. These cuts have a lot of potential and rich beef flavor. All you need is the perfect recipe and a little bit of patience. You see, London broil cuts are often neglected because they can be intimidating since they can easily get gamey if overcooked. Though in reality you just need to marinate them well for a couple of hours to keep them tender and moist. 
Another reason I keep my marinade simple is so it's easier to pair it with. To complete your trademark perfected dish is always the side-dish. Speaking of simple, quick, and easy recipes we have listed the by-far instant favorites: what to serve with London broil. Yes, cooking with these economical cuts of beef indeed involves a few extra steps, but I guarantee you it's worth it! 
What You Will Need For A London Broil Marinade: 
Resealable Freezer Bag
This is where you will place the London broil and marinade for 6 to 12 hours. You can also use an airtight container, but I just find resealable freezer bags work best. 
Acid
The acid in the marinade helps break down some of the fiber to tenderize the meat while it's soaking in it. I prefer to use a mix of Balsamic vinegar and a little bit of fresh lemon juice.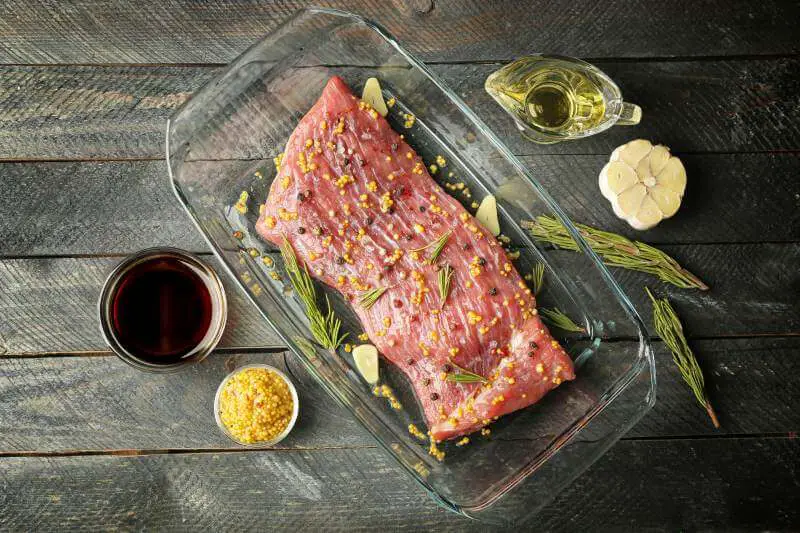 Worcestershire Sauce And Soy Sauce
The slightly sweet and salty soy sauce helps bring out the flavor of the beef. Worcestershire sauce adds a lot of flavor and umami-ness to the marinade.
Olive Oil
Helps soak the steak and adds a gentle olive flavor. This is also a healthy alternative to butter and regular oil.
Herbs And Spices
I keep it simple on the herbs and spices, some dried rosemary, oregano and thyme, ground black pepper, and crushed garlic. Notice I don't put salt in it since we already have the soy sauce to take care of the saltiness in it.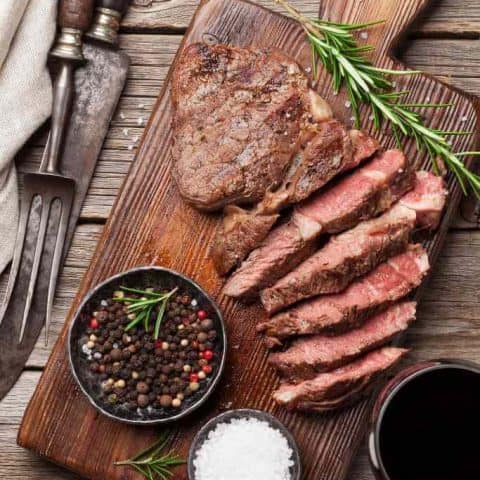 London Broil with Herby Balsamic Vinegar and Garlic Marinade
Prep Time:
6 hours
30 minutes
Additional Time:
10 minutes
Total Time:
6 hours
50 minutes
This simple London Broil marinade is easy to make but packs a lot of flavors. Pumped up by dried herbs, balsamic vinegar, and A LOT of garlicky goodness!
Ingredients
2 lbs London Broil (Top Round) beef
¼ cup balsamic vinegar
¼ cup fresh lemon juice
¼ cup olive oil
¼ cup of soy sauce
2 tablespoons Worcestershire sauce
4 to 6 garlic cloves, crushed
½ teaspoon ground black pepper
1 teaspoon dried rosemary
1 teaspoon dried oregano
1 teaspoon dried thyme
Instructions
In a medium-sized bowl, combine all the ingredients except for the beef. Whisk together until fully incorporated and pour into the freezer bag.
Score both sides of the London broil with a sharp knife to help it absorb the marinade. Then place it inside the freezer bag with the marinade. Place it in the fridge for at least 6 hours.
Take the meat out of the marinade about 30 minutes before you start cooking to let it rest.
While it rests, preheat your broiler on high. Transfer the marinated beef into a broiler pan and place in the preheated broiler for 5 to 6 minutes. 
Take it out of the broiler and flip to the other side to cook for another 3 to 4 minutes or until you get 135 to 140°F. Rest for 10 minutes before slicing against the grain and serving.
Nutrition Information:
Yield:

4
Serving Size:

1
Amount Per Serving:
Calories:

162
Total Fat:

14g
Saturated Fat:

2g
Trans Fat:

0g
Unsaturated Fat:

11g
Cholesterol:

0mg
Sodium:

965mg
Carbohydrates:

8g
Fiber:

1g
Sugar:

4g
Protein:

2g
Trust me, this is the only London broil marinade you'll ever need. It's simple yet flavorful and you end up with a perfectly tender London Broil. Make this your own and share in the comments below how they turned out!