Being in Japan does not numb me from wanting to visit teppanyaki restaurants. I really miss the dining experience! Hibachi chefs are known for their skillful cooking, and their art of entertaining their guests.
I got a follow up message from Reggie, on whether I've cracked the famous Benihana fried rice recipe. I've previously written about her in my Benihana's garlic butter recipe (hi, girl!), and now, I am sharing my take on Benihana's fried rice. I hope you head over to that garlic butter post, too, because we'll also be using that delicious ingredient.
The Benihana Experience
To make the most out of your Benihana visit, or any Teppanyaki restaurant, at that, have your heart, mind, and tummy ready to enjoy all kinds of Japanese food. And though you will be treated to countless knife tricks, trust that your Teppanyaki chef will cook your meal right in front of you as you dine. You don't want to miss this type of entertainment.
I'd recommend that you go to any of their branches if you haven't been to any of them yet. This is a nice spot to hold events, including anniversaries, birthdays, and any other important occasions. What makes Benihana distinct from other teppanyaki-style restaurants in the United States is its ability to amuse guests.
A Benihana chef will enchant you through friendly and lighthearted conversations, and even juggle eggs off of spatulas before they cook. In between exhibitions, they will cook and serve the entire table.
Recreating Benihana's Chicken Fried Rice
We can surely take the Benihana experience right to our homes (or at least one part of it), by recreating another dish from the famous restaurant chain – Benihana's Chicken Fried Rice!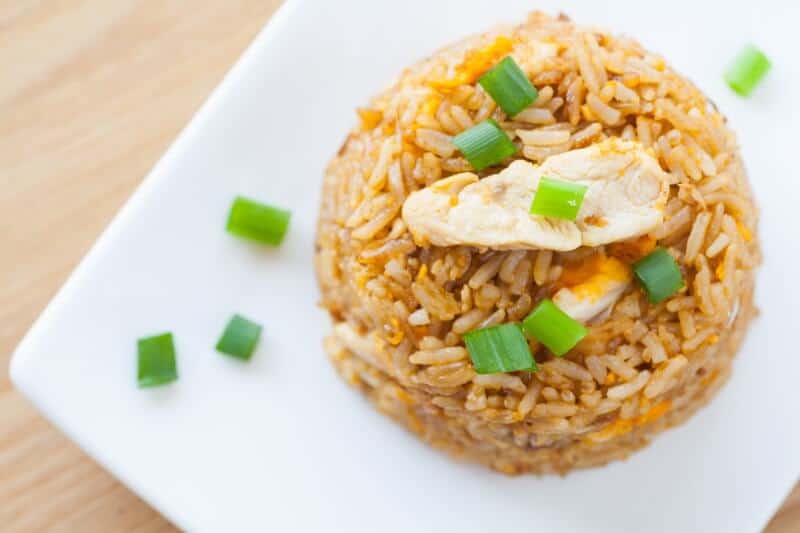 Save of course, the teppanyaki grills and the five-star cooking of an actual Hibachi chef. Benihana may have set the bar high for fried rice, but don't let that hold you back from creating Japanese cuisine at home. This simple dish has few ingredients, so you may prepare it at home if you've never been to the restaurant. You may also use chicken or shrimp (or both) as a substitute protein.
Benihana's Chicken Yakimeshi
In Japanese, we call fried rice yakimeshi (焼きめし).
This type of fried rice Japan has is similar to many others served in neighboring Asian countries. The name of this dish directly translates to "pan-fried rice". It's usually prepared and served on a big steel griddle called a teppan, though in most homes, we prepare yakimeshi using any regular griddle or frying pan.
I have made a list of the best griddles that are induction-friendly, in case you are planning to purchase one. I would also recommend having a pair of good spatulas to toss the rice and other ingredients with. 
Last update on 2023-03-22 / Affiliate links / Images from Amazon Product Advertising API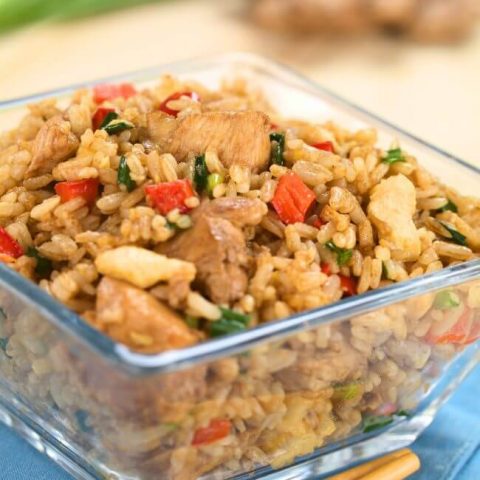 Benihana's Fried Rice
Check out my spin on Benihana's fried rice, and let me know what you think!
Ingredients
2 cups of day-old, cooked rice
2-3 tablespoons of safflower oil
¼ cup of diced white onion
¼ cup of diced carrots
¼ cup of sliced green spring onions
1 pound chicken breast, sliced/cubed
Salt and pepper
2-3 tablespoons of Benihana garlic butter, you may add more to your liking
2 large eggs
1 tablespoon soy sauce
1 tablespoon of sesame seeds
Instructions
1.) Cook rice according to directions. If possible, prepare your rice a day ahead. While we can definitely use freshly-cooked rice, the cold and day-old rice will have a great texture when stir-fried, while rice that has just been cooked could end up soft and clumpy. 


2.) In a pan, heat a tablespoon of safflower oil. Sauté the onion and carrots, until they turn golden brown. Add the spring onions. Set aside.


3.) Next, season your chicken with salt and pepper. Using the same pan in cooking your carrots and onions, sauté the chicken breasts. A minute or two before the chicken is done, add a tablespoon of Benihana garlic butter, mixing until the chicken is fully covered with this delicious butter. Set the chicken aside.


4.) Still using the same pan, scramble your eggs, and set aside on a separate plate.

5.) Time to put everything together! 

6.) Pour the remaining safflower oil into a large frying pan or even a wok, and turn the heat on high. Place the cooked rice and toss it well, so it gets fully coated. Add the rest of the Benihana garlic butter. Keep tossing the rice until it is coated with the butter. Add the chicken, eggs, and veggies. Toss some more, until all the ingredients are well-mixed.


7.) Lastly, add the soy sauce, and toss for 2 more minutes. Garnish with sesame seeds (and some more spring onions, if you wish) before serving. Indulge!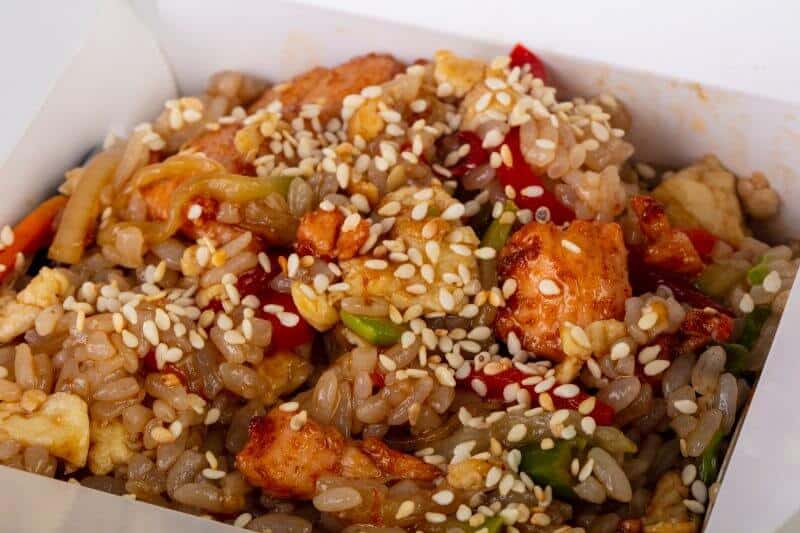 Nutrition Information:
Yield:

2
Serving Size:

1
Amount Per Serving:
Calories:

1037
Total Fat:

52g
Saturated Fat:

16g
Trans Fat:

1g
Unsaturated Fat:

32g
Cholesterol:

421mg
Sodium:

1042mg
Carbohydrates:

55g
Fiber:

4g
Sugar:

4g
Protein:

84g
Recipe Notes
To remove some of the starch from rice, rinse it well before cooking. Rinse the rice by immersing it in water, and gently kneading it with your fingers. To remove the excess water, drain the rice and begin the process again. (Mom of the year tip: You can use rice washings to water your plants with. They will benefit from all those nutrients!)
It's tempting to load your fried rice with as many different things as possible, but I recommend focusing on the essential "building blocks". It's best to have just a few distinct flavors so that each is not overpowered by the others. When you first make this recipe, I would recommend you stick to the basic ingredients first before playing with it.
Use soy sauce in moderation. Don't go through the trouble of making the rice change color; you'll get an entirely salty meal if you do. To give your rice that hint of brown, use just the right amount of soy sauce, which is usually a tablespoon or two for a family-sized dish. 
To make a delicious bowl of fried rice, you must utilize day-old rice that is cool to the touch. The next time you make a huge batch of rice, save it for breakfast or lunch the next day by using it in this fried rice recipe. 
Given that Safflower oil has a high smoking point, Benihana utilizes it for their fried rice. Alternatively, you can use canola or sesame oil. 
No products found.
What Is The Best Protein For Your Benihana Fried Rice?
Here are some protein variations for this recipe: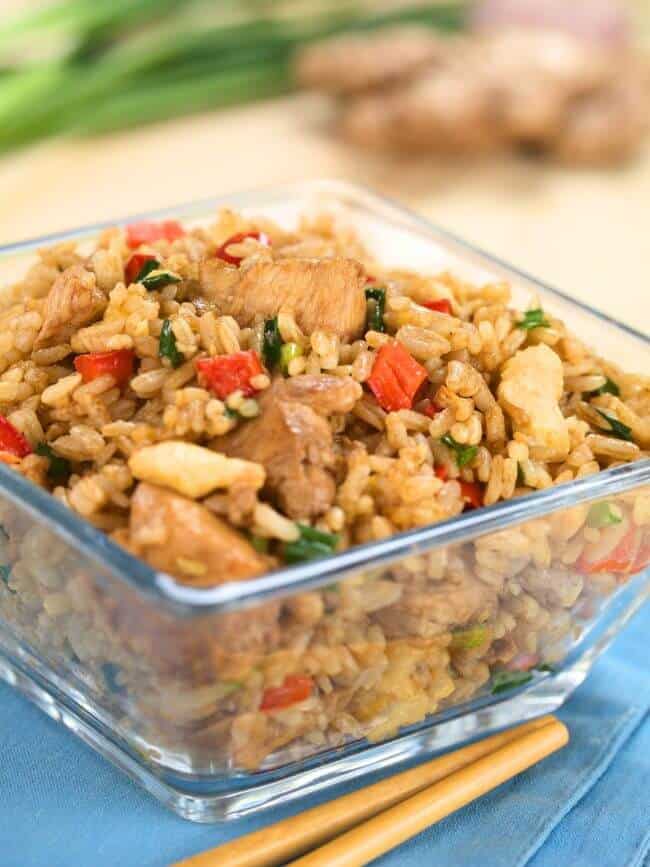 Chicken Version 2.0: To go with your fried rice, why not add juicy pieces of grilled or pan-seared chicken breast? You should cook the chicken first, then add it as toppings to your fried rice as soon as it is prepared.
Beef: Adding strips of flavorful sirloin steak to your Benihana fried rice gives it a terrific flavor. Cook it to your desired level of doneness and season it to taste.
Shrimp: Shrimp enthusiasts are assured to appreciate their rice with fresh, delicious shrimp. It is fine to retain the shrimp whole if they are tinier than the usual shrimp. But if they are gigantic, like prawns, cut them into smaller pieces. Instead of cooking your shrimp separately, fry it up and mix it into your fried rice while it is still warm.
Mixed Seafood: You can also add shrimps, mussels, and squid to make it a mixed seafood fried rice!
Best Pairs From Our Kitchen 
This flavorful rice can be paired with so many dishes! Please check out our recommended recipes here:
Putting this amazing recipe out there: the must-try Lechon Kawali (Crispy pork belly). It is so good that you might be coming for second or third servings. Don't say you weren't warned! 😀
Top your fried rice with textured protein by adding some cooked shrimp
Resemble a Chinese takeout by topping your rice with air-fried egg rolls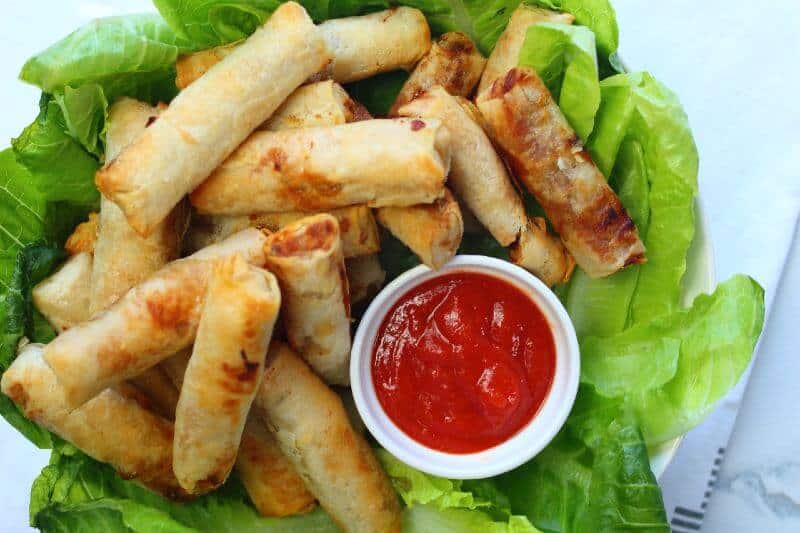 Can I Make This Benihana Fried Rice Gluten-free?
Here are my recommended substitutes:
Use cauliflower rice instead of white rice
Use gluten-free soy sauce, or coconut aminos, to replace the soy sauce
Use avocado in place of safflower oil
Frequently Asked Questions
What Kind Of Cooking Oil Does Benihana Use?
Benihana means "safflower", which is the exact type of oil that the restaurant uses in its dishes. 
How Do You Make Benihana's?
Have fun cooking this fried rice, or be more adventurous and discover more dishes on your own as you prepare them using my version of Benihana's garlic butter.
Do You Boil Rice Before Making Fried Rice?
The answer is yes, you need to pre-cook the rice. For the texture alone, day-old rice yields so much difference. You can also use freshly-cooked rice, but make sure it has completely cooled before using it in this recipe. 
How Much Is Benihana Fried Rice?
Benihana's fried rice costs $5 for one single serving.
Conclusion
Give this recipe a shot, and I am sure you will be serving it more frequently than you originally thought! Please leave a comment below, I would love to hear about your experience. Thank you and see you in my next posts!