Fourth of July is a time to celebrate our nation's independence, and what better way to do that than with some delicious Patriotic Brownie Bites! These bites are easy to make and come together in just minutes, so you can get ready for the big celebration without spending too much time in the kitchen. Plus, they're sure to fill your tummy with the patriotic spirit!
They are simple to make and require just a few ingredients. The best part is that they are versatile – you can change the flavor and add your own personal touch by using different extracts or spices.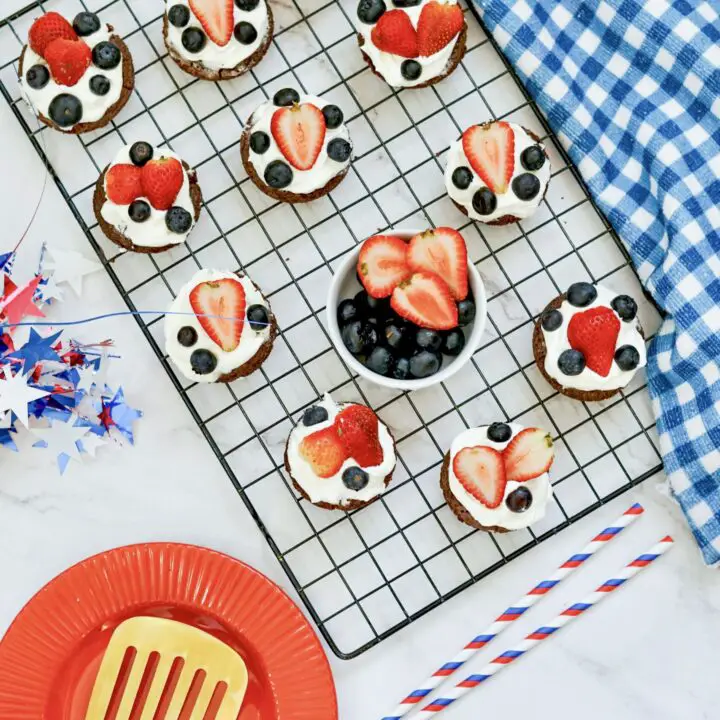 Patriotic Brownie Bites
Ingredients
Brownie Mix Box (plus ingredients listed on box), 18 oz.
Whipped Topping, 8 oz.
Blueberries 
Sliced Strawberries 
Muffin Tin
Instructions
1. Using a muffin tray, make brownies as recommended on the brownie box. Fill each muffin tray quarter full with brownies so they don't appear like cupcakes but round cookies!


2. Transfer the brownies to a cooling rack after removing them from the muffin tray.


3. Allow 5-10 minutes for the brownies to cool.


4. Using whipped topping, coat the brownies.


5. Decorate each brownie bite with the strawberries and blueberries.
There is no better way to celebrate our nation's independence than with some delicious Patriotic Brownie Bites! Creating these treats is fast and straightforward, and once you've cooked a batch of them, they're sure to be a crowd favorite on the Fourth of July, not to mention a delicious way to indulge your nationalistic pride.
These bite-sized brownies come together quickly, making preparing memorable, perfect morsels a breeze. Additionally, they will fill their guests with the 4th of July pride and spirit. They are easy to make, and everyone will love them. So be sure to try this recipe for your Independence Day celebration!
For more patriotic recipes for your Independence Day celebration or any other occasion, try our Patriotic Cookie Cake! If you want more brownie recipes for your celebration, you can try our Patriotic Brownie Cake instead. Enjoy!