Patriotic Brownie Cake is the perfect way to show your patriotism! This easy and fun cake is perfect for any celebration. It's easy to make, and it will be a hit at your party. They are perfect for kids, too, because they are easy to put together and taste great. Plus, its patriotic colors make it the perfect addition to your Independence Day celebration!
The brownies are rich and chocolatey, and the frosting is fluffy and patriotic-red, white, and blue. The cake is easy to make and it's sure to be a hit with your guests!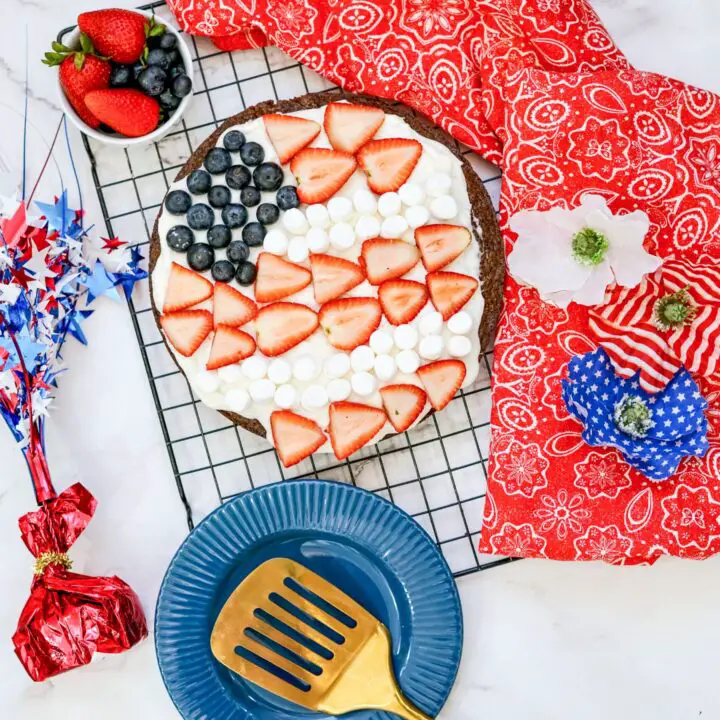 Patriotic Brownie Cake
Ingredients
Brownie Mix Box (plus ingredients listed on box), 18 oz.
Cream Cheese Frosting, 16 oz.
Blueberries
Strawberries, sliced
Miniature Marshmallows
Round Cake Pan, 8-9 inch
Instructions
1. Using the circular cake pan, make brownies as indicated on the brownie box.


2. Transfer the brownie to a cooling rack after removing it from the cake pan.


3. Allow 5-10 minutes for the brownie to cook.


4. Spread cream cheese frosting on the brownie.


5. Create the flag's blue potion in the brownie's left corner.


6. Using sliced strawberries and small marshmallows, make red and white stripes.
This delicious brownie dessert is appropriate during celebrations that honor unity and liberty! Patriotic Brownie Cake is the perfect way to celebrate people who unite our wonderful nation! You can make this tasty, easy dessert in large batches and then randomly slice them, arranging them in tiers on the plate. It's made with simple ingredients and is easy to prepare, so it's perfect for family, friends, or any party.
This easy, fun cake is perfect for any party, and it's sure to delight your guests with its light and crunchy taste. The cookbook carries a child-friendly recipe that's perfect for a Fourth of July celebration. So be sure to try this recipe for your next party!
For more recipes that symbolize patriotism, check out our Patriotic Cookie Cake and give us your thoughts!