Looking for a patriotic dessert? Look no further than this amazing cookie cake! It is filled with red, white, and blue stars and stripes, and is delicious. This cake will make your holiday celebrations even more special.
Patriotic Cookie Cake is a delicious and patriotic dessert that is sure to please everyone at your next party! This cake is easy to make, and it is perfect for a crowd. You will not be able to resist this cake, and you will be sure to make it again!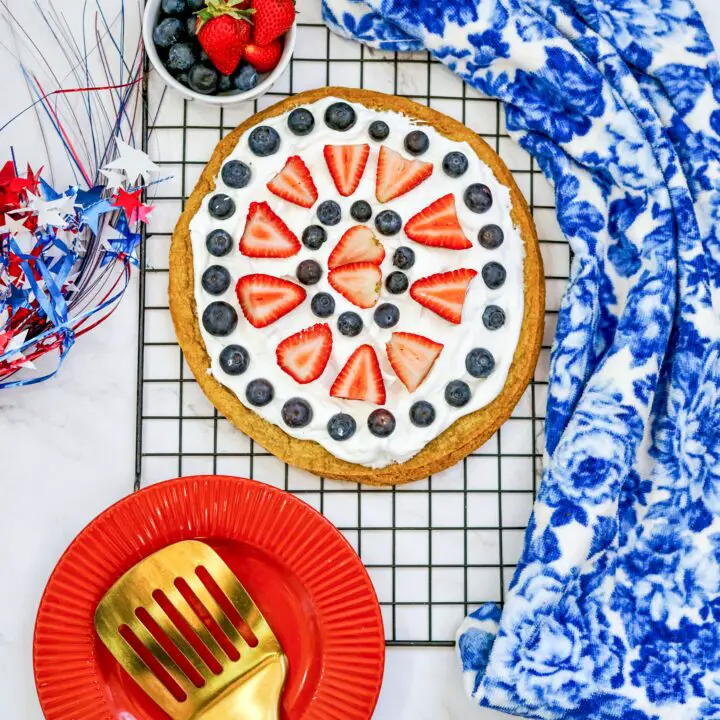 Patriotic Cookie Cake
Ingredients
Sugar Cookie Dough (16.5 oz)
Whipped Topping (8 oz)
Strawberries (1 lb)
Blueberries (1 pint)
Instructions
1. Preheat the oven to 350 degrees Fahrenheit.


2. Layout the sugar cookie dough in a non-stick circular pan.


3. Bake the cookie according to the package directions.


4. Remove from the oven and set aside to cool.


5. Allow the cookie to cool completely before pouring in the whipped topping.


6. Cut the strawberries in halves and use the strawberries and blueberries to make a red and blue pattern on top of the cookie.
This patriotic cookie cake recipe is the perfect dessert for any patriotic celebration. It is easy to make and it tastes delicious. So, be sure to try this recipe out for your next patriotic event.
You can also pair it with a fruity drink for a perfect treat. Try to pair our Hippie Juice with this patriotic cookie cake and share with us how your celebration went!