What could be better than a delicious drink that tastes like pineapple? A drink that is also fuzzy and exciting! This fuzzy pineapple navel drink is perfect for any summer day. It is easy to make and will soon become a favorite of yours.
Looking for a tropical fruit-flavored drink? Try the pineapple fuzzy navel recipe! This refreshing drink is made with pineapple juice and peach schnapps. It's perfect for summertime parties or just to enjoy on a hot day.
If you're looking for a refreshing drink to cool down on a hot day, try the pineapple fuzzy navel drink. It's not as strange as it sounds, and it's a great way to enjoy the flavor of pineapple without having to worry about the sugar content.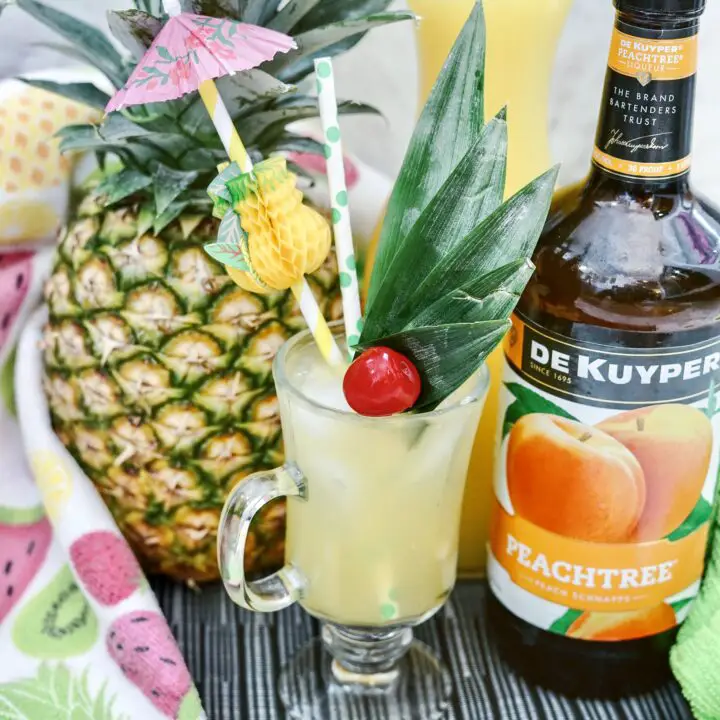 Pineapple Fuzzy Navel
Ingredients
Pineapple juice, 6 oz. 
Peach schnapps, 6 oz.
Ice Cubes
Cherries for garnish
Pineapple leaves for garnish
Instructions
1. Ice cubes should be placed in a glass.


2. Pour the peach schnapps into the glass.


3. Finish with pineapple juice.


4. Serve with pineapple leaves and cherries as garnish.


5. Cheers.
When the weather heats up, there's nothing quite like a cold, fruity drink to cool you down. One of our favorites is the pineapple fuzzy navel. This drink is made by combining pineapple juice with peach schnapps. It's refreshing and perfect for summertime sipping.
This drink is a refreshing and delicious beverage that is perfect for any occasion. It is easy to make and can be enjoyed by people of all ages. So next time you are looking for something to drink, give our recipe a try! The best recipe to get you in the mood for spring.
Looking for something similar? Try our Classic Fuzzy Navel!