There's no need to wait for a major patriotic holiday to celebrate America. These mini pies are the perfect way to show your love of the country any time of year. They're easy to make and fun to serve, and they're sure to get everyone in the patriotic spirit.
Mini patriotic pies are a delicious way to show your patriotism while enjoying a delicious dessert. These pies are easy to make and can be customized to fit any occasion. They are perfect for a Fourth of July barbecue, Memorial Day picnic, or any other patriotic event.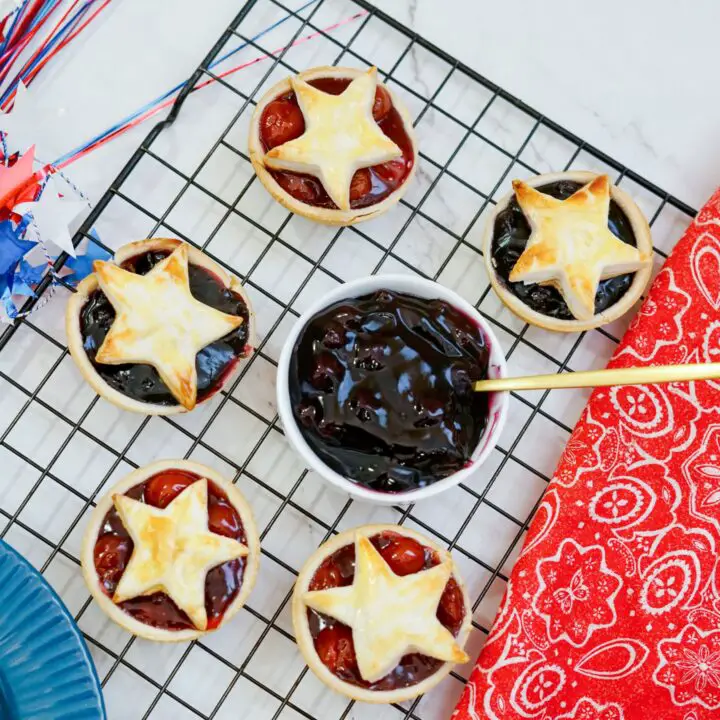 Mini Patriotic Pies
Ingredients
Pie Crust Package (15 oz.)
Cherry Pie Filling (20 oz.)
Blueberry Pie Filling (20 oz.)
Egg
Mini Star Cookie Cutter
Circle Cookie Cutter
Instructions
1. Preheat the oven to 350 degrees Fahrenheit.


2. Cut out circles from one of the two pie crusts.


3. Fill the muffin tray with each circle.


4. Fill each crust about 3/4 with pie filling.


5. Cut out stars from the second pie crust.


6. Apply a little coating of egg to each star.


7. Each pie should have a star on it.


8. Preheat the oven to 350°F and bake the pies for 30-35 minutes, or until golden brown.
Looking for a fun, festive way to celebrate America's birthday? Look no further than mini patriotic pies! These little beauties are easy to make and can be tailored to please any palate. Plus, they're the perfect party food – just pop them on a platter and let your guests help themselves.
If you're feeling adventurous, try making your own pie crusts. But if time is tight, store-bought will work just fine. The key is to choose a variety of fillings that represent America's diverse culinary heritage. We suggest starting with a classic apple pie, then branching out into blueberry, cherry, or peach. And don't forget the whipped cream or ice cream if you want some topping!
So why not celebrate America's birthday with a little bit of America in every bite?
If you want more patriotic recipes, try our Mini Patriotic Fruit Pizza and share with us your experience!