Is there anything better than a patriotic fruit pizza? According to some, there isn't. Mini Patriotic Fruit Pizzas are the perfect bite-sized snack for those in the mood for something patriotic. Whether you're celebrating America's birthday or just love eating good food, these pies are perfect for you!
Who says patriotism has to be big and bulky? This Mini Patriotic Fruit Pizza recipe is a fun and easy way to show your support for your country while enjoying a delicious meal. Start by prepping the dough and filling it with your favorite patriotic toppings, like blueberries, strawberries, and whipped cream.
These pizzas are easy to make and can be customized to fit your taste. They are a great way to show your patriotism and enjoy a delicious snack at the same time.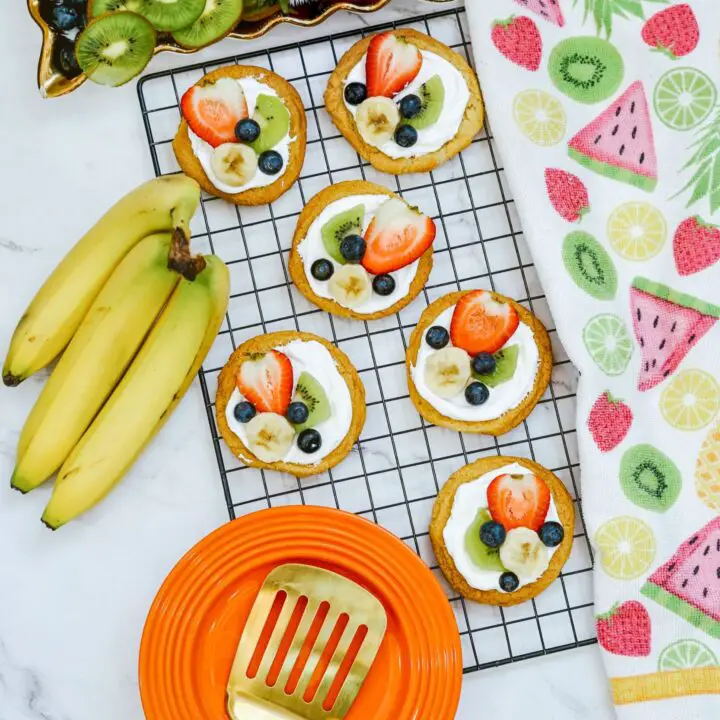 Mini Patriotic Fruit Pizza
Ingredients
Whipped Topping (8 ounces)
Sugar Cookie Dough (1 pound)
Sliced Strawberries (1/2 pound)
Blueberries (1/2 pint)
2 Sliced Bananas
2 Sliced Kiwis
Instructions
1. Preheat the oven to 350 degrees Fahrenheit.


2. Cut the cookie dough into slices.


3. Place on a nonstick pan and bake according to the package directions.


4. Remove from the oven and place on a wire rack to cool.


5. Top with whipped cream.


6. On the tiny fruit pizzas, layer the strawberry halves, kiwi slices, bananas, and blueberries.


7. Enjoy.
This recipe is easy to follow and can be tailored to include your favorite fruits. Serve immediately and enjoy!
Mini patriotic fruit pizzas are a fun, festive, and easy way to show your patriotism on the Fourth of July. They are perfect for a party or for a quick and easy snack. So, why not give them a try this Independence Day?
For more patriotic recipes, try our Patriotic Ice Cream Sandwich and Patriotic Brownie Bites!