Introducing the royal peach cocktail! This delicious drink is perfect for a summer party or anytime you want to show off your royal style. It is also one of the most popular drinks at upscale bars and lounges all over the world.
The drink is made with juice, peach schnapps, sprite, and Crown Royal Peach. The peach flavor is strong but the sweetness of the drink balances it out perfectly. Serve icy cold and enjoy!
Peaches are a natural choice for a royal cocktail. They're sweet and juicy and can be dressed up or down depending on your preference. For this recipe, we used peach schnapps and Crown Royal Peach to give it a luxurious feel.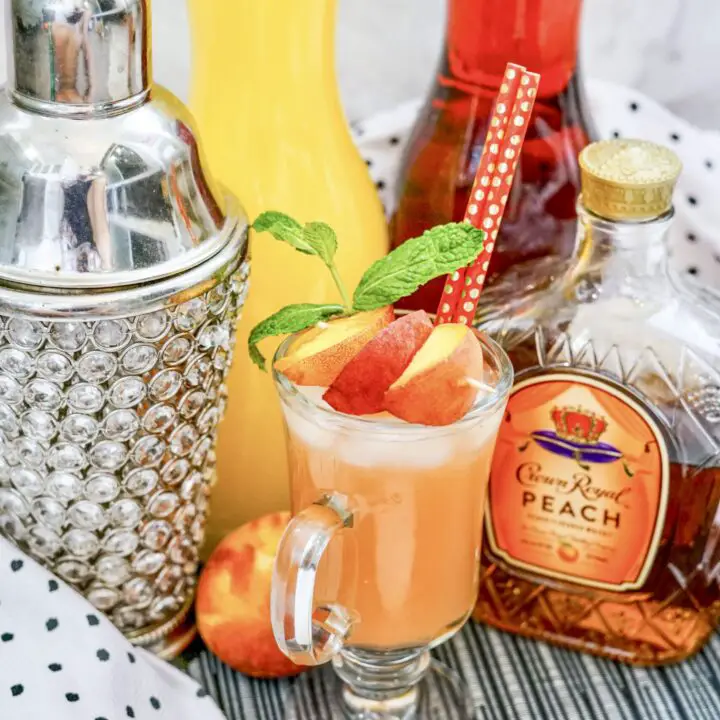 Royal Peach Cocktail
Ingredients
Cranberry Juice, 1/2 ounce
Pineapple Juice, 1/2 ounce
Peach Schnapps, 1 ounce
Peach Crown Royal, 1 ounce
Sprite, 2 ounces
Ice Cubes 
Mint leaves for garnish
Slices of peach for garnish
Instructions
1. Place ice cubes in a cocktail shaker.


2. Pour in the peach schnapps and Crown Royal peach.


3. Combine the cranberry juice, pineapple juice, and sprite in the cocktail shaker.


4. Shake well.


5. Allow the shaker to rest for a few seconds before opening it.


6. Serve in a glass with peach slices and mint leaves.


7. Cheers.
When the weather starts to heat up, there's nothing better than cooling down with a delicious Royal Peach Cocktail. This refreshing drink is perfect for summer parties and get-togethers. It's easy to make and can be adapted to fit any taste.
You can either mix all of the ingredients together in a glass or shake them up in a shaker. Pour into a hurricane glass filled with ice cubes and enjoy!
The royal peach cocktail is a delicious and refreshing drink that is perfect for any occasion. It is easy to make and can be customized to fit your taste. So next time you are looking for a new drink, be sure to give the royal peach cocktail a try.
If you want more fruity and sweet cocktails for your next party, be sure to try our Pomegranate Cocktail and share with us how your party went!