Lasagna is a classic Italian dish that typically contains ground beef or sausage. But this recipe for spinach and broccoli lasagna is meatless, making it perfect for a Meatless Monday meal. The lasagna is made with a creamy béchamel sauce, fresh spinach, and broccoli florets. It's layered between lasagna noodles and topped with shredded mozzarella cheese.
This recipe is easy to make and it's a great way to use up leftover vegetables. You can substitute any type of pasta you like, or even use gluten-free pasta if needed. And if you're not into broccoli, you can use any other type of vegetable instead. This lasagna makes a hearty and filling meal that everyone will love.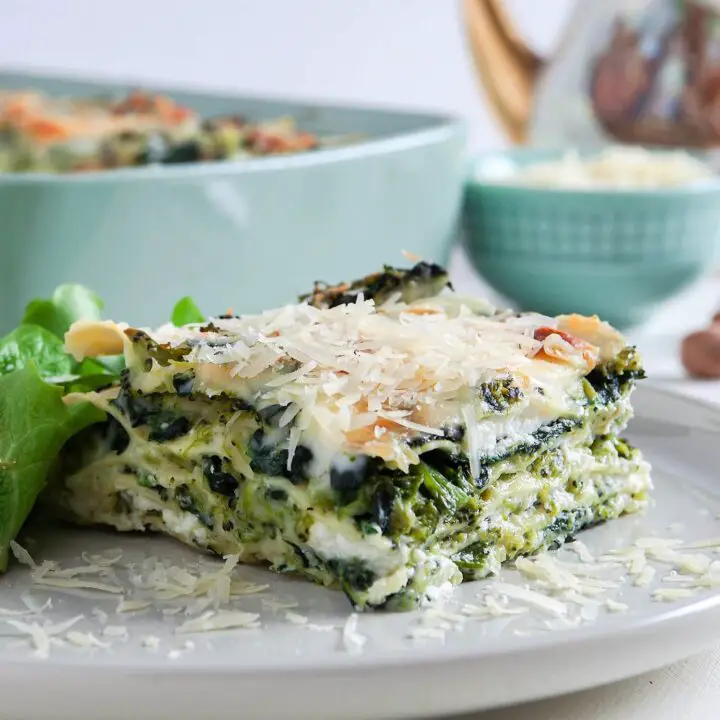 Spinach and Broccoli Lasagna
Total Time:
1 hour
25 minutes
For Meatless Monday, this vegetable lasagna is a fantastic option. Broccoli and spinach are a great match for each other. This green lasagna is a refreshing twist from typical vegetable lasagna, but feel free to add more vegetables for colors, such as shredded carrots or red pepper.
Ingredients
Butter, 2 tbsp.
Flour, 3 tbsp.
Milk, 3 cups
Salt and pepper to taste
Freshly Grated Nutmeg, 1/4 tsp.
Chopped Fresh Baby Spinach, 20 oz.
Extra Virgin Olive Oil, 2 tbsp.
Broccoli, chopped into chunks and florets, 10 oz.
12 Oven-Ready Lasagna Noodles (Barilla, etc.)
Ricotta Cheese, 1 cup
Shredded Mozzarella Cheese, 2 cups
Freshly Grated Parmesan Cheese, 1/2 cup
Instructions
1. Preheat the oven to 400 degrees Fahrenheit.


2. In a large saucepan over medium heat, melt the butter. Combine flour and butter in a mixing bowl and whisk until smooth. Cook for another 5-7 minutes, or until the roux has turned a light golden color.


3. Raise the heat to medium-high and whisk in the milk gently until it has thickened and incorporated. Simmer for 10-20 minutes over medium-low heat, until the raw flour flavor has disappeared and the sauce has reached the appropriate thickness.


4. Season with nutmeg, salt, and pepper.


5. Heat the olive oil in a large skillet. Toss in the spinach and continue to stir and mix until it is completely wilted. Don't overcook it. Remove the pan from the heat and set it aside.


6. Bring a kettle of lightly salted water to a boil in the meantime. Add the broccoli and cook for another 2-3 minutes, or until the broccoli is just tender-crisp. Don't overcook the food. Place in a  large mixing bowl after draining the broccoli in a colander.


7. Broccoli should be chopped into rustic bits. Stir after adding spinach and season with salt and pepper to taste.


8. In the bottom of a 9x13" casserole dish, spread a light layer of bechamel sauce.


9. The spinach-broccoli mixture should be layered next, followed by three lasagna noodles.


10. Bechamel sauce, spinach-broccoli mixture, ricotta, and mozzarella go on top of the noodles. Repeat the layers with 3 more noodles before topping with mozzarella.


11. Bake for 20 minutes at 350°F, uncovered. Serve with a fresh green salad and freshly grated parmesan cheese. Enjoy!
Notes
Tip: Broccoli should be cooked until it is barely tender-crisp. Sauté the spinach just until it wilts. In the oven, it will continue to cook.
It is a delicious dish that is perfect for any occasion. It is easy to make and can be served as an appetizer, main course, or side dish. The lasagna recipe uses simple ingredients that are easily found in most households, making it a great choice for those who are looking for a quick and easy meal.
This spinach and broccoli lasagna recipe is a healthy and delicious dish that is perfect for any occasion. It is easy to make and can be tailored to fit your personal preferences. Give it a try next time you are looking for a hearty meal!
For more healthy recipes, try our Chicken Breast Recipe.