Buffalo chicken pasta is the perfect dish to add an interesting twist to a mac salad. This quick and easy pasta dish is full of flavor and can be quickly made in the kitchen. Plus, it's perfect for a summer meal!
Buffalo Chicken Pasta Mac Salad is one of my favorite recipes in the summer. It's tasty and easy to make. Plus, it cost far less than my usual buffalo chicken recipes. Check it out!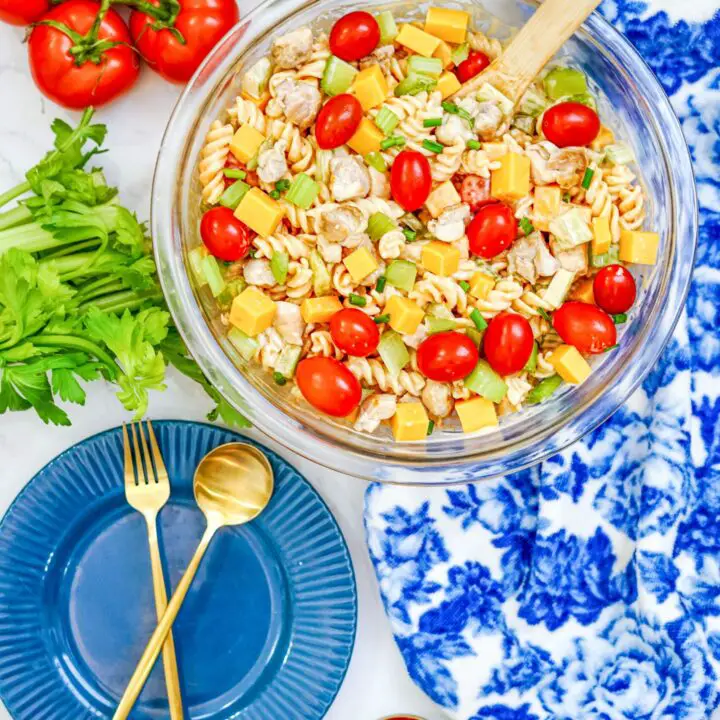 Buffalo Chicken Pasta/Mac Salad
Ingredients
Cubes of Grilled Chicken (1/2 pound)
Cubed Cheddar Cheese (8 oz.)
Ranch Dressing (2 cups)
Cooked Pasta Noodles (12 oz.)
Buffalo Sauce (1/4 cup)
Chopped Celery (5 stalks)
Cherry Tomatoes (8 oz.)
Instructions
1. Toss chicken, noodles, cheese, celery, and tomatoes together.


2. Buffalo sauce and ranch dressing are added.


3. Combine.


4. Serve and have fun.
This dish packs a punch of protein and vegetables, it is nutrient-dense and most importantly it tastes great. Buffalo Chicken Pasta Mac Salad incorporates many of the popular food trends of today into a delicious new classic that will quickly become your favorite summer meal.
This Buffalo Chicken Pasta Mac Salad is the perfect dish for any party or potluck! It is easy to make and everyone will love the combination of flavors. Be sure to give it a try next time you need a dish to bring to a gathering!
Want more tasty and flavorful salad recipes? Click here!