Looking for the best cookware for gas stove? Look no further because I have found some of the most awesome sets that will astonish you with their innovative features.
Unlike glass top stoves, gas stoves are more versatile and simpler to use, yet it's important to choose the right cookware that will be worth your hard-earned money. Please read our buying guide to help you decide the best pots and pans for your kitchen. 
What You Should Know When Choosing a Gas Stove Cookware Set
From the base to handles, you should consider the quality of every part of your cookware. Just because you have a gas stove doesn't mean you can just grab the first cookware set you stumble on. Here are the most important things to keep in mind when choosing a cookware for gas stoves.
1. It must be highly heat-tolerant
There are different kinds of gas stoves with different temperature settings. Using a cookware set that isn't heat-tolerant is just a waste of money because it will more likely to be ruined in a few months. Look for a cookware that has the ability to withstand the high temperatures. Moreover, it shouldn't burn your food.
2. Pay attention to the handles
The handles of cookware for gas stoves are specially designed to withstand temperatures of up to 600F. The well-constructed handles are safe to use, so check out them before making your final choice. Many customers complain about the breakage of the handless when cooking on a gas stove. That's because they use cookware designed for other cooktops.
3. Is it stain or/and scratch resistant?
This is a question you should definitely ask a seller or look for in the product description. There's a myth that each nonstick cookware is prone to stains and scratches. It may be true about the cheaper set, however if you buy a top quality set, you don't have to worry about scratches that typically occur after using metal utensils.
4. What's made from?
You can use any type of cookware on a gas top, but if you want it to last for years, ask about the materials a cookware is made from and the chemicals it contains. Choose a set that doesn't contain PFOA, PFAS, cadmium, lead, and other chemicals. Cast iron, stainless steel, anodized aluminum, and copper cookware sets are among the most suitable ones for gas stoves. Enameled cast iron sets might be a good option too, depending on which kind of a gas stove you have.
5. Why is it better to choose nonstick cookware
Nonstick cookware is tricky to use, yet it has one huge perk – it reduces your oil consumption, making your meals less fatty. Both ordinary and nonstick cookware works great on gas stoves so it's really up to you to decide which one to choose. Make sure the surface doesn't react with food.
Top 10 Best Cookware for Gas Stove: Pros And Cons
With a great variety of cookware brands available online these days, it wasn't easy to pick the best cookware set for gas stoves.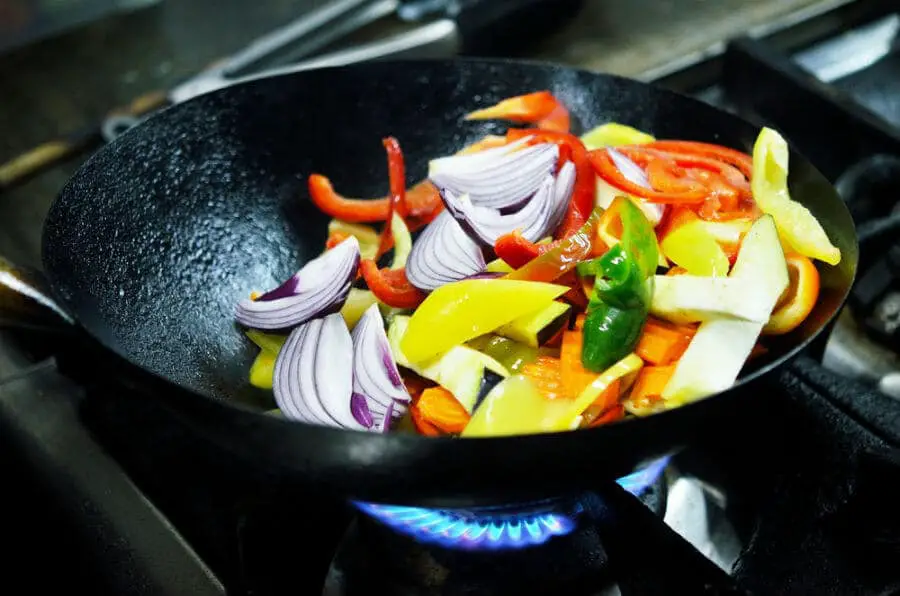 It took a lot of effort and research to create this list, but hopefully, you will find one that you'll love from this list. Each of hem has its perks and drawbacks, but overall they all provide excellent performance.
1. Magma 10 Piece Gourmet Nesting Stainless Steel Cookware Set
Although designed specifically for boats and RVs, this cookware set is ideal for small kitchens. It takes a little space to store and is oven-safe.
Last update on 2023-03-06 / Affiliate links / Images from Amazon Product Advertising API
If you travel a lot, you can pack some pieces of the set and take them along with you. The handles are sturdy and slide on and off very easily, albeit there are many complaints about their safety and durability.
Features:
1-1/2 quart saucepan
2 quart saucepan
3 quart saucepan
5 quart stockpot
9-1/2 inch sauté/frying pan
2 removable handles
Interchangeable lids
Storage cord
Pros:
Convenient storage
Can be used in boats and RVs
Dishwasher safe
Oven-safe
Price
Cons:
Not compatible with induction cooktops
Plastic handles can burn while cooking and can break off with time
2. All-Clad 7-Piece Stainless Steel 5-Ply Bonded Cookware Set
There are 5, 7, 10, and 14-piece cookware sets All-Clad offers, but I think this 7-piece set is ideal for a family. The price bites, but this is where the saying, "Pay once, use forever" applies. The set comes with a limited lifetime warranty, so if you have any quality issues, you can return or exchange the pieces. Made of pure stainless steel, the exterior has a brushed texturized finish and the interior has a matte finish. The pans feature core aluminum, ensuring even heat distribution.
Last update on 2023-03-06 / Affiliate links / Images from Amazon Product Advertising API
Features:
Stainless steel surface with starburst finish
8 quart stockpot with a lid
3 quart covered sauté pan
1.5 quart covered sauce pan
10 inch frying pan
Pros:
Optimized for induction
Broiler – and oven-safe up to 600F
Flared pouring rims
Flat stainless-steel lids
Heat-resistant handles
Capacity etched on base
Stick resistance
Doesn't react with food
5-ply bonded construction
Cons:
Not completely nonstick
Despite being dishwasher-safe, a few feedback report some discoloration spots on the exterior surface after using a dishwasher
3. Cuisinart 77-11G Chef's Classic Stainless 11-Piece Cookware Set
Another stainless steel cookware set that will be handy at any kitchen. Unlike All-Clad's cookware, this features break-resistant glass covers just in case you like to monitor the cooking process. The tight-fitting covers promise to seal in nutrients and moisture for more flavorful, healthier meals. The drip-free pouring rims will ensure safe cooking.
Last update on 2023-03-06 / Affiliate links / Images from Amazon Product Advertising API
Features:
Stainless steel with pure aluminum base
10 inch covered skillet
8 inch nonstick skillet
8 quart covered stockpot
3 quart sauté with a cover and a helper handle
3 quart covered saucepan
18 cm steamer insert
2 quart covered saucepan
1 quart covered saucepan
Solid stainless steel riveted handles
Break-resistant glass covers
Pros:
Optimal cooking performance
Drip-free pouring
Healthy cooking
Enhanced food flavors
Handles stay cool on the stove top
Cons:
Not recommended for using on high heat
4. Allrecipes 8 Piece Hard Anodized Cookware Set
One of the best cookware sets for gas ranges, Allrecipes hard anodized cookware is the perfect choice for both entertaining enthusiasts and serious cooks. It's made of chemical-free materials and is highly durable. This cookware distributes heat evenly, minimizes hot spots, and responds to various temperature changes. The durability and strength of hard anodized cookware ensure many years of service.
Last update on 2023-03-06 / Affiliate links / Images from Amazon Product Advertising API
Features:
PFOA-free QuanTanium nonstick interior
1.5 quart covered saucepan
2 quart covered saucepan
8 inch frying pan
10 inch frying pan
6 quart Dutch oven with a lid
Riveted silicone handles
Tempered glass lids
Pros:
Scratch resistant interior
Dishwasher-safe
Glass lids have 2 sizes of strainers
Stay-cool handles
Dutch oven is suitable for both left handed and right handed uses
Cons:
5. Finnhomy 15 Pieces Super Value Cookware Set
Finnhomy is one of the right choices you can have for a cookware set for a gas stove. It's budget-friendly and chemical-free. The exterior is colorful and resistant to high temperature, so you won't worry about the burning spots. If you enjoy baking, you can use this set is oven-safe when you cook at 350 F or less. The tempered glass lids will help you watch the whole cooking process.
No products found.
Features:
1 quart covered saucepan
2 quart covered saucepan
3 quart covered saucepan
5 quart covered Dutch oven
8 inch frying pan
10 inch frying pan
5PCS black BPA free nylon cooking utensils
Pros:
Modern nonstick technology
Quality tempered glass lids
The aluminum base ensures even heat distribution
Oven safe to 350F
PFOA- and cadmium-free
FDA approved
Resistant to scratching
Anti-abrasion
Cons:
6. COOKSMARK Pearl Hard Porcelain Enamel Nonstick Cookware Set
One of the most beautiful gas stove cookware sets on the list, Cooksmark knows how to surprise us. The trendy pastel blue color doesn't fade and is dent- and stain-resistant. The durable aluminum bottoms ensure even heat distribution and the most efficient cooking results. The cookware is suitable not only for gas stoves and ovens, but for halogen and electric ovens as well.
Last update on 2023-03-06 / Affiliate links / Images from Amazon Product Advertising API
Features:
Porcelain enamel
10 inch skillet
8 inch frying pan
5.3 quart covered stockpot
2.5 quart covered sauté pan
3 quart covered saucepan
1,5 quart covered saucepan
Ergonomically designed dual-riveted silicone handles
Pros:
Design
Dishwasher safe
Secure grip
Thick aluminum bottoms
NSF and FDA approved
Wear-resistant
Fade and stain resistant
Snug-fitting tempered glass lids
Dent resistant bottoms
Nonstick coating
Cons:
Not suitable for induction stove top
7. T-fal C067SC Metallics Nonstick Thermo-Spot Heat Indicator Cookware Set
Find your passion in the kitchen with T-fal cookware. It will help you experience the full joy of cooking and will add a touch of modernity to your kitchen. The set consists of 12 pieces, making it the perfect cookware for big families. The nonstick interior reduces the oil use, helping you cook healthier meals. Unlike all six cookware sets mentioned above, T-fal has a special thermo-spot indicator that shows when the pan is pre-heated and when you can start cooking with it.
Last update on 2023-03-06 / Affiliate links / Images from Amazon Product Advertising API
Features:
5 quart Dutch oven with a lid
1 quart saucepan with a lid
2 quart saucepan with a lid
8 inch frying pan
9.5 inch frying pan
11 inch frying pan
Full spoon
Spatula
Slotted spoon
Even heat base
Glossy lacquered handles
Pros:
Trendy bronze metallic design
Thermo-spot indicator
Even heat distribution
Safe for metal utensils
Quality nonstick interior
Dishwasher safe
Oven safe up to 350F
Cons:
Some issues with handles were reported
8. Vremi 15 Piece Nonstick Cookware Set
Looking for a big cookware set for your gas stove but you're on a very tight budget? Take a look at Vremi cookware. Of course, this set won't serve you forever, yet it might serve you for many years, depending on how often you're going to cook with it. Anyway, the set has received thousands of positive feedback, though there are some negative ones too.
Last update on 2023-03-06 / Affiliate links / Images from Amazon Product Advertising API
Features:
PFOA and PTFE free aluminum
8 inch frying pan
10 inch frying pan
2.1 quart covered stockpot
1.5 quart covered saucepan
1.1 quart covered saucepan
Small covered saucepan
5 heat resistant nonstick cooking utensils
Pros:
Quality nonstick coating
Great functionality
Diverse size options
Oven safe
Cons:
Not dishwasher-friendly (hand washing recommended)
Not for glass top stoves
9. Nonstick 9-Piece Pots And Pans Cookware Set
This one is a budget-friendly option for a small family or those who live alone. Despite a low price tag, the cookware features durable and tough polished aluminum exterior finish that ensures this set is of good quality. The interior nonstick coating makes this cookware easy to cook and clean and it will help you use less oil when cooking.
Last update on 2023-03-06 / Affiliate links / Images from Amazon Product Advertising API
Features:
Durable aluminum construction
4 quart covered Dutch oven
2 quart covered saucepan
1 quart covered saucepan
9 inch deep saucepan with a lid
7 inch frying pan
Tempered glass lids
Pros:
Durable nonstick interiors
Dishwasher safe
Shatter – and heat-resistant tempered glass lids
Simple cleanup
Easy cooking
Can be used with gas, ceramic, and electric cook tops
Cons:
The probability of warps has been reported
10. GreenPan Rio 12pc Ceramic Non-Stick Cookware Set
Available in three colors, you can choose any set that will suit your kitchen interior. The healthy ceramic nonstick construction ensures that no persistent pollutants or toxic chemicals will get into your meals. The material of this cookware doesn't contain PFOA, PFAS, cadmium, and lead. So, if you overheat your cookware, it won't release any harmful fumes, peel or blister. The even heat conduction provides great cooking results. Plus, if you're looking to bring a touch of color to your kitchen, choose your favorite color.
Last update on 2023-03-06 / Affiliate links / Images from Amazon Product Advertising API
Features:
Heavy-gauge construction
Stay-cool ergonomic Bakelite handles
Convenient glass lids
Thermolon ceramic nonstick interior coating
5 quart covered casserole
3 quart covered saucepan
2 quart covered saucepan
1 quart covered saucepan
9.5 inch covered sauté pan
9.5 inch open frying pan
8 inch open frying pan
Oven safe glass lid
Heat-retaining base
Stay-cool Bakelite handles
Pros:
Excellent heat distribution
Safe to use
Oven safe up to 350F
Easy food monitoring
Limited lifetime warranty
Color choice
Cons:
Problems with the nonstick feature have been reported