The beauty and efficiency of the food processor are still so underrated these days. Just when we think we have mastered all the common things to make in it, new healthy recipes come along. In fact, there is a myriad of delicious things to make in your food processor that you'd never even guess to use it most of the time.
Apart from well-known peanut butter, try out these healthy recipes that you can make regardless of your cooking skills. Some of them will simply blow your mind!
1. Creamy Raw Chocolate Avocado Mousse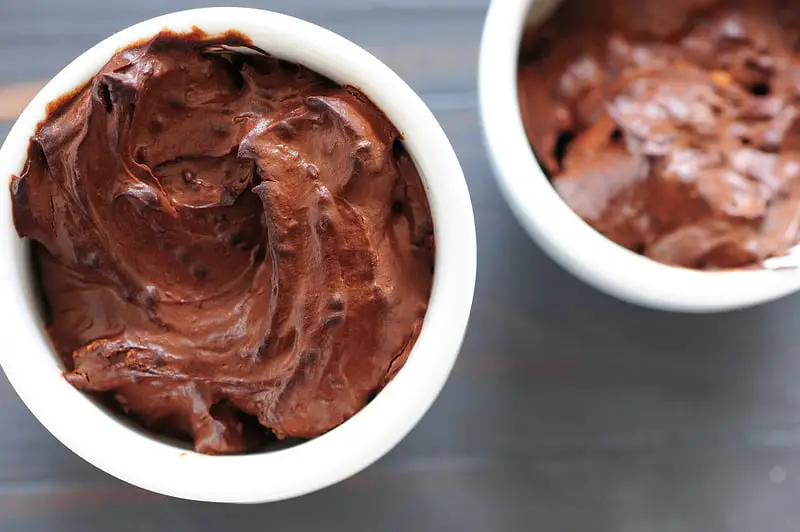 "Creative Commons Chocolate Avocado Mousse" by jules is licensed under CC BY 2.0
Tame your hunger pangs with a creamy chocolate mousse. It's yummy, vegan, fiber- and protein-rich, and absolutely quick and easy to cook, using your food processor.
Ingredients:
For the mousse
1 cup plain water
1-2 tablespoons organic raw cacao powder
1 ripe avocado
1 tablespoon coconut oil, melted
1 teaspoon pure vanilla extract
1 cup dates, chopped (optional)
For the cream
1-2 tablespoons coconut nectar
1 cup cashews, soaked overnight
1 lemon, juiced
pinch of Himalayan pink salt
For the crust
1 tablespoon organic raw cacao powder
3/4 cup raisins, soaked for 30 minutes
3/4 cup oats (or crushed nuts)
1 teaspoon cinnamon
Directions:
1. To make the crust, process the ingredients for it in a food processor until they all stick together or turn into a paste.
2. Spread into the bottom of two lined tart tins or cups and place them in the fridge.
3. To make a chocolate mousse, place all the ingredients for it into a food processor, and blend until smooth. Transfer it to your tart tins or cups with the crust.
4. To make the cream, blend all the ingredients for it in a food processor until smooth. Cover your mousse with the cream, and put in a fridge overnight, or at least for 3 hours.
2. Filling Walnut Tacos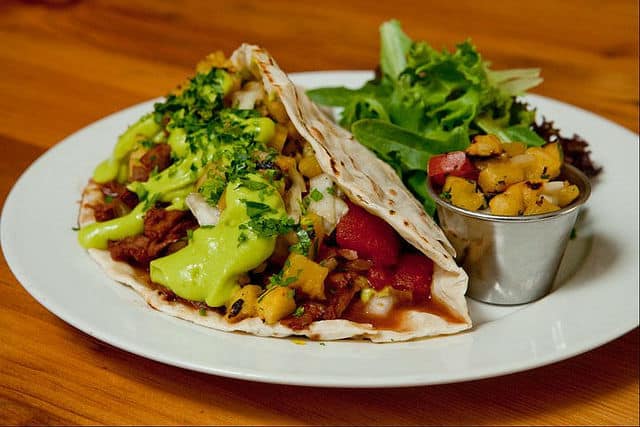 "Creative Commons Vegan Tacos" by mercyforanimals is licensed under CC BY 2.0
Gluten-free, vegan, and nutrient-packed, these walnut tacos will rock your world. Make them for lunch to boost your brainpower and energy level along the way. All you need is a few healthy ingredients and a food processor.
Ingredients:
2-4 gluten-free tortillas
1 cup walnuts, soaked
1/8 teaspoon cayenne
1 tablespoon olive oil
1/4 teaspoon salt
1/2 teaspoon chili powder
1 teaspoon cumin (optional)
1 teaspoon oregano
1 tablespoon soy sauce
Directions:
Place all the ingredients in a food processor and blend until walnuts are finely crushed. Put the mixture on tortillas and serve with guacamole or homemade salsa.
3. Low Sugar Fudge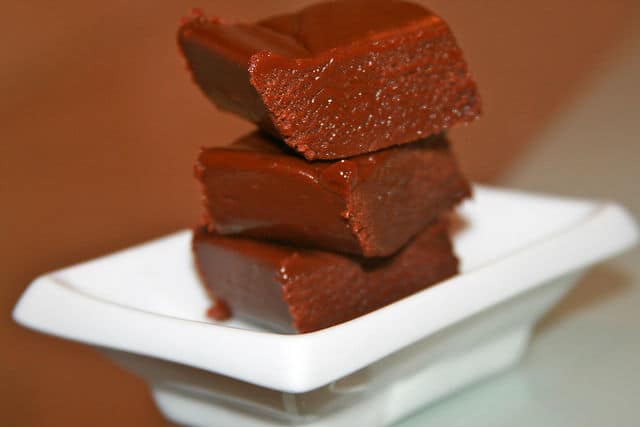 "Creative Commons Making Homemade Fudge" by cheeseslave is licensed under CC BY 2.0
Most dieters skip fudges due to a high sugar content. Not only is this fudge low in sugar, but it can also be made in a few minutes with the help of your food processor.
Ingredients:
2 tablespoons dark cocoa powder
¼ teaspoon cinnamon
1 teaspoon pure vanilla extract
pinch of sea salt
¼ cup raw cacao powder
½ teaspoon pure stevia powder extract (or 10 drops liquid stevia)
2 small bananas, chopped
1 tablespoon raw nut butter
½ cup raw coconut butter, softened or melted
Directions:
1. Using the S blade in your food processor, blend all the ingredients until smooth, for about 4 minutes, occasionally scraping down the sides.
2. As soon as you get a cookie-dough-like texture, put it into a glass baking pan, using a spatula.
3. Cut your fudge into small pieces and leave it in a freezer for about 30 minutes.
4. Remove from the baking pan and store in a sealable container in the freezer, but no more than a month.
4. Antioxidant-Rich Falafel with Tahini Sauce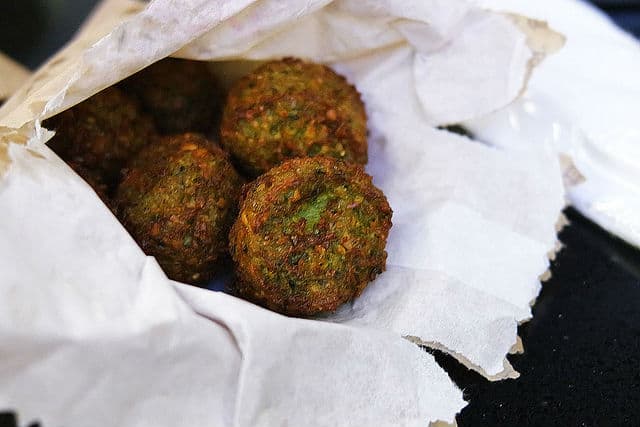 "Creative Commons Falafel" by insatiablemunch is licensed under CC BY 2.0
White onion and garlic found in these falafels are powerful superfoods with antioxidant, antibacterial, antiviral, and anticarcinogenic properties. Does it sound like a good reason to take advantage of your food processor right now?
Ingredients:
For the falafel
2 cups cooked chickpeas, drained
½ cup all-purpose flour
6 garlic cloves
1 cup lightly packed parsley leaves
2 cups white onion, roughly chopped
¼ teaspoon chili powder
1 cup lightly packed cilantro leaves
2 teaspoons baking powder
1 teaspoon salt
2 teaspoons cumin (optional)
3 tablespoons olive oil for sautéing
For the Tahini sauce
¼ cup plain yogurt
¼ cup tahini
2 tablespoons lemon juice, freshly squeezed
pepper to taste
Directions:
1. Process the garlic cloves and onion in a food processor, until finely minced.
2. Put into a small bowl and set aside.
3. Blend the chickpeas, cilantro, parsley, cumin (optional), chili powder, and salt until well mixed but not pureed.
4. Add the onion and garlic mixture along with the flour and baking powder.
5. Process until it starts to form a small ball but not sticky.
6. Transfer the mixture to a medium-sized bowl, cover, and place in the fridge for an hour.
7. Meanwhile, make the Tahini sauce. Whisk the sauce ingredients together, cover, and put in the fridge.
8. Heat a large skillet over medium heat.
9. Add olive oil and let it heat for another 2 minutes.
10. Using an ice cream scoop or a small spoon, form the balls and place them one by one into the skillet.
11. Cook the first side for about 3 minutes or until lightly browned.
12. Flip the side and cook another 3 minutes until well browned.
13. Transfer the balls to a paper towel to remove the excess oil.
14. Season them with salt and serve with the Tahini sauce.
5. Gluten-Free Cranberry Scones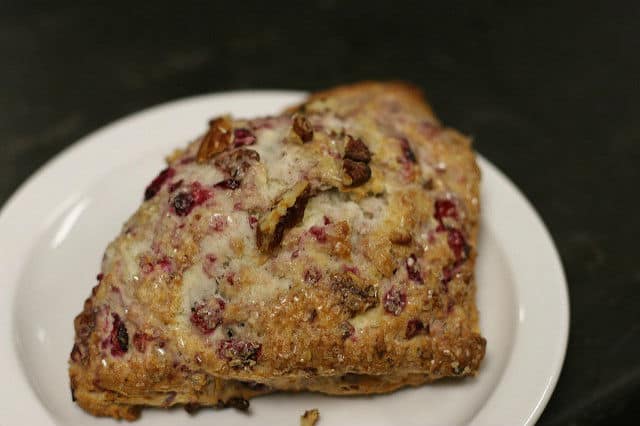 "Creative Commons Cranberry Pecan Scone" by DanLacher is licensed under CC BY 2.0
Cranberry scones are perfect to serve up well with tea, or coffee, or whatever drink you enjoy. The perk is that they are gluten-free, low in sugar, sweet, and totally healthy.
Ingredients:
½ cup cranberries, chopped in a food processor
2 cups gluten-free all-purpose flour
½ teaspoon baking soda
2 teaspoons baking powder
10 drops liquid stevia
1 cup nonfat or low-fat Greek yogurt
6 tablespoons coconut oil
1 egg
1 teaspoon pure vanilla extract
½ cup nuts, crushed (optional)
Directions:
1. Preheat the oven to 400F.
2. Place the flour, baking soda, and baking powder into your food processor and pulse 3 to 5 times to mix.
3.  Add the coconut oil, stevia, and pulse 10 more times to form the dough.
4. Transfer the dough to a large bowl, add the cranberries and nuts, and stir well to combine.  Set aside.
5. In a small bowl, whisk the egg, vanilla extract, and yogurt together.
6. Slowly pour this into your dough.
7. Mix well to make sure the dough comes together.
8. Press it into a circle on a workable surface covered with a little bit of flour.
9. Cut the dough into wedges and transfer them to a baking sheet greased well or lined with parchment paper.
10. Bake in the oven until the tops of the scones are browned and they're well cooked through (for about 15 minutes).
---
When you have a good quality food processor in the kitchen, the sky is the limit here. There are a lot more other incredible healthy recipes that you can try. Feel free to experiment and come up with your own recipes. After making these 5 recipes, clean-up is also super easy, which means more time for the things that really matter. Bon appétit!
[no_toc]