**Disclosure: We recommend the best products we think would help our audience and all opinions expressed here are our own. This post contains affiliate links that at no additional cost to you, and we may earn a small commission. Read our
full privacy policy
here.
Did you know that you can actually use your food processor to make homemade nut butter? In this post, I'll review the best food processors for nut butter that is available in the market today.
Nut butter is delicious, vegan, and extremely healthy. It is also a delicious source of protein, fiber, and zinc. It also helps with weight loss and strengthening the immune system. Do you know that consuming at least two to three tablespoons of nut butter a week can lessen your chances of having a heart disease by 23 to 38 percent?
Some of you are still halfhearted because these nutty jars of goodness can be quite expensive than regular store-bought peanut butter. So, what if I tell you that you can make them in the comforts of your own home? And for more than half the price yet twice the quantity. All you need is some nuts, a small amount of patience, and a durable food processor.
TOP 7 Best Food Processors for Nut Butter
Cuisinart DFP-14BCNY 14-Cup Food Processor
The DFP-14BCNY model by Cuisinart is one of the leading brand's tops selling food processor. It has a 720-watt motor and durable stainless-steel blade. This makes it effortless to ground nuts into a fine dust for creamy nut butter. You can also use it for chopping vegetables as it has an extra-large feeding tube. It has a 14-cup work bowl, allowing you to make big batches in one go. The Cuisinart DFP-14BCNY is the best time saver not only for its capacity but also because it is mostly dishwasher safe.
The only downside is that it doesn't come with an extra bowl for grinding spices. Other than that, there's been nothing but praises on this model when it comes to functionality and durability.
Last update on 2020-09-18 / Affiliate links / Images from Amazon Product Advertising API
Braun FP3020 12 Cup Food Processor
Another model that's been quite the talk of the town is the Braun FP3020 12 Cup Food Processor. It has a 600-watt motor and an 18/8 steel blade. Despite its powerful motor, the food processor is extremely quiet compared to other processors in the market. It is multi-functional as it comes with 7 different blades, 12 cup work bowl, and 11 preset speed functions. It has additional safety features where it won't start unless the lid is properly closed. The machine also has an auto-shutdown feature when it's overloaded.
However, the Braun FP3020 Food Processor only has a 1-year warranty. This doesn't seem enough considering it comes with many parts and it's on the more expensive side of the spectrum. This is not a major concern since most parts of the processor are made from high quality and durable plastic.
Last update on 2020-09-18 / Affiliate links / Images from Amazon Product Advertising API
Breville BFP800CBXL Food Processor
Another model coming from a premium product line is the Breville BFP800CBXL Food Processor. Also called the "Sous Chef 16 Pro" because of its elite features. It has a 16-cup bowl and a 12—watt extra powerful motor. This guarantees above average results in just a matter of seconds. It is user friendly with its three-button control and its LCD panel that displays a count up and count down timer. It's a piece of multi-functional kitchen equipment with 8 different discs and blades.
The struggle with this model is that it's not easy to find spare parts in case one of them gets damaged or broken. The good thing is, it is made up of high-quality materials and a die-cast metal base.
Breville BFP800CBXL Food Processor, Cranberry Red
Comes with 5 multi-function discs and 3 blades out of the box
5.5 inch super-wide feed chute reduces the need to pre-cut most fruits and vegetables
Includes 2 BPA-free processing bowls: 16 cup (3.8L) large bowl; 2.5 cup (600ml) small processing bowl
Last update on 2020-09-18 / Affiliate links / Images from Amazon Product Advertising API
Hamilton Beach 70725A 12-Cup Stack & Snap Food Processor
One of the more affordable food processors is the Hamilton Beach 70725A 12-Cup Stack & Snap Food Processor. It has a 12-cup capacity, a 450-watt motor, and 2 multi-function stainless steel blades. This is one of the more user-friendly options on this list. The bowl snaps snuggly in place and has a pouring spout. The lid also has snap clamps that guarantee mess-free food processing every time. It sure is well worth its price, considering this is only under $50.
This model can be quite loud. It also leaves some chunks if you're trying to process bigger and harder food since it's only running on a 450-watt motor. Yet, when it comes to making nut butter, you wouldn't have any problems with the Hamilton Beach 70725A.
Sale
Hamilton Beach 12-Cup Stack & Snap Food Processor & Vegetable Chopper, Black (70725A)
Prep the freshest ingredients: A powerful 450 watt motor and 2 speeds plus pulse control save you time and money
Simple to assemble and use: Stack and snap design requires no difficult twisting or locking; A simple function guide is...
12 cup capacity: Sealed bowl helps prevent leaks when mixing liquids; Dimensions (inches) 16.25 H X 9.55 W X 8.76 D; BPA free...
Last update on 2020-09-18 / Affiliate links / Images from Amazon Product Advertising API
Cuisinart DLC-10SY Pro Classic 7-Cup Food Processor
Another fan favorite is the DLC-10SY Pro Classic by Cuisinart. It's a medium-sized food processor with a reliable 600-watt motor. It's easy to use with its single paddle control that has on, off, and pulse options. The processor also comes with 1 blade and 2 discs for shredding and slicing. All of which are made from stainless steel. If you live in an apartment or with limited counter space, this will work best for you as it has a small footprint.
The DLC-10SY Pro Classic also has a safety mechanism where it will not start until the lid is securely closed. This proves to be a slight challenge as the locking mechanism can be hard to lock and unlock. Once you get the trick to closing it, everything will be as smooth as the nut butter you can make from this processor. 😉
No products found.
Hamilton Beach Food Processor (70740)
The Hamilton Beach Food Processor (70740) is one of the best budget food processors in the market. It has an 8-cup capacity bowl and a durable 450-watt motor. Don't be taken aback by its motor size because it produces up to 3 cups of nut butter in one go without overheating. The bowl, lid, and blades are all BPA free and dishwasher safe too.
It's a little on the heavier side, and the feed chute is regular sized. But for something under $50, this is an amazing food processor.
Last update on 2020-09-18 / Affiliate links / Images from Amazon Product Advertising API
Conair Cuisinart DLC-2ABC Mini-Prep Plus Food Processor
Another budget food processor on our list is the Conair Cuisinart DLC-2ABC Mini-Prep Plus. Who's to say this is only under $50? It has a sturdy 250-watt motor, stainless steel blades, and a three-cup work bowl, perfect for making at least a week's worth of nut butter. It is easy to use and very convenient as most of its parts are dishwasher safe. The Conair Cuisinart DLC-2A is designed in Italy and is compact and lightweight. It is also very versatile, thanks to its Cuisinart trademark SmartPower Blade.
This works best for you if you're getting it for personal use or to feed a small family. This is not ideal for processing big batches of food because of its size. It may also be quite louder than the more expensive versions of the food processor.
Last update on 2020-09-18 / Affiliate links / Images from Amazon Product Advertising API
What makes a good food processor for making nut butter?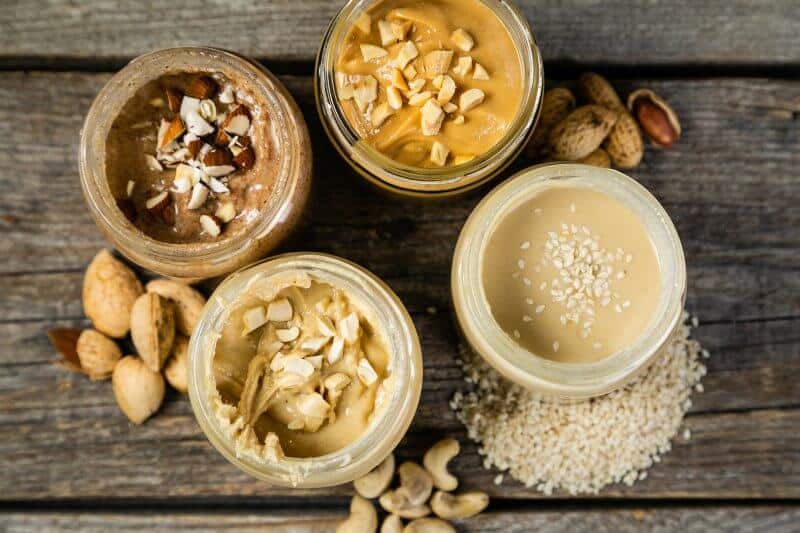 Power and Blades. This is the first and the most important thing to look out for when getting a food processor. The power and blade determine the consistency of your nut butter. You want a food processor with a powerful motor and a durable, stainless-steel blade. This ensures that your nut butter will have a smooth and creamy consistency.
Durability. A high-quality food processor is an investment, so you want it to last for years. Can you imagine finally getting the perfect consistency of nut butter, then suddenly your food processor flies off the counter? That hurts more than a breakup. LOL! Kidding aside, you want it to be sturdy and durable. It should stay still on your counter while it's grinding. A well-built processor also keeps running until you reach a cohesive butter blend. And durable enough to survive several knocks or drops because accidents happen.
Cleaning. Nut butter can be really challenging to clean, especially if your processor has contours and grooves where the ground nuts can hide. A food processor that is at least partially dishwasher safe will save you a lot of time and effort. Built-in scrapers are a huge plus in cleaning it up.
Size or Capacity. One of the first things you have to decide on when getting a food processor is the size. For making nut butter, go with a larger bowl. It allows you to make a larger batch in one go. It's also essential to consider where you'll be storing the machine when deciding on the size of the food processor.
Price. How much are you willing to shell out on a food processor? If you intend to have nut butter as a regular part of you and your family's diet, go for at least mid-range brands. It's better to invest in quality than buying a cheap one that you'll have to replace every year, sometimes less.
Features. Some food processor models come with several extra features. Go with those that have convenience or safety features. Some manufacturers also include more accessories that make your food processor multi-functional.
Ease of use. A more technologically advanced food processor doesn't always mean it's a better option than others. Sometimes they come with complicated features that make it not so user-friendly. It's best to stick with a simple food processor as long as it does the job well.
Final Thoughts
In general, there's a lot of great options for different price points. I suggest starting off with an inexpensive model then upgrade to a fancier one as the need arises. So, what are you waiting for? Go grab your food processor and switch to a DIY nut butter journey today!