Are you in the hunt for easy yet healthy soup recipes? Then this Vegan Ginger Carrot Soup recipe is exactly what you need. You can prep and serve this creamy and tasty soup in 35 minutes or less. Plus, the ingredients are pretty much basic pantry staples. 
This is one of our family's favorite cold-weather soup. It's thick, hearty and it's one of the quickest and tastiest ways of giving us a much-needed immune system boost. Other than helping you see better in the dark, carrots are rich in antioxidants, including vitamin C.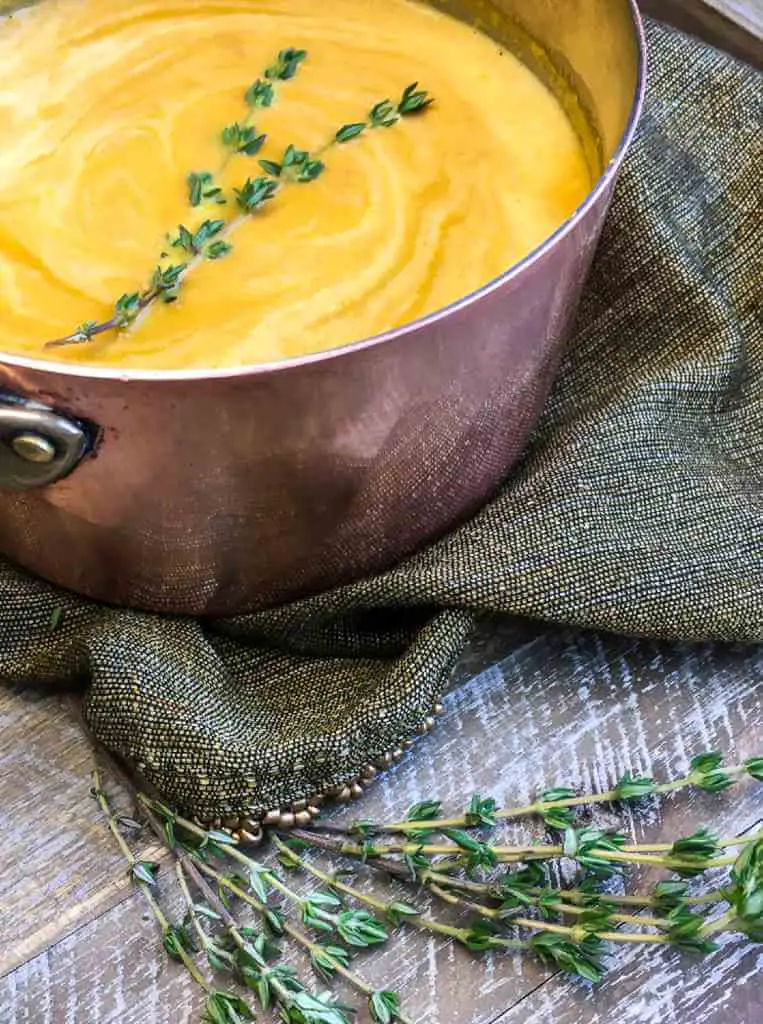 Meanwhile, the ginger adds a slight kick to the classic French carrot soup. Ginger also contributes to the soup's nutritional value. It is well-known to be efficient in fighting off the most common respiratory viruses. It also helps in reducing inflammation and congestion. 
The soup uses coconut milk which makes it healthier than using heavy cream. You can also use almond milk if you don't have it available. Just simmer it a few minutes longer or add a little slurry as it will not thicken the soup as coconut milk would.
What Do I Serve With Vegan Ginger Carrot Soup?
Don't get me wrong, the soup is amazing on its own. This is one of the vegan soups that I don't have trouble feeding my kids (and husband) with. But if you want to kick it up a notch, try out these serving suggestions: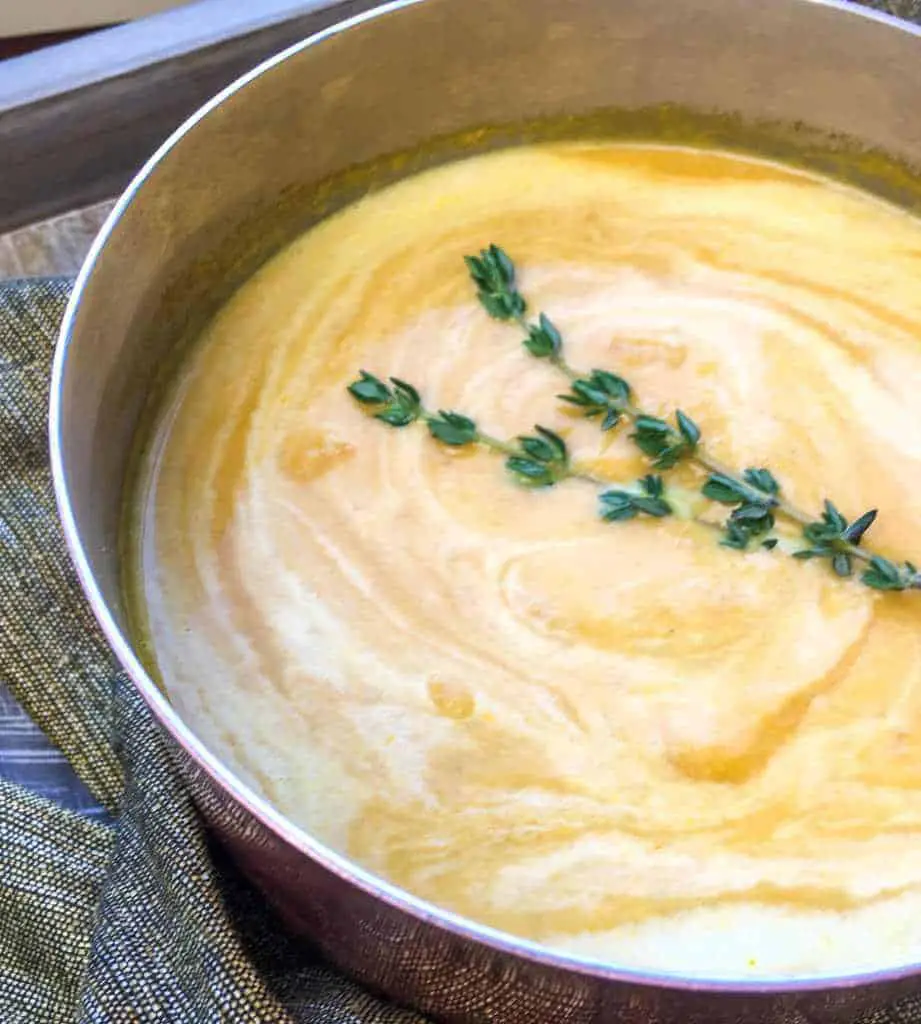 On rainy afternoons, I would serve ginger carrot soup with bread. You can pair it with toast, grilled cheese, or if you have the extra time – it goes best with freshly baked pita bread. 
Don't have much time to prep? Serve it with a simple salad. I find arugula salad or kale salad to go well with this soup. Arugula has a hint of spice to it, so it complements the creaminess of the soup. The kale's crunchiness works best with the thick, hearty consistency of it. They're also really easy to make.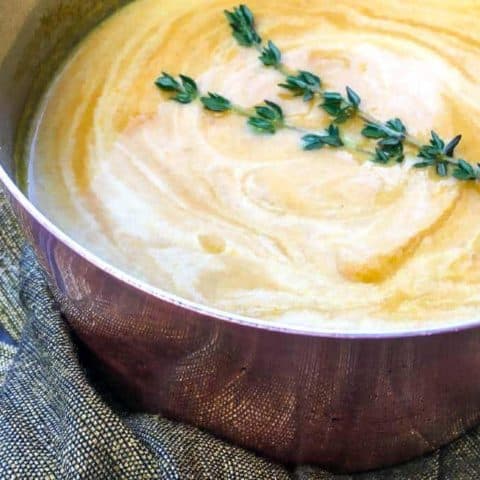 Vegan Ginger Carrot Soup
Cook Time:
20 minutes
15 seconds
Total Time:
35 minutes
15 seconds
A tasty and vibrant way to brighten up gloomy rainy days! A wholesome soup made up of pureed carrots, ginger, and coconut milk.
Ingredients
2 tablespoons of extra virgin olive oil
1½ lbs. carrots, cut into dice
1 red bell pepper medium, cut into dice
1 sweet onion small, cut into dice
3-4 cloves of minced garlic
Salt, and black pepper
3 cups of vegetable broth, organic preferably
1 tablespoon of minced ginger
2 tablespoons of thyme leaves
1/3 cup of full-fat coconut milk
Instructions
Sauté the vegetables. Put a skillet on medium heat. Drizzle with olive oil and once it heats up, toss in the garlic, onion, bell pepper, and carrots. Add pepper and salt, amount as preferred. Let it cook for about 5 minutes or until the vegetables are soft and semitransparent. Remember to stir it frequently to keep it from sticking to the bottom of the pan.
Prep the mixture. Once the vegetables start to caramelize, stir in your minced ginger and thyme leaves. Then pour in the vegetable broth. Cover and leave it to boil for approximately 10 to 15 minutes. Stir the mixture occasionally. 
Puree it. When the carrots are soft enough to cut with a fork, remove the skillet from the heat. Transfer the mixture to an immersion blender and puree until it has a smooth and creamy consistency. A regular food processor may be used as well.
Assemble the soup. Put the skillet back on medium heat and pour the mixture in. Taste and adjust the seasonings, if needed. Then pour in the coconut milk. Stir until it's fully incorporated and leave to cook for 1 to 2 minutes. Serve while still hot. Bon appétit!
Notes
Recommended to be served with salad or freshly baked bread.
You can top it with sour cream or guacamole.
If you have extra time, roast the carrots before pureeing them. It heightens the flavor of the soup.
Nutrition Information:
Yield:

4
Serving Size:

1
Amount Per Serving:
Calories:

208
Total Fat:

11g
Saturated Fat:

5g
Trans Fat:

0g
Unsaturated Fat:

6g
Cholesterol:

0mg
Sodium:

683mg
Carbohydrates:

26g
Fiber:

6g
Sugar:

12g
Protein:

3g
So, on your next trip to the farmer's market, don't forget to pick up a bunch of carrots and try out this recipe! Do you have your own version of Vegan Ginger Carrot Soup? Feel free to share it with us by leaving a comment below.

Until the next recipe, much love, ciao! ♥