Are you looking for the best low-carb alternative of your favorite dishes? This Low Carb Quick Chili Pie is the key to guilt-free weekend dinner. My family and I love a good serving of chili. But since practicing a low carb diet, I had a hard time trying to figure how to make it without beans or rice. 
Until I discovered almond flour. If you have been into the low carb or keto diet for a while now, you probably have containers upon containers of this. Almond flour is one of the ingredients widely used in many low carb recipes as an alternative to regular flour. This allows you to make cookies, bread, and pies without all the guilt (aka carbs 😉).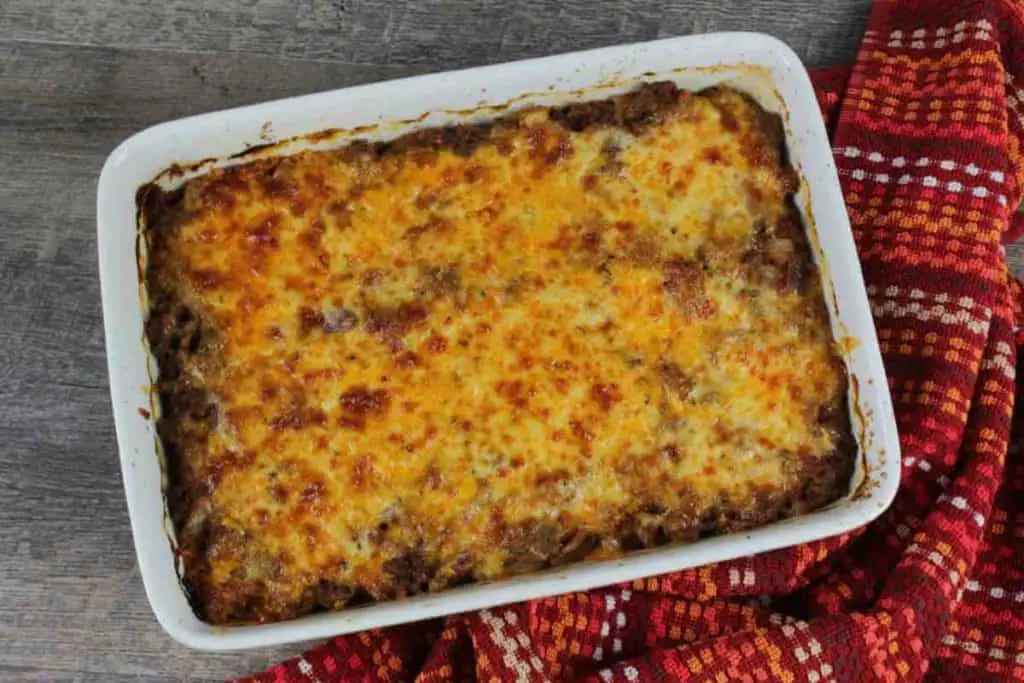 For my fellow moms out there, this recipe is also kid-friendly! I know there are chilies involved, but no need to worry because the cheese and sour cream tones it down.  My husband and I just add extra jalapeños on top of our serving to spice it up a notch.  And we all know most kids aren't really into beans, so this is perfect for them too!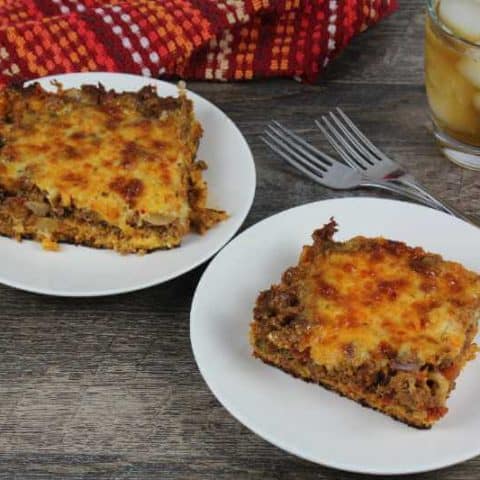 Low Carb Quick Chili Pie
Total Time:
1 hour
15 minutes
No more craving for chili because you can now make it yourself without all the guilt! Crunchy thin pie filled with chili and a lot of cheese and a bit of sour cream and salsa on the side.
Ingredients
For the enchilada dough:
1 1/2 cups almond flour
3 teaspoon baking powder
1 teaspoon chili powder
1 teaspoon cumin powder
1 1/2 cups of grated parmesan cheese
1 tablespoon heavy cream
3 large eggs
For the filling:
1 1/2 pounds of hamburger, browned
½ red onion
½ white onion
10 ounce can of diced tomatoes and green chilies
8 ounces of tomato sauce
1 teaspoon onion powder
1 teaspoon garlic powder
1 teaspoon black pepper
1/2 teaspoon salt
1 teaspoon chili powder
1 teaspoon cumin
1/4 teaspoon chipotle pepper or cayenne pepper
For the topping:
1 cup sharp cheddar cheese, shredded
1 cup of jalapeno jack cheese, shredded
Instructions
Make the filling
Put a skillet over medium heat and sauté the onions with the hamburger for about 12 minutes. Once it turns golden brown, add the tomato sauce as well as the diced tomatoes and green chilies. Mix in the dry spices. Add more salt and pepper, if needed. 



Let the filling simmer for 3 to 4 minutes. Stir occasionally to keep it from sticking to the bottom of the pan.


Prepare the enchilada dough
In a medium-sized mixing bowl, mix the almond flour, baking powder, chili powder, cumin, and parmesan cheese. 



Then in a small bowl, whisk the eggs and heavy cream together. 



Once they are well-combined, gradually pour the egg mixture into the dry ingredients.



Continue mixing it with a spatula until everything is fully incorporated and you get a dough-like mixture. 



Build the Chili Pie
Take out a 9" x 13" pan and grease it with softened butter or cooking spray. Transfer the enchilada dough to the pan and spread it evenly using your spatula until it completely covers the bottom of the pan.



Pour the chili mixture into the enchilada dough. Make sure it covers the dough evenly. 



Now, the best part – sprinkle the sharp cheddar and jalapeño jack on top of the pie. Place the chili pie in the oven and bake it at 350° F for 35 to 40 minutes. You will know it's done once you get an internal temperature of 195° F and you get that mouth-watering browning and bubbling action from your cheese topping!



Take it out of the oven and place in a wire rack for a few minutes to cool. Take it out of the oven and place in a wire rack for a few minutes to cool. 


Notes
Best when served with sour cream and salsa. 
If you have kids and need to make it less spicy, just add extra jalapeños or hot sauce on top of your serving. 
Nutrition Information:
Yield:

8
Serving Size:

1
Amount Per Serving:
Calories:

600
Total Fat:

39g
Saturated Fat:

15g
Trans Fat:

1g
Unsaturated Fat:

21g
Cholesterol:

165mg
Sodium:

1392mg
Carbohydrates:

30g
Fiber:

5g
Sugar:

5g
Protein:

34g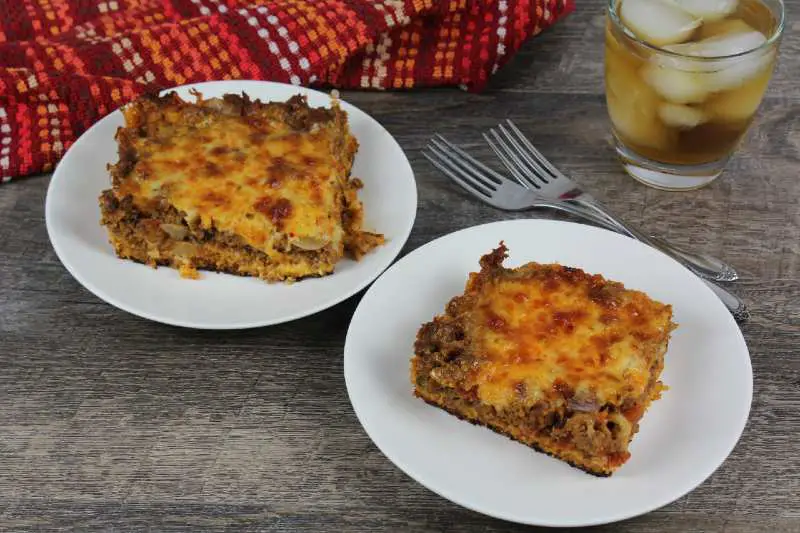 I think we can all agree that this recipe is easy as pie.  See what I did there? 😉
I'm already excited to bake Low Carb Quick Chili Pie again. All that gooey, cheesy goodness on top of the meaty, slightly tangy pie with a little kick of spice. Who can resist? Good thing it's guilt-free. 
Feel free to leave us a comment below when you make this Low Carb Quick Chili Pie! Much love, ciao! ♥