Have you ever wondered what the differences and similarities between a steelhead trout and salmon are? Salmon is a staple meat in our household. I love preparing it baked, or with pasta, or even serving it over steamed rice. It has this really distinct flavor, be it raw or cooked.
It was about two years ago, I think, when I was greatly saddened coming across the news that salmon overfishing had already become a huge environmental problem. In that same article, for the first time, I saw the name "steelhead trout".
I am not going to lie – I've never ever heard of the said fish! So I went ahead and I did a lot of reading on the similarities and differences between salmon and steelhead trout.
I am going to share with you these facts later in this post. But first, I would like you to do a kitchen experiment!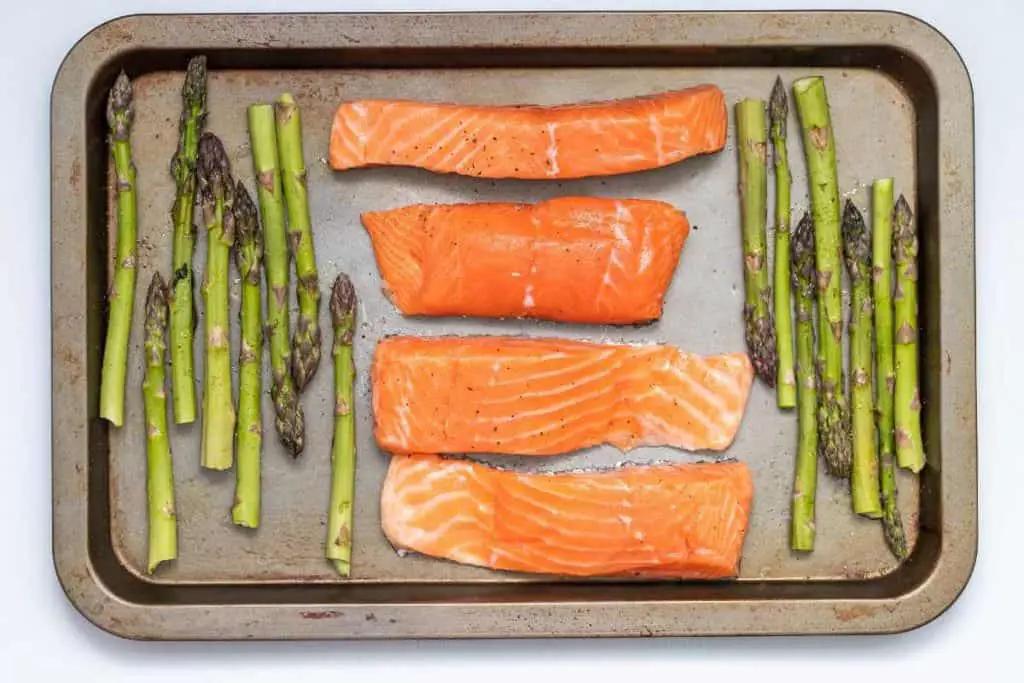 I am sharing here a favorite recipe of mine. Prepare it with salmon, then on the next occasion, use steelhead trout. I'd like to know how it turns out, please do share your experience with us in the comments section!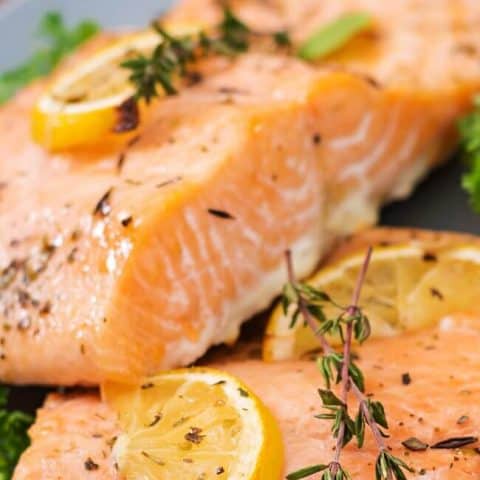 Baked Salmon (or substitute Steelhead Trout!)
I am sharing here a favorite recipe of mine. Prepare it with salmon, then on the next occasion, use steelhead trout.
Ingredients
Thinly slice the following:
1 lemon
1 orange (blood orange is recommended, if you don't have it, any orange would do!)
1 fennel bulb
Prepare:
½ cup sliced jalapeño
2 sprigs rosemary
2 sprigs dill
1 teaspoon coriander seeds
salt and pepper
1 kg salmon fillet, skinned
1 cup olive oil
Instructions
Preheat the oven to 275 degrees.
On a separate plate, layout the salmon fillet and season both sides with salt and pepper.
In a baking dish, mix the slices of lemon, orange, fennel bulb, and herbs together.
Put the seasoned salmon fillet on top of the mixture. Pour the olive oil all over the fish and the rest of the dish.
Place in the oven and roast for 45 minutes to 50 minutes, or until a knife slices through easily.
Transfer the baked salmon to a big serving platter. Use a fork to break it into several pieces. No need to slice evenly, I prefer breaking it with a fork to give it that rustic look.
Pour the leftover sauce from the baking dish over the fish, including the lemons and oranges. You may remove the sprigs of rosemary and dill. As a garnish, top the dish with fresh sprigs of dill. Enjoy!


Nutrition Information:
Yield:

5
Serving Size:

1
Amount Per Serving:
Calories:

823
Total Fat:

68g
Saturated Fat:

11g
Trans Fat:

0g
Unsaturated Fat:

54g
Cholesterol:

126mg
Sodium:

192mg
Carbohydrates:

7g
Fiber:

2g
Sugar:

4g
Protein:

45g
Did you like the recipe? Was there a huge difference when you prepared it with salmon, compared to using steelhead trout? Read further along to see how these two fishes can be so alike yet so different!
Salmon is more streamlined than a steelhead trout and it's not common for salmon to have dark-colored spots on the body's lower half. There are many types of salmon fish, but they're highly similar to each other – except for appearance. Both a steelhead trout and salmon provide incredible health benefits.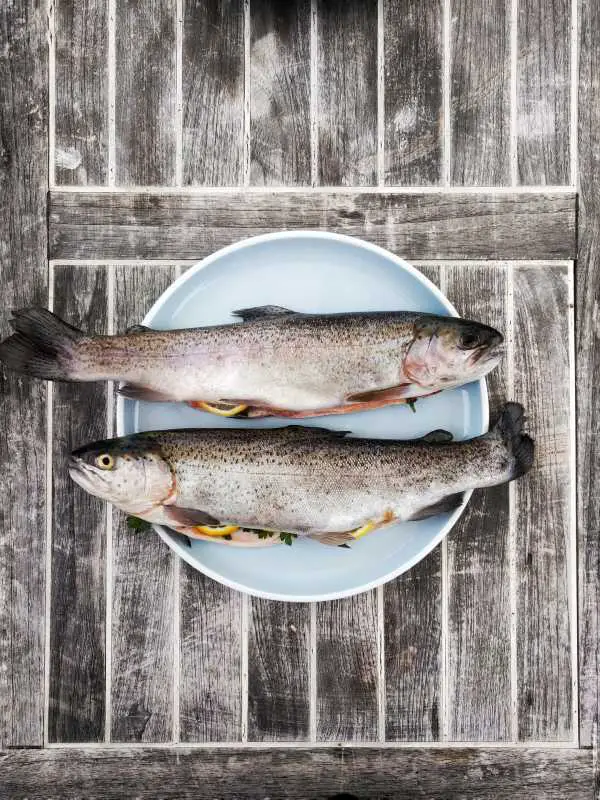 Which one should you choose for dinner, though? Read on to find out the differences and similarities between a steelhead trout and salmon.
What Are The Differences And Similarities Of A Steelhead Trout And Salmon?
While being anadromous, a steelhead trout and salmon have tendency to return to their birthplace for spawning. After that, they move back to the wild. In fact, both fish have tons of similarities, albeit differences are visible, too. Let's start with them:
The Differences
When compared with salmon, a steelhead trout usually spawns several times per year. The reason behind this lies in the ability to avoid deteriorating after spawning.
Steelhead trout can spawn over and over again while salmon tends to die after the very first spawning process. That's because the salmon body deteriorates fast due to the release of steroid hormones called corticosteroids. The steelhead trout can live from several months to years after spawning.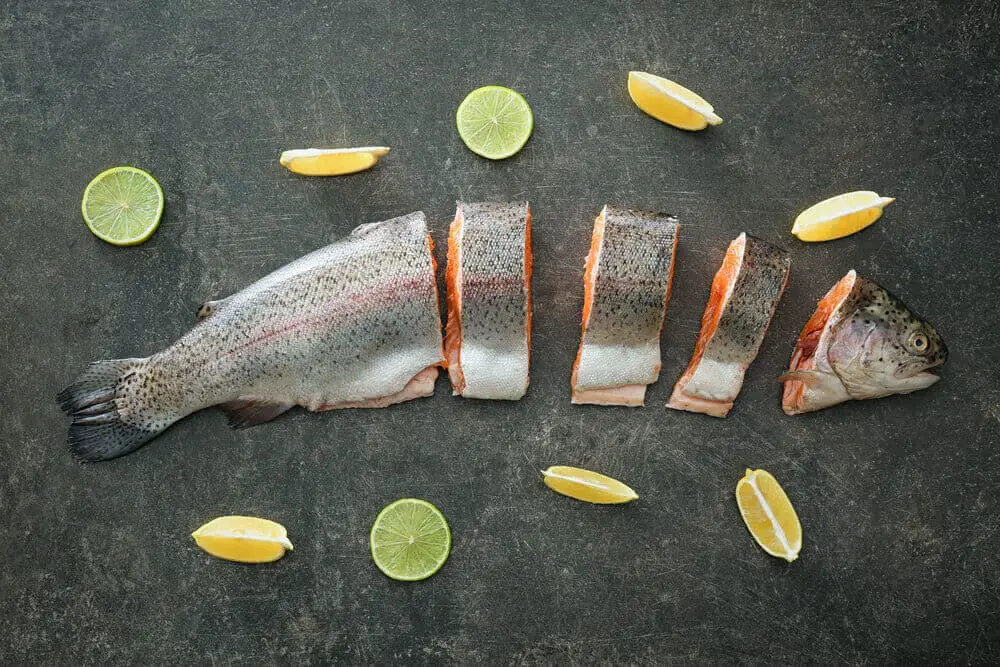 2. The majority of kinds of salmon tend to move into the ocean out of the freshwater right after birth. On the other hand, a steelhead trout can do it after a year or so.
If fish stay in the freshwater longer, they'll grow to the sizes that predators stay away from. The steelhead trout is less likely to be caught by predators.
3. The steelhead trout can live in either salty water or freshwater for the entire lifespan, unlike salmon that generally live in both freshwater and salty water. The steelhead trout spends its first days of life in freshwater and then moves to salty water. It goes back to the freshwater only when it's going to spawn.
Salmon and steelhead trout have some similarities, although they're not as prominent as differences.
The Similarities
First of all, steelhead trout and salmon usually feed on the same type of food. They tend to eat krill and it's what makes the fish meat so pink in color.
The meat of a steelhead trout and salmon is extremely identical in taste and appearance. Oftentimes, it's tricky to identify whether you're eating salmon or a steelhead trout.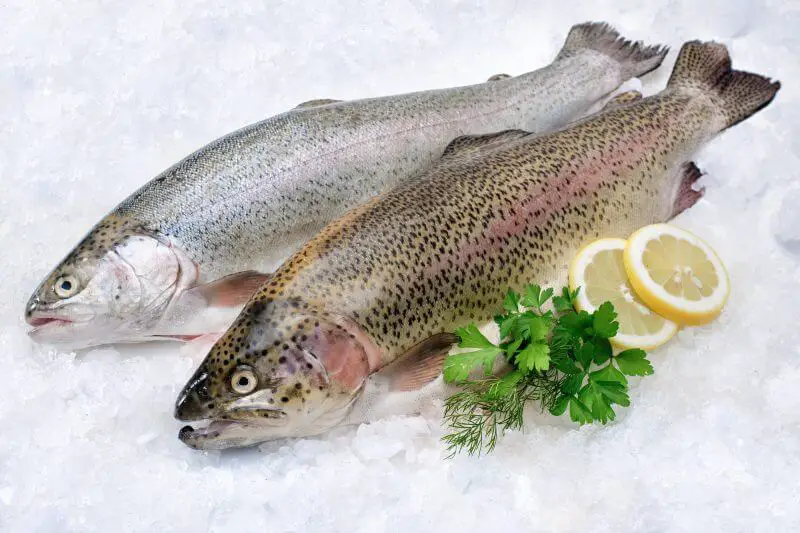 2. The various cooking methods can make salmon and steelhead trout taste differently. For instance, when baked or grilled, salmon has delicate, flaking meat while a steelhead trout has firmer flesh.
The steelhead trout boasts a mild flavor while salmon has a more vivid flavor. Some people say that salmon is sweet to taste.
Because the two types of fish have a lot in common, a steelhead trout has been claimed to be a part of the salmonidae family. Salmon belongs to this fish family, too.
What's The Nutrient Value Of Both Fish?
The steelhead trout and salmon are both excellent sources of omega-3 fatty acids. However, salmon contains less total cholesterol but total fat when compared to a steelhead trout. There are 2 grams of saturated fat, 20 grams of protein, and 120 calories in a 100-gram serving of the steelhead trout.
The same serving of salmon provides the body with 3 grams of saturated fat, 22 grams of protein, and about 150 calories. Unlike a steelhead trout, salmon has richer vitamin D content, though a steelhead trout is a better source of B vitamins.
When it comes to health benefits, both salmon and a steelhead trout offer rich amounts of omega-3s, helping to reduce bad cholesterol level and fight chronic inflammation. Both types of fish have similar protein content, aiding in healthy growth and development of the body.
It's hard to say which type of these two fish is healthier, or tastier, or overall better. One thing is clear – they're healthy and tasty. Choose either salmon or a steelhead trout based on your health problems, dietary preferences, and budget. You can never go wrong with any of these two types of fish.