Ham, brie, and cherry chutney croissants are an amazing breakfast or snack. They are easy to make and sure to please everyone in your household. Croissants are a delicious way to show your appreciation for your favorite foods. Ham, brie, and cherry chutney make a delicious combination, and croissants are the perfect vehicle to transport this flavor combination to your mouth. These croissants will quickly become a favorite in your home, and you can be sure that everyone will love them!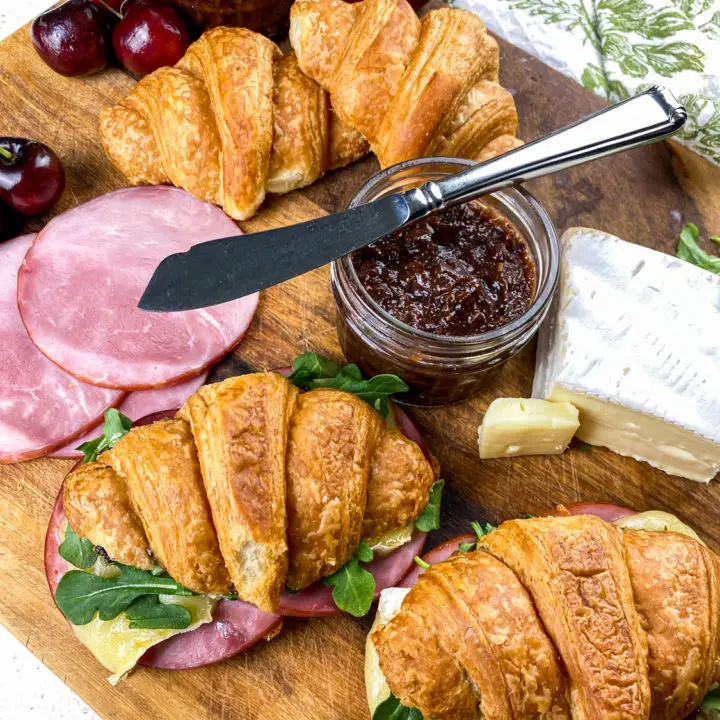 Ham, Brie, and Homemade Cherry Chutney Croissants
Additional Time:
7 minutes
Ingredients
1 tbsp. Extra virgin olive oil
1 cup Half a medium-sized red onion, chopped
1½ tsp. Ground cinnamons
¼ tsp. Ground nutmeg
1 tsp. dried rosemary
1 tsp. dried thyme
½ tsp. crushed red pepper flakes, can be adjusted to preference
1 tsp. peeled and finely minced fresh ginger
1 tsp. peeled 
¼ cup balsamic vinegar
1/3 cup packed brown sugar
1 tbsp. of organically grown fresh orange zest
1 large orange, peeled and cut into bits
12 oz. of chopped, juice-thawed, frozen cherries
2 tsp. cornstarch
2 tsp. water
2 croissants, divided lengthwise
4 pieces of breakfast ham or bacon
3 oz. Brie, cut into thin slices and rind trimmed
¼ cup cherry chutney
Optional: Fresh baby arugula
Instructions
1. On the Instant Pot™, choose "Sauté" and set the temperature to "High."

2. Fill the pot with the onion and olive oil. For about 3 to 4 minutes, sauté, stirring regularly, until the onion softens and begins to take on some color.



3. Add the freshly grated ginger, cinnamon, nutmeg, rosemary, and thyme. Stir to combine, then simmer for 3 to 4 minutes, stirring regularly, until the mixture is well-browned and the spices are fragrant.



4. Use the balsamic vinegar to deglaze the pan, then stir the onion mixture by gently scraping the brown bits off the bottom of the pan.



5. Fill the Instant Pot™ with the brown sugar, orange zest, orange pieces, and cherries. After combining, turn the device off.



6. Place the lid on top, secure it, and switch the release valve to the "Sealing" position. Adjust the cooking time to 3 minutes and choose the "Manual" function.

7. In the meantime, center the top oven rack and preheat the oven to 350°F.

8. Arrange the croissant halves on a baking sheet with a rim that is lined with parchment paper or a Silpat™ baking mat. Add several thin slices of Brie and two slices of Canadian bacon (or breakfast ham) to the bottom half of each croissant, as shown. Place aside.



9. Immediately change the pressure release valve to "Venting" when the Instant Pot™ cook cycle has finished. Carefully remove the cover once the steam has completely dissipated and the pin has dropped.

10. To thicken the chutney, mix the cornstarch and water in a small container.



11. Transfer 2/3 of the chutney mixture to a blender, then pulse several times to combine, but not entirely smooth. Reintroduce the blended chutney to the Instant Pot™ and cook for a few minutes to achieve the desired consistency. Switch the device off.

12. Arrange two tablespoons of the heated chutney on top of each croissant. Bake for 5-7 minutes, or just long enough for the Brie to melt but not run off the sandwiches.



13. Take the sandwiches out of the oven, top them with baby arugula, if desired, and serve right away.
Notes
Important Note: Any leftover chutney should be refrigerated and used within 5-7 days. It cannot be safely kept in a can.

Tip: For this dish, you can use either fresh or frozen cherries, although frozen cherries are considerably simpler because they have already been pitted. For this chutney, the cherries can be either frozen or thawed. The recipes and illustrations on this page call for thawed cherries and their juice.
Thanks to the winning combination of flaky buttery croissants, warm ham, creamy melted Brie, and a spicy-sweet cherry chutney spread, this delightful hot breakfast sandwich certainly hits the mark.
This recipe makes two sandwiches exactly as indicated. To accommodate extra servings, it may easily be scaled. There will likely be leftovers because the Cherry Chutney recipe makes just under 2 cups. Use the leftovers as a sandwich spread, a tasty glaze for chicken or pork, or put over a warm wheel of Brie cheese for a great appetizer. You can keep them in the refrigerator for up to a week.
Chutney should have a slightly chunky texture. However, it is not necessary to cut the cherries and oranges to the precise size that you want. In order to prevent them from fully disintegrating under pressure, it is actually preferable, to begin with somewhat larger bits. After the cooking time is up, pour 2/3 of the chutney into a blender, and pulse several times until mixed but not completely smooth. If required, use the end of the spatula to break up any large lumps that are still there.
FRUITEAM 4 oz 12 PACK Mini Mason Jars with Lids and Bands, Quilted Crystal Jars Ideal for Food Storage, Jam, Body Butters, Jelly, Wedding Favors, Baby Foods
Storage Container: The 4oz mason jar are great for storing beans, seed, drink, seasoning, jam, yogurt, honey and more,...
Glass Revolution: BPA Free and 100% food grade canning jar, easy to clean, diamond pattern design, brilliantly clear,...
Extended Features: The glass jar can be used recyclely, beside storing, they can be used for button, paper clip, plant and...
Last update on 2023-03-28 / Affiliate links / Images from Amazon Product Advertising API
These savory croissants are the perfect weekend baking project. They're easy to make, especially if you have a food processor, and they taste great. If you're looking for a new way to use up that leftover ham from dinner last night, give this recipe a try! For more delicious recipes, try our Air Fryer Sloppy Joe Hand Pies.