What could be more comforting than a bowl of homemade spaghetti and meatballs? There is something undeniably satisfying about biting into a juicy, homemade meatball, and that's why spaghetti with meatballs is one of the most popular meals around. This simple dish is perfect for a rainy day or when you just need to relax. And it's sure to please the whole family.
In this recipe, you'll learn how to make your own delicious and hearty meatballs using ground beef, garlic, bread crumbs, and eggs. Once you've got the basics down, you can experiment with different spices to create your own unique flavor profile.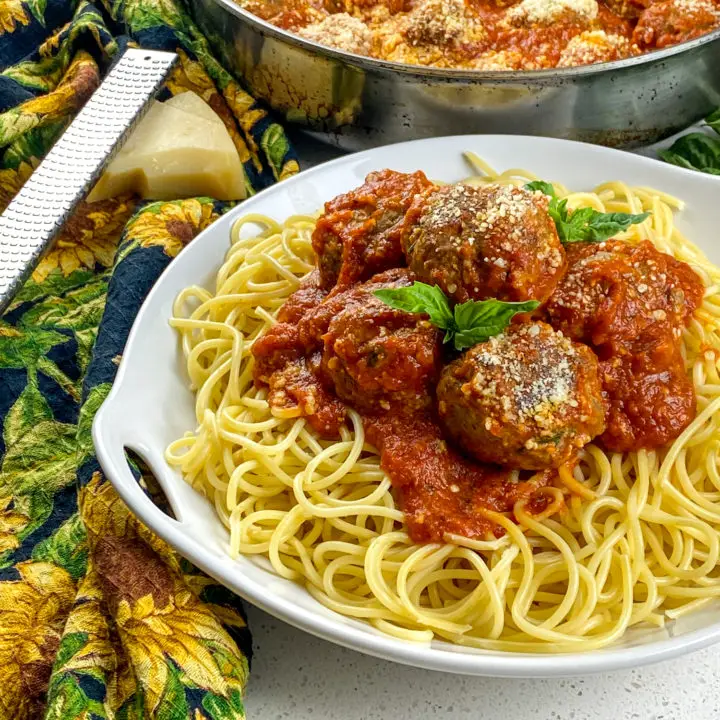 Spaghetti with Homemade Meatballs
Ingredients
1 lb. Ground beef (80% fat or greater)
1 lb. Ground pork
¼ big white or yellow onion, minced finely
3-4 big garlic cloves, minced finely
½ cup Italian breadcrumbs
¼ cup Grated Parmesan cheese with extra for serving
2 huge eggs
½ cup Whole milk
Salt and black pepper
1 tbsp. Finely chopped fresh rosemary leaves
1 tbsp. Finely chopped fresh parsley
1 tbsp. Fresh thyme leaves with woody stem cut off
16-oz. box of spaghetti
24-oz. jar Marinara sauce
Fresh basil sprigs for garnish
Instructions
1. Divide the oven into thirds by moving both oven racks, then preheat the oven to 400°F.


2. In a large mixing basin, combine the meat, pork, onion, garlic, breadcrumbs, Parmesan cheese, eggs, and whole milk. Add salt and black pepper to taste.


3. Add freshly cut herbs to the bowl and stir everything together thoroughly with clean hands. Don't overwork.


4. Distribute the beef mixture onto two rimmed baking sheets in equal parts using an ice cream or cookie scoop. Each part should be compactly rolled into a spherical ball before being placed, as shown, on the baking sheets without crowding.


5. Put the two baking sheets in the oven for 8 minutes. Taking the meatballs out of the oven, carefully turn each one with a spatula. Reopen the oven and switch the racks where each baking sheet was previously placed. Bake for an additional 8 to 10 minutes, or until an instant-read thermometer inserted into the thickest section of several of the meatballs registers 160 degrees Fahrenheit. Discard after removing from heat.


Note: After resting, the meatballs are heated in the marina sauce so they will then reach a safe temperature of 165°F (due to the pork sausage).


6. Prepare spaghetti per the directions on the package while the meatballs are baking. Drain, rinse, and set aside.


7. Place a large skillet over medium-low heat and add the marinara sauce. To avoid splattering, add the meatballs slowly. As the marinara sauce is heated, carefully turn the meatballs to coat in the sauce (if necessary, wipe any extra fat off the meatballs with paper towels before putting them in the skillet).


8. Place the cooked spaghetti on a large serving tray, then top with the meatballs and marinara sauce. Just before serving, garnish with freshly grated Parmesan cheese and a few sprigs of fresh basil. Enjoy!
Notes
Tip: The onion and garlic can be rapidly and uniformly minced using a mini-food processor shown at the end of this post.
Spaghetti and meatballs are classic comfort food. They are simple to make and can be eaten hot or cold. There are many variations of this dish, but this recipe is simple and easy to follow. The ingredients are cheap and easily accessible, making it a great option for a quick meal.
For easier cooking, we recommend these appliances.
Last update on 2023-03-28 / Affiliate links / Images from Amazon Product Advertising API
Sale
Last update on 2023-03-28 / Affiliate links / Images from Amazon Product Advertising API
Spaghetti and homemade meatballs is a great dish to make for a family dinner. The recipe is easy to follow, and the end result is a delicious meal that everyone will love. So why not give it a try tonight? For more comfort food recipes, try our Air Fryer Pork Tenderloin and Red Potatoes that tastes as great as this recipe.