If you have a penchant for entertaining at your home or your refrigerator is not equipped with an automatic ice maker, then you probably know the hassle of having to stock up on bags of ice and having to fill ice trays (and then re-fill) while waiting the better part of a day for your reward. If you run out in the midst of your party, someone has to make a trip to the store. During national holidays, especially in the summer time, you may arrive at the store only to find that they've sold out of ice.
Now what do you do? You definitely need to buy a portable ice maker for your home countertop.
Why You Need One Of The Best Small Ice Makers At Home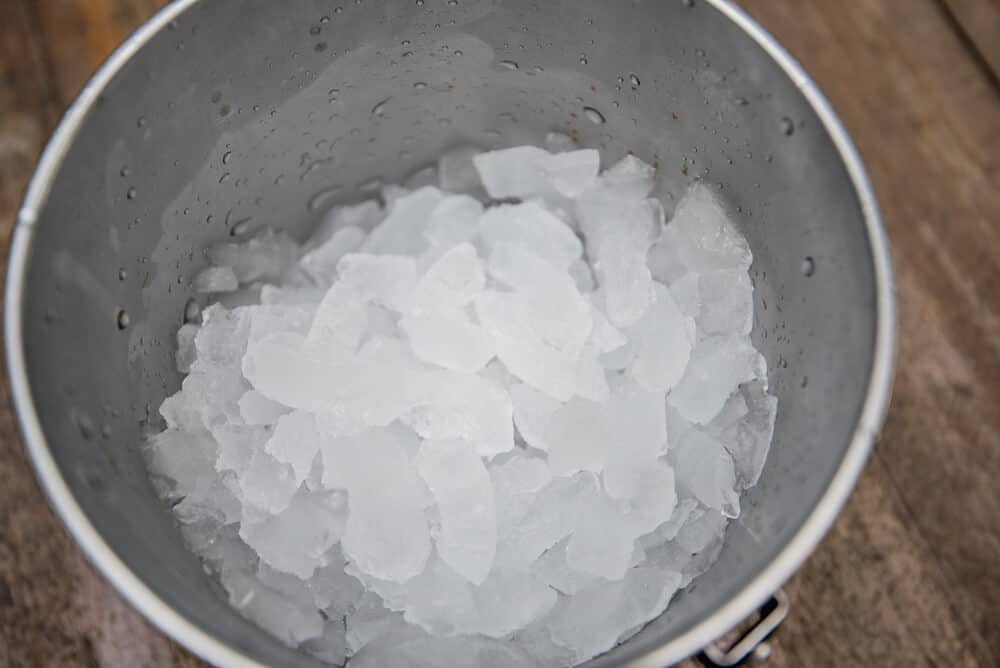 With a machine that sits on top of your counter and does nothing but produce lots of ice for you, you can throw those parties and barbecues to your heart's content, never worrying about whether your ice supply is running low. Because these machines can make a row of cubes in about ten to fifteen minutes, you won't have to wait all day then empty dozens of ice trays only to carefully refill them and tote them back to the freezer.
Fortunately, finding a portable model is as easy as a few clicks online or a trip to any store that sells appliances as several manufacturers produce them. The only difficulty you may encounter is deciding which one to buy from all of the available models. For your convenience, we've scouted the models out there and can answer a some of your questions about what's available in countertop models and what to expect as you sort through them all.
Buying Guide – Tips Before Purchasing
Before you choose the best machine for you, consider your goals for having this product. Do you use a lot of ice daily? Do you entertain quite a bit? Are you supplementing your existing in-freezer ice maker or simply avoiding the hassle of filling trays all the time? How much are you willing to spend? Keep in mind that these machines are designed to efficiently make ice, but not to store it. Your machine may be able keep a full basket frozen for maybe a day, but it will melt. So consider having freezer space available to store ice if you need a lot of it. Otherwise, the finished ice will simply melt back into the reservoir and be used again.
If you regularly go through a lot of ice, you should certainly consider a large capacity machine. If you have the storage space in your freezer, you can make batches in advance of your parties and stock up. If you simply have a large, ice-using family, you may not need to stock up, but it will be best to make as much as possible per day, and the large capacity machine will most likely fit the bill.
If you already have a built-in ice maker in your freezer but it can't quite keep up with your daily needs, you'll probably get by just fine with a smaller machine. The same would hold true if your use is occasional but you hate the ice tray dance. We'd say try a smaller machine for your light-duty needs.
Needless to say, the smaller machines also cost less. But going for cheap when your needs are high will probably disappoint you.
Types Of Compact Ice Makers
Most models are pretty similar in size, but they differ in output of ice per hour and whether or not they also have a built-in dispenser like many refrigerators. The few large capacity models we found can make nearly 50 pounds of ice in 24 hours and weigh about 40 pounds, roughly twice as much as the smaller models.
Common Features of Portable Ice Makers
All the regular capacity portable ice makers tend to be about the same size, roughly 15 inches wide and tall and about 12 inches deep. They fit nicely in a corner of your counter or just about anywhere.
They all make ice in ridiculously short periods of time, from 8 to 15 minutes.
Most have low-water alerts so you know when to refill it.
They will also alert you when the bucket is full.
Most will make two or three sizes of ice cubes.
They can make upwards of 25 pounds of ice per day.
Their weight is usually between 20 and 25 pounds.
Ice maker prices range from the low $100s to about $300 depending on size and output capacity.
The regular models hold about a half gallon of water while the large capacity units hold about 5 quarts.
Our Personal Ice Maker Reviews
After checking out all of the top rated countertop ice makers on the market, we have narrowed down the best models to just five different options. Below, you'll find our portable ice maker reviews for the five models that we have selected as the best compact ice makers for the money. Have a look and see if you agree with us.
Igloo ICE103 Counter Top Ice Maker Review
The Igloo ICE103 model is a portable stainless steel ice maker, which can produce 26 pounds of ice per day. From its 0.8 gallon reservoir, the Igloo ICE103 fills up and freezes a batch of ice weighing 2.2 pounds in only 6 minutes, completely filling its over-sized bucket.
Last update on 2023-03-22 / Affiliate links / Images from Amazon Product Advertising API
It features an electronic control panel with LED indicators and a choice of three ice cube size settings: small, medium, or large. Its cubes are molded with a hollow middle, which makes them good for chewing. The Igloo ICE103 halts production when its bucket is full. It makes ice more quickly than a residential refrigerator. It is easy to clean, compressor-cooled, and runs on 120 watts of power.
Ivation 26-lb Portable Ice Maker Review
This compact little machine is as powerful as it is attractive. The modern, neat look represents the modern refrigeration technology it uses to produce up to 26 pounds of ice everyday.
Last update on 2023-03-22 / Affiliate links / Images from Amazon Product Advertising API
You can choose from two sizes on the electric controls. It is great for parties, entertaining, or making cold beverages, smoothies, and more on-demand. It has a see-through lid and measures only 15.6 inches across and 16.4 inches high, which won't take up too much counter space.
Gourmia GI120 Compact Ice Maker Review
Perfect for a studio apartment, mobile home, or just about anywhere you may need ice the Gourmia GI120 model can make your ice in just 10 minutes. It offers convenient compact size, removing the hassle of cleaning up spills and making messes with ice trays.
No products found.
Providing maximum customization, the Gourmia GI120 machine makes a total of three different sized ice cubes, automated start and stop, timer, and a refill alarm. This is an easy machine to operate, so there isn't much to worry about as far as getting confused with the operation of the product. Overall, this is a great little ice machine for home, parties, or on the road.
Edgestar Portable Ice Maker Review
This Edgestar portable model is an electric, compact ice maker, that measures about12 inches wide and 14 inches high. It produces up to 2 pounds of ice after each setting and up to 28 pounds a day.
No products found.
This electrical appliance takes 10 minutes to produce ice once you pour in the water and press On. The electron controls let you choose from three size options. Made out of commercial-grade steel with a steel-colored exterior, it has a silver, see-through lid that lets you see how much ice you have left. The interior bucket can hold up to 2 pounds of ice as you use it for countless beverages. It's an ideal choice for entertaining or frequent RV or camping trips.
Knox Portable Ice Maker Review
This small Knox model makes up to 26.5 pounds of ice each day. It takes only 6 minutes to create one of three shapes of ice. To create this ice, simply pour water into the bucket.
No products found.
There is an easy to read LCD display that makes monitoring the progress of the ice very simple. It has a sleek and modern silver design that is very attractive. This quick and easy method of making your own ice is very popular and convenient for hosting large events and parties. It's small size and the quiet method in which ice is made ensures it will not disturb your gathering of friends and family while having enough ice for everyone.
10 Best Portable Ice Maker Features  
There are a wide variety of portable ice makers available on the market today, so if you're looking to buy the one, you'll have to do a research first. Or let me do it for you. The perks of a portable ice maker are enormous. It's compact, quick and easy to use, budget-friendly, and just perfect for the spring and summer seasons. Read on to discover the best features of a great portable ice maker to help you make the right choice.
Intelligent water use
The reason why this feature tops the list is because it's eco-friendly and water-saving. It involves re-using the melted ice left in the machine and making new ice all over again. If you see that an ice maker doesn't have such a feature, you risk wasting plenty of water, as the ice makers don't keep the ice frozen for long.
High Production Capacity
If you always need a lot of ice or you're going to use your ice maker during the parties (which are rather long too), choose the machine with the highest production capacity. If you're going to use your ice maker once in a while, then save money and opt for the machine with a medium production capacity.
High Speed
Unless you want to wait 20 minutes for your ice maker to start producing ice, purchase the machine that has the highest speed. They may be pricey, but time is more precious, isn't it?
Compact Size
Smaller machines make less ice while bigger versions take too much space. The way out? Go for a compact size that saves energy, time, and money. Check out the weight of the machine too. The average weight will allow you to comfortably carry your ice maker when heading to the nearest park for a family picnic.
Long Warranty
Unfortunately, portable ice makers – both cheap and expensive – don't last for long. However, a longer warranty will ensure a longer durability. Not all warranties are cost-free, though. If you don't want to buy a warranty, then read the customer reviews online before making a purchase.
Automatic Timer
This feature lets you set a specific time for the ice maker to produce ice. Set it and keep cooking; the machine will do its work without your reminder.
Easy To Use
Just because some portable ice makers features tons of different programs doesn't mean they're the best. The easier your machine to use, the better as you don't waste your time on unnecessary buttons and programs.
Ice Scoop
Not all portable ice makes feature an ice scoop, but if your machine does, consider yourself happy. Nothing special, but still convenient.
Ice Size Selection
Choosing between 3 size possibilities is one of the best features to look for in a great portable ice maker. The downside is the price. Be ready to pay pretty money for this feature.
Self-cleaning
Who won't like it? If you're too lazy to clean the machine, invest in the one that will do this job for you. Sure, you'll need to clean the outer walls and maybe the ice tray, if needed. But let's be honest, that's only a tiny part of the cleaning process.
Here you have it! The list of the best features your future portable ice maker should have. Pick the perfect portable ice maker for you and ensure you'll have loads of ice during picnics and parties, in the house and at the office, or on camping and car trips.
Use And Care Tips
Once you unpack the machine, you should let it stand on the counter for 24 hours before putting it to use. Wipe the interior with a soft cloth or a cloth wetted with a little vinegar or lemon juice. Wipe again with clear water. Then simply fill the water reservoir in the bottom, attach the ice basket and select your ice size. Discard the first batch because it may have a plastic taste and some residual substances from the manufacturing process.
Every once in a while it is good to give the machine a cleaning to remove any mineral build-up inside or if it just gets a bit dirty. To clean, remove the basket, empty any water, then wipe the inside with a soft, damp cloth. If you see a ring of minerals, add a little vinegar or lemon juice to the cloth. Never use soap or any toxic cleanser.
We recommend that you run a cycle with a little vinegar or lemon juice, as well. Just use about 2 teaspoons of either. This will decalcify the water lines. Make sure you run a cycle or two afterwards to clear the lines of the vinegar or lemon juice. Although, a little lemon juice in your ice might be refreshing in your ice tea!
To clean the exterior, use a soft cloth with a little soapy water to wipe off any kitchen grease and fingerprints. Rinse and polish, and your machine will look as good as new.
We hope this information has been useful to you. Now you should be ready to find the machine that's right for you. You'll enjoy having a fast and ready supply of ice. In fact, when it's time to replace your refrigerator, you may well decide to forego the automatic ice makers in the door since you'll already be set for ice from your countertop.