Manual fillet knives have become a thing of the past with the emergence of electric models. The process of deboning meat cuts isn't easy, but you'll find it to be a breeze when you arm yourself with an electric fillet knife. You'll also be minimizing the wastage of meat or fish significantly. 
The endless deluge of products on the market makes it pretty challenging to find a reliable knife, but we're here to the rescue. In this article, we showcase our top contestants for the title of best electric fillet knife on the market, so stick around. 
Best Electric Fillet Knife: The Complete Buying Guide
Before heading out to buy an electric fillet knife, there are a number of factors that you need to take into consideration to ensure getting the best bang for your buck. These factors are: 
Motor Power
Filleting isn't an easy task that any sort of knife can perform. Depending on the type and size of the fish you're trying to fillet, you'll require an electric fillet knife that houses a motor that can cut through the fish. Even if you're filleting requirements aren't great, it won't hurt to have a unit that features a powerful motor. This is a factor that separates high-quality from low-quality.
Blades Material
The blades of a knife dictate its effectiveness. Blades come in different sizes and shapes, but it's the material of the blades that should concern you the most. You want your knife to be equipped with a thick, sturdy, and serrated blade, which is the most appropriate for fish. Ideally, a stainless steel blade is going to suffice in most tasks no matter how demanding. Stay away from materials that corrode when exposed to moisture. 
Blade Length
For smaller fish, a shorter blade is the most preferable option. The bigger the fish you're trying to fillet it, the longer the blade needs to be. Most blades range between 7-10 inches, but there's still a wide variety of blades on the market you can pick from to suit your needs. It's advised to go for a fillet knife that comes with more than one blade so that you're not stuck with one size.
Variable Speed
An electric fillet knife that has variable blade speed is a rare commodity. This feature will allow you to adjust the speed of the blade to your liking. This makes your cuts more precise and will improve the quality of the cut. Also, you can consider this as a safety feature. 
Safety Features
We all love a sharp blade that can gracefully cut through fish and meat. However, a sharp blade can be very dangerous, which is why you need to purchase an electric fillet knife that features a safety lock function. This function helps lock the blade in the handle and minimizes your risks of injury. You want to check that the unit has safety certifications from recognizable authorities.
Best Electric Fillet Knife: Our Top 6
Cuisinart CEK-40 Electric Knife-Most Comfortable
The CEK-40 is a best-seller electric knife that's suitable for all purposes. The handle is designed in such a way that it suits both right-handed and left-handed people.
Last update on 2023-06-03 / Affiliate links / Images from Amazon Product Advertising API
It's also very comfortable to hold because of its ergonomic design which reduces the risk of fatigue. The one-touch button on this knife makes it easy for you to control. 
The knife comes with two blades and an electric cord for your convenience. The first blade is for bread and the other is for carving meat. Included in the package is a wooden block that you can use to store your blades. The knife features a safety button, which ensures that you don't unlock it by accident. There's also a release button for when you need to clean the blades. 
Pros:
The double blades allow for great versatility
Equipped with a blade lock function for safety
All buttons are responsive and easy to reach
Comes with a premium wood block for storage
A blade-release button allows for easy cleaning
Cons:
The plastic handle isn't the most convenient
Not effective when trying to cut through bones
Rapala Heavy Duty Electric Fillet Knife – Best for Large Fish
Made from extremely durable materials, the Rapala Heavy-Duty Fillet Knife is the ideal cutter for small to medium-sized fish.
Last update on 2023-06-03 / Affiliate links / Images from Amazon Product Advertising API
The knife is housing an immensely powerful motor that's surprisingly quiet in its operation. Even more interesting, the motor doesn't heat up whatsoever. Further, the 8-inch cord included in the package allows for very smooth operation. 
The knife is equipped with 7.5-inch reciprocating blades that are dishwasher safe. Moreover, it has an on/off button that's easy to operate for your safety. The great thing about this knife is its medium-size, which makes it pretty easy to handle for everyone. The fact that this knife is made by Rapala assures you great quality and effective performance.
Pros:
Way more powerful than most electric knives
The motor runs quietly and doesn't heat up
Features an on/off button for your convenience
Accompanied by a pretty lengthy power cord
The knife is dishwasher-safe for easy cleaning
Cons:
The handle can be a bit too small for some people
The plastic components aren't the most durable
Mister Twister 120V Electric Knife – Best Value for the Money
This electric knife from Mister Twister is the lightest in weight and the most affordable product on this list.
Last update on 2023-06-03 / Affiliate links / Images from Amazon Product Advertising API
Being the most affordable doesn't mean it's less effective than others, not at all. The unit is housing a powerful, 120-volt motor, which is probably its greatest attribute. Because of its very lightweight of around 1.4 pounds, you'll suffer zero strain while using this fillet knife. 
The knife features a blade-release function, so you won't have to worry about the blades getting dirty. Also, there's a safety lock to prevent accidental cuts. Not only is the knife itself affordable, but its replacements blades are as well, meaning that if you don't want to bother sharpening the blades, you can just go ahead and buy new ones. 
Pros:
A highly affordable price tag for any budget
The blade is pretty long and extremely sharp
Replacement blades are very affordable too
Features blade-release and a safety lock 
The construction is extremely lightweight
Cons:
Not the most effective fillet knife for large fish
You may require an extension cord for this knife
American Angler 32352DS Electric Knife – Most Versatile
It says a lot about a knife's quality if the only negative thing you have against it is how extremely sharp its blades are.
No products found.
These blades can slice and dice their way through virtually anything you're trying to cook. This knife is designed specifically for durability and professional filleting. In fact, a lot of users have reported that this knife lasted four times longer than the knives they've used. 
The 32352DS features a heavy-duty, 110-volt motor that provides twice the power that a regular electric knife. The knife also has an 8-foot polarized cord to prevent any tangling. You'll face little to no difficulty cutting through any type of fish because the unit comes with five blades. Also, the design is compatible with replacement blades. Lastly, it's equipped with a non-slip handle.
Pros:
Comes with five stainless steel blades
Way more durable than other models
Features an extremely powerful motor
A carry bag and gloves are included
Comes with a two-year warranty
Cons:
Not the most affordable unit on the list
The blades are very dangerously sharp
Hamilton Beach 74250R Electric Knife (Budget-Friendly)
If you're looking for a budget-friendly electric fillet knife that has all the essential components of a high-quality product, the 74250R from Hamilton Beach is your best bet.
Last update on 2023-06-03 / Affiliate links / Images from Amazon Product Advertising API
The knife comes with a super sharp, medium-sized, stainless steel blade that allows for laser-sharp cuts. Further, the handle has an ergonomic design that makes it pretty comfortable to use. 
The 7.5-inch blade is designed to stay sharp for a long time, so you'll rarely need to sharpen it. There's also a carving fork included for cutting and serving purposes, in addition to a premium case for storage. The fork is dishwasher safe and the blades can be released from the handle for easier cleaning. Overall, this is a great bang for your buck. 
Pros:
This knife offers incredible value for the price
An extremely durable, stainless steel blade
Comes with a carving fork and a storage case
Comfortable ergonomic design for the handle
Cons:
The button for cutting is awkwardly placed
The space between the blades is uneven
Black & Decker EK 700 Electric Knife (Best Blade Reach)
Black & Decker has always been a reliable brand to count on for most of the products you need around your house in general.
Last update on 2023-06-03 / Affiliate links / Images from Amazon Product Advertising API
The EK 700 is definitely in everyone's top-tier list when it comes to electric fillet knives. This unit features super-sharp 9-inch, serrated stainless steel blades for filleting your catch. Further, the handle has an ergonomic design for optimal comfort and control. 
The unit is equipped with most of the safety features that you'd want in an electric fillet knife like a safety lock button for preventing accidental cuts, a blades-release function for safe cleaning, a non-slip handle for ultimate control, and the blades are dishwasher-safe. But the best part about it is that the EK 700 is highly affordable on any budget. 
Pros:
Equipped with plenty of safety features
The unit features long, 9-inch blades
One of the most affordable fillet knives
Cons:
May be uncomfortable for smaller hands
We're not fans of the plastic handle
Frequently Asked Questions
Should you go for a corded or a cordless electric fillet knife?
The answer to this question depends primarily on how you intend to use the knife. For example, if you're only going to use it at home, then you may want to go for a corded model because they don't require charging. However, if you plan on using it remotely, then you'd definitely want to go for a cordless model. Just make sure that you get a high-quality unit that can provide a good few hours of battery life before it needs to be recharged. 
What is the best electric fillet knife sharpener?
If you think finding the right electric fillet knife is hard, you've got another thing coming. There is a wide variety of sharpeners on the market, but the one that stands out the most is the Presto 08800 EverSharp Electric Knife Sharpener. This knife sharpener can automatically sharpen blades made from stainless steel, carbon, or alloy until their razor-sharp. 
The Presto sharpener is safe to use and has three suction cups that allow it to sit firmly on a surface without moving. The sharpening process is comprised of two stages. The first stage is where the blade is sharpened while static. In the second stage, the blade of the knife is honed. You don't have to worry about the sharpening angle since the blade guides do that for you. 
What is the best electric fillet knife for fish?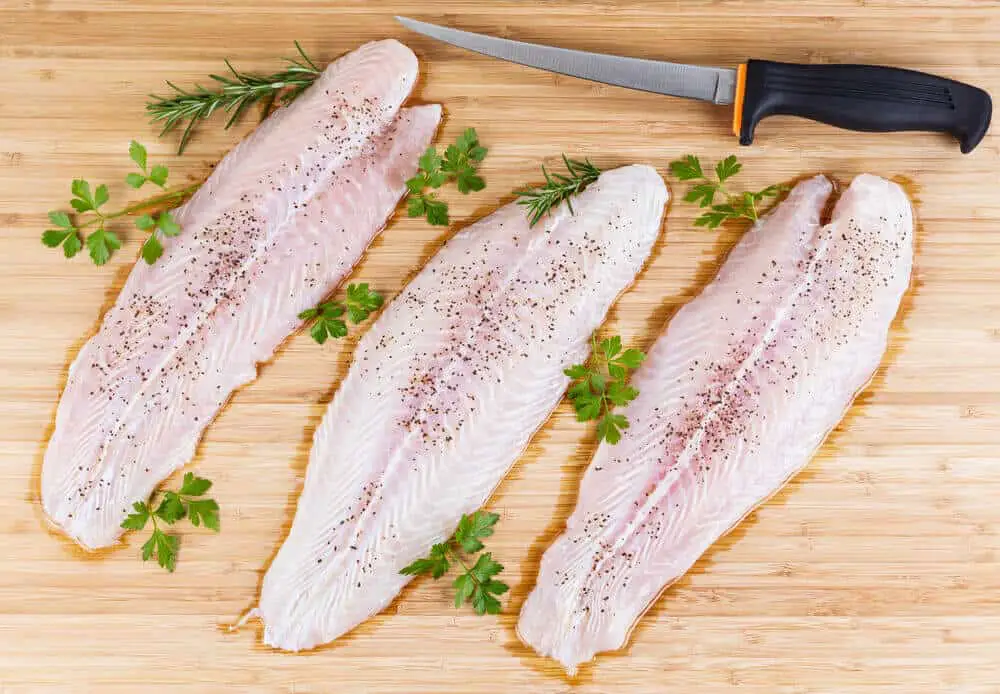 This is a hard question to answer consideration that all the above-mentioned products are ideal for cutting fish. However, the product that seems most versatile has to be the American Angler 32352DS Electric Knife. The only downside to this fillet knife is its price. If you're constricted by a tight budget, then we'd highly recommend the Rapala Heavy-Duty Electric Fillet Knife.
How to replace the batteries in a cordless fillet knife?
When you're attempting to replace the batteries or blades of a cordless fillet knife, there are a few steps that you need to take. Start by removing your old battery pack from their place. Before you insert your new battery pack, make sure that you insert the blade first and make sure that it clicks into place. Now all you need to do is pull the safety lock and activate the unit. It's strongly advised to remove the battery pack before replacing blades or when the knife isn't in use. 
Conclusion
Owning an electric fillet knife will spare you from a lot of hassles associated with using a manual knife, so do yourself a favor and invest in a high-quality model. Here are our top three picks:
Hopefully, the information we've provided today has helped you make a sound purchase. Please let us know which one of the above-mentioned products you think is the best. 
If you have made a purchase, Congratulations! To help you put that new member of your kitchen in action this post on How to Fillet a Fish with Electric Knife comes in handy. As always we are happy to help.