Have you ever cut yourself trying to open a can of beans? Or spilled tomato puree on your countertop while trying to wrestle its can open? These are some of the struggles of using a manual can opener. They can get dull easily, some inexpensive ones are almost disposable with how easily they break, and the lids of the tin cans can be too sharp and may cut your fingers if you are not being extra careful.
Well, fret no more, we have found a solution to these daily dilemmas in the kitchen – electric can openers. Now you can open that stubborn can of corn as simple as pushing a single button. If you're like me and loves making your life easier by using canned goods on your dishes, or simply have no time to go to the farmer's market and manually cut up their ingredients, then you'll surely appreciate having an electric can opener in your cupboard.
This is also advised for elderly people who have arthritis, or who have weak grip in their hands like those who suffer from nerve damage or tendinitis. It is safe, easy to use and most have easy clean feature as well. Keep reading to see our top 10 favorites and our buying guide below.

Top 10 Best Electric Can Openers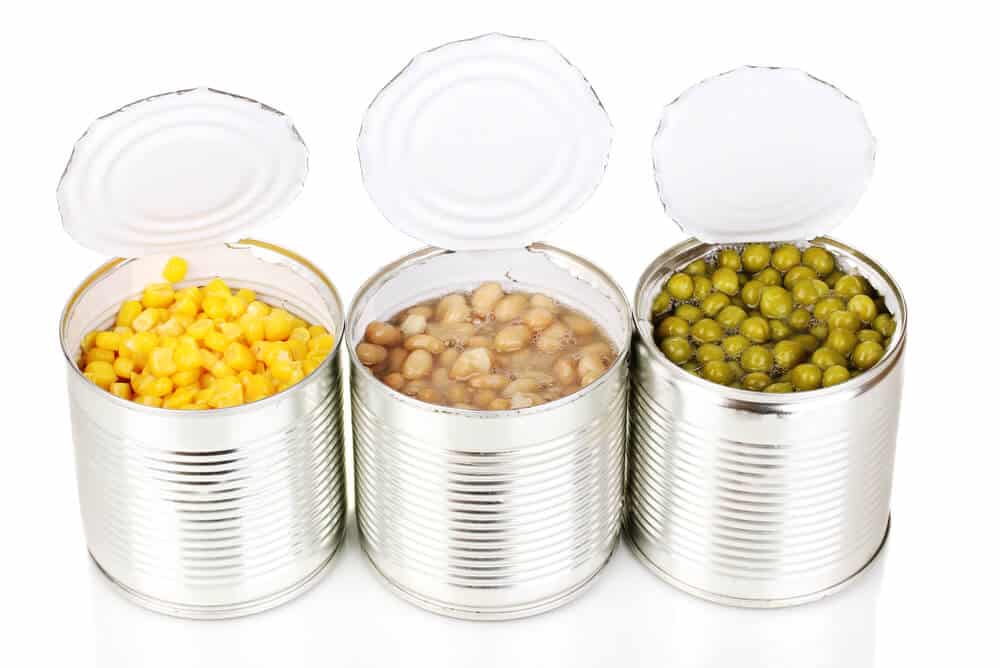 Hamilton Beach 76606ZA Smooth Touch Electric Can Opener – Best in Safety
This high grade electric can opener is made by one of the most well-known brand of kitchen appliances, Hamilton Beach. It has a sleek black and chrome modern design that will surely match any kitchen aesthetic. The Hamilton Beach 76606ZA also comes with a stainless-steel kitchen scissor, combining style and versatility.
It is durable, although it is not intended for heavy duty usage. This is a corded type of can opener, so it might take up a little space on your countertop at its size of 4.7 x 5" x 10.5", it also has a weight of 3.07 lbs, adding to its stability.
Pros
Safety: This electric can opener uses side cutting technology, so you will have no jagged edges on the can after you open it. Making it safe even for kids to use.
Easy operation: It is easy to operate, just hold down the top lever until it finishes its rotation on the can. Very convenient even for those who have a weak hand grip.
Quiet: It is fairly quiet as well, it will not be irritating or embarrassing to use even if you are entertaining guests on your dining area or if you have a sleeping baby around.
Cons
You need to take note that this is not a hands free electric can opener, you need to depress the lever until it has cut around your can. Also, if you are opening a bigger or heavier can, you still need to hold down the base to avoid it from tipping over.
Since it has a side cutting design, it may cause tiny metal shavings to stick on the food. This can be avoided by carefully lifting the top part that has been cut off by the opener.
It has a non-removable blade, so you can't throw it in the washer directly. However, this is easy to clean as you just need to wipe it with a damp cloth.
Cuisinart CCO-50N Deluxe Electric Can Opener – Most Easy to Clean
This elegantly designed deluxe can opener is made by one of the brands we look up to when it comes to kitchen appliances, Cuisinart. It is an inexpensive solution to one of your common kitchen woes: opening canned goods. It prides of its Precision Powercut blade, ensuring clean, easy cuts, every time.
The Cuisinart CCO-50N deluxe is mostly made of high quality plastic material including the blade and the lever, so it's not advised for heavy use. It is lightweight at 2.6 pounds, making it easy to move around. This electric can opener is 5.9 x 6 x 10.9 inches, so you'll not have problems opening taller cans. The product is also backed by Cuisinart with a 3 year warranty, so you'll surely get your money's worth.

Pros
Easy operation: This electric can opener requires little to no pressure to operate, just pull down the lever once, and it will do the work for you. Guaranteed easy for kids and elders to use.
No splashes: It also features a magnetic lid holder, so the lid will not drop back to the can after opening, therefore avoiding messy splashes especially if you are opening a can of soup or sauce.
Easy to clean design: The product has an easy to clean design with its removable parts, so you don't have to risk cutting your fingers wiping down the blade. You can remove the lever and the magnetic lid opener for hassle free cleanup.
Safety: This product is made of BPA Free materials, so it is safe to use for food.
Cons
This electric can opener is not completely hands free, if you are opening a slightly heavier can, you will still need to hold down the opener to prevent it from tipping over.
It also tends to shred the can's label therefore causing tiny bits of paper sticking on to the food. To avoid this, simply remove the label before putting it in the can opener.
Some customers have doubts on its durability since most parts are made of plastic. But no need to worry since Cuisinart used high quality plastic materials for the construction of this can opener, and have also offered a 3yr warranty.
BLACK & DECKER CO100 Spacemaker Multi-Purpose Can Opener – Most Versatile
What if you wanted one of those heavy duty electric can openers but has no space for it on your countertop? Black + Decker solved that problem for you, meet the Black + Decker CO100 Spacemaker. This is not your ordinary electric can opener, it also features a bag cutter, a bottle opener and a knife sharpener, all these hidden behind its swing open door.
You can hide all of its 7.5" x 7" x 5.5" goodness under a cabinet. And don't worry about it causing your cupboards to give out, as it is only 3lbs light despite its packed features. 

Pros
Versatile: Its multifunction features compensate for its size. It will definitely help your countertop to be clutter free as it already has some of the most used kitchen items hidden behind its swing doors and you can hide the product itself right under your cabinet too.
Can open any sized cans: This can opener can open any sized cans, even those family sized ones. Also, since it is mounted to your cabinet, no need to worry about it tipping over.
Auto Shutoff: As if there's not enough features on this product, Black + Decker also designed it to have an Auto Shutoff feature. This means that the blades will stop spinning after it opens the can, which also acts as a safety feature.
Cons
One thing you have to note is it may leave the edges of the lid to be a little sharp. I think this is common for most top can openers in the market.
Some reviews mention that installation of the product may be a little tricky. It will be easier if it will be installed by two people, one to hold the Spacemaker and the other to attach it to the cabinet.
Proctor Silex Plus 76370P Extra-Tall – Best Value Can Opener
Proctor Silex Plus 76370P is the electric can opener for all shapes and sizes. It's conveniently designed extra-tall figure and top cut technology promises to open any sized can on the first try, every time. It also comes with a built in manual knife sharpener at the back of the can opener as an extra feature.

Despite its tall stature, this product doesn't eat up at lot of space on your countertop, you can even hide all of its 5.3" x 4.4" x 9" inside a cabinet after using since it is only 2.2lbs so it's not a hassle to move around. The product also has 1 year satisfaction guarantee from its manufacturer, Proctor Silex.

Pros
Easy cleanup: This electric can opener has a removable cutting lever for an easier cleanup process. Just put it under running water and lightly wipe the blade dry afterwards to maintain its sharpness.
No spills: It also has a magnetic lid holder to stop the can from dropping after it's cut open, making can opening a mess free process.
Cons
The magnetic lid opener may not be strong enough to hold heavier, family sized cans and tends to drop them, so it is best to promptly pick the can up when it's almost open to avoid spills.
Some customers feel that the lever feels flimsy since it is made from plastic, however this is made from durable plastic material so no need to worry about it snapping in half after some use.
Oster 003147000000 – Best Electric Tall Can Opener
This electric tall can opener from Oster is definitely designed with convenience in mind. It is tall enough to open cans of different sizes, so you don't need to get another one to open bigger, taller cans. It also comes with a high quality knife sharpener at the back, so you're basically getting two tools in one!
It's black and stainless steel-like finish ensures it will not be an eyesore in your kitchen, despite its size of 11 x 9 x 7 inches. It is lightweight at only 2.6 pounds, so you may need to hold it down when opening heavier cans.
Pros
Power Pierce cutting blade: The Oster 3147 Electric Can Opener is engineered with a Power Pierce cutting blade, resulting to a more precise cut. No need for multiple rotations even for bigger cans.
Easy to operate: It is easy to operate and requires minimum strength, you just need to depress the cutting lever until the can finishes its rotation around the blade. Even those who have dexterity challenges will find no hassle using this device.
No spill design: With its strong magnetic lid holder, you don't have to worry about the lid dropping back inside the can, or the can itself suddenly dropping on your counter after it is opened and causing a mess on your counter.
Cons
The gear of the can opener may sometimes shred the can labels, causing paper shavings to stick to your food. It is best to quickly remove the labels before you put the can under the opener.
Some customers complain that the motor of the product can be a little loud, especially when opening bigger cans.
Kitchen Mama Electric Can Opener – Best Can Opener for Seniors with Arthritis
Don't be tricked by the cute appearance of the Kitchen Mama Electric Can Opener, opening cans with this hands free device is as easy as 1-2-3! Just push the button once, wait for it to finish its rotation, then click the button again to stop. Easy, right? This is perfect for our grandmas and grandpas who may have arthritis or have a weak grip.
This portable electric can opener is battery operated, so they can take it with them on trips or picnics, no power source required. It is also relatively small, only 2.8 x 2.2 x 7.1 inches and lightweight at 8.5 ounces you can easily fit it in your pouch. At its size, it can even open tall cans since you just have to attach it at the top of the can and it will rotate itself to cut it. This also comes with a 1yr warranty from its manufacturer, Kitchen Mama.

Pros
Safety: This is a side cutting can opener, so you'll have guaranteed smooth edges. Another one of its cool safety features is it has a recessed blade, so no need to fear cutting your fingertips while picking it out of your kitchen drawer.
Design: It has a sleek, handy design, making it easy to grip even for our grans who have poor grip.
Mess free: Kitchen Mama even managed to put a magnetic lid holder on this tiny wonder, so you won't have to fish out the lid from your tomato soup after it's opened.
Cons
Reviewers feel that the cheap blade of the product may dull quickly, although this can be avoided with proper maintenance. Make sure that you always wipe the blade and gear clean after every use to avoid rust from building up.
Some customers also noticed short battery life on this portable can opener, it uses 4 AA batteries and its lifespan depends on how often you use it. This is a given issue though, since it's a powerful tool relying solely on batteries.
Hamilton Beach 76380Z Classic– Best Midrange Can Opener
Another one from Hamilton Beach is the 76380Z Classic, it has an extra tall design allowing it to open all size of cans. One of its best feature is that it has an exclusively engineered SureCut technology, guaranteeing hassle-free, clean cuts.

This elegant looking electric can opener can also disguise as a decoration on your countertop since it doesn't take much space at 5.1 x 6.9 x 10.2 inches, you can also easily move it around since its only 2.43 pounds.

Pros
Easy to clean: The product has an easy to clean design with its removable blade and lever, you can simply wipe it with a damp cloth or put it under running water and wipe dry to maintain the blade's sharpness.
Auto shut off: It automatically shuts off after a full rotation, making it safer to use especially for a household with kids.
Cons
Since it is pretty light at 2.45lbs, the opener may tip over, as it is too light for heavier, family-sized cans. It's best to hold the base of the device when opening these type of cans to make sure it will not cause a mess on your kitchen.
Some reviewers say it feels flimsy due to plastic parts, specifically the lever. For this, Hamilton Beach offers a 1yr warranty with every purchase of the product.
Cuisinart SCO-60 Deluxe Stainless Steel Can Opener – Most Stable
This Cuisinart SCO-60 Deluxe doesn't only have an eye-catching classic design, the device is actually made from stainless steel with no plastic parts on it, and you can surely rely on its durability. It is also BPA Free and uses PowerCut blade technology, so you are sure to get swift and clean cuts, the first time!

It is 5.5 x 5.6 x 10.8 inches and 4.1 pounds, just the right height and weight that opening standard sized cans will not be a problem. Cuisinart has also backed up this product with a 3 year limited warranty.

Pros
Stability: Extra wide, heavy base ensures the stability of this electric can opener. No need to worry about it tipping over when opening heavy cans of soup, while it's rubber base grips on to the surface so it will not slip either.
Easy operation: It may look intimidating because of its professional, stainless steel look but this can opener operates with just one touch of the lever. It automatically stops before the can is completely open and is then supported by its magnetic lid holder to stop if from dropping into your countertop.
Cons
Since this is a top cutting can opener, it may leave the lid edges sharp. This is a minor issue because you barely need to touch the lid except when you throw it in the bin, the magnetic lid holder will pull the lid off for you when you remove the can from the device.
Some reviews complain about the durability of the product, saying the lever is a little on the fragile side and may break in half if you are not careful with it. You'll have to be gentle when using the lever, but since it's a one-touch operation and automatically stops as well, it shouldn't be much of a problem.
Proctor Silex 75224F Power Electric Can Opener – Best Inexpensive Can Opener
This shorter, more inexpensive version of the Proctor Silex Plus 76370P may just be one of the best inexpensive can openers in the market. With its low price, it still comes with a built in knife sharpener at the back, and a cord storage too!

It's 5.3 x 4.4 x 9 inches and weighs 2.2 pounds so opening any standard sized can should be no problem for this can opener. This is surely an affordable solution to those who are done with using manual can openers.

Pros
Easy to clean: The cutting can easily be removed by simply twisting it, so cleaning is a breeze for this can opener.
Easy operation: The Proctor Silex 75224F is easy and convenient to use, just pull down the lever once and it will open the can for you. It automatically shuts off as well right before the lid is completely cut off and is then caught by the magnetic lid holder.
Cons
This is a top cutting can opener, so it may leave the edges a little sharp and might leave tiny metal shards on the lid as well.
Almost the entire product is made of plastic, so it may not be as durable as other Proctor Silex products, but it is good for its price and serves its purpose just as well.
Our Top 3 Recommendations
1. Hamilton Beach 76606ZA Smooth Touch Electric Can Opener – I find this the best overall, it's not that expensive compared to the convenience it can give you, it has a simple modern design so no problem leaving it on your countertop despite its size, and most of all – it does its job well as a can opener.
2. Kitchen Mama Electric Can Opener – This is something I wouldn't think twice of giving to my grandma for her birthday. It's safe to use because of its recessed blade, it's super easy to operate – open a can with just a click of a button, and it's portable and lightweight so she can take it with her when she goes on a vacation.
3. Proctor Silex 75224F Power Electric Can Opener – This is best for dads who are still doubtful about switching to electric can openers from their trusty manual can openers. It's cheap, so it's a good starter while they are still getting used to this type of can openers. I must say, this is a pretty good deal for its price it really works great for opening standard sized cans.
What Do You Need to Look for in Buying an Electric Can Opener?
Cleaning and Maintenance
Since for most of these gadgets have electrical plugs, you can't really throw the whole thing in to your dishwasher, so it is best to look for an opener that has a removable blade or that are dishwasher friendly for easier cleaning. You also have to make sure that you keep them dry to avoid the blades from rusting, so wipe them off every after cleaning and store in a dry place.
Power Type
Electric Can Openers doesn't always mean you need a power source to use them, there are also those that are battery operated. Usually the power sourced ones are those that are bigger and can normally be mounted on countertops, while the battery operated ones are usually smaller about the size of the hand, which is good if you want to be able to take them to a picnic or a hiking trip.

Size
One of the top things you should consider when getting your own electric can opener is the size. Some can openers can only be used for low, small cans like tuna or spreads, but if you need it to open soup or broth cans then it is best to get a tall can opener. Since most of these gadgets can be used hands free, it's also a good practice to check the weight, especially for mounted can openers, you need one that is a little on the heavier side so that it will not be toppled over once you attach a heavy can on it.
Safety
There are two aspects you have to consider when checking the safety of the electric can opener that you are eyeing:
There is a top cutting and a side cutting can opener. For safety measures, it's best to get a side cutting one since it offers a cleaner, smoother edge than the top cutting alternative where the blade may touch the food inside and may cause cross contamination if not cleaned properly.
Some brands have built in magnetic lid holders on their can openers, this is a good safety feature allowing your fingers to be safe from cuts coming from the sharp, jagged edges of the removed lid. The magnetic lid holders automatically collect the lids from the opened can for you, so no need to risk cutting your fingers.
---
So, what are you waiting for? Go get your electric can opener now, if you still don't have one added to your cart, that is *wink wink*. It will totally make your life easier, especially if you get a multifunction one, not only did you save money because you buy 1 kitchen tool instead of 4 separate ones, you're also saving a lot of counter space, giving you more room to move around. For some, it's not just an added convenience but a necessity, like for our elders, or differently abled friends or family members, this will be an effective yet inexpensive solution. This is an upgrade you will not regret making.

Last update on 2019-11-20 / Affiliate links / Images from Amazon Product Advertising API