When we have a new baby, we tend to become very meticulous about everything. The texture of their baby clothes, what baby soap they will use, which baby bottles you're going to buy, are you going for a wooden crib? Will you use nappies or cloth diapers? There's a lot of decisions to make and the whole idea of being a mother is an overwhelming yet rewarding journey.
One thing you should know, especially if you will be a working mom or if you plan to use formula, is that there will be a LOT of feeding bottles to wash. Babies feed many times a day and you must wash these teeny tiny bottles with every use if you don't want your infant ingesting spoiled milk left on those bottles. So here we'll give you a thorough guide on how to choose the safest and most efficient baby dish soap specifically formulated for baby bottles. 
Here Are Our Recommendations
Last update on 2023-01-26 / Affiliate links / Images from Amazon Product Advertising API
Baby Dish Soap: What to Look For?
All-Natural
One of the main reasons that moms switch to using natural dish soaps is because most of the commercial dish soaps that we use at home contain harmful chemicals such as SLS (Sodium Lauryl Sulfate or also known as sodium salt, sodium dodecyl sulfate, monododecyl ester, sulfuric acid, and sodium salt sulfuric acid) and Paraben. SLS is found on most cleaning products we use in our homes, shampoo, toothpaste, body wash and laundry detergent are just some of the most common household products where SLS is found. It is used to make the soap lather, which we associate as cleaning things. However, this substance is proven to cause skin irritation especially for sensitive skin like our baby's. Paraben is also a chemical that we want to keep away from our baby's skin, as they are known to be endocrine disrupting chemicals.
Fragrance Free
This is not the biggest factor but is still something you want to check. It is best to use dish soaps that are fragrance free because scented dish soaps may leave a strong scent of flowers, mint or citrus on the baby's bottles and could cause loss of appetite, especially for newborns.  Also, most commercial companies do not disclose what they use as "fragrance" or "parfum" on their products and are suspected to be hormone disruptive compounds. 
Vegetable Based
Choose a liquid soap that is plant or vegetable based. They are made from organic ingredients and are hypoallergenic. These non-toxic soaps are surely free from the harmful chemicals that we are wary of. 
Best Dish Soap For Baby Bottles: Our Top Ten Picks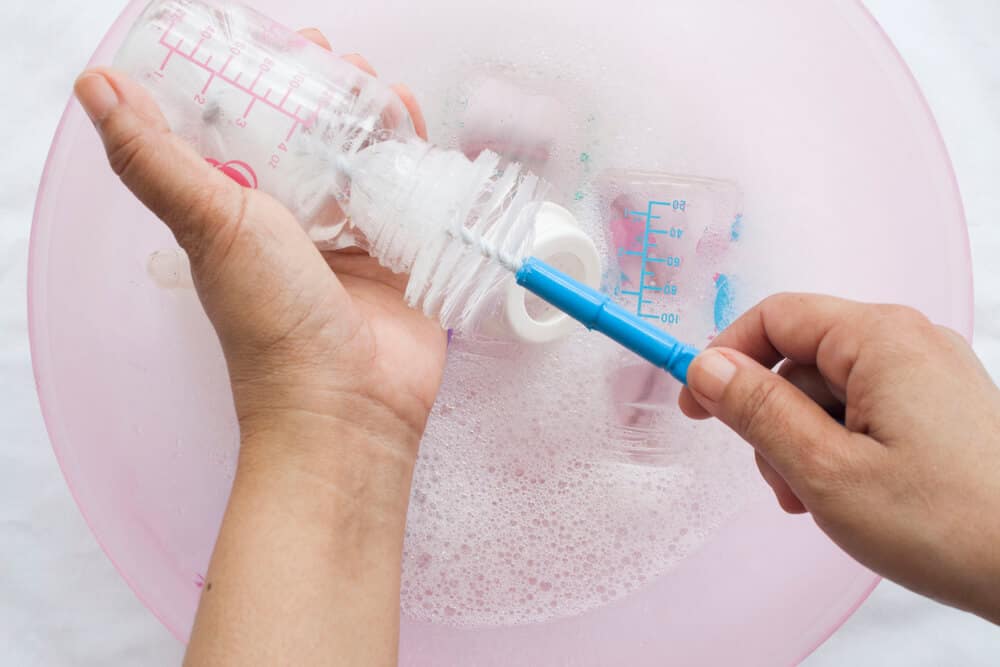 DAPPLE Baby Bottle and Dish Liquid – Best Overall
This is one of the top-rated dish liquid brands in the market and it's easy to see why. This product is plant based, meaning this is made with nontoxic ingredients. It is fragrance-free, so it will not leave a strong floral or fruity scent on your baby's bottles that may be unappetizing or off putting to them, especially for newborns.
Last update on 2023-01-26 / Affiliate links / Images from Amazon Product Advertising API
Reviews also say that this liquid soap is effective in removing film and milk residue on feeding bottles and breast pumps. This product has also been tested and was given Purity Award by the Clean Label Project which is a nonprofit organization that focuses on health and transparent consumer product labeling.
Pros
Multi-use: This soap can be used on baby bottles, sippy cups, pacifiers, breast pumps and other baby or toddler accessories that needs gentle cleaning. 
All natural: It is made with natural ingredients that are tested by pediatricians and dermatologists and are proven hypoallergenic.
Non Toxic: This product is are made without harmful, toxic chemicals such as -parabens, sulfates, phthalates, synthetic dyes and fragrances.
Cons
Some consumers have received their products not packaged properly and have either been damaged or the product have excessively leaked into their packaging.
This liquid soap does not lather like your ordinary dishwashing soap, which makes some customers feel like the bottles are not getting cleaned. This is because of the lack of SLS (Sodium Lauryl Sulfate) on the product's formula. SLS is a chemical used to create the lathering effect on your shampoos or body wash.
Elysium Eco World Baby Bottle Soap – Best Scented 
This 100% vegan dish soap is loved by most moms because of its aesthetic packaging, and how effective it is at cleaning their baby's feeding bottles. This premium dish soap has a unique herbal formula specifically created to break through hard, stubborn clusters of dried milk and yet leave no residue after.
Last update on 2023-01-26 / Affiliate links / Images from Amazon Product Advertising API
The Elysium Eco World Baby Bottle Soap does not contain any toxic chemicals like sulfates and parabens, so it is safe to use for your baby's feeding accessories. Some of its ingredients are pineapple extract, mint extract, water and glycerin. So your little one's bottles doesn't only look clean but smells clean too.
Pros
Versatile: This is specifically made for washing baby products like pacifiers and pumps. Elysium bottle soap does not only clean your baby's bottles but disinfects them too.
Safety: The product is rich in herbal extracts like mint, coconut and corn and is free of harmful chemicals like paraben, SLS and any type of alcohol making it safe to use on your child's feeding accessories.
Easy clean formula – Unlike other natural dish soaps, the Elysium bottle cleaner has instant lather that causes no residues or filming on the bottles.
Cons
Since the soap has citrus and mint extracts, the product may leave a spearmint scent on the bottles or pacifiers. This does not mean it leaves residue though, it's just the scent of the product itself since it is formulated to fight the odor from spoilt milk and such.
Some customers have received the bottles damaged or missing the foil cover at the top. But they also mentioned that Elysium makes it a point to have it replaced as soon as possible.
Dr. Bronners Pure Castile Liquid Soap – Best Antibacterial
Dr. Bronners Pure Castile Liquid Soap are made from the experienced family of soap makers since 1948. A lot of moms have started using Pure Castile Soap or at least have long wanted to try one because of the hype it is making in the vegan community.
Last update on 2023-01-26 / Affiliate links / Images from Amazon Product Advertising API
So, here's what you need to know: Castile soaps are soaps made from 100% vegan products, usually made from plant based oils, instead of the animal fats used in most detergents. Pure Castile soaps such as Dr. Bronners are made with aged ingredients and are completely biodegradable and nontoxic. They also have a pH of 8.9 – 9.3 which means it's on the basic side and will not irritate the skin. Castile soaps are also surfactants, meaning they remove germs and bacteria.
Pros
Safety: The soap is made with 90% organic ingredients so it has no toxic chemicals and no added fragrance included on the soap's formula. 
Eco-Friendly: Aside from being completely vegan, Dr. Bronner's containers are made from recycled bottles.
All-purpose cleaner: Dr. Bronners may be a bit pricey but it has a lot of uses, other than cleaning baby bottles, it can also be used as toothpaste, body wash, shampoo, hand soap, veggie wash and a lot more. Because of its natural ingredients, it is also safe to use as your baby's body wash and shampoo.
Cons
Some reviewers complain that the all-natural castile soap is too concentrated to be used on its own so you need to dilute it first every use. This may be a good thing as this almost doubles the volume of the product meaning longer lifespan and you'll end up saving more.
It is also mentioned that it may have a strong smell like vegetable oil. I must say this is something to be expected with an unscented plant based soap.
Reviewers say this soap is not for delicate skin, since it may be harsh on the hands and cause dryness. However this may be occurring if the product is used undiluted.
Babyganics Dish and Bottle Soap– Best Foaming Baby Soap
The Babyganics Foaming Dish and Bottle Soap is one of most mom's Top Pick because of its instant foaming technology. It foams almost instantly, causing you to use less soap than usual. It is quick rinse too, so you will need less water to wash your little one's bottles and more importantly, even if it foams, the soap does not leave residue on the feeding bottles or pacifiers. There are no dyes, fragrances or sulfates added to the formula of this product.
Last update on 2023-01-26 / Affiliate links / Images from Amazon Product Advertising API
Pros
It is completely plant based, meaning it was made without synthetic fragrances and other harmful chemicals.
Dermatologists and pediatricians have tested the product before it was sold to public and have confirmed it to be nontoxic and hypo allergenic.
The product leaves no residue on the feeding bottles, breast pumps or pacifiers.
Cons
Meticulous reviewers noticed that it may contain methylisothiazolinone in the Citrus variant. After checking, it seems this is on the old formula / version of the product but has now been updated and methylisothiazolinone has been removed, although still best to check the ingredients before checking out your cart.
It is said that the product may foam too much taking it longer to rinse off. Since the product has instant foam technology, you only need to use a small amount of the product to avoid overly lathering the bottles you are cleaning.
Puracy Natural Liquid Dish Soap – Best Hypoallergenic
Made by a family-run company from Texas, the Puracy line of products are formulated by a team of highly qualified dermatologists, pediatricians, chemists and industry experts with a goal to make a family safe, eco-friendly, plant based products that are effective for everyday use. Puracy Natural Liquid Dish Soap is a plant-powered, hypoallergenic and fast rinsing dish soap made from premium products.
No products found.
The product also comes with a Pure Love Guarantee by Puracy where they refund your money if you don't fall in love with their natural care products.
Pros
Safety: The product's formula includes no harsh chemicals, but mostly coconut oil-based cleansers and plant based water softeners like lauryl glucoside, vegetable glycerin, sodium citrate, and Himalayan Pink Sea Salt. Guaranteed all gluten free and vegan ingredients used.
Easy to clean: The soap is made with fast rinsing formula, saves you time from cleaning your little one's feeding accessories so you can spend more time with your baby.
Eco-Friendly: Puracy not only uses non-toxic ingredients but also uses and produces recyclable bottles for all their products.
Cons
Reviewers mention that the soap may be too thin, thus causing you to use more of the product before the bottles feel clean.
Like other dish soaps, Puracy also receives complaints of poor packaging. Most of the time it's missing the foil that seals the bottle while it ships, causing it to leak in its box and for some customers to doubt its authenticity. 
Better Life Unscented Dish Soap – Best For Plant-Based Lover
This 100% plant-based dish soap has captured the heart of moms everywhere, not only because it cuts through grease really well, but also because it has Vitamin E and Aloe included on its formula, so it actually makes your hands soft and moisturized while you're washing. Some of its main ingredients are purified water, glycerin, aloe barbadensis leaf extract, and tocopherol (vitamin E).
Last update on 2023-01-26 / Affiliate links / Images from Amazon Product Advertising API
Pros
Safety: The soap is made from all-natural ingredients, so it is nontoxic and biodegradable too. Its formula doesn't include any harsh chemicals that can be dangerous for your baby.
Fragrance free: This unscented dish soap does not leave unwanted scent on the bottles or pacifiers that can sometimes be off putting for your child. It also doesn't leave detergent residue unlike your regular soaps so it's best to use for the containers you feed your baby with.
Cons
If you are used to washing dishes with liquid soaps that foams a lot, this may not be the soap for you as this vegan cleanser doesn't lather at all. For some it tends to make them use more of the liquid before their dishes feel clean, but this is quite normal for most natural soaps as they do not have the substances that make a regular dish soap lather. 
Reviewers mention that the product may change in color if stored for a while and turns yellow and have an unpleasant smell, like it expires. 
MADE OF – Organic Baby Dish Soap – Best Scented
Made Of is an expert in manufacturing organic cleaning products that are safe for babies. The brand is known for their transparency that does not end with disclosing the ingredients mixed in their products but also in disclosing where the products are from and the test results from their independent testing. Their products are certified safe by NSF Organic Standards and USDA Biobased Products. 
Last update on 2023-01-26 / Affiliate links / Images from Amazon Product Advertising API
Pros
Smells good: The soap has a sweet orange scent that makes the bottles actually smell clean. The mild citrus-y scent is not overpowering like other scented dish soaps. 
Safe for the skin: Reviewers note that the soap leaves their skin soft and doesn't dry out their hands, even for those with little ones who likes to "help" doing the dishes.
Cons
Since the product contains organic ingredients, it does not lather as much as regular dish soaps do. For those who associate suds with cleanliness, this may not be the soap for you.
The soap may leave some sort of an oily film on the bottles, most likely due to the coconut oil ingredient. This is nothing to worry about as the dish soap is made with non-toxic ingredients and this can also be avoided by rinsing the bottles or dishes properly.
Medela Quick Clean Breast Milk Removal Soap – Best for Breastfeeding Moms
The Medela Quick Clean Breast Milk Removal Soap has been specially formulated to put an end to hard to remove breast milk residue that has been stuck for up to 3 days. This multi-use soap can be used to clean feeding bottles, pacifiers, breast pumps and it can also be used as detergent for your nursing apparel. 
Last update on 2023-01-26 / Affiliate links / Images from Amazon Product Advertising API
Pros
Easy Clean – Medela included a quick clean formula on this dish soap so there's no need to scrub thoroughly to clean your baby's feeding accessories.
No added fragrance – This product is completely unscented, it has no added synthetic fragrances that can cause your little one to lose their appetite.
Safety – This soap has been clinically and pediatrician tested hypoallergenic and safe to be used by breastfeeding moms and infants. 
Cons
Some reviewers complain that the bottle was leaking when they received it and for some reason when they opened the package the product's safety foil was already removed.
It may leave a film on the bottle when not rinsed properly so it's best to thoroughly rinse them after cleaning with Medela. 
Seventh Generation Free & Clear Dish Liquid Soap – Best Value For Your Money
Seventh Generation is a proud member of Certified B Corporation, this is a group of corporations that are certified to be better for workers, communities and the environment.  This liquid dish soap is an EPA Safer Choice Certified Product and is USDA Certified Bio based by 95% so it is guaranteed safe for you and your baby's use.
Last update on 2023-01-26 / Affiliate links / Images from Amazon Product Advertising API
Pros
Safe for the skin: The product has been dermatologist tested and has hypoallergenic formula that is not harsh on the skin. 
Nontoxic and eco-friendly: Seventh Generation uses plant-based ingredients that effectively cuts through grease and other stubborn residues. The formula used for this soap does not include fragrances, phosphates or triclosan or other harmful chemicals.
Cons
The product contains sodium lauryl sulfate (plant-derived cleaning agent) and methylisothiazolinone (synthetic preservative) which are known as endocrine disruptors. If you are not comfortable using a product that has these ingredients, it's best to use a vegan dish soap.
Some reviewers mention that the soap tends to dry out their hands when frequently use especially with the amount of time they spent cleaning their kids' feeding accessories. 
IMPRESA Breast Milk Removal Soap
Specifically put together by experts to get rid of hard to remove breastmilk stains and residues, the Impresa Breast Milk Removal Soap has quick clean properties, getting bottles cleaned with little to no scrubbing. The soap is dye free and fragrance dree, and also includes no harmful chemicals so it's safe to use for your baby's things.
Last update on 2023-01-26 / Affiliate links / Images from Amazon Product Advertising API
Pros:
Makes cleaning easier: The soap makes cleaning baby bottles, pacifiers, breast pumps, nursing apparels easy to clean as advertised. Only have to soak those with stubborn stains in a few pumps of the product and warm water, and the stain gets removed.
Affordable: The Impresa Dish Soap marginally costs less than other competing breast milk removal soap, but reviewers thought it works just as well as the more expensive brands.
Cons:
The soap bottles have no built in or extra pumping mechanism, which makes it a little harder to use and also reviewers of the product feel this causes them to use more soap than they would with a pump bottle.
Top Three Winners 
DAPPLE Baby Bottle and Dish Liquid : There's just so much to love about this product, it's unscented, hypoallergenic and is made of all-natural ingredients that I know is safe for my baby. It's a plus that is was given a Purity Award from Clean Label Project which means it has been tested to be safe and nontoxic by chemical experts. 
Medela Quick Clean Breast Milk Removal Soap: As a mom, it feels great that there is a company who focuses not just on our baby but also our needs as a breastfeeding mom, and that's what I like about Medela. This liquid soap is not just made to clean our little pumpkin's feeding instruments, but it is specifically made to be able to remove breast milk stains and residues even on nursing apparel which is really helpful. 
 Puracy Natural Liquid Dish Soap: I absolutely am amazed with the ingredients that Puracy uses on their products. Mostly including plant and coconut oil bases, it sure is an eco-friendly soap. I also like that despite being plant based, it managed to be able to generate foam which we can all admin is our basis of cleanliness when washing dishes.
Baby Bottles Maintenance: How to Properly Wash Them?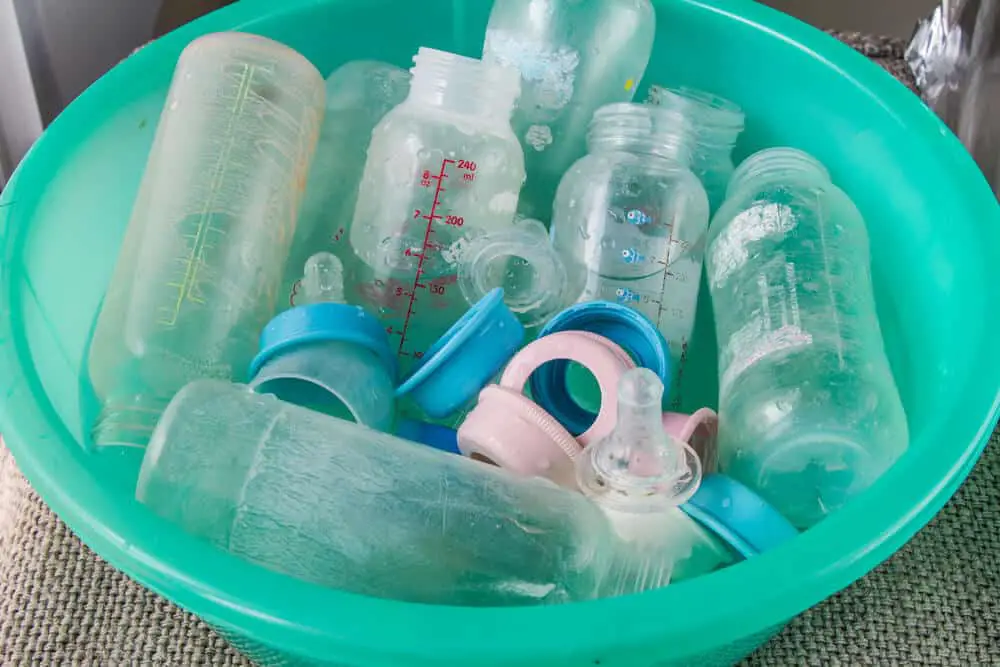 Wash hands: Before you start cleaning the bottles, it's best that you wash your hands first so that you don't spread any germs into the bottles.
Clean the surroundings: Wipe the countertop where you will dry the bottles after washing them (if you don't have a sterilizer and will air dry them after), and make sure that the sink where you are cleaning the bottles have no dirty dishes and is clean as well.
Separate: Detach the removable parts from each bottle so that you can clean them easier and better.
Rinse: Rinse each item carefully under running water, it is best to have a wash basin underneath so that when you accidentally drop them then it will not fall to the floor of your kitchen sink where many bacteria may reside.
Wash each part individually: It is best to start with washing the nipples while you soak the bottle itself in warm water and a few drops of natural dish soap for easier cleaning. Scrub them with a mini bottle brush to remove all residues and squeeze it under running water to make sure the nipple holes get cleaned too. Next, wash the bottles thoroughly with a bottle brush.
Rinse: After brushing each bottle, rinse them again by holding the items under running water. Make sure no film or residue is left on the bottles.
Leave to air dry: Place the bottles and the bottle heads upside down on unused dish towel or paper towels away from the sink to avoid it from getting wet again or falling into the sink. 
Wash the cleaning equipment: Rinse and wash your basin and bottle brushes with soap before putting them back in their respective drawers. You have to do this every time you use them to avoid possible contamination. Also, make sure that any cleaning material you used to clean your baby's things are exclusively used only for this purpose.
Do not oversoak: There will be days when the milk residue is a little more stubborn and just rinsing the bottles under running water is not enough. Soak the bottles in warm water and a few drops of your chosen natural soap for about 30 minutes to 3hrs at most before washing them.                                                                                                                                                                           
FAQ about washing baby bottles with dish soap:
Is it OK to wash baby bottles with dish soap?
Yes, you can use dish soap to wash baby bottles as long as it doesn't include harsh chemicals. It's should not have ingredients such as sodium lauryl sulfate (SLS), sodium laureth sulfate (sles), parabens., dyes, or any kind of artificial fragrance. You don't need strong chemicals to clean baby bottles.
Can I use regular dishwasher detergent for baby bottles?
Regular dishwashing liquid is not advisable for use on baby bottles. This is because they have chemicals that can be harmful if ingested by your little one. They usually have fragrance too, and this may disrupt your baby's appetite. It is best to stick with gentle, baby-safe dish soap. 
Is Seventh Generation dish soap safe for baby bottles?
Yes, Seventh Generation dish soap is nontoxic and ecofriendly. All its ingredients are plant-based however this is not my first choice when it comes to cleaning baby bottles only because it includes sodium lauryl sulfate (SLS) and methylisothiazolinone. SLS is a plant-derived cleaning agent which is known to be toxic.
Raising a baby is not an easy task, you'll worry a lot, get tired, get frustrated and you will really need all the help you can get. It is okay to spend a little more than you should, as long as you're doing it for the good of your child. Getting an all-natural dish soap instead of regular commercial ones may cost you more, but why not? It is much safer to use especially for cleaning things that you feed your baby with. Some of these you can also use to clean their teething toys and rattles. I highly recommend switching to all natural dish soaps because with this you are not just keeping your baby safe, but you are also making the environment safer for your baby, one drop at a time.