A few years back, I started on a smoothie diet and my basic $50 blender is just not up for it. So, I decided to look up high-performance blenders, but they are way above my budget, and I thought "Should I buy a refurbished Vitamix instead?"  
It costs about the same as a brand-new and probably the latest model from a mid-range brand. But of course, it may be just as good as a used Vitamix blender. 
Read along to learn everything you need to know about getting a refurbished Vitamix blender.
Used Vitamix
From what I've researched, these are usually either rare or if you're really lucky, never used by their original owners.  Some of them have only been used for demo or photoshoot purposes. While others were returned because the owners decided they want a different color or model. There's also the case of impulse buyers – people who got attracted by the demonstration then later realized they don't really need it. These blenders are then returned to the manufacturer for them to be tested and qualified as reconditioned.
Vitamix Certified Recondition 
These Vitamix certified reconditioned blenders go through a series of tests. Then they are put back on sale for a much cheaper price. These used models are thoroughly inspected by Vitamix to make sure they meet manufacturer standards before they are resold. 
If there are parts that are not functioning well, they are replaced with working ones. They do not resell those that have crucial defects that are not fixable. Like serious physical flaws or if it has an extra loud noise that cannot be repaired.
There's nothing to worry about hygienic safety as well. Those that are certified reconditioned by Vitamix are resold with brand new containers with lids, while the blades are rigorously sanitized. You will also get brand new Vitamix signature tampers and recipe books. 
However, they do not come with the original packaging like those in brand new Vitamix. Instead, it is packaged in a simple white box with the Vitamix logo and the label Certified Reconditioned. This can be quite tricky if you're planning to give it as a gift to someone. But to be honest, who can say no to a Vitamix blender? I know I won't. 
You can get anywhere from 15 up to 25% off the original price when getting a reconditioned Vitamix blender. My certified reconditioned Vitamix 5200 has been with me for about 3 years now and it's still working just as good as when I first got it. I would say it is definitely worth the price tag considering I use it almost every day for making smoothies and various recipes too. I got it for almost 25% off the original price and it looks and performs like a brand new Vitamix would.  
FAQs:
Where To Buy Refurbished Vitamix Blender?
Most major retail stores like Costco and Target have certified reconditioned Vitamix blenders on their shelves. You can also cop them on QVC, the online shopping channel. While online I find the best source to be Amazon and on the Vitamix website itself. Though you can find them on eBay or Craigslist as well, just make sure they are labeled certified reconditioned by Vitamix.
I would say Costco is the best place to get your very own reconditioned Vitamix blender. This is because they have Vitamix offers that are exclusive to Costco. You get the best price and oftentimes you can even get a freebie accessory, plus they have a quite lenient return policy.
However, the best thing about getting them from Costco is that they have what is called "Frankenstein models". These are blenders custom built by Vitamix and are exclusively sold to Costco. These blenders are made up of two or more models, usually from 2 different Vitamix series. Like having a C-series powerful motor with a G-series low profile pitcher.
How Long Do Vitamix Blenders Last?
Vitamix blenders can last for a decade and sometimes even longer than that. It all depends on how well you take care of it. As long as you use it accordingly and follow the user manual, it can basically last you for as long as you need it. Not to mention that they also come with Vitamix full warranties that cover everything from parts to performance and even shipping costs.
These warranties often come in 5, 7, or 10 years. For certified reconditioned models, they come with either a 5- or 7-year warranty. You can also purchase an additional 3-year warranty that will extend the coverage of the warranty for your Vitamix blender. 
Can I Trade-In My Old Vitamix?
Yes, Vitamix offers a Trade-In Program for their blenders. Regardless if your existing Vitamix is 10 or 20 years old, Vitamix will give you a significant amount for it when you get a new blender from the Vitamix website. This is then deducted to the price of the new machine that you're getting. Pretty amazing deal, right?
Is Refurbished Vitamix Good?
Super. I don't know how else to emphasize it but just know that these certified reconditioned blenders are not re-released and resold by Vitamix unless they pass their 17-step checklist. This is an awesome life hack for those who do not want to spend an arm and a leg to get a brand-new commercial-grade Vitamix blender.
Do I Really Need A Vitamix?
If you are a smoothie aficionado, passionate home cook, or even a newbie baker – YES, absolutely. These high-powered blenders are versatile, so if you spend this much time in the kitchen whipping up a storm, Vitamix blenders can save you so much time and effort.
Is Vitamix 5200 Worth It?
Yes, It is. I've had mine for about 3 years now and it's one of the best gifts I've given myself. This legendary blender has been in the market for years and it's still one of their best-selling models. After getting one myself, I must say I'm not surprised. It has excellent performance, and the durability and accuracy of this blender are worth every penny I spent on it.
What Is Vitamix's "Good As New" Experience?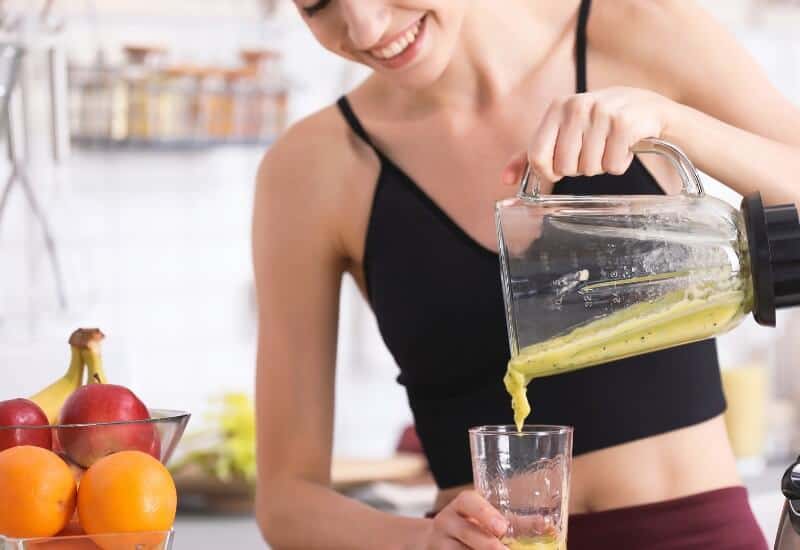 All preloved Vitamix blenders go through a 17-point quality checklist. This includes checking the vital parts of the blender such as the motor, control, blade. Much like buying a secondhand car, they also check for dents, chips, cracks, or scratches on the base and body of the machine. 
Vitamix prefers the term "reconditioned" than "refurbished". They explained that the goal of the 17-point quality checklist is to make the machines as good as new as they can make them.
Is There A Better Blender Than Vitamix?
I can't exactly say better, but Vitamix's biggest rival is Blendtec. These two brands have always had their models compared side to side. However just like everything else, one is always better than the other in some things and vice versa. You will find a lot of comparisons online about these two brand's models of the same price point, and you get to decide which one is better depending on your preference.
Other great brands are more inexpensive than these two luxury brands. However, there will be a remarkable difference in quality and durability. Some of these brands include Ninja, Nutribullet, Oster, and Omni. 
Do Vitamix Blades Get Dull?
Vitamix blades are made from commercial-grade stainless steel so they are resistant to chipping, wearing, and dulling. The blades are neither sharp nor dull, to begin with. They are hardened and precision designed to be in that sweet spot between sharp and dull. These results in a consistent, perfect consistency year after year after year.
The blades should not get worn out for years unless you're blending rocks or metals in it. But if you're using it regularly, like with blending frozen fruits into smoothies or veggies into piping hot soup – the blade will keep its quality as it is.
Why Does My Vitamix Smell Like Smoke?
Most Vitamix models like the 5200 and 5300 have motor cooling functions that are designed to help prevent the blender from overheating. However, with heavy use, it may cause curing of the motor's windings. This is why the machine will start smelling like smoke or like it's burning. 
When this happens, all you have to do is rest the blender for about 45 minutes. Turn it off and unplug it, just to let it cool down completely. You can also blow air to the center of the base to reduce the cooling time.
What's Better Vitamix Or Ninja?
Ninja blenders do its job well and are way more inexpensive than Vitamix blenders. However, when it comes to longevity and durability, Vitamix is still a clear winner. In most reviews, Ninja blenders are proven to be quite brittle. They tend to chip or crack from falling on average height or from frequently blending tough ingredients like frozen fruits and ice.
There's also a huge difference in the blade quality between the two. Ninja blades are sharp, and thus tend to dull over time. They're also attached to a plastic piece that connects it to the base of the blender. Whereas Vitamix blades are thick, not so sharp, and are attached to an all-metal assembly.
➡ Read Our Detailed Comparison: Vitamix vs Ninja Blender
Should I Buy A Vitamix At Costco?
Yes. Costco is a recommended place to get refurbished Vitamix blenders other than the Vitamix website itself or Amazon. They offer Costco-style packages that can get you an extra accessory or two for a cheaper price. Reviews also say that Costco offers the best prices, oftentimes cheaper than other big stores. Their return policy is quite lenient too, but do not abuse it or you risk your Costco card getting canceled.
Costco has exclusive "Frankenstein models", these are custom built Vitamix models with combinations of two (or more) different models. So, basically, the best of both worlds (or models) is made more affordable. They also have demonstrators that will show you how the models work. This is helpful especially when it is your first time owning a Vitamix. 
Which Vitamix Is Best For Home Use? 
When it comes to deciding the best Vitamix model for home use, it's almost always between the Vitamix 5300 vs 5200. Both models are excellent and can definitely do the job. However, there are a couple of things to consider. 
If you're making big batches of smoothie or food at home, the 5300 is perfect for you. It has a more powerful motor at 2.2 HP compared to the 5200's 2 HP. It comes with a 64 oz pitcher that is wide enough to accommodate a large number of ingredients, and it's 4″ blade guarantees accuracy and precision every time. Plus, the Pulse switch is helpful when making chunky sauces too.
If you're making small or regular amounts of smoothies or food at home, go with the 5200. It has a sturdy 2 HP motor paired with 3" blades attached to a 64 oz pitcher. It has a straightforward control panel that's easy to use even for elderly family members or those with limited hand function. However, it tends to be a little louder than the 5300 model.
I hope this helps in your decision making for a Certified Reconditioned Vitamix blender. If you have further questions, leave them down in the comment box below and I'll do my best to answer each and every one of them. 😉