American pancakes are a classic breakfast food that we all love. There's nothing quite like waking up to the smell of warm, fluffy pancakes. For some people, this delicious breakfast becomes ruined by gluten intolerance.
Do you love pancakes, but can't have gluten? These gluten-free American pancakes are as delicious as the regular kind. They're perfect for a weekend breakfast or brunch. You'll love the fluffy texture and sweet flavor. Plus, they're easy to make, so anyone can do it. So get your frying pan ready and let's get cooking.
Why You Have to Try This Recipe
A stack of warm pancakes dripping with syrup is a classic breakfast favorite. But for those with celiac disease or gluten intolerance, pancakes aren't an option. That's why this recipe for gluten-free American pancakes is such a game-changer. 
These pancakes are fluffy and delicious, and you can use any kind of gluten-free flour. Plus, they're easy to make. Mix the ingredients and cook them on a griddle or in a frying pan. We guarantee this recipe will be your new favorite gluten-free breakfast option.
Nutritional Value
Gluten-free American pancakes are a delicious and nutrient-dense breakfast or snack option. These pancakes are full of healthy fats, fiber, protein, vitamins, and minerals. You can add tasty toppings like fresh fruits, nut butter, or dark chocolate chips.
Calories: 188
Carbs: 31,5 g
Total Fat: 4,7 g
Protein: 4,9 g
Sugar: 2g
How to Make Gluten-Free American Pancakes: A Step-by-Step Tutorial
Mix 1 cup of milk, 1 egg, 1 tablespoon of melted butter, and 1 cup of gluten-free flour. Heat your griddle over medium heat and add a little butter to coat the surface. Use a ladle to pour the batter onto the griddle, and cook until the pancakes are golden brown on both sides. 
There's no need to miss out on pancakes because you're gluten-free. This recipe uses a blend of gluten-free flour and cornmeal to create the perfect pancakes.
What You'll Need
First, you'll need to gather your ingredients. Once you have your ingredients, you can start making your pancakes. Here is what you'll need:
Gluten-Free Flour
Sugar or maple syrup
Baking Powder
Butter
Eggs
Lactose-Free or Dairy-Free Milk
Make the Batter
To make the batter, combine the dry ingredients in one bowl and the wet ingredients in another. The dry ingredients include a mix of gluten-free flours, as well as a touch of baking powder and salt. The wet ingredients include dairy-free milk, melted butter or oil, an egg or two, and vanilla extract.
Once you have mixed your dry and wet ingredients, combine them in a large bowl until they are well combined. Leave the pancake mixture to sit for 30 minutes for fluffier pancakes.
Prepare the Pan
Preparing the pan requires some basic steps to ensure your pancakes cook evenly. First, spray your nonstick pan with a light coating of cooking oil or butter. Make sure to cover all surfaces. Place your skillet over medium-high heat and combine the ingredients in a large bowl. 
Fry the Pancakes
Be sure to make each pancake about 1/4 inch thick. Use a small spoon or ladle to pour the batter into the pan to control the size of the pancakes. Once the pancake has cooked for a few minutes on one side, flip it over until both sides are golden brown. This will take about 5-10 minutes.
Once you finish the first batch, you can repeat this process until all the batter is gone.
Serve and Enjoy
Serve with your favorite toppings and enjoy the gluten-free American pancakes. You can add bananas, chocolate chips, blueberries, or even a scoop of ice cream. The possibilities are endless.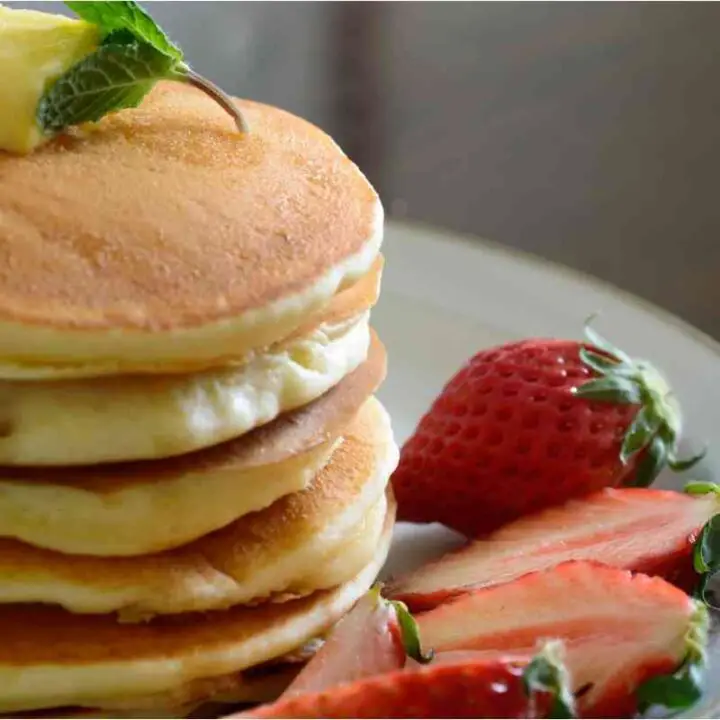 Gluten-Free American Pancakes
Ingredients
210 g (1½ cups) Gluten Free Flour Mix
40 g (4 Tbsp) sugar or maple syrup
2 tsp baking powder
50 g (¼ cup) butter (or vegan for dairy-free version) (plus extra for cooking)
2 tsp pure vanilla extract
2 large eggs
240 ml (1 cup) lactose-free milk (or dairy free)
Instructions
In a large mixing bowl, whisk the flour, sugar and baking powder. Next, add the butter to a separate mixing bowl and microwave for 20 seconds or so until just melted. Add the vanilla, eggs and milk to the butter mixture and stir to combine
Add the wet mixture to the dry mixture and gently fold through. The mixture should be nice and thick.
Heat a nonstick pan or griddle over low-medium heat and wipe over with a little butter to lightly grease pan. Pour ¼ cup of batter onto the pan and spread out gently into a round shape with the back of your ladle or measuring cup.
When the underside is golden and bubbles begin to appear on the surface, flip with a spatula and cook until golden. Repeat with remaining batter.
Add your favorite toppings and enjoy!
Topping Ideas
Looking for some delicious gluten-free American pancake topping ideas? You've come to the right place. Here are a few of our favorites:
Fresh berries: Blueberries, strawberries, raspberries… any type of fresh berry goes great on pancakes.
Maple syrup: A classic topping for pancakes, maple syrup is always a good choice.
Honey: If you're looking for something a little different than syrup, try honey. It's a delicious and healthy option.
Chocolate chips: Chocolate chips are the perfect topping because they melt in your mouth.
Peanut butter: Another classic, peanut butter is another great option for pancake toppings. It's creamy and delicious.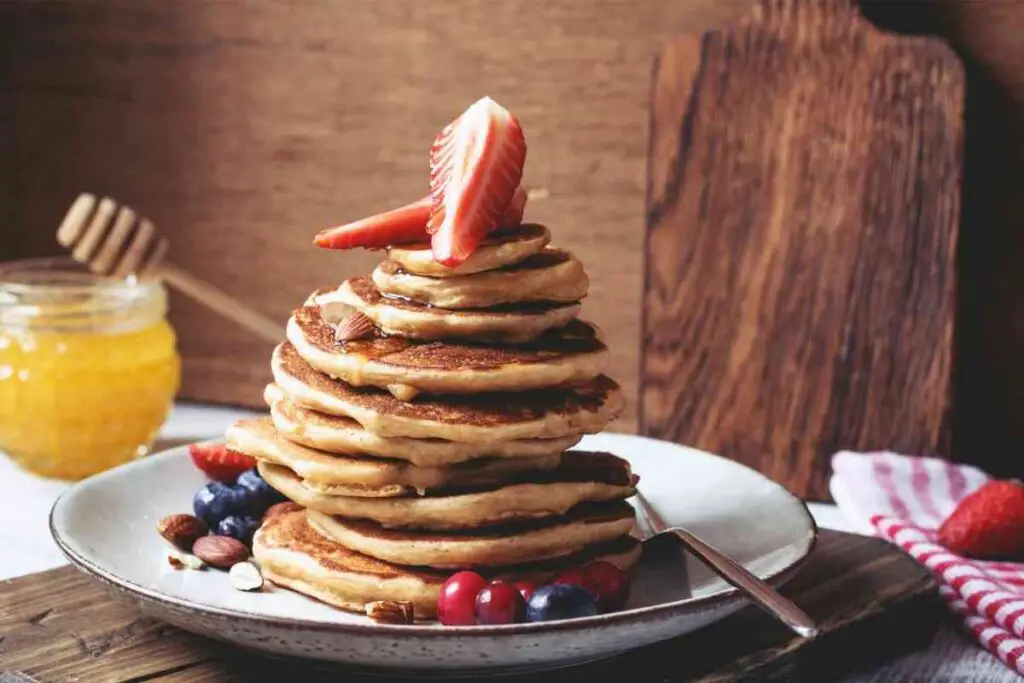 How to Store Gluten-Free American Pancakes
There are a few different tips and tricks for storing gluten-free American pancakes. You should store your pancakes in an airtight container. Make sure to seal out as much excess moisture as possible.
Another important consideration is temperature. While it may seem like a good idea to store your pancakes in the fridge or freezer, this can lead to drying out. Find a cool, dry place away from heat, such as a shelf or countertop.
You can also freeze these tasty treats for later use. Store your pancakes in an airtight freezer-safe container, or seal them in a zip-top bag for up to 3 months.
When it's time to eat your pancakes, it's best to remove them from the container and reheat them in the oven. With these tips in mind, your gluten-free American pancakes will stay fresh.
What Gluten-Free Flour to Use for American Pancakes?
When baking gluten-free treats, the perfect mix of flours makes all the difference. The best combination is sorghum flour, buckwheat flour, and sweet rice flour. These three flours create the fluffy texture and rich flavor bakers strive for.
Sorghum flour is key because it adds a wonderful earthy sweetness to any recipe. Its hearty bite helps bind baked goods together without making them too dense. Meanwhile, buckwheat flour offers both earthiness and a strong nutty flavor. It adds great depth to the flavor profile and helps balance out the sweetness. These flours work to provide optimal flavor and texture in any gluten-free treat.
Sweet rice flour ensures your treats are light and delicate every time. Though many people think rice is heavy, sweet rice flour has very little starch at all. This ingredient provides the right amount of airiness to any recipe.
Substitutions
Several alternative flours work well as substitutes for these gluten-free flours. For example, almond flour is a great substitute for sorghum due to its coarse texture. Coconut flour is a good substitute for sorghum because of its nuttiness. 
Conclusion
You can make gluten-free pancakes by mixing 1 cup of milk, 1 egg, 1 tablespoon of melted butter, and 1 cup of gluten-free flour. You can also add a little sugar or honey if you'd like your pancakes to be a bit sweeter.
Heating your griddle over medium heat and adding a little butter will ensure your pancakes cook evenly. Use a ladle to pour the batter onto the griddle, and cook until the pancakes are golden brown on both sides. Serve with your favorite toppings, such as maple syrup, fruit, yogurt, or nuts.
These gluten-free American pancakes are the perfect way to start your day. So gather your ingredients and get cooking. You'll love them!