Lasagna is a popular meal that has conquered people's hearts and homes all over the world. It's a quick, all-in-one supper that can be made using pantry basics and is ideal for busy weekdays and evenings. It's also adaptable enough to please a wide range of tastes. You can use any ingredient to get the flavor you desire, and you'll end up with a meal that you like.
The majority of people have eaten this meal in some form or another, but have you ever considered where it originated?
Who Was the First to Create It?
We always look at where food originates from while researching its history. With lasagna, though, things get a little more tricky. It's said to have originated in one of four locations:
Ancient Greece
The first idea claims that lasagna originated in Ancient Greece before being subjugated by the Romans. According to legend, ancient Greeks made dough sheets, cut them into "laganon" strips, and then utilized them to form a layered meal.
Hephaestus, the Greek deity of fire, is claimed to have given ancient Greeks a tool to cut wheat and water dough into strips, which created the sheet or flatbread they used in their recipe.
The term "lasagne," which is the present Italian name for the dish, is said to have originated from the Greek word "laganon." It might alternatively be derived from the Latin word "lassanum," which means "cooking pot," or from the Greek word "lassanon," which means "chamber pot" (gross, we know). Regardless, the food is cooked in a pot, thus it might have come from either of these names.
Although the ancient Greeks may have created a layered baked meal that might be the forerunner of lasagna, the lack of a specific recipe rules out a clear link to contemporary lasagna. Furthermore, laganon pasta is still made by modern Greeks, although not for lasagna.
Ancient Rome
The ancient Greeks may have inspired the ancient Romans to create their tiered meal. The Apician dish's recipe can be found in a cookbook called "Apicius," which is thought to have been produced about the first century AD. The Apician meal, like lasagna, is made out of layers of meat sauce and dough that alternate.
Ancient Romans chopped small pieces of fried hog belly with the udders, as well as parts of fish, fowl, and other small birds, for the meat sauce. The eggs, crushed pepper, and lovage are then dissolved in oil. They would then add broth and raisin wine once this was dissolved.
The main distinction is that instead of spaghetti sheets, thin pancakes are used in between the layers of meat sauce in this ancient Roman recipe. Despite the fact that it's another layered meal with protein and carbohydrates, it's possible that it's only a variation of an ancient Greek dish rather than the forerunner of contemporary lasagna.
England
Let us now travel back in time to medieval England. Another layered meal that may be connected to lasagna is featured in a 14th-century recipe. The chefs of King Richard II fashioned a meal with layers of pasta and cheese on top.
"Loseyns," pronounced "lasan," is produced by rolling out pasta sheets and boiling them in broth. The chefs then arranged grated soft cheese on plates with spice powder. The cooked pasta sheets were then stacked on top, with the cheese mixture sandwiched between them.
The key distinction is that the medieval English meal did not contain meat or tomatoes. Cinnamon and saffron were also included in the spice powder, which isn't the usual lasagna component and appears to have a distinct flavor character.
Italy
In the 14th century, the Italians published "Liber de Coquina," or "The Book of Cookery," which included a lasagna recipe. To accommodate a casserole, it employed large pasta sheets.
This recipe, on the other hand, does not utilize beef sauce. Instead, it employs a powder fort consisting of spices such as crushed ginger, pepper, cloves, and black pepper.
It wasn't until the 16th century that tomatoes were included in the meal. Even then, the dish lacked meat. Local sausages, fried meatballs, eggs, cheese, and Neapolitan Ragu were eventually added to the recipe. It became known as "Lasagna di Carnevale," with "Lasagna al Forno" as a popular modern variation.
In the end, it was most likely medieval Italians who devised the closest recipe to modern lasagna. Regardless, we believe they were influenced by the ancient Greeks and Romans, as well as possibly the medieval English, who added their own twist to the layered dish.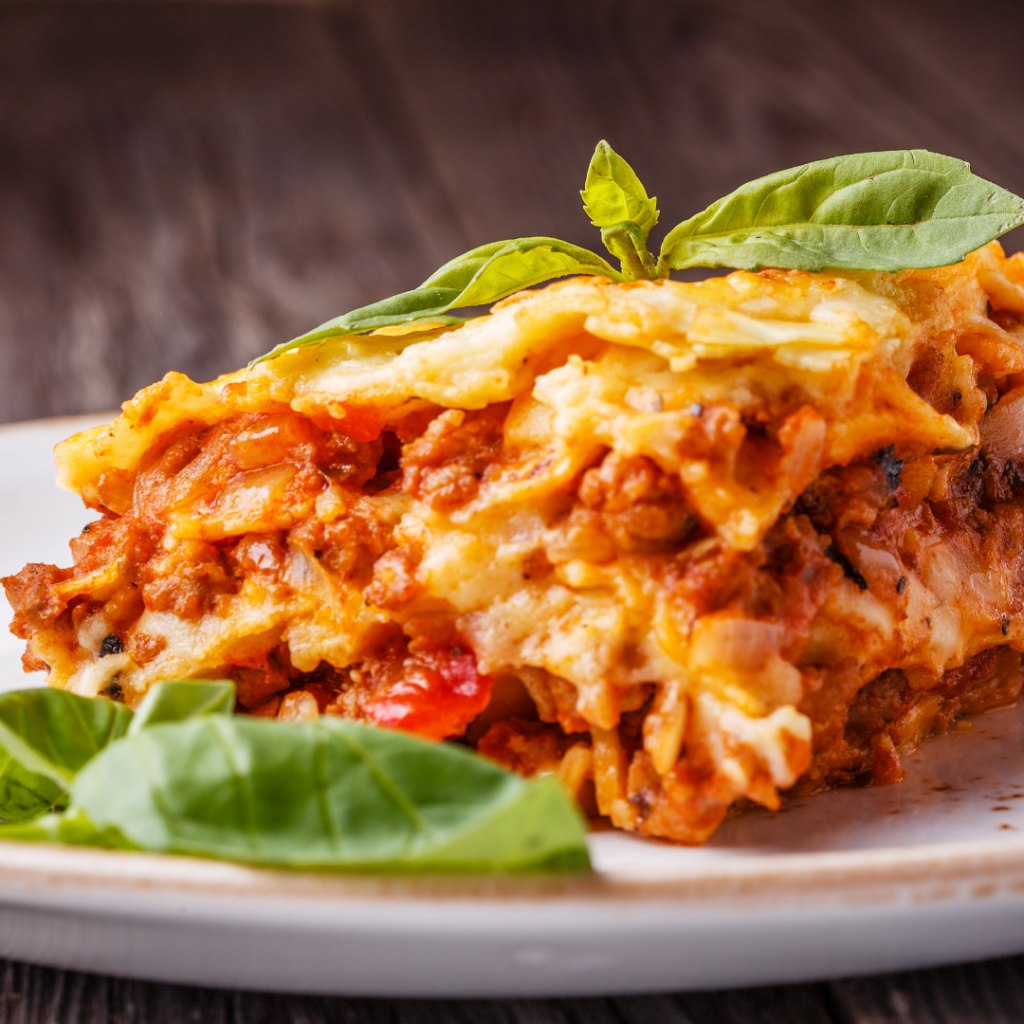 What Is the Difference Between Lasagna and Lasagne?
Another point of debate is whether the dish should be referred to as "lasagna" or "lasagne." The layered baked dish is known as "lasagna" in the United States. However, it is known as "lasagne" in Europe, particularly in Italy.
If we're being technical, "lasagna" is the singular form of the Italian word "lasagna," so the dish should be called "lasagne," the plural, because it contains multiple pasta sheets. In Italy, the term "lasagna" refers to a single pasta sheet rather than the entire dish.
The Lasagna of Today
There are many different types of modern lasagna; let's start with the ones found all over Italy. Dry pasta sheets are layered with meaty ragu, ricotta, and mozzarella in Southern Italy. Fresh egg pasta with spinach, which has a lovely green color, is popular in the upper reaches of the country, particularly in Bologna. They use ragu as well, as well as béchamel and Parmigiano Reggiano. Molise is known for its "Lasagne al Brodo," a baked lasagna made with chicken and veal stock.
There are two non-tomato-based dishes from the Marche area. To begin, the "Lasagne all'Ascolana" layers fresh egg sheets with ground beef and chicken cooked in wine and white truffles. "Vincisgrassi," the second version, is made with béchamel, wild porcini mushrooms, and prosciutto.
You may certainly make your own version of this baked-tiered meal. To save time on hectic days, use no-boil spaghetti sheets and just stack them with your favorite marinara sauce and prepared meat.
Lasagna is also an excellent dinner to prepare ahead of time. You may make a large batch and separate it out into the appropriate serving sizes for you and your family. You may then put them in the freezer and reheat them later in the microwave.
Although most people connect lasagna with a tomato-based meat sauce, pasta sheets, and cheese, you may make your own variation. Non-dairy cheese and plant-based protein replacements are available for vegans. If you want to cut down on carbs, check for low-carb pasta sheets or create your own from scratch.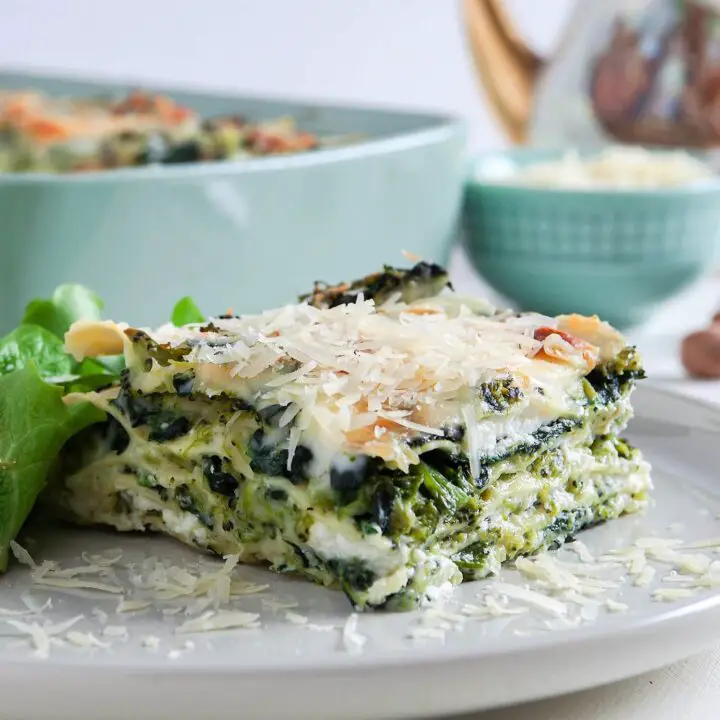 Spinach and Broccoli Lasagna
Total Time:
1 hour
25 minutes
For Meatless Monday, this vegetable lasagna is a fantastic option. Broccoli and spinach are a great match for each other. This green lasagna is a refreshing twist from typical vegetable lasagna, but feel free to add more vegetables for colors, such as shredded carrots or red pepper.
Ingredients
Butter, 2 tbsp.
Flour, 3 tbsp.
Milk, 3 cups
Salt and pepper to taste
Freshly Grated Nutmeg, 1/4 tsp.
Chopped Fresh Baby Spinach, 20 oz.
Extra Virgin Olive Oil, 2 tbsp.
Broccoli, chopped into chunks and florets, 10 oz.
12 Oven-Ready Lasagna Noodles (Barilla, etc.)
Ricotta Cheese, 1 cup
Shredded Mozzarella Cheese, 2 cups
Freshly Grated Parmesan Cheese, 1/2 cup
Instructions
1. Preheat the oven to 400 degrees Fahrenheit.


2. In a large saucepan over medium heat, melt the butter. Combine flour and butter in a mixing bowl and whisk until smooth. Cook for another 5-7 minutes, or until the roux has turned a light golden color.


3. Raise the heat to medium-high and whisk in the milk gently until it has thickened and incorporated. Simmer for 10-20 minutes over medium-low heat, until the raw flour flavor has disappeared and the sauce has reached the appropriate thickness.


4. Season with nutmeg, salt, and pepper.


5. Heat the olive oil in a large skillet. Toss in the spinach and continue to stir and mix until it is completely wilted. Don't overcook it. Remove the pan from the heat and set it aside.


6. Bring a kettle of lightly salted water to a boil in the meantime. Add the broccoli and cook for another 2-3 minutes, or until the broccoli is just tender-crisp. Don't overcook the food. Place in a  large mixing bowl after draining the broccoli in a colander.


7. Broccoli should be chopped into rustic bits. Stir after adding spinach and season with salt and pepper to taste.


8. In the bottom of a 9x13" casserole dish, spread a light layer of bechamel sauce.


9. The spinach-broccoli mixture should be layered next, followed by three lasagna noodles.


10. Bechamel sauce, spinach-broccoli mixture, ricotta, and mozzarella go on top of the noodles. Repeat the layers with 3 more noodles before topping with mozzarella.


11. Bake for 20 minutes at 350°F, uncovered. Serve with a fresh green salad and freshly grated parmesan cheese. Enjoy!
Notes
Tip: Broccoli should be cooked until it is barely tender-crisp. Sauté the spinach just until it wilts. In the oven, it will continue to cook.
Layers of Luxury
Lasagna is a comforting home-cooked meal, but did you know it can also be a lavish experience? In 2014, Portofino, a Las Vegas restaurant, offered a "Diamond and Gold" lasagna for $100 a slice. "Porcini mushrooms, Iberico ham, Prosciutto di Parma, as well as 24-month-aged Parmigiano-Reggiano, buffalo mozzarella, and Kobe Bolognese distributed between each layer," they said of their rendition of the comforting pasta meal. "A 'foiefredo' sauce — an Alfredo sauce infused with foie gras — […] White Diamond truffles shaved tableside, and for fun and laughs, 23-karat gold flakes," they added as a finishing touch.
While this restaurant is no longer open, its premium lasagna has set itself apart from the competition. If you have the resources, you may always make your own version at home to truly spoil yourself.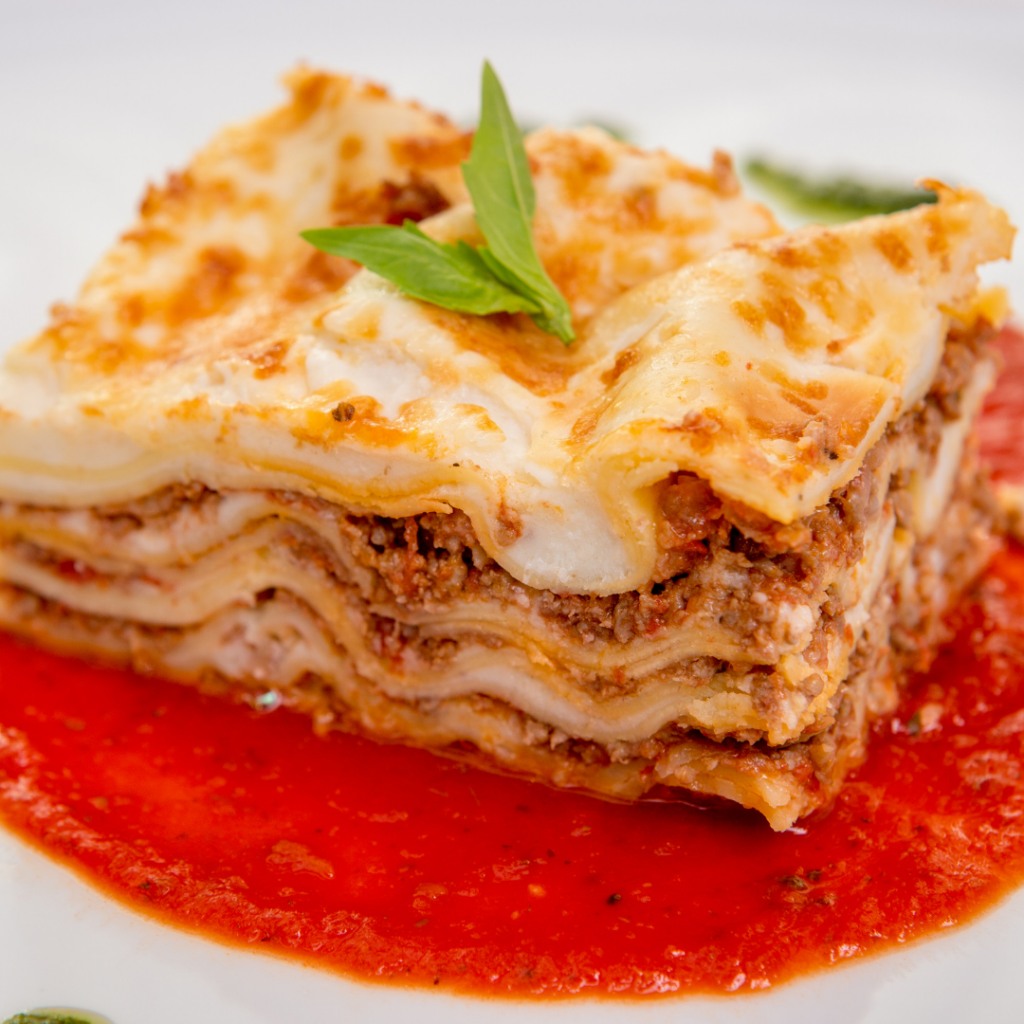 Lasagna Celebrations
Did you know that there is a day devoted to lasagna? The celebration honors the meal for its ability to fulfill our appetite and palates. Every year on July 29, the United States celebrates National Lasagna Day. Of course, the finest way to commemorate the occasion is to prepare this tiered baked delicacy.
A lasagna cook-off is another entertaining way to celebrate. If you have any exceptional cooks among your family or friends, you'll be able to sample their many versions of the meal, some of which may have been passed down through the generations. This is a fantastic time to inquire about recipes so you can learn more about how they prepared the food.
You might even hold a contest for the best-looking lasagna on your food blog or social media leading up to July 29th. This is a fantastic approach to keep your readers engaged and reinforce their sense of belonging to your group.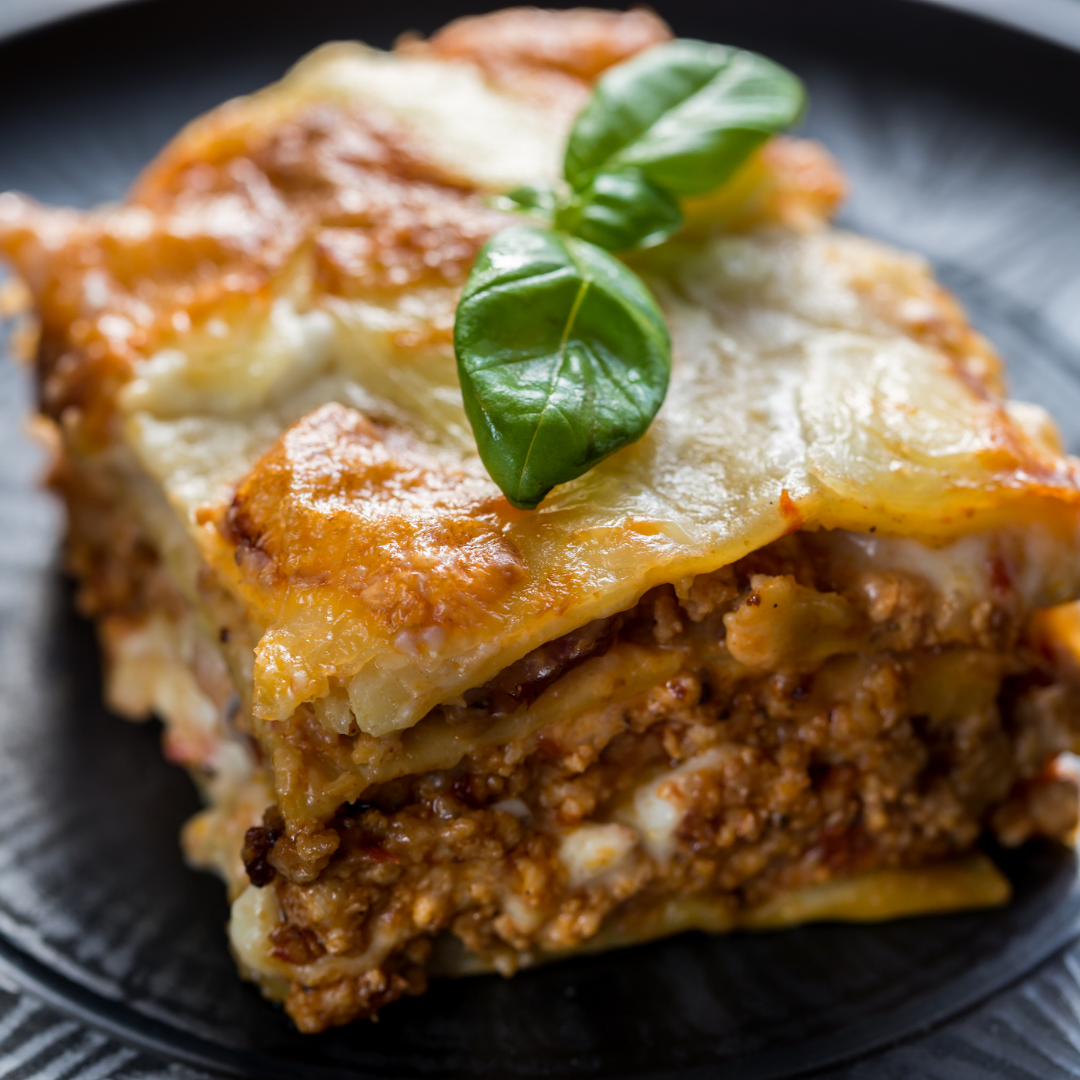 Takeaway
There's no denying that lasagna has become one of the world's most popular dishes. Although its roots are a little obscure, the recipe's growth over time has changed it into the meal that we all know and enjoy today. Keep in mind the meal's history; the pasta's trip thus far may motivate you to take the next step in developing this hearty dish.