Acai bowls have been the hype in the fitness world for a while now. You've probably seen these vibrant fruit bowls on your IG feed a hundred times by now, maybe more. After having my first bowl at a famous smoothie shop instantly, it made me want to learn how to make acai bowls my version and from scratch. Of course, I assume you already own the best blender for making acai bowls. If not, read our complete blender buying guide first.
As good as it gets, a bowl can easily go from $10-$15, depending on what toppings you choose. So being true to the Tiny Kitchen Divas oath, I made our own quick, easy, and budget-friendly version. We will share everything you need to know, from the best blending frozen fruit tips to how do you thicken a smoothie bowl. A good acai bowl should be extra thick and deliciously creamy!
What Is Açai?
Açai (pronounced ah-sigh-EE) is the wagyu beef of the superfood team. This fruit is found in South American rainforests, growing on açai palm trees. These tiny nutrient bombs closely resemble Java plums with their deep purple skin. They also have a large seed that takes up about 80% of the fruit and the remaining 20% is its yellow flesh.
What makes it a superfood? One cup of açai berries only has about 70 calories. Each fruit is rich in antioxidants that aid in boosting your immune system and restores cells that are damaged by free radicals. They can also help you feel full longer as it is full of fiber and promote digestive health in general. Therefore, making it a great weight-loss ingredient.
Açai berries contain huge amounts of omega-3 fatty acids which help lower the risk of different cardiovascular diseases and hyperlipidemia or high cholesterol. Bonus factors: It also contains anti-inflammatory and anti-aging properties! 
What Is An Açai Bowl?
Açai Bowls is like a mashup between froyo and smoothie at some point. It's a smoothie bowl that's topped with various fruit slices and superfoods like chia seeds, shredded coconuts, almond slices, and the like. What sets it aside from your regular smoothie is that it is thicker since it is meant to be eaten with a spoon as you would eat a froyo rather than drinking it like a smoothie. 
Its main ingredient, frozen Açai berry puree is made up of the frozen flesh of the South American superfruit, Açai. Since it is mostly seed, the skin and flesh of the fruit are collected and made into a puree and then sold frozen. Fresh ones are very rare unless you live in Brazil where they are mostly harvested.
You can find frozen Açai berry puree in the freezer section of your favorite grocery stores. Make sure to get the unsweetened version since we're avoiding unnecessary sugar. The fruits on your Açai bowl will be your natural sweeteners. There's also the powder and juice ones but I find their texture and flavor unsatisfactory to use with Açai bowls. 
Can Açai Bowls Help You Lose Weight?
Yes. If you want to make sure that your Açai bowl will help you lose weight and not the other way around, it's best to make them at home. This way you can watch the calorie and sugar content that goes into your bowl. It's all fun and games decorating the smoothie bowl until you end up with 500 calories and a sack of sugar!
The common mistake in making these colorful bowls is that going overboard on the toppings just to make it look more picture-perfect. Remember that less is more, as long as you are adding quality fruits and superfood, you'll get all the vitamins and nutrients you need. 😉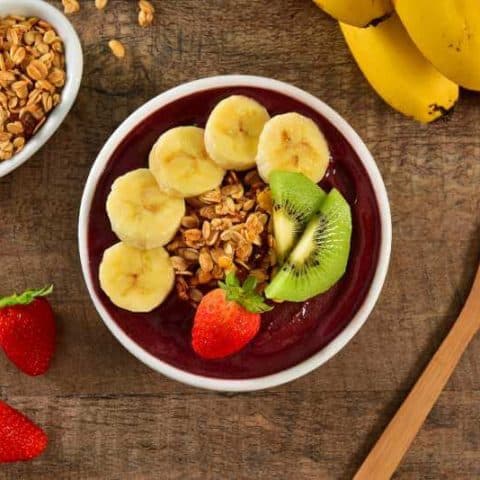 Power Berry Açai Bowl
A bowl full of super berries that will surely keep you full and energized! Make this delightful breakfast in under 10 minutes.
Ingredients
Açai Bowl:
2 100g-packs Açai berry puree, frozen
1 banana, frozen and sliced
½ cup strawberries, frozen
½ cup cherries, frozen and pitted
½ cup unsweetened almond milk
Toppings:
Fresh strawberries, sliced
Fresh blueberries
Kiwi, sliced
Granola
Toasted coconut shreds
Instructions
Lightly thaw the Açai berry packs in warm water so you can break them into smaller chunks. 
Toss the Açai berry chunks in the blender and pulse until slightly smooth. 
Add the frozen banana slices as well as the strawberries and cherries.
Pour unsweetened almond milk. Process and add more milk if needed to get your desired consistency.
Then pour into your serving bowls. Start decorating with the fruit slices, granola, and toasted coconut.
Serve immediately and enjoy!
Nutrition Information:
Yield:

2
Serving Size:

1
Amount Per Serving:
Calories:

553
Total Fat:

27g
Saturated Fat:

13g
Trans Fat:

0g
Unsaturated Fat:

12g
Cholesterol:

0mg
Sodium:

138mg
Carbohydrates:

76g
Fiber:

16g
Sugar:

42g
Protein:

9g
This is one of our family's favorite breakfasts and I have no doubt it will be yours too. What's your favorite Acai bowl combination? Don't be shy and share your ideas in the comments below! Much love, ciao! ♥