Lunch boxes are not commonly associated with adults, but are mostly brought by kids to school containing their lunch and snacks for the day.  As grown-ups, we require more vitamins and nutrients that we don't usually get from store-bought food, and this is the case for our men and women in the construction industry.
Since they use more physical strength in their daily work, it is important for them to get the right nourishment that we can only get inexpensively from home-made food. Their lunch bags may also suffer from harsh conditions from their work environment before lunchtime and end up with a ruined salad or flattened sandwich. This is the reason why more and more construction workers switch to using adult lunch boxes and taking home made food to work.  Here I'll walk you through how to pick your latest worthwhile investment: an adult lunch box that will last you for years.
The Perfect Lunch Box: Buying Guide
Durability
The top priority in looking for a lunch box or cooler for a construction worker is the durability, since it will probably be accidentally kicked, dropped or knocked around considering the environment it will be at. The lunch box or cooler should be able to withstand such rough setting without breaking or denting. 
Capacity
Working in construction is tough, causing you to burn carbohydrates easily and thus you need a lunch box that can carry lunch or dinner and a few snacks like fruits or crackers to gain more energy for the rest of the day's work. It is even better if you can also fit a bottle of extra cold water to quench your thirst from the summer heat or hot chocolate / coffee on colder days.
Impermeability
Another important factor in choosing a lunch box is the impermeability of it. It can be sickening to always eat just dry, fried food for lunch and sometimes we crave for a little soup or sauce, and that's why a leak proof lunch box is needed. Especially if your site doesn't have a lunch or break room where you can store it, there is a tendency that the box may get tipped over possibly staining your clothes and other things with your bag.
Insulation
As a construction worker, you most likely leave early in the morning then have lunch about 4 or 5 hours later, so you need a lunch box that can sustain the temperature of your food for at least that long. It helps you eat better if your food is cold or warm as it should, it also ensures that your food is kept from reaching the danger zone or the range of temperature in which the bacteria in the food grow more rapidly and making it spoil faster. 
Cleaning
In a construction environment, it's no surprise that your lunch bag may harbor dirt or sometimes even cement, so it's best if the bag is stain-resistant or is made from easy to clean materials – also making it safer to use since it will be storing your food. 
Hard Walled vs Soft Walled
There are two main types of lunch box or cooler, hard walled and soft walled. A hard-walled lunch box is great for construction workers since they are sturdier and more durable, some can even double as a seat while you eat on site. On the other hand, a soft walled lunch box will work if you have a lunch or break room on site where you can store it while you work. This type of lunch box has better insulation, have more compartment options and are usually collapsible after use.
Our Top 10 Lunch Boxes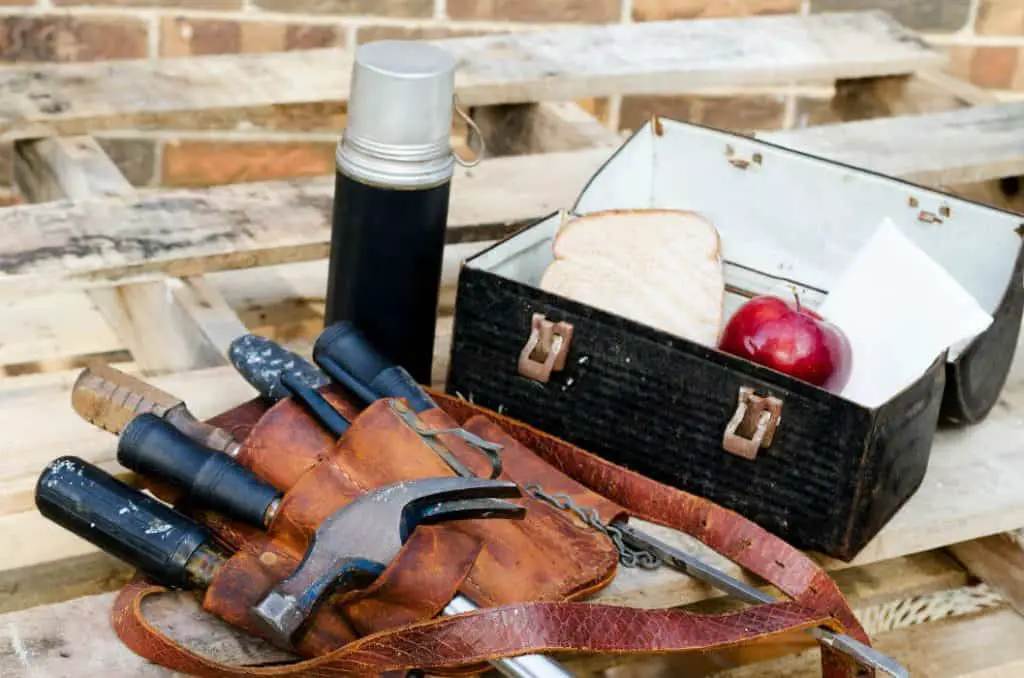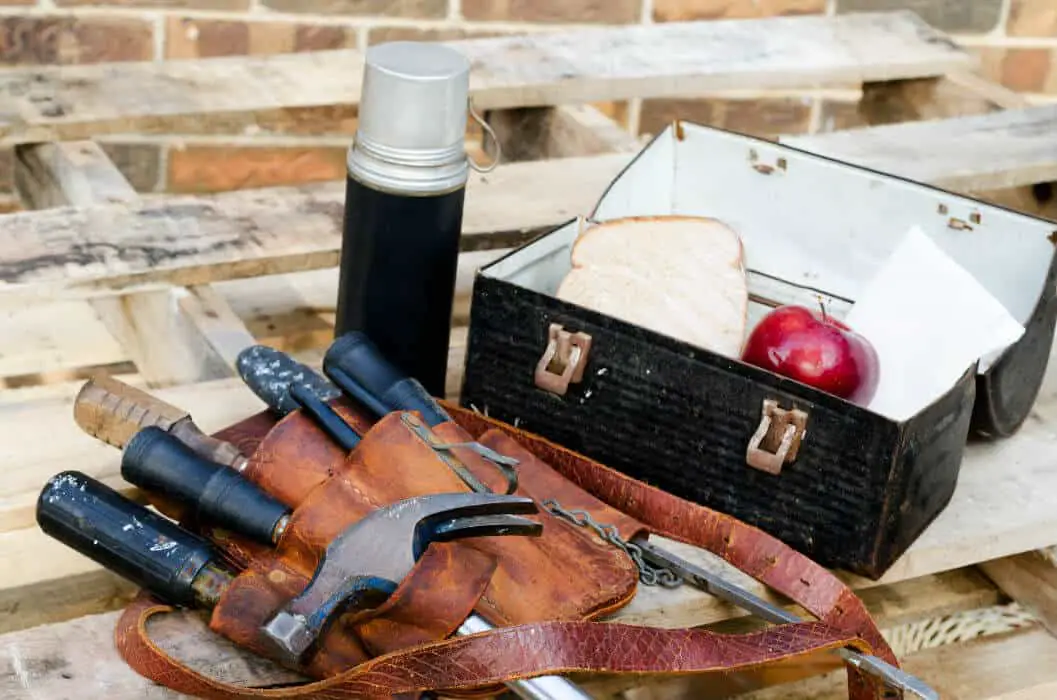 Igloo Industrial Playmate Cooler
Igloo's Industrial Playmate Cooler has their iconic tent shaped lid that has an easy grip handle and a tight lock mechanism that helps in preventing spills. The non-removable lid also slides all the way through the other side for easy access to the contents, allowing you to fit more containers or bottles inside. Its exterior has an industrial diamond plate design and is made of shock-resistant Polyurethane.  
Last update on 2023-06-02 / Affiliate links / Images from Amazon Product Advertising API
It is very spacious, measuring 14.5 x 10.84 x 13.75 inches you can put at least 2-3 regular sized containers, a drinking bottle and a couple of freezer bricks to keep your food cold. 
ZUZURO Insulated Lunch Bag
If you are a little "OC" and likes to keep your lunch and snacks separated from each other, this is the best lunch bag for you. It has three compartments that are individually insulated plus mesh side pockets for the little trinkets like your keys or utensils. The main compartment can fit three large BPA free containers measuring 8 x 5.25 x 2 inches (which are, by the way, included in the bag along with two ice packs), the back compartment can fit two regular sized drinking bottles and the top compartment can fit a fourth food container or an assortment of snacks. 
No products found.
Both the interior and exterior of the bag are made from high quality materials from its EPA foam insulation which is known for its durability, to its ultra-strong SBS zippers. The lunch bag measures 13.3 x 11.8 x 7.5 inches and has a compact design despite its multiple compartments. 

Stanley Heritage Cooler
For those who love to take a bottle of coffee to work with their lunches, this combo is perfect for you. The cooler comes with its own 1.5 Qt vacuum bottle that conveniently fits snuggly to its handle. You can also use the lid as a lunch tray especially if you are eating onsite. This model retained the legendary hammertone green color that might remind you of your grandfather's very own Stanley Lunch Box. 
Last update on 2023-06-02 / Affiliate links / Images from Amazon Product Advertising API
Both the Stanley thermos and the cooler are made from BPA free synthetic and are dual wall foam insulated to keep your food hot or cold as it should for up to 16 hours. The cooler measures 16 x 9 x 13 inches and has a built-in compartment inside to keep your food and snacks isolated. 
HSD Tactical Lunch Bag
This is the multi-purpose lunch bag that every dad would definitely love. It has a lot of compartments and pockets for everything you might need in a day's work. This tactical tote has a thicker insulated wall than other lunch bags at 8mm with high quality aluminum foil to help maintain your drink or food's temperature, has built in MOLLE / PALS webbing at the back where you can attach an extra pouch, keys, pens or attach a carabiner clip so you can hang your water bottle on it too. The mesh pockets on the side can be used as extra compartment for your drink or work gloves, while the mesh pocket inside can fit ice packs or extra snacks.
Last update on 2023-06-02 / Affiliate links / Images from Amazon Product Advertising API
The bag measures 10 x 7.5 x 6.5 inches, for scale it can fit a 6-pack beer comfortably. It is completely made from heavy duty, military grade materials and even has YKK zippers than are mostly found in more expensive brands so you're sure that it stands the test of time.
Carhartt Gear Deluxe Lunch Cooler   
This is for those who prefer a simpler, more minimalist lunch bag. It has three ideally sized compartments, the main insulated compartment is spacious enough for 2-3 big containers and an ice pack or two, it can also be a temporary home to 6 ice cold can of beers. Meanwhile, the secondary insulated compartment at the top of the bag can fit a drinking bottle or several snacks, and the front zippered pocket can hold your utensils. 
Last update on 2023-06-02 / Affiliate links / Images from Amazon Product Advertising API
This bag is perfectly sized for a day's worth of full meal at 10 x 9 x 7 inches. It is made of durable polyester, is water resistant and is backed by Carhartt with a limited lifetime warranty. 
MIER Adult Lunch Box  
The Mier Adult Lunch Box is best for those who likes to pack an extra meal or extra snacks for the day. It has up and down compartments that are both thickly insulated, so you can bring both warm and cold meals. The upper compartment is best for fruits and snacks, while the bottom compartment is perfect for warm meals because it has leak-proof insulation.  It has two side pockets and a front zippered pocket where you can put your utensils, condiments or keys. 
Last update on 2023-06-02 / Affiliate links / Images from Amazon Product Advertising API
It has an anti-slip handle that has an easy grip design, it even has an adjustable, removeable shoulder strap for additional comfort. Despite its dual compartment, it only measures 9 x 7 x 10.6 inches and weighs only 14.1 ounces.  
Klein Tools Tradesman Pro Cooler
This highly rated cooler is best known for its durability, it can even be used as a seat while having your homecooked lunch as it can support up to 300 pounds. This 17 Qt cooler has a recessed lid to allow for taller containers or bottles to fit inside and still be able to tightly shut the cover. There is also a mini compartment covering half of the inside face of the lid where you can store your keys, utensils, condiments and the like. 
Last update on 2023-06-02 / Affiliate links / Images from Amazon Product Advertising API
The sturdy Tradesman Pro cooler can stay cool for up to 30 hours so you can trust it to keep your food safe to eat even on those days where you have to work extended hours. You can fit several sandwiches and containers on the cooler since it measures 16.8 x 12.5 x 13.5 inches and the lid fully opens 180 degrees.

Igloo Outdoorsman Hardtop Lunch Box
Don't like your sandwich getting crushed before you even get to eat it but also don't want to bring a big hard cased cooler? The Igloo Outdoorsman Hardtop Lunch Box is made just for you. It is not as bulky as regular hard walled boxes or coolers, but it has a crushproof tent-shaped hard top to protect your food from your rough construction environment so your meal will still look as fresh as when you packed it once lunch time comes.
No products found.
The bag has three fully insulated compartments, the top compartment is perfect for cold, dry fruits or beverages. The main compartment is fitted for your lunch, may it be a salad or a few sandwiches, the bag will it keep it cool for you, while the front compartment is best for your extra snacks, dressings, or condiments. 
The lunch bag can perfectly fit a full day's meal and more since it measures 11 x 11.2 x 10.2 inches. It won't even be a burden to carry as it weighs only 1.25 Pounds, has a sturdy top handle and an adjustable shoulder strap with a shoulder padding.
Arctic Zone Titan Zipperless Cooler
The Arctic Zone Titan Zipperless Cooler is designed perfectly to keep your food cold, it has five layers ensuring maximum insulation: exterior layer makes the bag water and stain resistant for easy cleaning and is also puncture and abrasion resistant, the second layer is the heat resistant barrier, the third and fourth layer is the Arctic Zone's signature Deep Freeze insulation keeps your food warm or cold as it is, and the fifth and final layer is the leak proof lining with Microban prevents your food from bacteria and making the interior of the cooler easier to clean.
Last update on 2023-06-02 / Affiliate links / Images from Amazon Product Advertising API
Inside the bag there's the Hardbody Liner to avoid soft food like fruits or sandwiches from getting smashed while you are onsite, and the SmartShelf allows you to separate your snacks from your drinks. The bag measures 12.2 x 8 x 12.2 inches, just the right size for a day's meal plus your ice packs to keep them cool for the rest of the day.
Stanley Classic Lunch Box
For our vintage loving men (and women), this is the lunch box you're sure to love. The Stanley Classic Lunch Box is both aesthetic and durable, being made of high quality 0.6mm spcd steel, metal brackets and latches, this lunch box can easily last for years. Inside the dome shaped lid, you can fit up to a 20oz Stanley Thermos comfortably, while on the box itself you can fit a couple containers of food, or a container and a food jar for your soup during colder seasons. 
Last update on 2023-06-02 / Affiliate links / Images from Amazon Product Advertising API
The lunch box is available in Stanley's iconic colors: Hammertone Green and Hammertone Navy, it measures 13 x 6.5 x 10 inches and is backed by a Lifetime Warranty. 
It takes a little extra consideration to pick a lunch box for our hardhat men and women in order to ensure that they can have a nice proper meal in the middle of their tiring day. Make sure to take note of the items in our buying guide and pick out the points that you find more important to help you decide on your new lunch bag.